Fredericksburg, Texas, in the heart of Hill Country, is an amazing RV destination. So it shouldn't come as a surprise that there are quite a few top notch campground options in the area. We asked Kate Dunbar from KatesCuriousKitchen.com to review and compare two of her favorites: Fredericksburg RV Park and the Fredericksburg KOA.
Truth be told, they are both amazing campgrounds and you won't be disappointed with either pick. However, everyone has different tastes in campground scenery and amenities, so you have to pick the right one for your crew.
This podcast is a paired Campground of the Week episode, which means it goes hand in hand with an RV Family Travel Atlas episode, Greetings from Fredericksburg, Texas. Head on over to that page to see all of Kate's recommendations for activities, food, and drinks when visiting the area.
Fredericksburg RV Park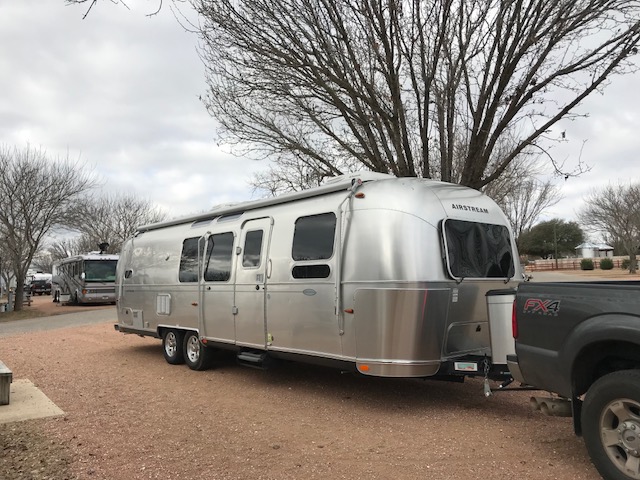 The Fredericksburg RV Park is a quiet campground with about 100 pull through sites. All the sites have full hook ups, gravel pads, and concrete patios. This is a Good Sam campground and very big rig friendly. Guests will pay about $50 per night, and there are discounts available for weekly stays. You can probably drop in without reservations during the off season. However, you'll want to book at least 6 months in advance if visiting during wildflower season from March through May.
Campground Amenities: Fredericksburg RV Park
The Fredericksburg RV Park has a lot of amenities that are focused on group gatherings such as a large clubhouse, rally facilities, and full kitchens. The facilities are up to date and clean. Kate particularly raved about the restrooms and showers. Guests will also enjoy the free (and reliable) WiFi. Plus, they offer free ice which is a pretty sweet perk if you're camping during the Texas summer.
The grounds are pretty, but simple. There's a pet playground, pet walk, koi pond, and duck pond. Note that there is not a playground or pool. The absence of those amenities really points to this campground being a great basecamp to explore the surrounding region. If you just want a comfortable, clean, and pretty place to rest your head in the heart of Fredericksburg, this is a great option.
Additional Info: Fredericksburg RV Park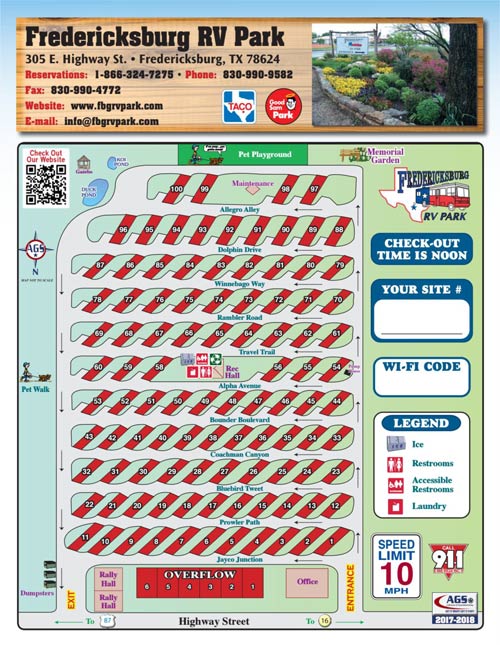 The customer service at the Fredericksburg RV Park is top notch, and the folks there are happy to give you the skinny on the best of everything in the area. We love getting recommendations from those in the know, so this is a serious win in our books.
Don't expect a ton of organized events, but the campground does have live music from time to time, so check the schedule.
And a friendly heads up from Kate: if you use the bathroom facilities to shower in the mornings, expect a bit of a wait. There is just one central bathhouse for the whole campground, and it can get crowded during peak times.
Ready for the second awesome campground option in Fredericksburg, Texas???!!!
Fredericksburg, Texas KOA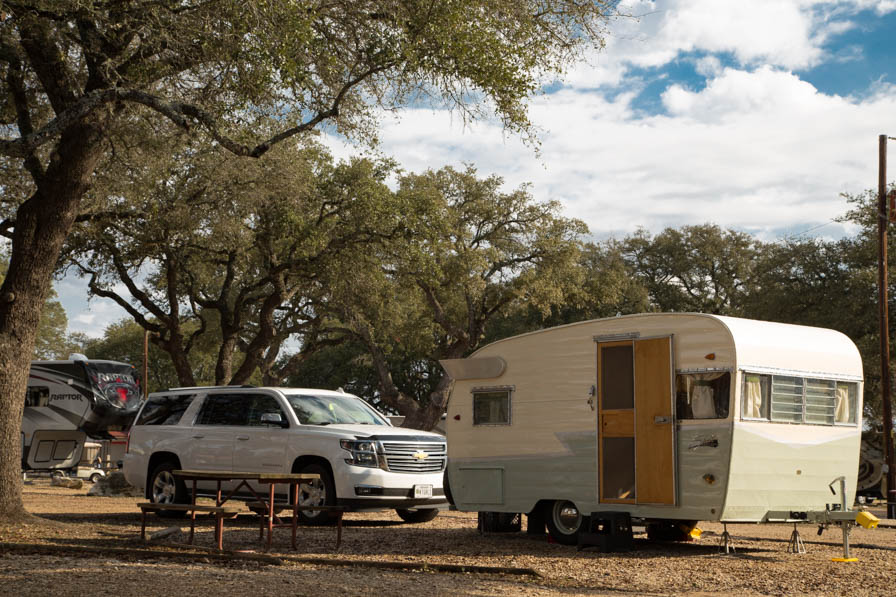 Fredericksburg, Texas KOA is a great example of a solid KOA campground: very family friendly with a mix of pull through sites, back in sites, tenting sites, and cabins. Guests will pay for that KOA branding though, as the sites here will cost you between $75-$80 per night. Plan on booking at least four months in advance if you want to snag a premium sit if you have a larger RV. You'll need to reserve at least a year in advance if visiting during peak season or at the time of a local festival.
Fredericksburg, Texas KOA is terraced and peppered with old oak trees and wooden benches. The campsites are crushed gravel, but level, and easy to get in and out of. The campground is gated, and guests receive a security code upon check in.
Campground Amenities: Fredericksburg, Texas KOA
If your family likes to spend a little more time relaxing at the campground, this might be a better option for you than the Fredericksburg RV Park. There is a pool, open from mid May to mid October. There's also a playground, dog park, and weekend entertainment. Kate particularly recommends sites in the C, D, E, or G sections if you are traveling with kids. Those put you in nice proximity to the playground and grassy field.
Additional Info: Fredericksburg, Texas KOA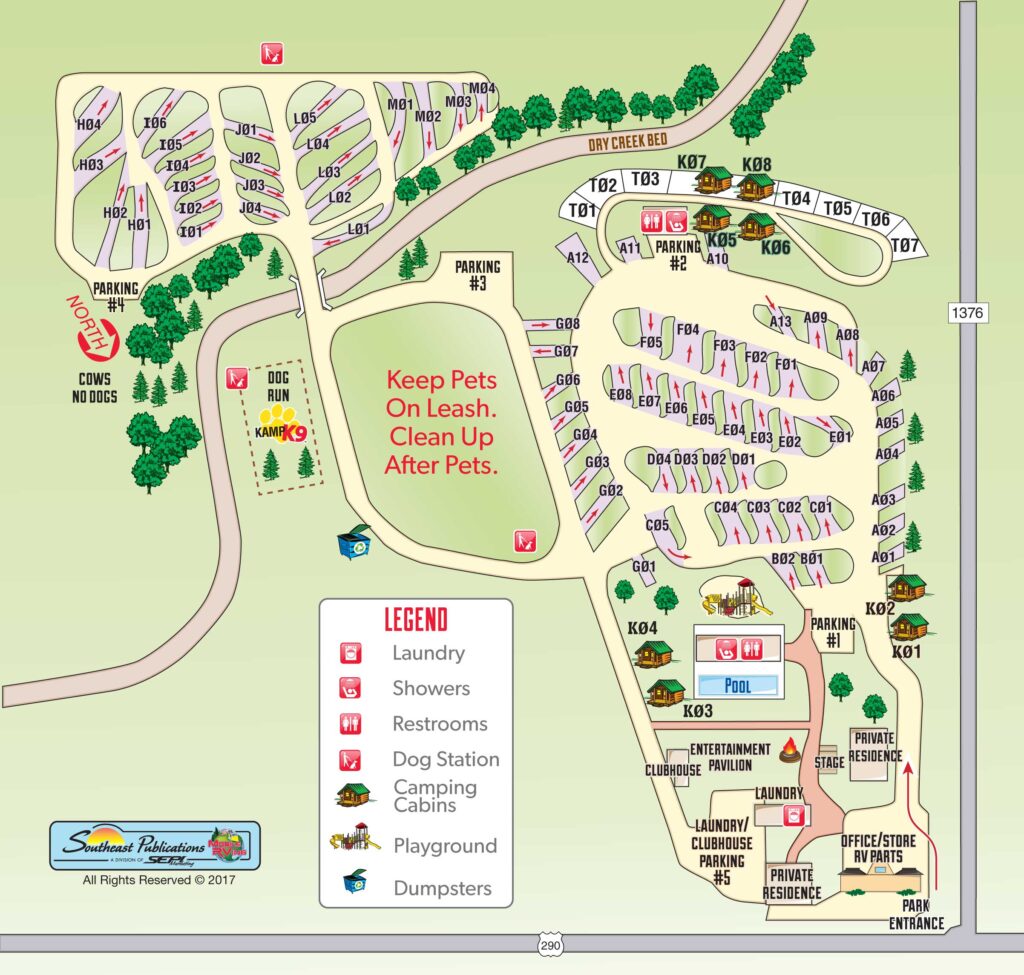 Kate raved about the customer service at this KOA. While visiting, there was a rather dramatic weather event, and the owners went out of their way to help the guests and offer alternative accommodations. You'll have to listen to the podcast for the whole story…
One disappointment is that they don't offer any organized kid activities. Campgrounds in this area typically cater to the traveler who is looking to explore the region, not hang out at the RV all day. However, Kate felt that a few more family-friendly activities would really enhance what is already a great campground.
Campground Smackdown: Fredericksburg RV Park VS. Fredericksburg, Texas KOA
There honestly wasn't a clear winner in this campground smackdown. Ironically, Kate camped with her family at the Fredericksburg RV Park and on her own at the Fredericksburg, Texas KOA. She would flip this when traveling to the area in the future, staying at the KOA with her kids and the RV Park when solo. Pricing, pool, and playground are probably the major things to consider when making a pick for your own RV crew.
Remember to check out all of Kate's recommendations for exploring Fredericksburg in the heart of Hill Country, Texas here. After listening to all of her favorite spots, we are basically planning on eating our way through the area when we visit.
Looking for more campground recommendations in the Lone Star State. Here are more Texas camping picks from RVFTA.
See you at the campground!
Stephanie + Jeremy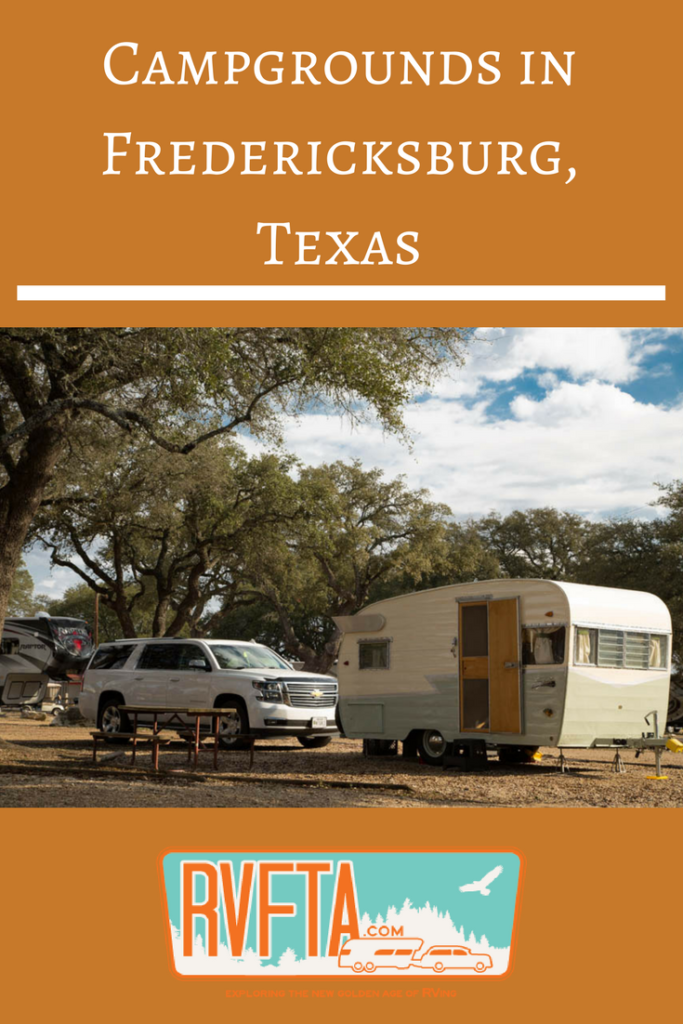 Podcast: Play in new window | Download