With stunning, scenic views of the Badlands, Cedar Pass Campground puts you right at the heart of this amazing national park. You can step outside your door and walk over to the iconic natural formations. You'll find over 244,000 rugged acres of Western South Dakota to explore, right from your campsite. That being said, there are some things you'll want to know before booking your stay here.
While not quite as rugged as the landscape, the Cedar Pass Campground is definitely not resort-style camping. If you're looking for something with more amenities, you may want to check out the Badlands/White River KOA, which Kerri Cox, from Travels with Birdy, review on episode #75 of Campground of the Week. Her family had planned to stay at Cedar Pass, but they arrived to discover a mistake had occurred with their reservations. Luckily, the KOA saved the day.
Campground Details: Cedar Pass Campground
Cedar Pass Campground is one of many national park campgrounds operated by a concessionaire (in this case, Forever Resorts). In our experience, concessionaire campgrounds can definitely vary in quality. You'll often have a gorgeous location, but the campgrounds might be a little rough around the edges. Luckily, the price is great, even if the maintenance, service, and amenities are lacking.
There's nothing quite like the experience of staying right at the heart of a national park, and Cedar Pass Campground wholly provided all of the beauty we expected. Watching the sunrise and sunset at the Badlands from your campsite is an incomparable experience. It was like camping on the moon.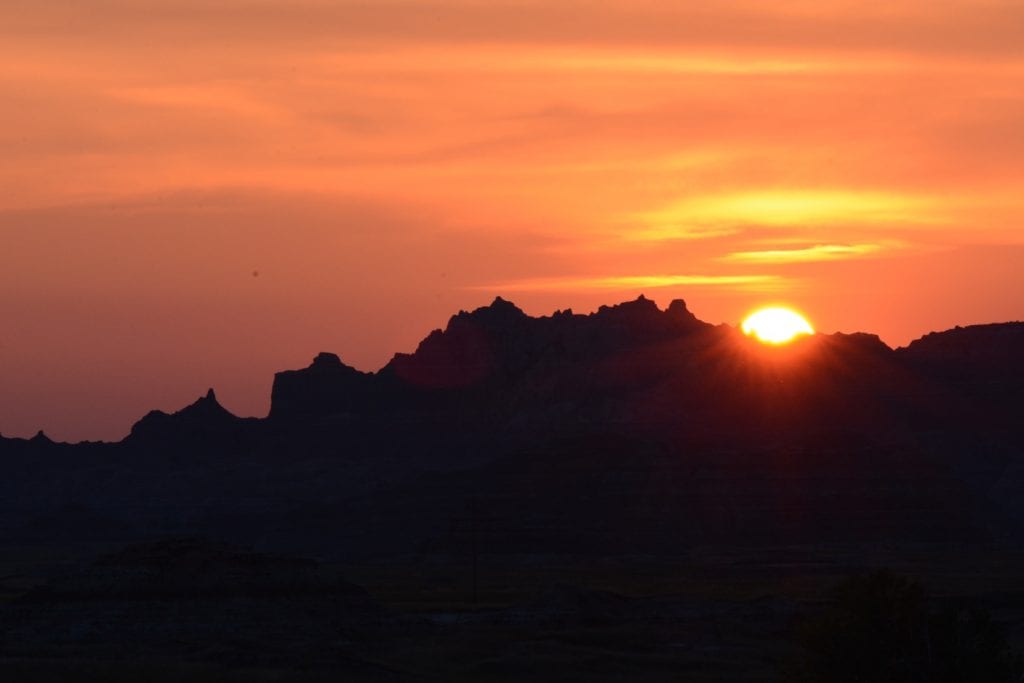 Cedar Pass offers a small-to-medium-sized campground, with 96 campsites spread across three loops. You can easily walk from the campground to the amphitheater, visitors center, and lodge. The camping season runs from late April to late October, and you should book as far in advance as possible for the best sites.
Expect to pay around $22 for a no-hookup site to $37 a night for electric-only sites for up to two people. Additional guests are $3 per person (with children under the age of 15 staying free). Note: There is no water or sewer hookup available at your site; however, septic dumping is available for a $1 fee and water is available nearby.
Campsite Details: Cedar Pass Campground
When booking at Cedar Pass, you'll want to note that the campsites with electricity run along the interior loop, while the outer loop sites (with the best views) have no hookups. We stayed on the interior loop in site #94 because we wanted electricity on this trip; however, if we were return, we would definitely try to get on that outer loop.
Be forewarned that the campsite arrangements are somewhat unusual at this campground. Many run along the road, meaning your door will open to the roadway, obviously not an ideal situation. Some sites are a little crowded or awkwardly angled, which can make it challenging to navigate into your site. Also, unfortunately, not all of the sites are level, and some of the sites are located in a dip, which was flooded during our stay. Ultimately, the views will help you mostly forgive these woes once your rig is settled in!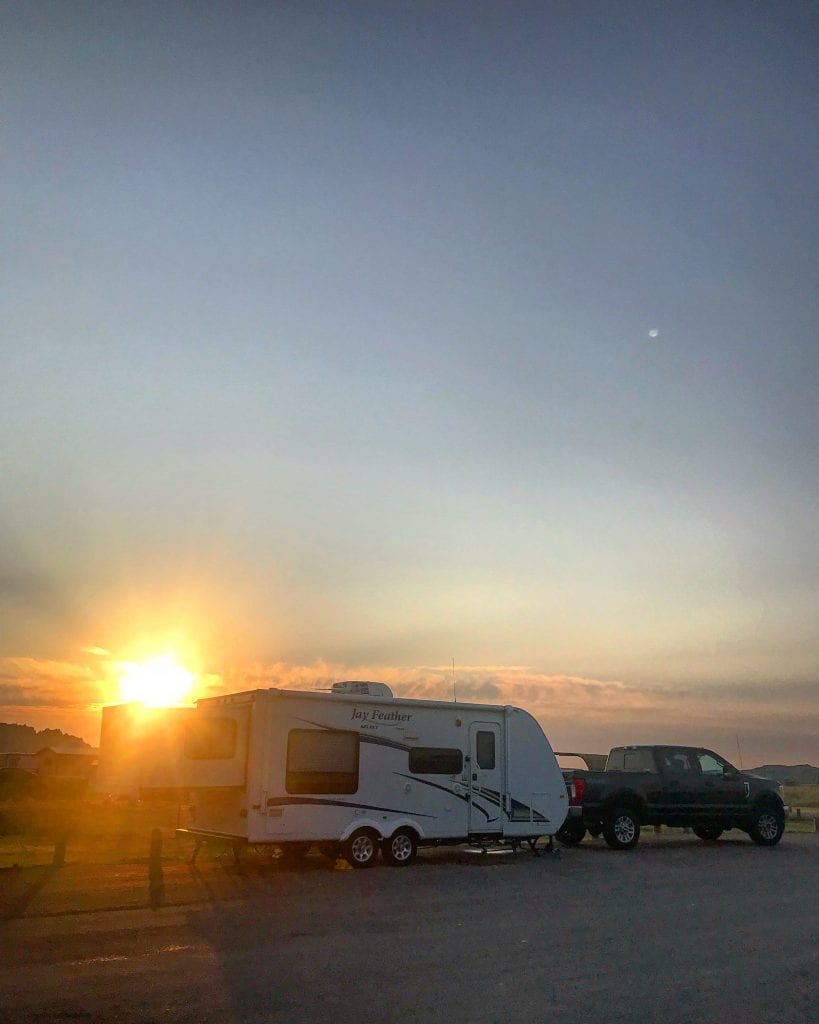 Campground Amenities: Cedar Pass Campground
Playground? No. Pool? No. Bounce Pillow? Don't be ridiculous. Obviously, Cedar Pass Campground is not a resort-style RV park, so the Badlands themselves are the true amenity that will bring you to this campground. Aside from hiking and exploring the park's natural beauty, you can participate in ranger programs at the amphitheater or explore the exhibits at the visitors center. Besides that, the main amenity you'll find is a shaded picnic table, which is greatly appreciated on hot, sunny days.
Flush toilets and showers are available; however, grab your quarters when it's time for a wash. Be aware: These areas border on gross. It's not that they weren't clean, it was more that they were old and in disrepair. A little extra maintenance would go a long way in this campground! In general, more service overall would be greatly appreciated.
Another amenity worth mentioning is the Cedar Pass Restaurant, located nearby. The food was a little pricey, but it was legitimately good, and the restaurant offers great views while you dine. The Indian Tacos are a famous regional fare that can't be missed.
Finally, an important thing to know before you go is that Cedar Pass Campground is a remote location, so your phone and cell signal may be weak. We were able to use ours, but we wouldn't suggest counting on access.
Things to See and Do Near Cedar Pass Campground
As we've mentioned, the Badlands are an amazing attraction. Too many people just drive through on their way elsewhere (like the Black Hills or Yellowstone). To do the area justice, you'll want a minimum of one night, preferably two. This will give you enough time to leave your car and actually get out on the Badlands trails. There's a new, unbelievable view around every bend. An upcoming episode of the RVFTA podcast will cover all of our favorites!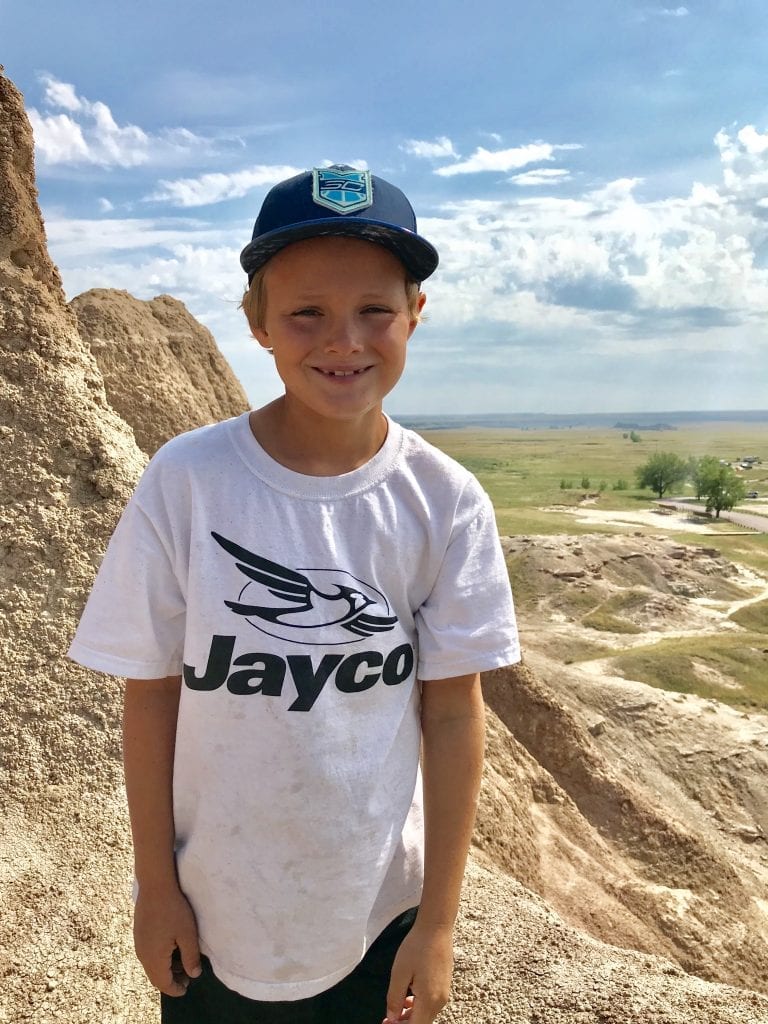 If you can tolerate a whole lot of kitsch, just up the road from Cedar Pass Campground, you will find one of our nation's most popular roadside attractions, Wall Drug. Made famous by the hundreds of signs that line the roadways, Wall Drug is an awe-inspiring conglomeration of shops, restaurants, and attractions.
Our kids couldn't get enough of the Little Britches Toy Store, the Shooting Gallery Arcade, or the Mining Company Rock Shop. If you're traveling with little ones, bring in a change of clothes since the back patio even has water sprinklers amid the humorous array of photo ops, including an iconic giant jackrabbit.
If you stop at Wall Drug, you need to come hungry. From the famous 5-cent coffee to the homemade donuts, you'll find some seriously good grub. The Western Art Gallery Restaurant is a feast for the eyes and your stomach.
Overall, despite the less-than-stellar items, Cedar Pass Campground makes up for it all with its phenomenal location. The Badlands are something you just have to experience to truly appreciate. At Cedar Pass, you'll find adventure at your fingertips and picture-perfect views out your windows.
See you at the campground!
Stephanie + Jeremy
Podcast: Play in new window | Download