Badlands National Park is a famous road trip destination, but many visitors view it as a quick stop and a photo op.
We wanted to really soak up the magic in this other-worldly place, instead of just snapping a couple of pics as we drove the loop road. So we camped for three nights at the Cedar Pass Campground located smack in the middle of the national park. From amazing sunsets to breathtaking hikes and nighttime stargazing, we couldn't be happier that we made that choice.
You can check out our complete review of the Cedar Pass Campground here. Or, for another great option, head over to Kerri Cox's review of the Badlands KOA.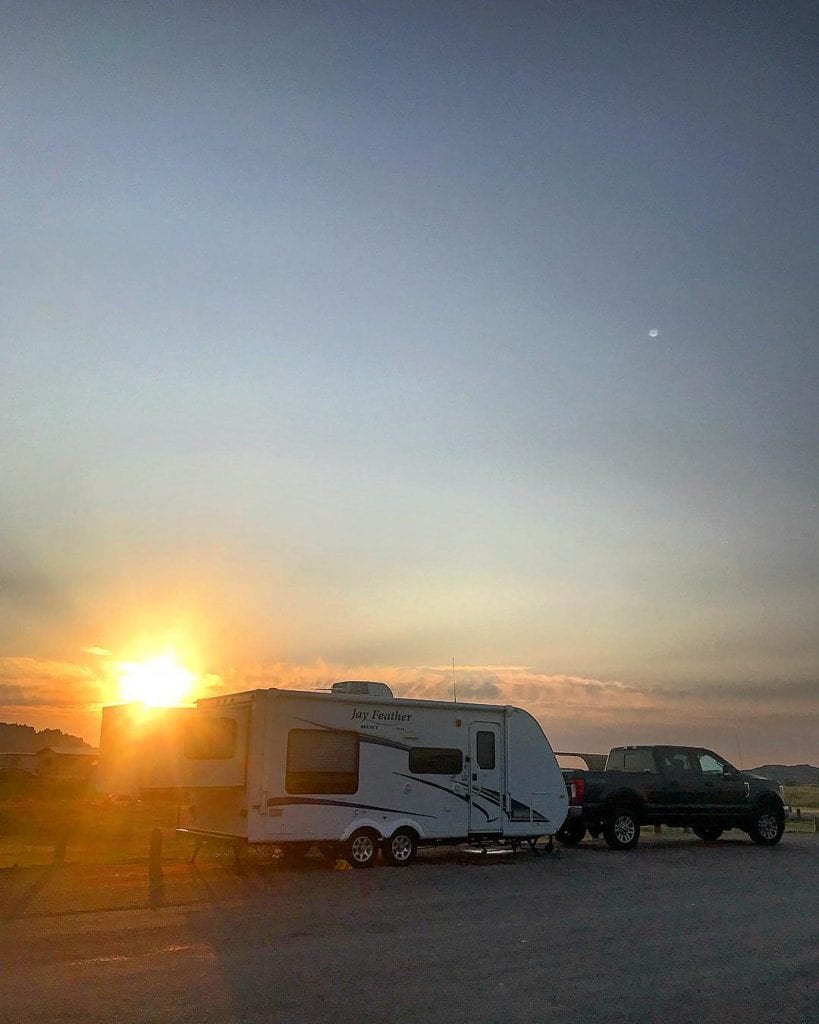 Here's a complete rundown of all our favorite hikes, ranger programs, and activities in and around Badlands National Park…
What to Do in Badlands National Park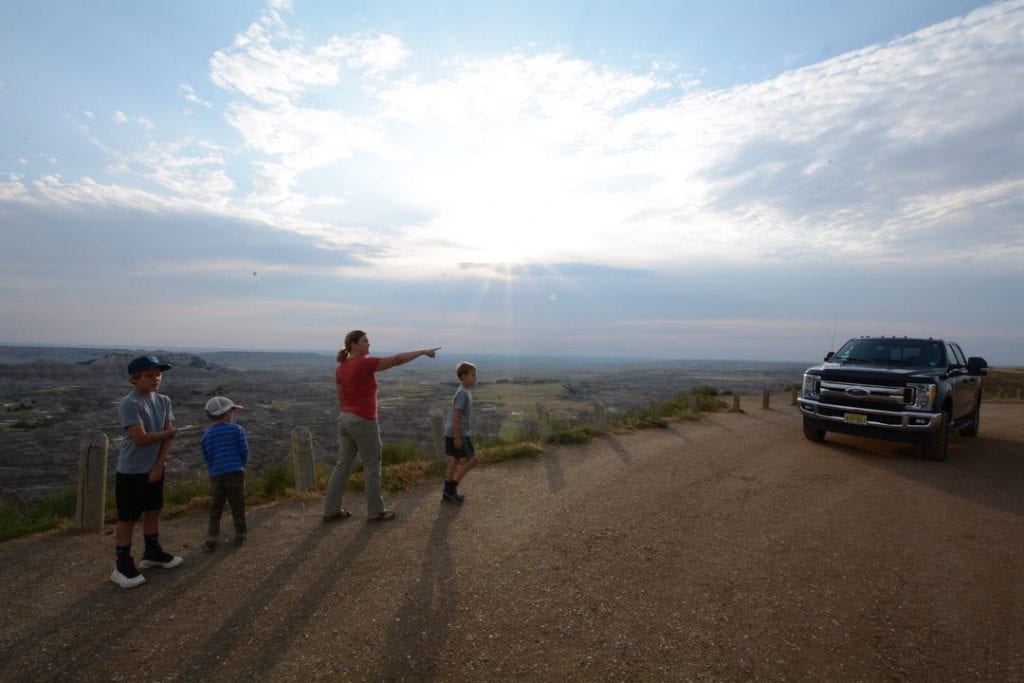 One of the mosts common questions that RVers ask is how long they should plan on staying in Badlands National Park. Is one day enough? Is three days too many?
We camped for three nights at Cedar Pass, which gave us two full days in and around the national park. This was definitely enough time for us do and see all the things that were on our wish list. If you only have two nights, we do believe you could squeeze a lot in during just one full day in the park. We also believe that only staying one night will stop you from enjoying all the things this beautiful place has to offer.
Ben Reifel Visitor Center
We highly recommend starting every National Park trip at the Visitor Center, where park rangers can help guide your itinerary. Sure, we do tons of research in advance and have our own list of must-sees. But a chat with the park rangers can often help you craft a plan that is perfectly suited for your own family.
The Ben Reifel Visitor Center has great interpretative displays and a decent park movie that will give you some background on the unique topography of the Badlands. There's also classes and workshops here so check the online schedule in advance. You can get your National Parks passport stamped here and browse the gift shop.
Another reason to stop in this visitor center at the beginning of the day? The rangers will have information for you on trail and road closures. Strong storms can sweep through this region causing a muddy mess. Visitors get stuck often enough that they are pretty proactive about closing things down in inclement weather. So check in before you drive all the way out to the Sage Creek Rim Road.
Hiking in Badlands National Park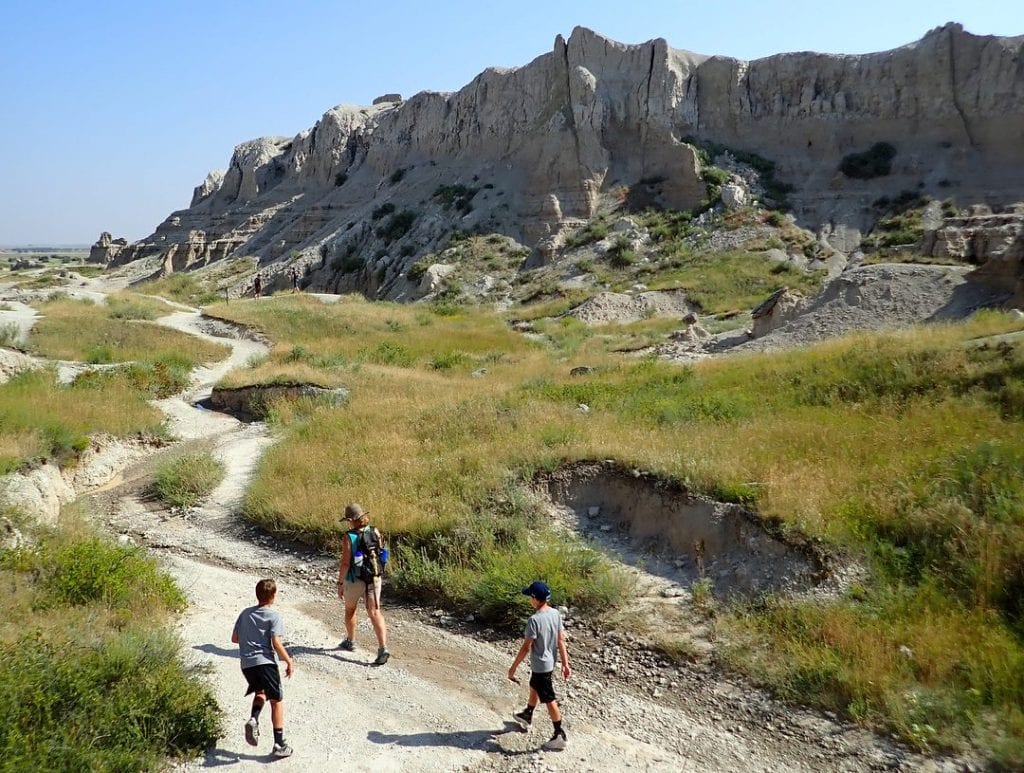 There's a variety of options when it comes to hiking in the Badlands. A few tips before diving into the specific trails, though. During the summer, temperatures can soar to over 100 degrees midday. We did all our hiking in the early morning or late afternoon. We filled the middle of the day with ranger programs and other indoor activities. You'll want to carry plenty of water, and wear hats and sunglasses. Lastly, wear sturdy shoes that can get very, very dirty. The clay soil here gets on and it just won't come off.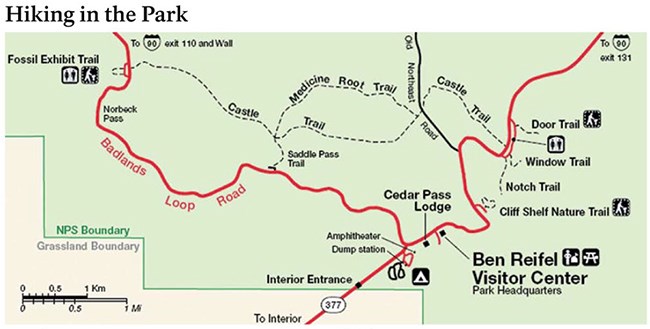 The Door Trail (.75 miles), Window Trail (.25), and Notch Trail (1.5) are all clustered together near the Northeast Entrance. This is a great place to start your Badlands hiking adventure.
The Door Trail is a quick hike, but our boys loved following the trail markers across the barren landscape. This hike also offers some classic Badlands photo opportunities. It's important to remember that this landscape looks completely different at different times of the day because of lighting.
The Window Trail is more of a fun scramble than a hike. Adults and kids alike have a blast climbing on the rock structures and peering out through the 'windows' to the hills in the distance.
The Notch Trail is challenging, but it was a family highlight for all of us. There's a fairly steep ladder that you'll have to climb to complete the hike. Folks with fears of heights might struggle a bit coming down the ladder as well. If you are physically and mentally able, do not miss this amazing hiking experience!
A short drive away is the Cliff Shelf Nature Trail (.5 miles). This is another short boardwalk hike that brings you out to some different Badlands vistas.
The Castle Trail (10 miles) and the Medicine Root Loop (4 miles) are longer hikes that we did not do ourselves. All told, we felt the shorter hikes gave us bitesized (but adventurous) tastes of the Badlands without completely wearing us out.
Ranger Programs in Badlands National Park
The Badlands is a geological marvel, and it's amazingly helpful to have rangers interpret the landscape. Taking advantage of all the ranger programs in the park will help you enjoy your visit so much more. There is a Junior Ranger program for the kids.There's also a Fossil Exhibit Trail where you can listen to a ranger talk on fossils and then hunt for some yourself.
Then there is the famous Night Sky Program at the amphitheater near the Ben Reifel Visitor Center. Every night between Memorial Day and Labor Day, visitors can listen to a ranger talk and then use park telescopes to gaze at the moon and stars.
Drives in Badlands National Park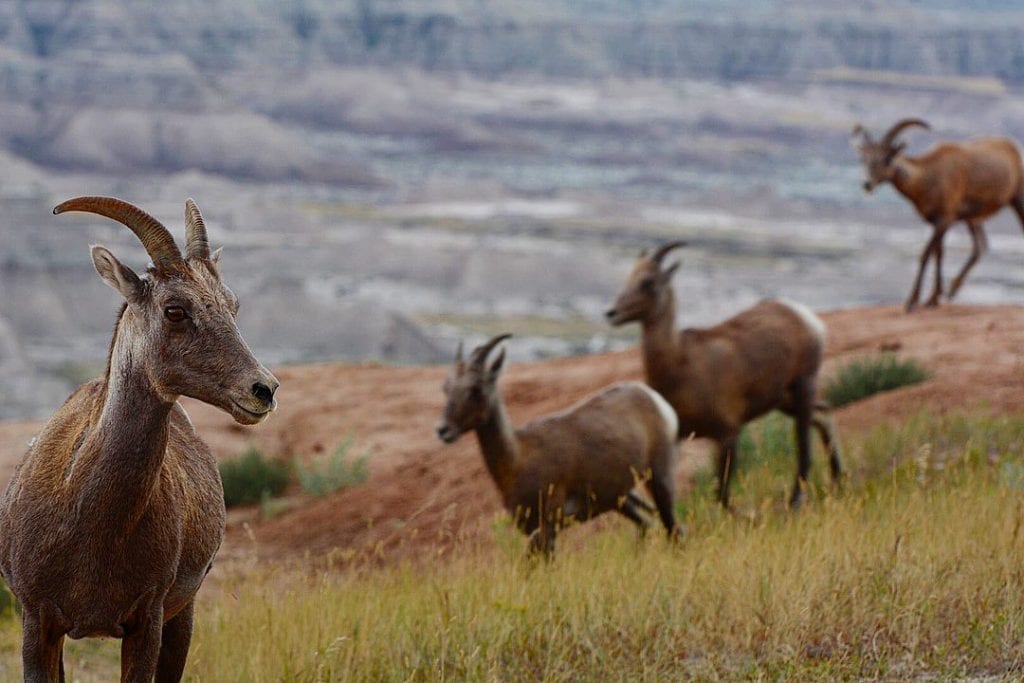 You won't get tired of driving the Badlands Loop Road and marveling at how different the landscape looks at different times of the day. We were so surprised at the diversity of landscape as well. There are 14 marked overlooks, and you'll want to stop and gaze at every one. We particularly loved the Yellow Mounds area of the Loop Road.
Towards the end of the Badlands Loop Road, there's a turn off for the Sage Creek Rim Road. This dirt road will lead you to some of the best wildlife viewing in the park. There's an enormous Prairie Dog Town and we spotted dozens of Pronghorn Sheep. We also got to enjoy our first South Dakota Bison sightings here.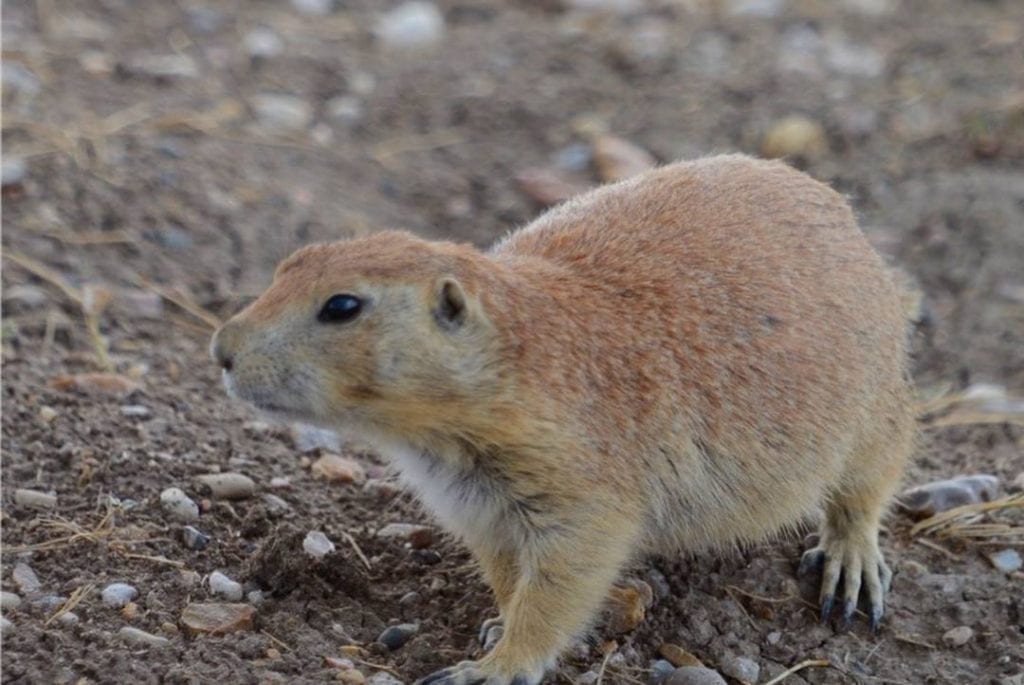 Things to Do Around Badlands National Park
If you are enjoying a quick stay in the Badlands, you might not want to venture that far out of the park. However, there are definitely some sites that are worth a visit.
We heard so many people rave about the Minuteman Missile Visitor Center that we had to stop in ourselves. Aren't we glad that we listened to our RVFTA community! This was a fascinating place, focused on education visitors about the Cold War and the nuclear arms race. The video was riveting (seriously!) and the displays were interesting to kids and adults alike. One disappointment was that we didn't know about the guided tour policy in advance. You can reserve a tour online, but it must be done more than 24 hours in advance. We would highly recommend you do that so as not to miss out like we did!
We unabashedly soaked up the roadside kitsch while driving through South Dakota. Nearby famous roadside attractions include The Porter Sculpture Park, the Corn Palace, and (of course!) Wall Drug.
If you need something a little more educational to balance out the visit to Wall Drug, check out the Grasslands National Park Visitor Center, located just a block away.
Badlands National Park is a truly special place, and we are so glad that we took the time to stop and explore the region. These memories will stay with us for a long, long time to come.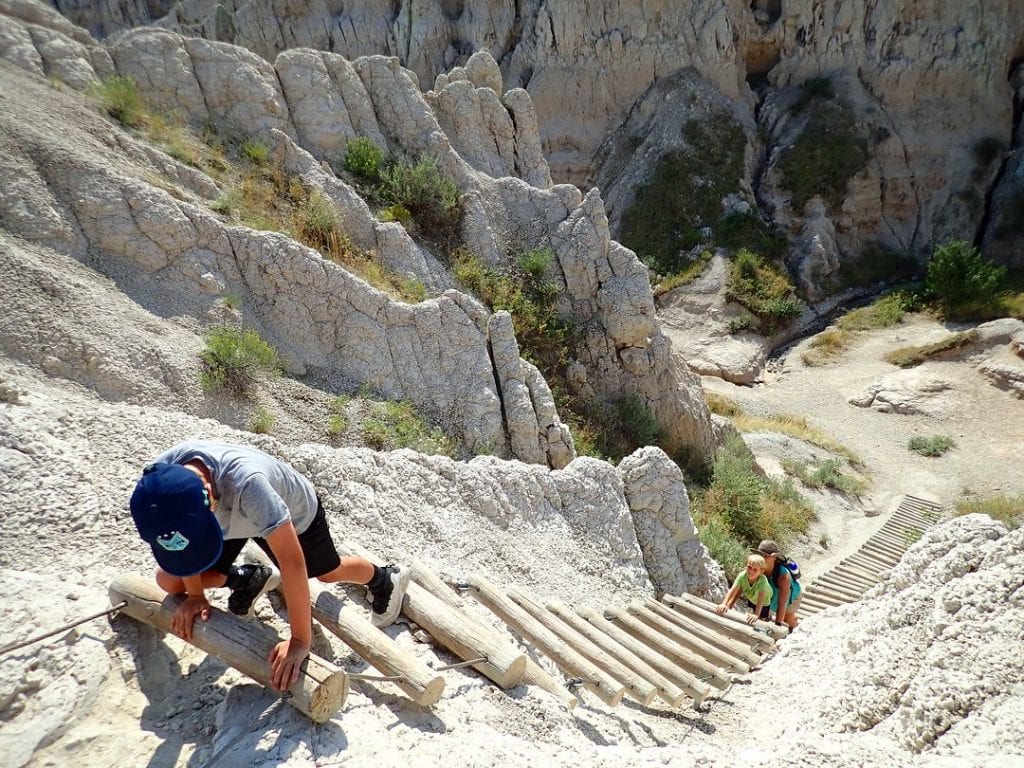 See you at the Campground,
Stephanie + Jeremy
P.S. For more coverage of our trip to beautiful South Dakota, check out 12 Tips for Visiting Mount Rushmore and our campground review of Rafter J Bar Ranch!
Podcast: Play in new window | Download