As teachers with three school-aged children, we've spent a fair share of time being weekend warriors. We never stray too far from home on a short weekend RV trip. So that means we've camped at dozens of campgrounds in New York, New Jersey, and Pennsylvania.
On this bucket list roundup of our favorites, we are sharing mostly private campgrounds. The truth is that New York and Pennsylvania both have tons of wonderful state parks (New Jersey not so much). We will have to share all of those more rustic options in another campground roundup.
Want more great recommendations for campgrounds in New York, New Jersey, and Pennsylvania? Make sure to check out our Campground of the Week podcast or ask the friendly folks in our private RVFTA Facebook Group!
NEW YORK
Let's start off with the Empire State, which we think is one of the most underrated RV destinations in the country. There are so many amazing regions in this state: Catskills, Adirondacks, Finger Lakes, Niagara Falls, and more. We've camped in all of them over the years, and are continually blown away by the outdoor adventures and natural beauty you can find in this state. Here are four of our favorite campgrounds in New York.
Lake Placid/ Whiteface Mountain KOA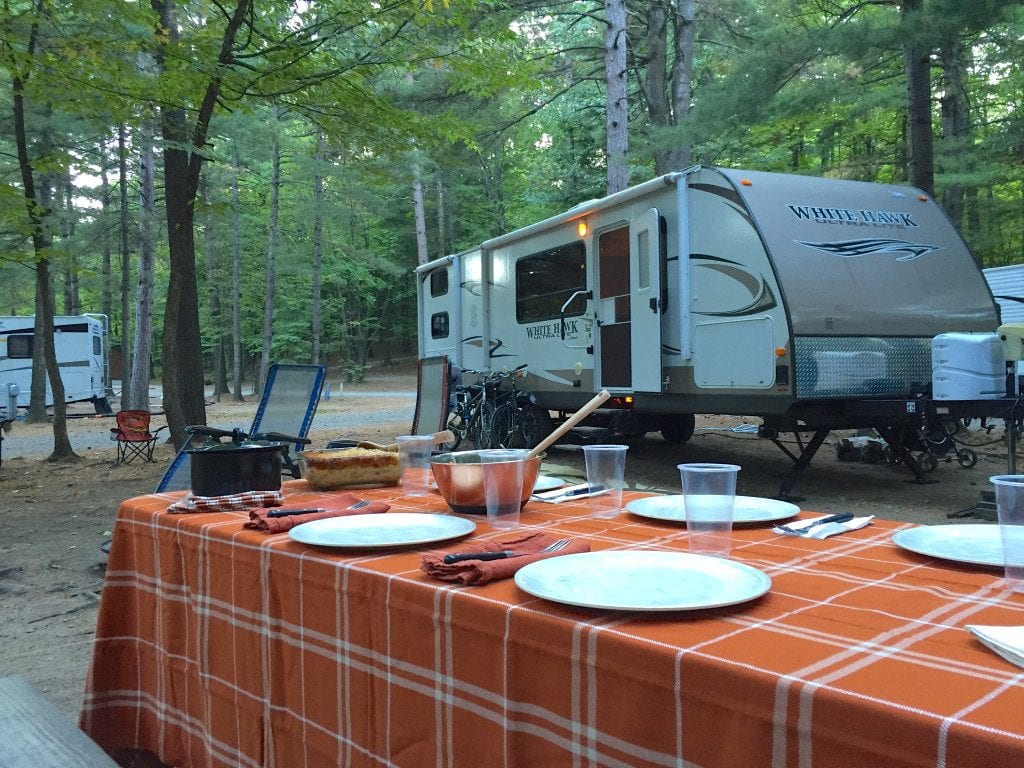 First let's talk about location. The Lake Placid/ Whiteface Mountain KOA sits at the foot of Whiteface Mountains and is just a short drive from the charming and beautiful downtown Lake Placid. You can find world-class fly fishing, hiking, and canoeing or tour the Olympic attractions. The campground offers deeply wooded sites along with upgraded amenities like a game room, lodge, and pool. The customer service experience is some of the best we have ever seen. More details about our favorite things to do in Lake Placid can be found here. 
Lazy River Jellystone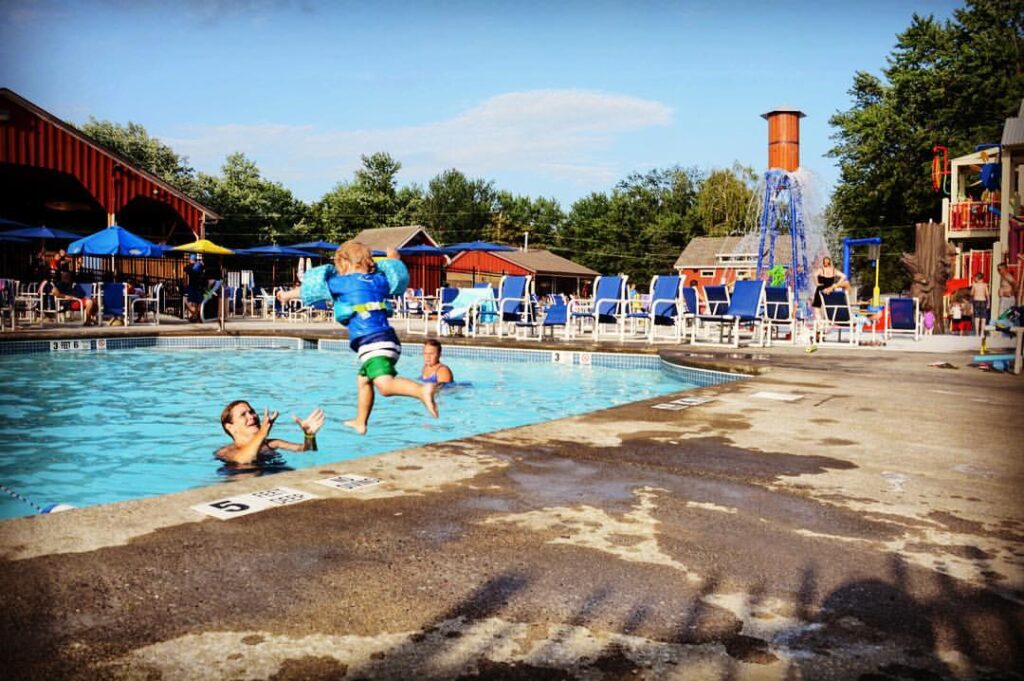 The Lazy River Jellystone in Gardiner is located near the Catskills region of New York State. This is the type of campground where you could hang out for a week and never want to leave. However, you could also use it as a wonderful base camp for enjoying the surrounding region. You'll find Hyde Park, Lake Minnewaska, and New Paltz nearby. The campground has an off-the-hook waterpark and pool area. It also offers mini golf, laser tag, and dining options. You can find out more details about this Jellystone here.
Branches of Niagara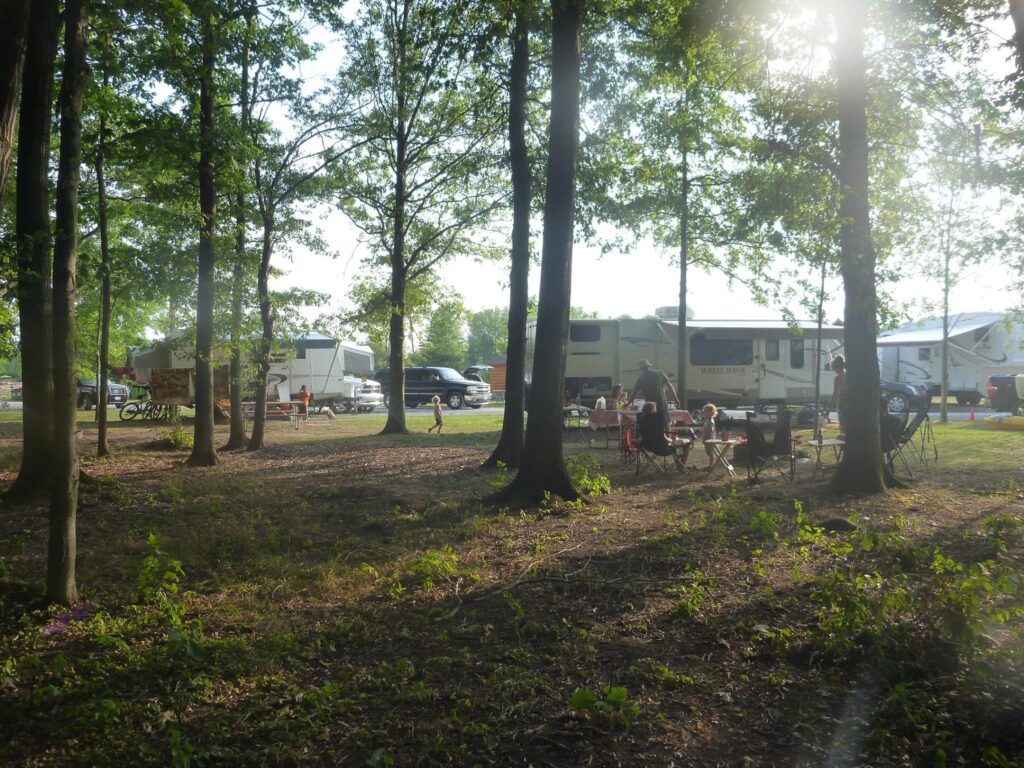 We like to describe Branches of Niagara as a summer camp for the whole family. That atmosphere probably comes from the zip lines that cross the man-made lake, and the occasional presentations from a local naturalist. Most folks think of Niagara Falls as the ultimate tourist trap. But it's an amazing tourist trap that you really must visit. And this is the best place to stay on the America side for sure. You can fish, rent a canoe, and take a hay ride around the property at sunset. Or just float around in the pool. Totally up to you. You can see our complete review of Branches of Niagara here.
Lake George RV Park
The Lake George RV Resort is legendary in the world of campgrounds. It was a camping resort before the rest of the industry caught on to what that really means. It has indoor and outdoor pools, paved roads, a clubhouse with pool tables, and every imaginable recreational opportunity. (Think six Pickleball Courts!). They've even got your dogs covered with a 2-acre "Bark Park" with off-leash area and pavilion. Lake George is an iconic vacation destination in the northeast and this is where to camp when you visit!
New Jersey
Unlike New York, New Jersey isn't quite the world class camping destination. And since we have lived here forever, we are allowed to say that. However, we've managed to find a few gems that we can escape to when our schedules only allow for a quick getaway.
Seashore Campsites vs. Holly Shores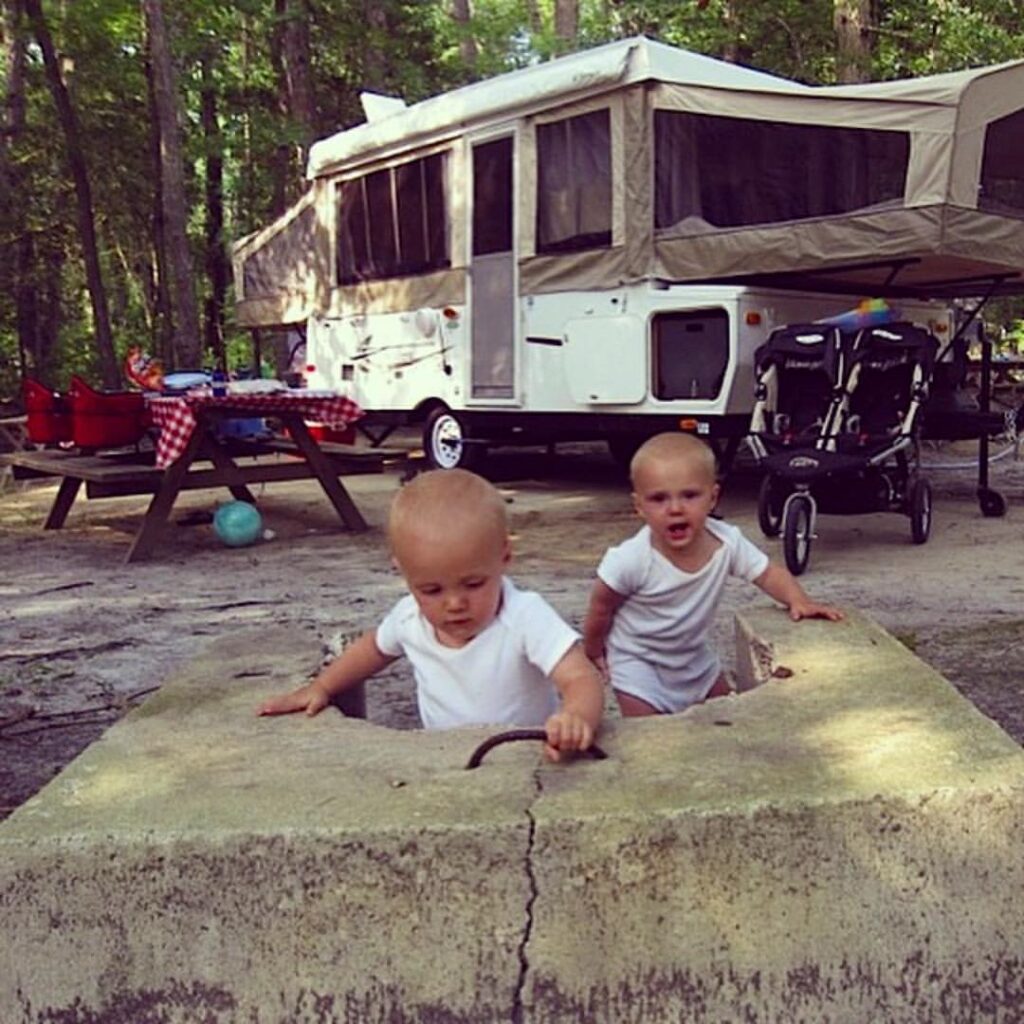 These campgrounds are both located in Cape May and are virtually across the street from each other. There was really no way to choose between them, so we called it a tie. Both are within a short drive of all the places we love so much in Cape May: Cape May Point State Park, the Cape May Country Zoo, and the beautiful beachfront. The campgrounds both offer pools, hot tubs, and playgrounds. We tend to book at Seashore Campsites if there is availability, but both are awesome places to stay for a classic Jersey Shore vacation. You can read more of our recommendations for the area in this article we wrote for Trailer Life Magazine.
Turkey Swamp Park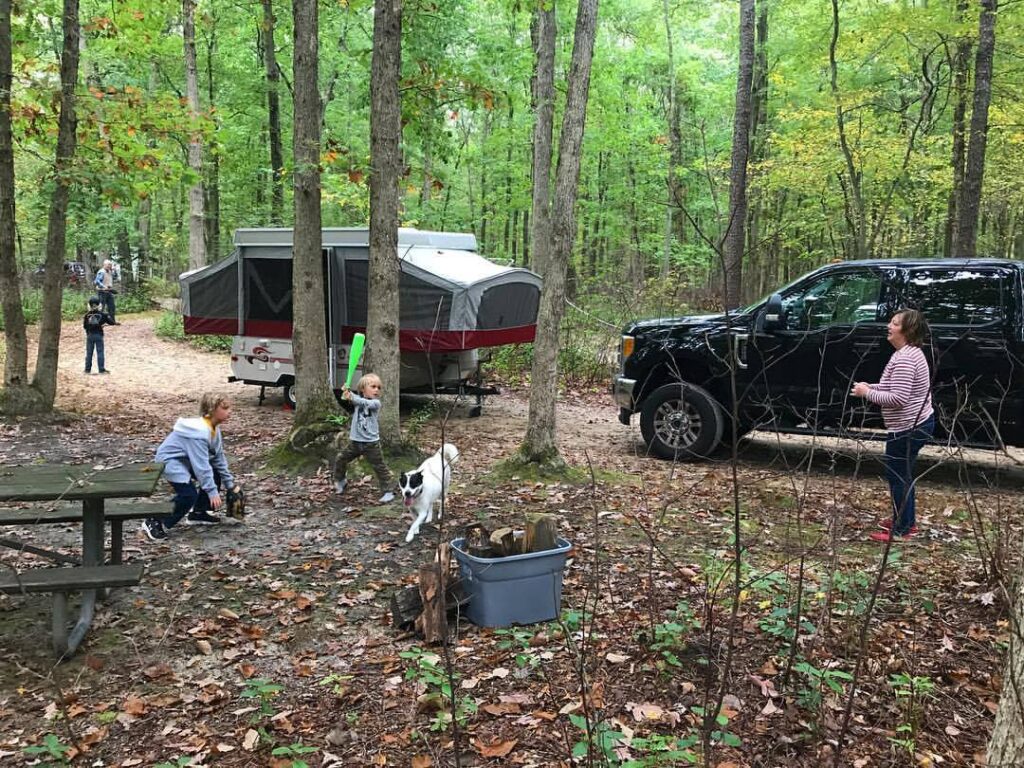 If you are looking to camp in Central New Jersey (or the northern stretch of the shore), this is really your only good option. We love Turkey Swamp Park for quick fall weekend getaways. The sites are simply enormous, and the foliage is just beautiful. There's an archery area on site, plus fishing and boating on the lake. The large playground attracts all the kids in the campground, and parents can enjoy just hanging out while the kids play with dozens of their newest friends.You can find more details about Turkey Swamp Park here.
Camp Taylor
Camp Taylor is the most rustic of all the campgrounds on this roundup. We camped here for the first time with our pop up, and had a magical weekend hiking and playing in the woods. The Lakota Wolf Preserve is on the campground property and you can walk right up from your campsite for a tour. You can also hop on the Appalachian Trail for a nice hike. There are really no amenities at this campground, so be prepared to unwind and disconnect during your stay.
Pennsylvania
Philadelphia/West Chester KOA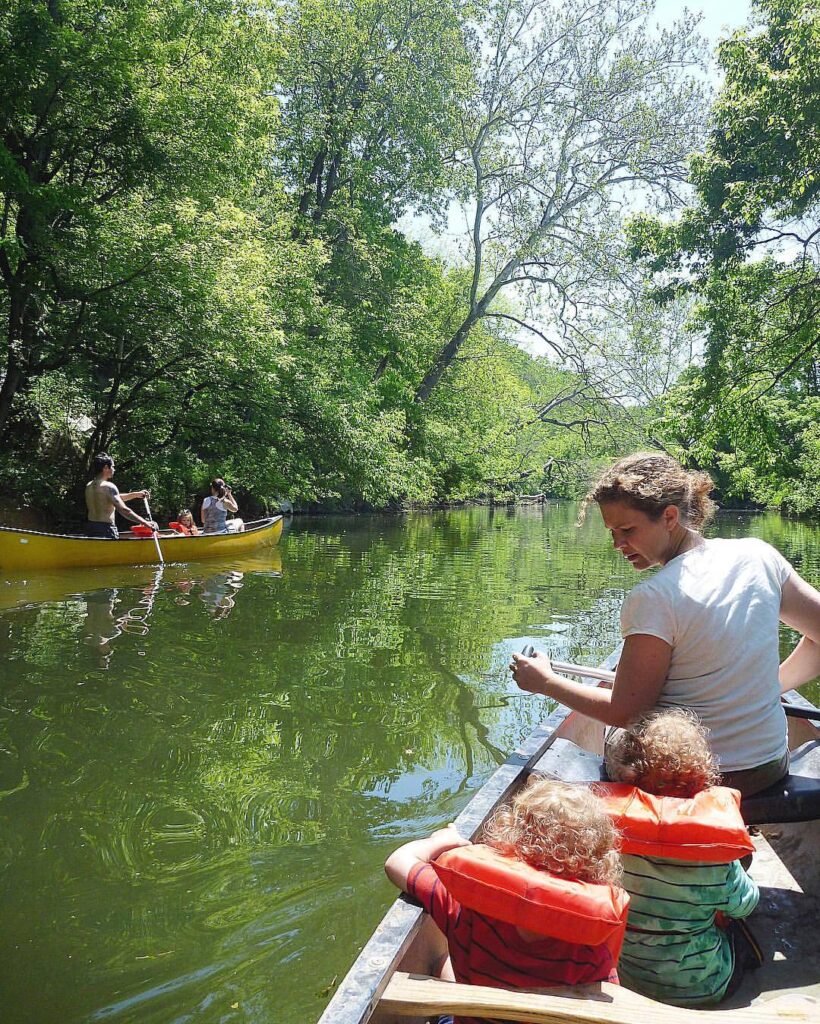 This KOA is really not close to Philadelphia. It is, however, nestled in the beautiful West Chester region and situated right on the banks of the Brandywine River. This makes it an amazing Spring or Fall campground destination. Legendary Longwood Gardens is about 10 minutes away, and Winterthur is just a 30-minute drive. You can easily spend your entire stay here touring breathtaking botanical gardens. Since both places have children's gardens, they are great all-ages destinations. The campground has fishing on site and canoe rentals. They also host lovely themed weekends with family-friendly activities and events.
Jellystone Quarryville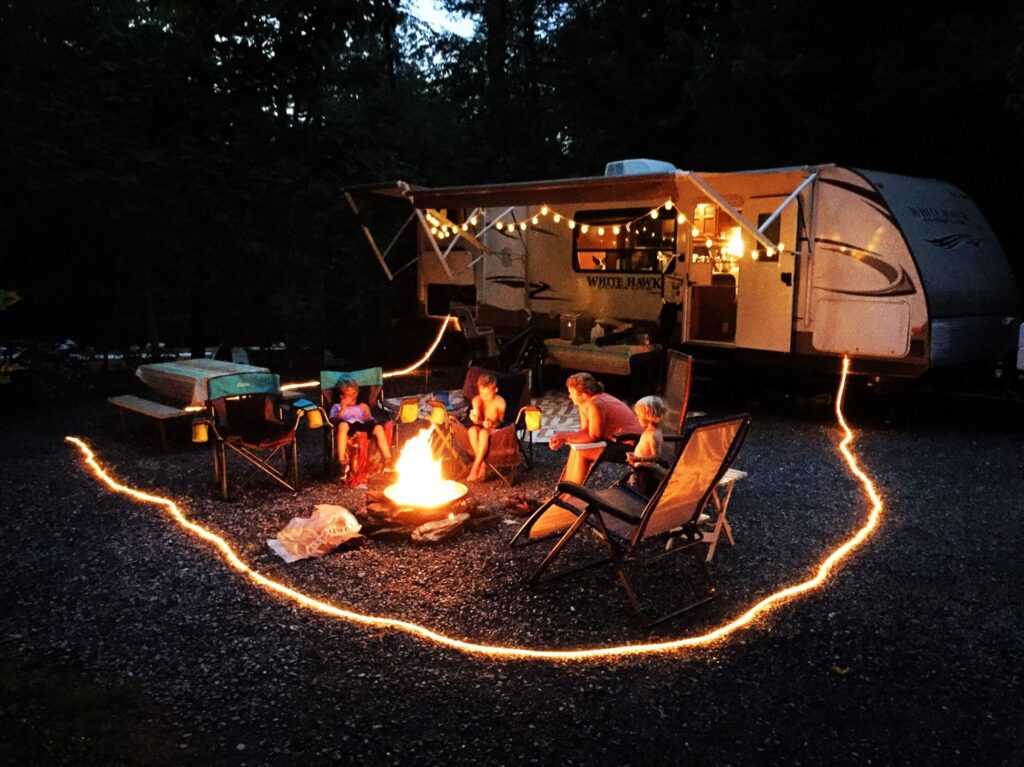 We've been to hundreds of campgrounds, and have never seen another quite like Jellystone Quarryville. It takes the idea of a resort campground, puts it on steroids, and then throws in Yogi Bear and all his friends. This campground has multiple pools, playgrounds, and jump pillows. The daily activities read like a book. And yes, you can rent a personal hot tub for your campsite. But the thing that we love the most is that even with all of these amenities, the sites are still spacious and beautifully landscaped. You can check out our complete review of this campground here. 
Lake in Wood Campground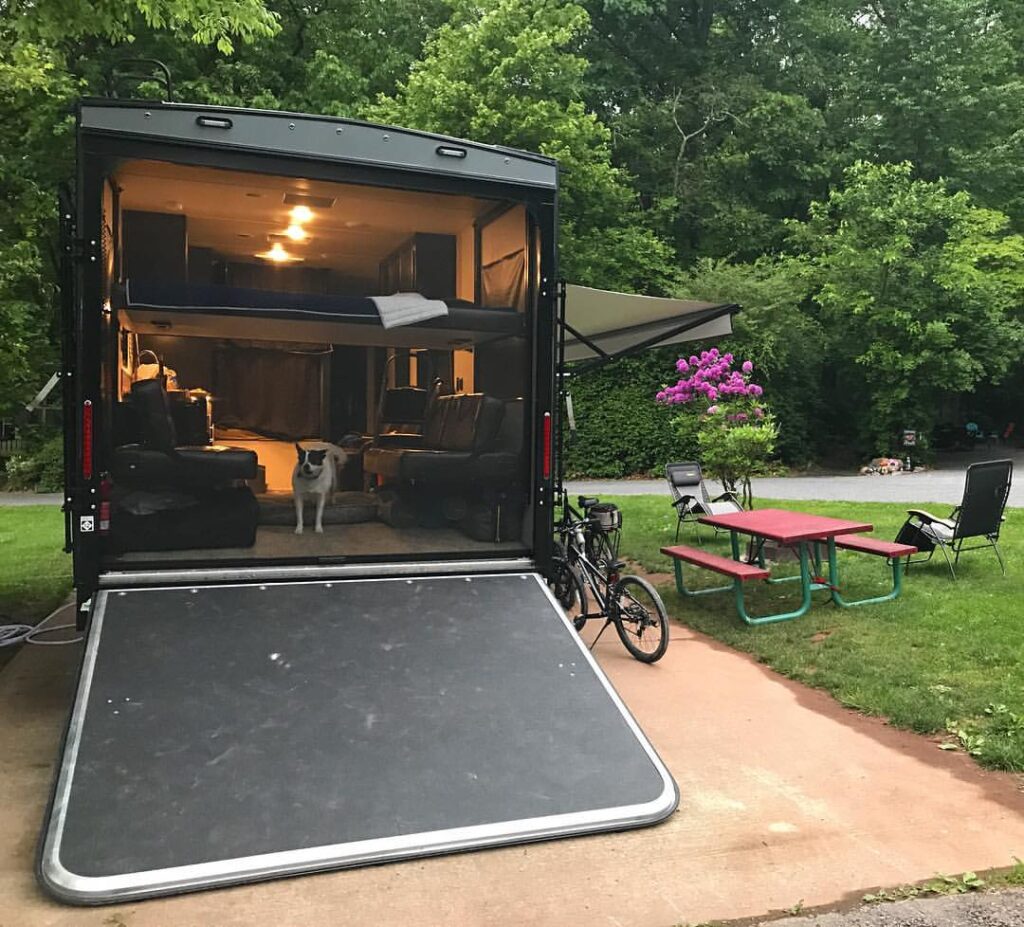 Lake in Wood Campground accomplishes quite a feat. It manages to be an resort campground that is also relaxing and peaceful. Seriously, we still aren't quite sure how they manage it. It probably starts with the wooded and beautifully landscaped campsites. They feel private and rustic, yet have concrete pads, picnic tables, and fire rings. The indoor and outdoor pool and splash area is right next door to the Gnome Cafe, which serves a pretty tasty breakfast and lunch. Ask us about anything on the menu. Seriously. You can also enjoy their pottery classes, exercise facility, or even attend church on Sunday morning. You're in Dutch Country after all.
So there are WAY more than 10 amazing campgrounds in New York, New Jersey, and Pennsylvania. We'll do another roundup in the future. But for now…what are your favorites? Tell us in the comments below. Or leave your own campground review here.
See you at the campground!
Podcast: Play in new window | Download