Blue Bell Campground is easily one of our top ten favorite campgrounds ever. Located in the Black Hills of South Dakota, Blue Bell is just one of nine gorgeous campgrounds in the epic Custer State Park, which offers 71,000 acres of phenomenal beauty and wildlife.
Some travelers quickly pass through South Dakota's Black Hills (maybe just stopping for a visit to Mount Rushmore) on their way to Yellowstone or elsewhere. However, those who have visited know just how much of a mistake this is. Even worse, some visitors take a quick drive through Custer State Park, spending just a few hours. Luckily, we had booked four nights at Blue Bell, giving us a lot of time to explore Custer and the surrounding area.
Trip planning time? Check out 10 Things to do in Custer State Park!
Campground Details: Blue Bell Campground 
Blue Bell Campground is a small, rustic campground on the western edge of Custer State Park. With nine campgrounds to choose from, it can be difficult to select which one is right for you (this site from the South Dakota Game, Fish, & Parks describes each). We opted for Blue Bell since it was noted as one of the prettiest and as a great choice for RVers, especially those with larger rigs.
Blue Bell Campground is tucked away in a ponderosa pine forest along French Creek. Every corner of the campground is sylvan and beautiful! Horseback riding trails pass right through the campground. We knew right away we were somewhere special when we saw horses meandering by our campsite.
Visitors will only find 31 campsites and 23 cabins within Blue Bell Campground. Expect to pay $21-25 per night for campsites. While the RV sites offer electricity, they do not have water or sewer hookups. You'll have to travel to a nearby campground for a dump station.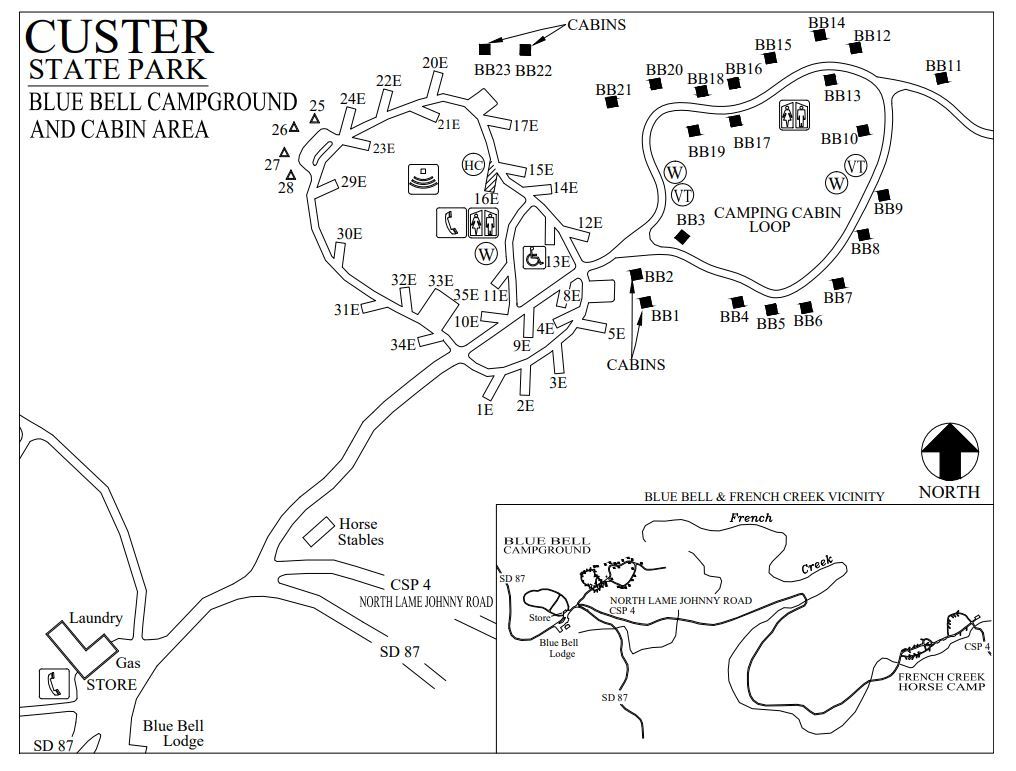 Visitors may make reservations up to a year in advance. If you are planning to travel during peak season, you will definitely want to book that early. Make sure to note the dates of the Sturgis Motorcycle Rally, which brings tons of traffic to the Black Hills in early August. Also note that the park is expected to be closed this spring.
Since they flow naturally into the landscape, the campsites at Blue Bell Campground are all very different and some are rather quirky. Though this retains the natural beauty, some odd-shaped sites might be challenging to get backed into.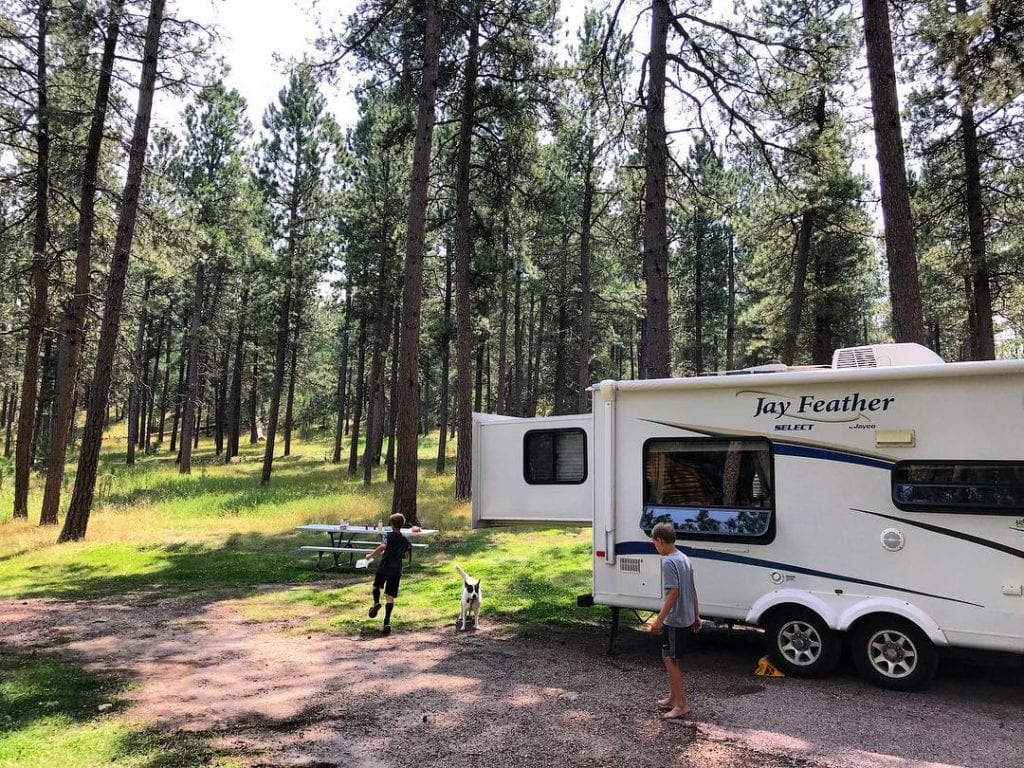 Campground Amenities: Blue Bell Campground
Blue Bell Campground offers many great amenities at a reasonable cost. First, the bathhouses are super clean and modern, which is not always true at state parks. Plus, they are easily accessible from almost all of the sites. The amphitheater is also conveniently located. Our family greatly enjoyed a ranger program that rivaled the quality of a national park ranger talk.
If you want to grab a bite to eat without leaving the campground, the Blue Bell Lodge, which serves up American food with a Western flair in the dining hall, is right around the corner. For a truly fun option, book a ride on the hayride with the chuck wagon cookout. For other simple supplies, you'll find a camp store, gas station, and gift shop nearby, as well. 
Digital connectivity can be a challenge in Custer State Park; however, we did pick up a decent cell signal in the campground. While the park does not provide wifi to the campground, you can access it at the lodge.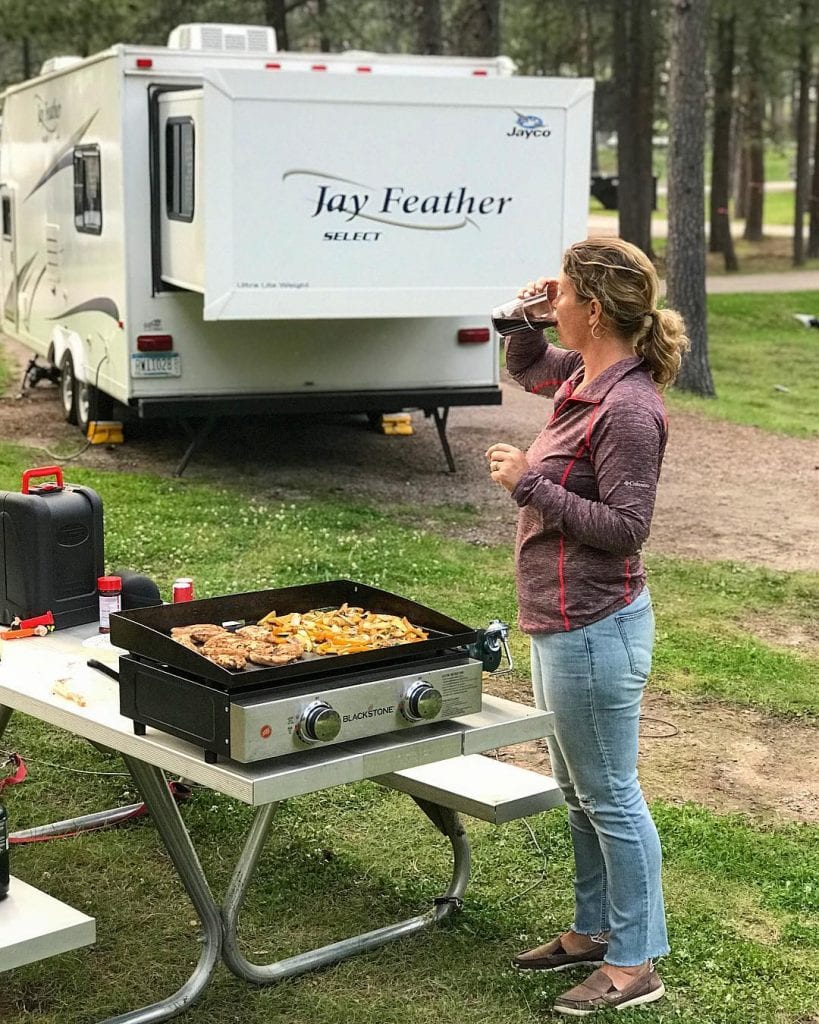 Regional Highlights near Blue Bell Campground
As we mentioned, Custer State Park is truly a gem in the Black Hills. This state park is on the size and scale and quality of one of America's great national parks.You won't have to dig out your binoculars to get a great view here. While we had seen bison in the Badlands, the bison at Custer State Park were absolutely awe-inspiring because they were so close to the road.
Additionally, Custer State Park offers tons of attractions, hikes, and natural sites to see. We will cover all of these highlights on an upcoming episode of the RVFTA podcast and discussed some on a previous episode of Campground of the Week.
You might also want to check out our episode with 12 Tips for Visiting Mount Rushmore since that popular attraction is nearby. Finally, if you find all of the campgrounds in Custer State Park booked or if you're seeking a more plush experience, be sure to check out Rafter J Bar Ranch, one of the premier campgrounds in the region (or nation, to be exact). It's so nice, we've covered it twice. You can find our reviews here and here.
If you're planning a trip through the Black Hills, be sure to consider a stay at Custer State Park. You will not be disappointed!
See you at the campground,
Stephanie + Jeremy
Podcast: Play in new window | Download