This guest post about great books with travel themes was written by our friend Kerri Cox from Travels with Birdy. To listen to Kerri, Russell, and Jeremy discuss this topic click on the media player above, or subscribe to The RV Atlas wherever you get your podcasts! 
Summer Reading With The RV Atlas!
When you can't be traveling yourself, you might as well vicariously travel through someone else. Books give us this opportunity to journey across space and time in other's real-life or fictionalized adventures. We are excited to bring you this list of great books with travel themes. You'll find books for kids, young adults, and yourself. Some are fun; many are serious. Some are true; some are not. All are really, really good!
This list comes to you from Jeremy, my husband (Russell), and I. Maybe there's something about being an English teacher that makes you want to talk books! Jeremy and Russell are both former English teachers, and I am currently one. It was fun to put our brains together to combine our love of books and travel. You really need to listen to this episode of the podcast to hear the full discussion!
Travel-Themed Children's Books
Camping Trip that Changed America: Theodore Roosevelt, John Muir, and Our National Parks (written by Barb Rosenstock; illustrated by Mordicai Gerstein)
This book is a fictionalized story of the true tale of a camping trip taken by President Theodore Roosevelt and naturalist/activist John Muir to Yosemite. The trip helped convince Roosevelt to protect even more lands as national parks and monuments. It is a great read to share with older kids, giving you an opportunity to talk about our public lands.
Fatima's Great Outdoors (written by Ambreen Tariq; illustrated by Stevie Lewis)
Fatima's family takes their first camping trip to a local state park, and she fully falls in love with camping, even though not everything goes as planned. The beautiful illustrations in this book really help you picture the whole adventure! It also shows that the outdoors are for everyone. Author Ambreen Tariq has an Instagram page called Brown People Camping, where she shares her adventures and encourages diversity in outdoor spaces.
Travel-Themed Young Adult Books
The Remarkable Journey of Coyote Sunrise (by Dan Gemeinhart)
Coyote has been traveling around the U.S. in a converted school bus for five years with her dad, Rodeo, but this isn't a family vacation. Instead, they are traveling as far away as possible from Coyote's old life, the one where her mother and sisters were still alive. Though this book deals with heavy themes of grief, there is a lot of humor and fun adventure, as Coyote and her father pick up a whole cast of characters. This one is better for middle-grade students.
Sisters (written and illustrated by Raina Telgemeier)
Who hasn't been stuck in the backseat of a car with their avowed worst enemy (their sibling)? In this graphic novel memoir, Raina looks back on a family road trip to Colorado and has flashbacks that show her evolving relationship with her little sister, Amara. Kids often LOVE Raina Telgemeier's graphic novels, making this a fun summer pick!
Be Not Far From Me (by Mindy McGinnis)
After a night of partying in the Smokies ends with a fall into a deep ravine, Ashley finds herself alone in the wilderness. Teenagers will enjoy this survival tale and may be inspired by the intrepid heroine. Author Mindy McGinnis's vivid writing really takes readers along for every inch of the adventure.
Adult Travel-Themed Books

On the Road and The Dharma Bums (by Jack Kerouac)
You can't talk about books with travel themes without talking about Jack Kerouac. Kerouac spent years criss-country the country with his beatnik friends, going from coast to coast. On the Road and Dharma Bums are two of his books depicting a fictionalized version of these adventures. Reading them gives you a full-flavor taste of the 1950s road-trip life, along with many sordid adventures.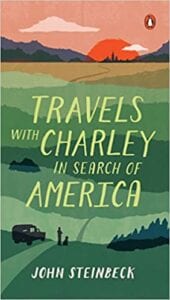 . 
Travels with Charley in Search of America (by John Steinbeck)
"A journey is a person in itself; no two are alike. And all plans, safeguards, policing, and coercion are fruitless. We find after years of struggle that we do not take a trip; a trip takes us."
Travels with Charley is a nonfiction masterpiece about a road trip John Steinbeck took with his standard poodle named Charley. He drove his 1962 pickup with a camper shell. Steinbeck set out to answer the question, "What are Americans like today?" Readers will enjoy his descriptions of the people and places he encounters along the way. I borrowed his title for my own travel blog Travels with Birdy!
The Americans (photography by Robert Frank)
Swedish photographer Robert Frank came to America over the course of several years starting in 1955. He wanted to understand and depict the real America. His photographs captured the beauty, joy, grit, and struggles of all kinds of folks. His documentary style showed what was sometimes left unseen before.
Wild: From Lost to Found on the Pacific Crest Trail (by Cheryl Strayed)
Dealing with grief after the death of her mother when she was 22, Cheryl Strayed decided to hike the Pacific Crest Trail, which runs from California to Washington. She walked over 1,100 alone and had no prior experience. Of course, this is a gripping adventure tale. But, it truly is so much more! You'll see Strayed transform her thinking and change her life after this trek.
Leave only Footprints: My Acadian-to-Zion Journey through Every National Park (by Conor Knighton)
The direction of Conor Knighton's life changed suddenly with a broken engagement. He set out on a cross-country adventure to visit every national park in a year. This memoir is both entertaining and informative, as readers learn tidbits about the park and enjoy Knighton's varied reactions and adventures.
Earth Almanac: Nature's Calendar for Year-Round Discovery (written by Ken Keffer; illustrated by Jeremy Collins)
Set up as a day-to-day guide, this fabulous book will teach you about animals, geology, astronomy, botany, and so much more. You can flip through and find something new each time you open it up–or follow it on a day to day basis to connect with the changing seasons. The illustrations really add to the experience.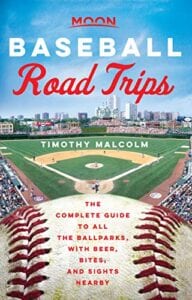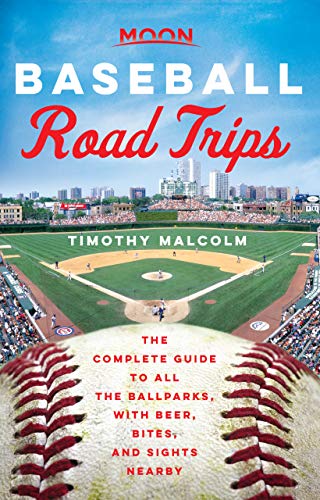 Moon Baseball Road Trips: The Complete Guide to All the Ballparks, with Beer, Bites, and Sights Nearby (by Timothy Malcolm)
Jeremy and I both find Moon Guides to be the best travel books out there. As Jeremy looks to plan a vacation with his boys to visit some famous ballparks, he plans to put this book to good use. If you don't have a ballpark trip on your agenda, check out the Moon Guide for wherever your travels will take you next! You'll learn about the regions and attractions, where to eat, where to stay, and more.
We hope you enjoyed this list of great books with travel themes and found some choices to add to your to-read list! For more recommendations check out this post about great books for RV and camping lovers.
See you at the campground!
Kerri
Podcast: Play in new window | Download