Have you ever dreamed about taking an epic RV trip to Big Bend National Park in Texas? It seems like it is a world away from everything which makes a trip there seem magical, and a little daunting.
On the very first episode of the summer season of The RV Atlas we are thrilled to have our friend Ryan Levy on the show to act as our guide to Big Bend National Park! Ryan has visited many times and he has an incredible passion for this magnificent park.
Ryan works in residential construction lives North of Austin in the great state of Texas. His traveling team includes his wife Jennifer and son Benjamin, daughter Bekah, and their two dogs Veddie and Carli Lloyd. They travel in a 2018 Casita Spirit Deluxe. Jennifer and Ryan are members of the The RV Atlas group on facebook and longtime RV Atlas podcast listeners!
The following notes were created by Ryan for his interview on The RV Atlas podcast. We have published them here in their entirety so listeners to the podcast can reference them for planning their own trips! All of the photos are also from Ryan's collection!
To listen to Ryan's interview click on the media player above–or subscribe to The RV Atlas wherever you get your favorite podcasts!
Thanks so much to Ryan for contributing such an awesome episode to the RV Atlas podcast! If you are ready to start planning your own epic adventure–then read on!
Where Is Big Bend National Park?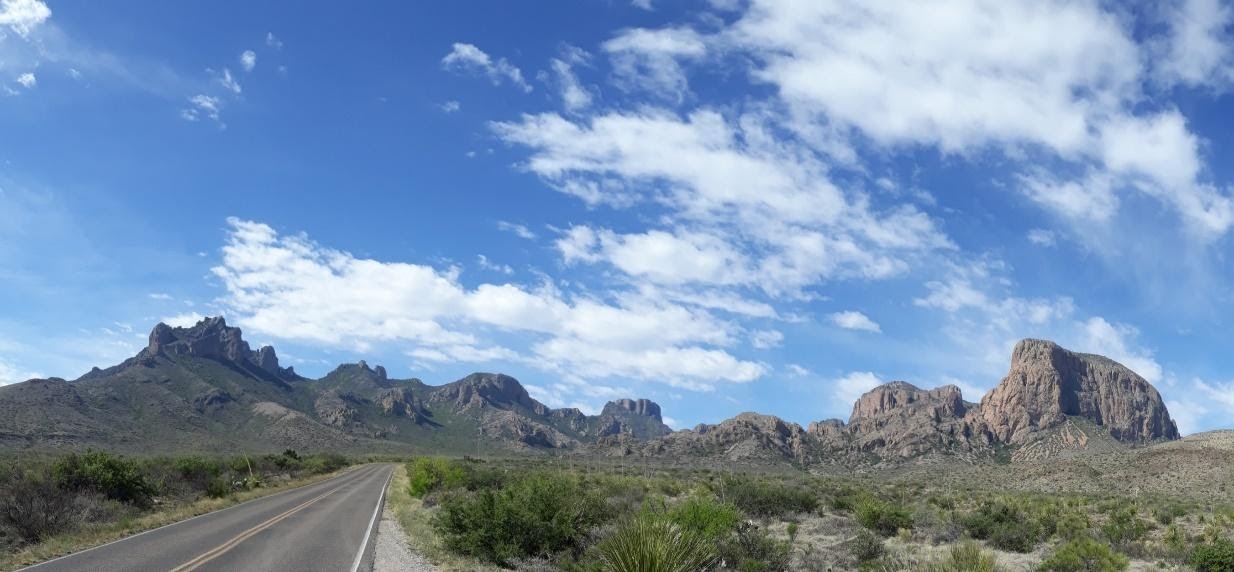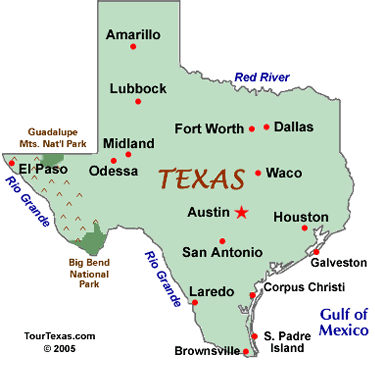 One of the most remote NPs in the lower 48

If you look at Texas, it has that bottle opener hook out in West Texas– that hook is basically Big Bend – it is the "big bend" in the Rio Grande River
In Texas we measure distance in hours, not miles – but no matter how you measure it, it's far from anywhere.

El Paso to Panther Junction Visitor Center – ~5 hours

Austin ~7-8 hours

Dallas ~8-9 hours

Houston ~9-10 hours

You will drive through Fort Stockton if coming from the east on I-10)….that is your closest Walmart.  We've boondocked at that Walmart on 4 or 5 different occasions – there are always a slew of rigs there.  
Areas of Big Bend National Park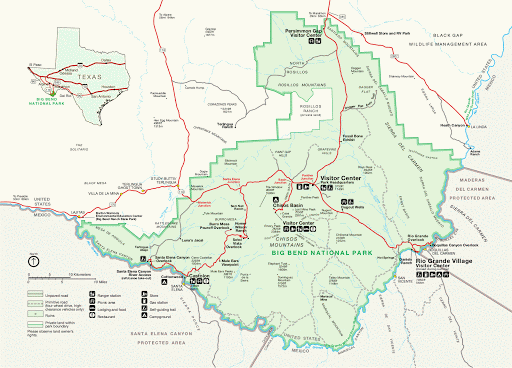 If you split the park into thirds….the Northern and southern thirds of the park are mostly desert without any infrastructure

The middle third of the park is where the lion's share of the visitor access is and it can be split into 4 areas – use a little imagination and think of it as a triangle (wide and short)

Bottom left (SW) corner is Castolon

Bottom right (SE) corner is Rio Grande Village

The top (north) corner is Panther Junction Park Headquarters/Visitor Center

In the middle of the triangle you have the Chisos Mountains

The park is massive and very spread out

At over 800,000 acres 

~50% larger than New Jersey)

Bigger than Yosemite, Smokie Mountains, Grand Tetons, Rocky Mountain NP

Driving from area to area within the park will take some time

Be mindful of fuel

Coming from the north, Marathon is the last town to get gas.

Coming from the west, you can fill up in Study Butte

There is a gas station next to the Panther Junction visitor center, but depending on where you are in the park, that could be 45 minutes away
What to Do in Big Bend National Park
Big Bend is a giant desert, but what makes it special are all the unusual features….I think that is what has people coming back over and over because you can't do it all in one trip.  I've been three times and there are still some big ticket "To Dos" that I still haven't done yet. 

If you're visiting for a day or two and just want to get a taste of the park, my recommendation would be to do Santa Elena Canyon and the Lost Mine Trail.  That'll give you the best bang for your buck.  You get drive through the desert and then get to experience the mountains and the Rio Grande river.
Hiking in Big Bend National Park
There is just no place in Texas with this many miles of trails or with this kind of diversity of trials

Family Hikes:

Santa Elena Canyon

Boquillas Canyon

The Chimneys

The Window

Lost Mine Trail 

Best trail in the park under 5 miles

Hiker's Hikes

South Rim Trail

Emory Peak

2

nd

highest point in Texas (7,825') – I don't think there is anything east of it in the US that is taller  

Mule Ears

Marufo Vega Loop Trail

Drive Ross Maxwell Scenic Byway

Boquillas Crossing into Mexico

Star gazing

Visit the hot springs

Check out the Dinosaur fossils

Offroading/Overlanding

Black Gap Trail is a Jeep Badge of Honor Trail

Canoe or Kayak the Rio Grande

In "the area"

Study Butte/Terlingua – Terlingua was a ghost town that has developed into a bit of loosely dubbed "gateway" town for Big Bend

The Starlight Theater Restaurant is the most well known eatery

We ate at the High Sierra Bar & Grill, which is part of the El Dorado Hotel – it's not much to look at, but it was surprisingly good Mexican food

River guides/rentals

Lajitas 

The drive from Lajitas to Presidio on River Road is supposed to be beautiful

Big Bend Ranch State Park is along this route

Marfa – quirky little artsy town

A bit further north you have the city of Alpine, Fort Davis State Park, McDonald's Observatory

Then a bit further north Guadalupe Mountains NP is near-ish in West Texas terms.  Great hiking there and it's only ~30-45 minutes from Carlsbad Caverns NP
When to Go to Big Bend National Park?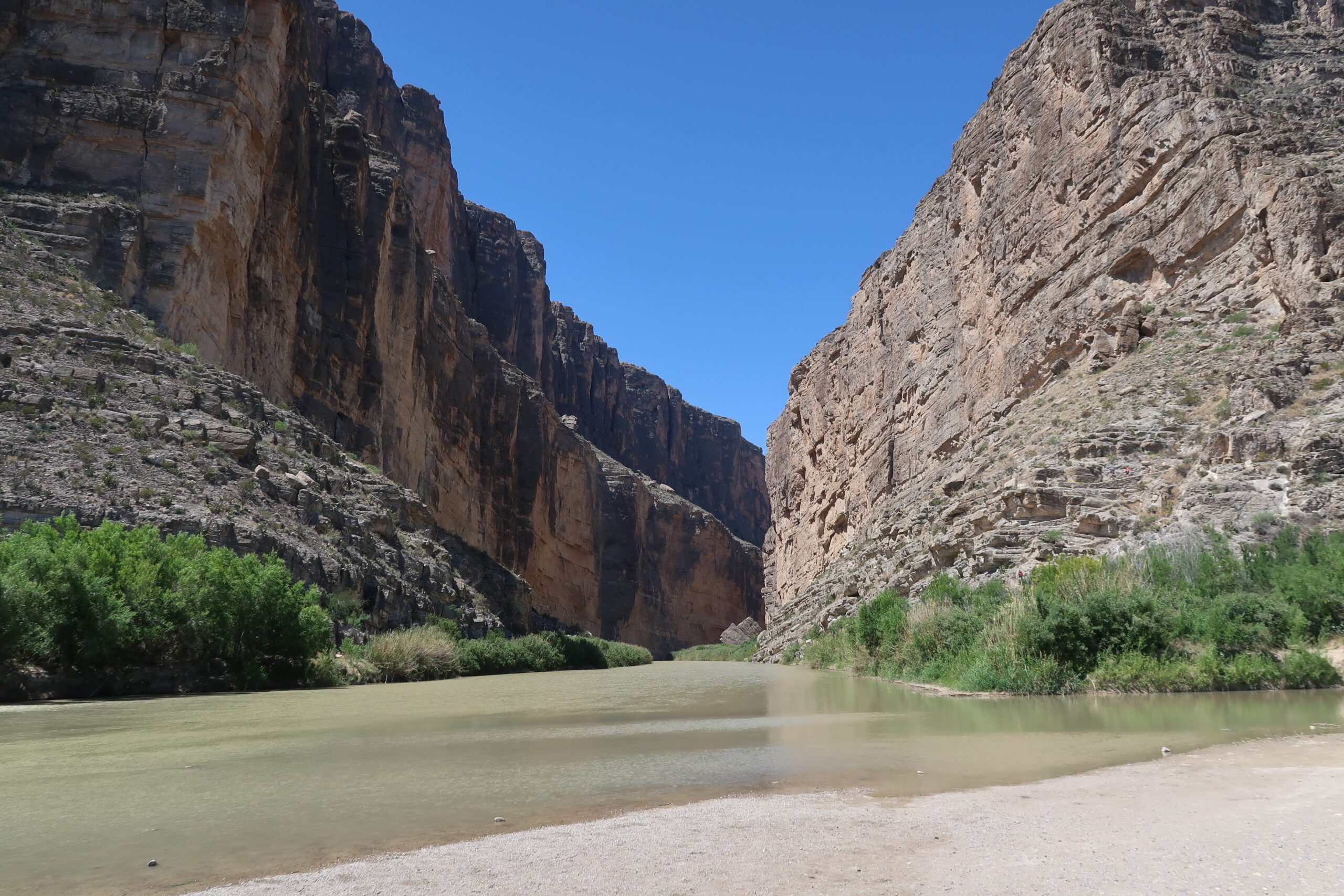 Most visitors go from late fall through spring

Spring break and the week of Thanksgiving are going to be crowded

Shoulder seasons are best for us – we've been twice in April and once just after Thanksgiving since we have to be careful boondocking because we don't have a furnace and can't run our AC
Wildlife in Big Bend National Park
Black bears and mountain lions (in the mtns)

Bears seen regularly, lions rarely seen

Tarantulas

Road runners

They look NOTHING like the Looney Toons character.  Wile E Coyote has been chasing a blue ostrich around for 60 or 70 years

Snakes, including rattle snakes and copper heads

Deer

Jack Rabbits

Javalinas

Scorpions

(also, if you're driving north out of the park towards the town of Marathon just after sundown you may see Elk along the highway – that'll make you do a double look)
NPS Campgrounds Inside Big Bend National Park
Four campgrounds inside the park

Cottonwood Campground

(I had 3 nights here on my most recent trip)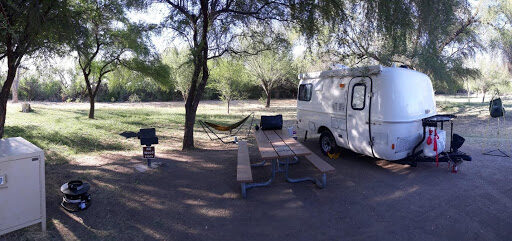 in Castolon area of the park (SW corner)

Close to the Rio Grande, but not on it

Closest campground to Santa Elena Canyon, nice to be able to drive down there around dusk to cool off and experience it with less crowds

Run by NPS

A single loop of 24 sites amongst a grove of Cottonwood trees

In normal times, 16 of those are reservable

Cool in fall and winter, spring is a mixed bag, and it's closed from May through November so people don't melt during the night

It is dry camping

No hookups

No generators allowed

No dump station

No wood fires allowed

It does have a potable water faucet at the entrance and some and non-potable spigots spread throughout the loop

A couple sets of vault toilets spread throughout the campground

Each site has a bear boxes (primarily for Javalinas), picnic table, freestanding steel grills

I walked through the campground at various times of the day to figure out which sites would be most desirable

Not huge pads – there were a couple 25' Airstreams near my site and they looked like they were squeezed in 

Mid-day shade is important

Sites 5, 7, 15, 16, 17 are you best bets (5 has the most)

17 is nice because it is at the end of the row and you don't have anyone directly on the other side of you

Birders love this campground – I came back to my trailer twice to find birders walking around in the grassy common area behind my trailer.  It was really nice to stretch out in my hammock and listen to all of them singing.

For sunset – take a camp chair with you and turn left out of the campground – about halfway between the campground and Santa Elena Canyon is a pull off on the right hand side called "Desert Mountain Overlook".  Hike up the hill and set up your chair facing Santa Elena Canyon.  The sun will disappear right above it.
 

Rio Grande Village Area (SE corner of park)
Two options for camping here

Close to the Rio Grande, but not on it

Close to Boquillas Canyon, the Boquillas Crossing, and Hot Springs

There is a camp store (with WiFi), flushing toilets, showers, laundromat

Open year round, but they warn it is hot starting in April

Rio Grande Village Campground
Run by NPS

100 sites

In normal times 60 are reservable from Nov through April

Some areas are open and some are amongst small trees

No hookups

~1/2 sites allow generators

Dump station

Potable water
Rio Grande Village RV Park

25 sites 

Run by a concessionaire – reservations by calling

It's on the other side of the camp store from the Rio Grande Village Campground

Full hookups

Paved parking lot – but it has full hookups
Chisos Basin Campground

(stayed here three times)
I love Chisos Basin – it would be on my Mount Rushmore of favorite campgrounds we've been to.  You're basically in a little pocket surrounded by mountains on all sites, and all of the best trailheads are in this area

Elevation is at 5,400' so much more pleasant – it'll be 10-15 degrees cooler than Cottonwood or Rio Grande Village (which are closer to 1,800')

The road up to Chisos restricts RVs over 24' or trailers over 20' so it is mostly just tents, small campers, and #vanlife

60 campsites

In normal times, sites #41-60 are saved for first come first serve

This is one of those campgrounds where if you want multiple nights in the same site during the "cool" months then you want to be logged into Recreation.gov and hitting refresh the moment the booking window opens up.

Open year round

Dry camping

Generators allowed at ~1/2 sites

Flush toilets and running water

There is a dump station

No wood fires (but can use propane firepits)

Each site has a picnic table and bear box – and some have a shade shelter

There is a camp store just up the road, next door to the visitor center (it is easily the best stocked camp store in the park)

The campground was originally designed for tent camping so it doesn't lay out super logically

For a number of sites you have to drive the loop the opposite direction of the arrows on the pavement to park so your door ends up on the camp side of the road – or to get to the dump station

Bring your levelers and make sure you have blocks for under your jack – there are some very unlevel sites

In my most recent visit, I spent some time meandering through the campground – normally it is completely full, but since it was limited at 25% capacity it was kind of nice to get to explore the sites 

My initial thought was that Site 30 was the best – it is flat and has awesome tree shade but I realized that the path from the overflow day parking to The Window trailhead leads everyone right next to your camper

35-39 are good – 38 has a sun shelter, some small trees, and a grassy area for the kids to play – we had this site in our first visit and this would be my first choice when making reservations

I also really liked site 58 – the campsite is a bit elevated from your trailer with some steps and there isn't a shade shelter, but since you're elevated a bit, it's really private and there are no obstructions it is just all mountains all the way around

Site 54 has a sun shelter and is flat and has the best view of The Window, so sunsets would be incredible from your table

7 is right by the dump station

Sunset location – The Window Overlook (right next to the visitor center) – you watch the sunset through The Window
Camping Outside of the Big Bend National Park:

Lots of little boondocking parks west of the park in the Terlingua/Marfa area

Maverick's Lajitas Resort

Hotel and RV campground, golf course, and dining
Other Tips for Visiting Big Bend National Park
Pets at Big Bend

Park is not very pet friendly

Pets are not allowed on trails

It is all dry camping and really hot

Wildlife – bears, mountain lions, scorpions, snakes

Its remote – I don't' know where the closest vet would be if you ran into a problem

There certainly were people with pets – but just something to keep in mind when planning your trip
Cell reception

Super spotty and inconsistent

I couldn't get signal at the Panther Junction Visitor Center – but then 4 miles into an offroad trail in the middle of no where, my phone starts pinging with text messages.

There were a couple of spots along the Ross Maxwell Byway where I got a couple bars

Best was at Rio Grande Village campstore and the Chisos Visitor Center
Podcast: Play in new window | Download