Stephanie and I are passionate about camping and RV Travel. We are also passionate about good books. I have an extensive library covering these topics, and wanted to share an epic list of our favorites. Whether you are interested in coffee table books filled with vintage campers, reference books that will inspire your own adventures, or "how to" primers on cooking and caring for your RV–we've got you covered.
We often regret time wasted surfing the internet or doodling on social media. But we never regret reading a good book. So pour yourself a mug of hot coffee and let yourself get lost for a little while.  These books will take you on fantastic adventures. Some of them will even help you get back home. Here is our list of great books for RV and camping lovers.
The links in this post are affiliate links. This means if you purchase something through the link, we receive a small commission at no additional cost to you. I will use all of that money to buy more books, so he kindly thanks you.
Coffee Table Books
This coffee table classic is beautifully designed, much like the Airstreams that grace its pages. It is also compulsively readable and tells the story of Wally Byam and his legacy with just enough detail. The pictures are gorgeous but the stories about Byam and his international "Caravan Club" are even better. Who's up for a cross country trip…..from Cape Town to Cairo!?
This chunky tome is chock full of kitschy visual memorabilia about the travel trailer and its role in American pop culture. Phil was a guest on episode #26 of our RV Family Travel Atlas podcast (Meet Mr. Trailerama) and he beguiled us with tales of vintage campers, quirky entrepreneurs, and Hollywood starlets.  From cartoons, to sheet music, to magazine covers, Trailerama will satisfy the wanderlust of any member of the travel trailer tribe.
Addicted to vintage trailer makeovers? Than Vintage Camper Trailers will regularly find its way to the top of your coffee table pile. This book of makeovers is more about fetish and fashion than Noyes's road trip through the heart of Americana. So they make perfect traveling companions. Hopefully they both end up with reservations under the pine needles of your family Christmas tree.
When it comes to the image of RV culture in America, most of the trash was taken out a long time ago.  When asked to imagine a travel trailer the average person is more likely to picture a $100,000 dollar Airstream at a busy campground than a meth lab beater in a back alley. Despite the bright shiny image of the modern RV industry John Bronkowski and Michael Closen ( the dynamic duo behind three of our coffee table picks) have decided to put the final nail in the coffin.  This book serves as a hilarious visual history of a bad reputation.
5. Camper & RV Humor by John Brunkowski & Michael Closen
RV travel humor is a comedic genre unto itself–as is any pastime where so many things can go wrong. Who among us has not cracked a black tank joke or broken something essential due to operator error? This coffee table cutie contains postcards and images from the world over and makes me want to take a private tour of Brunkowski and Closen's extensive collection. This book is more charming than laugh out loud funny, but it can park itself on my coffee table any day.
The history of Kampgrounds of America, which was founded in 1962 in Billings, Montana, is told through 230 photos in this somewhat slim but very enjoyable walk through the company's visual history. The story is told through images of original artwork that the company has commissioned over the past 55 years–and you can practically feel the warmth of the campfire and taste the sticky sweetness of a burnt S'more as you turn the pages.
The Creative Action Network has boldly revived the glorious See America project which was born during New Deal era America. The original project implored Americans to "See America First" and spend their tourism dollars right here in the United States.  The original campaign captured, and inspired, the wanderlust of a generation that won a ferocious world war and defined the American century.  The legacy of this revitalized campaign is captured in the pages of this compact but completely inspired collection of crowd sourced prints by contemporary artists. This rebirth of See America easily rises to the occasion for a new generation.
Check out episode #52 of RV Family Travel Atlas (Get Ready to See America) for an in-depth interview with Creative Action Network co-counder Max Slavkin about the rebirth of the See America project.
This is the ultimate pictorial scrapbook for those disciples who wish to worship on the mother road.  Wallis's book is as thick as a cheeseburger from a roadside dinner in Winslow, Arizona and it, "takes us on an unforgettable journey through the secret corners and hidden towns of America's most famous and beloved highway." I spilled a gigantic smoothie on my first copy of this book and ordered another one ten minutes later–I just couldn't imagine my coffee table without it.
Route 66 isn't the only way to get your kicks on an epic road trip. The Lincoln Highway documents the heart and history of "a glorious highway" that was born in 1913 and "connected the bright lights of Broadway with the foggy shores of San Francisco." That road still exists and if your considering traversing it, your journey should begin in the gorgeous pages of this quirky and utterly unique coffee table masterpiece.
RV and Camping History and Culture
This delightful collection (and a personal favorite) is filled with sharply crafted essays about objects that are well made–like wooden canoes and wool hunting jackets, and things that are just as essential to outdoor life as oxygen–like camp coffee and cast iron. Jerry Dennis is personable and just as passionate about camping as you are. He is that camping buddy that we should all be lucky enough to have, and can have, at least on a trip through the pages of this fine book.
This wild and wacky history of America's love affair with camping begins in New York State with William "Adirondack" Murray  and the birth of recreational camping and ends with the author renting a Class C motorhome and heading out into the Sonoran Desert in Arizona with his family. In between these adventures we read about John Muir and Theodore Roosevelt's epic campout in the Yosemite, the birth of the Boy Scouts and the Girl Scouts, the history of Nylon, and how men like Dick Kelty used it to fill the wilderness with a new generation of Americans who desired to See America, not with automobiles, but instead by foot. The author is a colorful character who earns his place beside the campfire with these legends.
Camping nerds rejoice! You know who you are… This more academic history of American camping includes chapters with titles like "Liberalizing the Campground: W.J. Trent and the Struggle Against National Park Segregation." If that sounds like your cup of percolated coffee, pull up a camp chair and get ready to get smart.  Terence Young is a professor of Geography at California State Polytechnic University and a camping historian–and this is his master class.
Terence Young is not the only professor to land a spot on our coveted and uber-intellectual reading list.  What Heading Out does for camping Winnebago Nation does for RVing. These two books would make the perfect pair for the camping intellectual on your list. Winnebago Nation is punchy and a bit cynical about RV culture and the RV tribe–but the book is entertaining and packed with some juicy tidbits about the history of Winnebago, the modern RV industry, and the dreamers who buy their products.
Al Hesselbart joined us on episode #163 of RV Family Travel Atlas (The RV Capital of the World: A Fun Filled Indiana History) and mesmerized us with tales of classic RV's and the zany entrepreneurs who put their fortunes on the line to build them.  This book is filled with stories and anecdotes about classic trailers like the Gilkie Camp King and the Continental Clipper and the modern companies that have transformed the RV industry, like  Thor and Forest River. But, perhaps most importantly, this is a story about a completely unique American industry whose latest chapters are just as interesting and compelling as its first.
Nomadland explores the dark side of RV culture by taking a close look at the "invisible casualties of the great recession" who have "taken to the road by the tens of thousands in late-model RVs, travel trailers, and vans." Bruder's scope is intentionally narrow and focuses on those who have few other economic options. This is decisively not a book about the growing number of adventurous "Digital Nomads"  who are doing just fine for themselves thank you very much.
Reference Books for Food, Travel, and Maintenance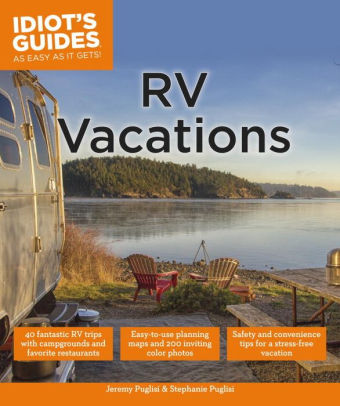 Only a fool forgets to plug their own book. Idiot's Guides: RV Vacations starts out with basic information for beginner's about safety and convenience and campground "know how." Then it heads into an extensive section on trip planning. We recommend campgrounds, restaurants, and activities for 40 classic RV trips from coast to coast. The book includes "easy to use travel maps" and over 200 color photos. Make sure you buy two copies! One for your home library and one for the RV…
17. Living the RV Life: Your Ultimate Guide to Life on the Road by Marc Bennett and Julie Bennett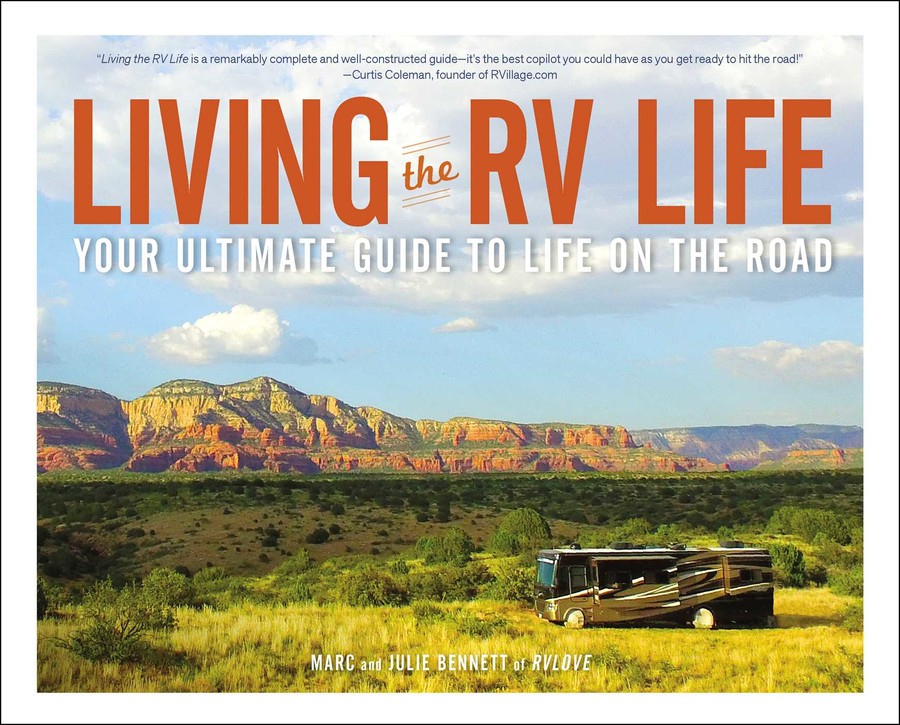 Marc and Julie Bennett's book Living the RV Life is a comprehensive guide to transitioning from a traditional stick and bricks life to living the full-time RV life. The book is packed with practical information about everything from buying an RV to getting your mail while living on the road. Living the RV Life is also filled with useful advice from other full timer RVers.  The sidebars and main text are packed with useful information and the photography is stunning. What's not to love?
While Route 66: The Mother Road (mentioned above) will get you inspired to motor west, this is the book to actually take with you.  Knowles's handbook includes an oversized portion of quirky roadside attractions with side portions of "vintage motels and cafes," and "amazing natural wonders." This indispensable guide also includes 85 maps that help you "pinpoint points of interest" to help you get your kicks with style and efficiency.
Mark Polk was born with a pair of Channellock pliers in his hands. Before starting RV Education 101 Mark was a Chief Warrant Officer 3 who specialized in wheeled and track vehicle fleet maintenance operations for the United States Army. The RV Book is a terrific primer on all things RV. It includes chapters on "RV Terminology," "Maintaining your RV," "Winterizing your RV," and "RV Towing and Safety" among many others. Mark is a friendly guide for the newbie and expert alike, and this book should be purchased on the same day you bring home your first rig!
We love food, but with three young kids in tow, eating while traveling can be a challenge. We have learned that roadfood is the secret to successfully enjoying a local food culture. This definitive classic by Jane and Michael Stern should be kept in the glove compartment of every tow vehicle in America. We check its state by state recommendations on every RV trip and we have never been disappointed by its recommendations. In fact, whether its for Barbeque, burgers, chicken and waffles, or shrimp and grits, Roadfood has led us to our most epic and memorable meals.
We love this book so much it has been the topic of two RV Atlas podcasts.
Check out a terrific interview with Michael Stern right here on episode #135 (Ready, Set, Road Food) and on episode #7 where we discuss our own philosophy of Roadfood as taught to us by the Sterns!
This is the culinary guide for folks "who love good food and the great outdoors." It includes over 100 recipes for campsite meals that are healthy and easy to make. Stephanie's favorite recipes include the spice rubs, the make ahead pancake mix and the curry chicken salad sandwich. Jeremy has yet to use this book, but with his newly found love for camp cooking, and the vintage gas powered stove that he brought from craigslist, he plans on cracking it open very soon.
22. S'mores! Gooey, Melty, Crunchy, Riffs on the Campfire Classic by Dan Whalen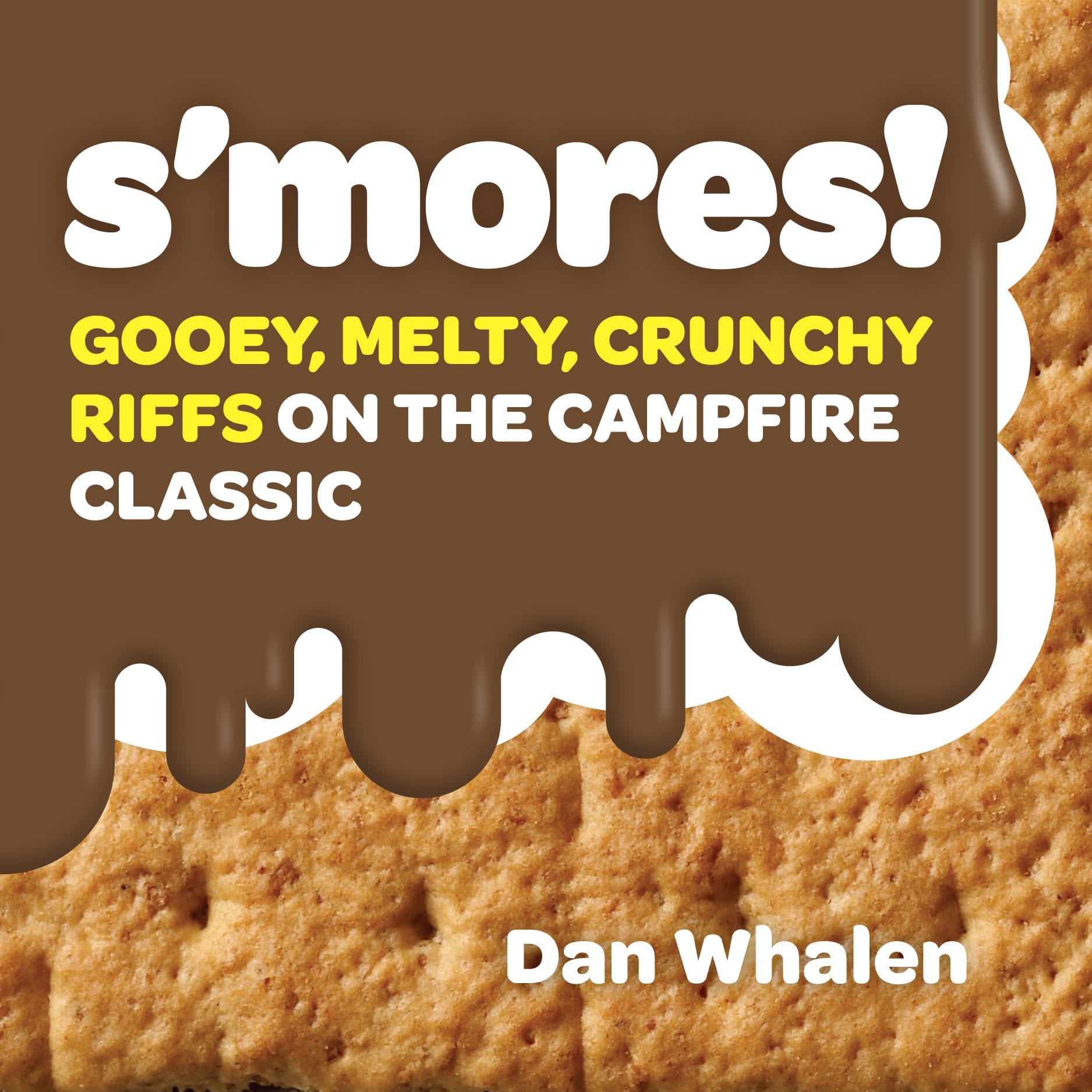 This summer's cutest new camping book is undoubtably the bite sized S'mores! Gooey, Melty, Crunchy, Riffs on the Campfire Classic by Dan Whalen. It looks and feels like a S'more for goodness sake! The cover art is soft and fluffy like a marshmallow and all of the pages inside look good enough to eat.  For such a small book it clearly has big ambitions. What are those ambitions? Quite simply to redefine an iconic american treat that is forever linked with warm summer nights and crackling campfires. Not to spoil the ending, but by the last page this mission has clearly been accomplished with panache, joie de vivre, and a motorhome full of marshmallows.  We think every camper should own a copy.
23. The Campground Gourmet: Simple, Delicious Recipes for Dining in the Great Outdoors by Kate Dunbar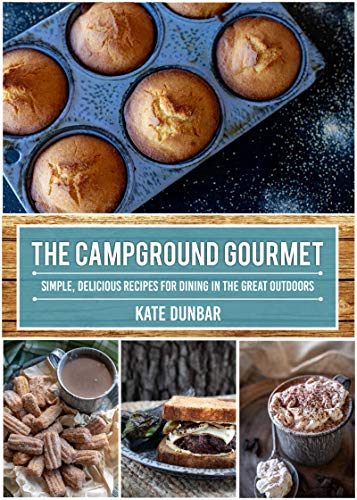 Kate Dunbar has been coming on the RV Atlas as a guest correspondent for years. Our listeners love her tips and recommendations for cooking gear, meal planning for road trips, and of course, RECIPES! Kate's recipes in The Campground Gourmet can all be easily made at home or at the campground. She keeps things simple and delicious so that each and every recipe is accessible and manageable for amateur cooks or experts! Kate's photographs are stunning and each recipe is clearly laid out and easy to follow.
This is the best reference book about National Parks that you have never read. It showcases "America's best natural playgrounds" in an attractive full color book that includes over 800 top picks ranging from lodges, to swimming holes, to picnic spots, and even to picture perfect places where star-crossed lovers can say "I do."
Travel Narratives
Philip Caputo gives the epic American cross country road trip an equally epic twist in this underappreciated travel classic. Instead of heading from East to West, Caputo starts towing his classic Airstream in Key West and heads all the way to the Arctic Ocean. His wife and two English setters make great company and so do the dozens of Americans that he interviews along the way. His constant question for them?  How do these United States, "peopled by every race on earth" stay united? Their answers are astonishing in scope and variety–much like the landscape of our great country.
Philip Caputo clearly had John Steinbeck's classic Travels With Charley: In Search of America in mind when he wrote his own book. Steinbeck's book has inspired generations of American travel writers and continues to do so. His son claims he made much of it up, but this is unsurprising considering he was a novelist at heart. Whether this is fact or fiction, travel narrative or novel, it still gets at the heart of what it means to be an American.
27. Don't Make Me Pull Over:An Informal History of the American Road Trip by Richard Ratay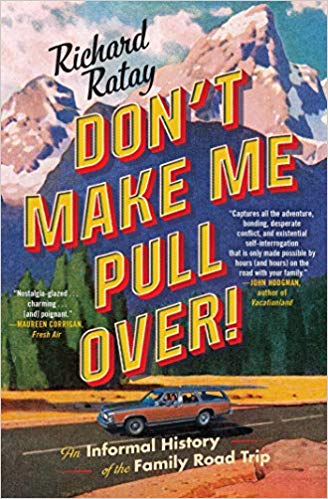 Ratay's book is not about RVing per se, but it is about family road trips. So 99% of his anecdotes and stories apply! This is a charming and breezy book that intersplices Ratay's personal family history and the history of the road trip in general. I learned a lot about the interstate highway system, the history of the Holiday Inn, and much more. There are plenty of funny family stories along the way. This book will keep you smiling from beginning to end.
Religion/Philosophy
"We want morsels not missiles!."  Dope words of wisdom from our favorite bear.
'Nuff Said.
Drop us a note and let us know what your favorite RV and Camping books are! Happy Reading Everybody!