From the Great Lakes to the Great Plains, there are a ton of amazing state park campgrounds in the midwest. Some call this Flyover Country, but the pristine waterways, lush woodlands, and incredible attractions are reasons to linger in the Heartland. Across the Midwest, state parks provide camping in diverse landscapes. Put these top picks on your list, but remember to book early because these stunning state parks fill early.
First, a note: We didn't include three amazing state park campgrounds in the midwest because we reviewed them in 12 Bucket List State Park Campgrounds in the USA. Be sure to check out South Dakota's Custer State Park, Ohio's Hocking Hills State Park, and Indiana's Indiana Dunes State Park over in that post.
Itasca State Park
In the "Land of 10,000 Lakes," it's no surprise to find a state park with 100 lakes. Not only that, Itasca State Park is home to the headwaters of the Mississippi River. Put your feet in the simple trickle of waters that eventually become the mighty Mississippi….all surrounded by the beauty of Minnesota's revered North Woods. There are plenty of hiking & biking trails within the park, and fishing and boating are popular activities. Head to north-central Minnesota to relax in the supreme beauty of the state's first state park.
Booking window: 12 months in advance
Peninsula State Park
They claim you're never more than a dozen miles from the shore when you're in Wisconsin's Door County, which very well may be true. Located on a peninsula between Green Bay and Lake Michigan, there's more than 250 miles of coastline to explore. Your biggest problem will be deciding which of the five state parks to visit (or, plan time to hit them all). Peninsula State Park is a prime base camp for your Door County journeys thanks to the natural beauty and recreational opportunities.
Hike and bike through the woods and along the bluffs, or enjoy boating and swimming along the 8-miles of Green Bay shoreline. There's even a golf course and musical theater in the summer. These sandy beaches will make you feel far from the Midwest.
Booking window: 11 months in advance
Mackinac Island State Historic Park
In between the mainland of Michigan and the Upper Peninsula, you'll find the Straits of Mackinac (pronounced like Mackinaw) connecting Lake Michigan and Lake Huron. These waters are home to Mackinac Island, which became a state park in 1895; in some ways, it has remained in that era ever since. No automobiles are allowed on the island, so you'll need to explore it on foot, on bicycle, or with a horse-drawn carriage ride. While many people think of the grand Victorian architecture when they think of Mackinac, you'll find much more on the island, including a historic fort and the stunning natural beauty.
You cannot actually camp in Mackinac State Park, so make a reservation at Straits State Park in the nearby town of St. Ignace. From there you can catch a ferry to the island and enjoy terrific views of the Mackinac Bridge.
Booking window: 12 months in advance.
Starved Rock State Park
When people think of Illinois, they often think of endless cornfields or the big city of Chicago. However, you'll find something completely unexpected at Starved Rock State Park. It's located an hour and half southwest of the Windy City, and known for its deep sandstone canyons formed by glacial melting. Visitors love the 13 miles of trails that run along the river and through the scenic canyons (where you'll find a dozen or more waterfalls). The Illinois River also offers boating and fishing. Be sure to check out the grand lodge, constructed by the CCC, and other historic sites in the park.
Booking window: 180 days in advance
Johnson's Shut-Ins State Park
Find three unique state parks to explore in southeastern Missouri's St. Francois Mountains. Johnson's Shut-Ins State Park is known as "Mother Nature's Waterpark" thanks to the geological features found in the East Fork of the Black River. Large rocks and small canyons create chutes, basins, and waterfalls along this scenic stretch of river, making it a popular place to play in the water. Take good water shoes and a hearty sense of adventure.
A few years ago, a massive flood devastated the park when a reservoir on a nearby mountain failed. The upside of this catastrophe is that new buildings and infrastructure were built, making this one of the state's nicest campgrounds. While at Johnson's Shut-Ins, a 20-minute-drive trip over to Elephant Rocks State Park is a must. True to their name, massive boulders are found here, creating an eye-boggling landscape. Also nearby, you can hike to Missouri's highest point at Taum Sauk State Park.
Booking window: 6 months in advance
Maquoketa Caves State Park
Located in eastern Iowa, Maquoketa Caves State Park is an unexpected find, thanks to the 13+ caves found in the park. Visitors will much to explore above and below ground. Interesting rock formations can be found along the 6-miles of hiking trails, including a natural bridge and a balanced rock. Grab your messy clothes and flashlight, and head deep into the cave, with offerings for all comfort levels from claustrophobic-friendly to spelunker's delight. Though the campground already gets good reviews, the Iowa State Park system will be making improvements in 2018, so the campground will be closed during the summer season. Plan to stay in 2019 and beyond.
Booking window: 3 months in advance
Runners Up:
Kansas's

Kanopolis

State Park

is noted for its unique landscape in the state's Smoky Hills. With a lake, hiking trails, and more, this is a great pick for outdoor adventures.

Nebraska's

Smith Falls State Park

is home to the state's largest waterfall, and it's right off the shores of the Niobrara River, a popular spot for tubing, kayaking, and more. Leave the RV at home and bring your tent, as this park only offers primitive camping.

North Dakota's

Fort Abraham Lincoln State Park

offers a history lesson in a scenic location along the Missouri River, with a reconstructed Native American village, fort remnants, and a historic home General George Custer lived in.
Visiting these state parks will give you a wonderful peek into the picturesque landscapes and outdoor recreation found across the Midwest states. You may find yourself leaving your heart in the Heartland.
See you at the campground!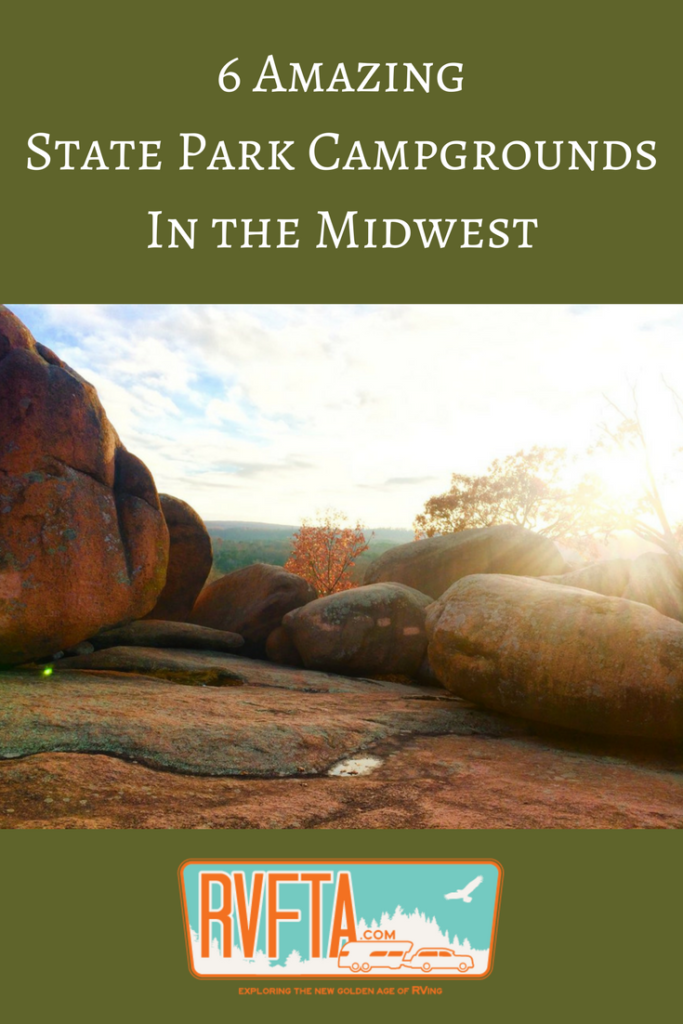 Podcast: Play in new window | Download