On today's episode of The RV Atlas we are heading west for a review of four amazing campgrounds in the Pacific Northwest that you are going to want to add to your bucket list!  The Pacific Northwest is my favorite geographical region of our country and the entire RV Atlas crew cannot wait to get back some day soon.
Four years ago our family took an epic camping trip to the Pacific Northwest and spend 26 days doing a huge loop from Seatlle to Olympic National Park, to Mount St Helens to Coastal Oregon to the Redwoods, back into Oregon for Crater Lake and Odell Lake and then back to Seattle—it was such an amazing trip–my favorite trip ever. 
I've been dying to get back ever since–my wanderlust for the Pacific NORTHWEST IS VERY VERY STRONG.
Kendra and Tyler from Campspot
So on today's episode we are heading back to the Pacific Northwest with our terrific first time guests Kendra and Tyler from CAMPSPOT. Kendra and Tyler (and their two cats, Sunny and Luna) travel full time in their AIRSTREAM creating content for Campspot. They do photography, video, writing, camp cooking content and so much more and their visual style and killer photo and video chops can be seen all over Campspot's website.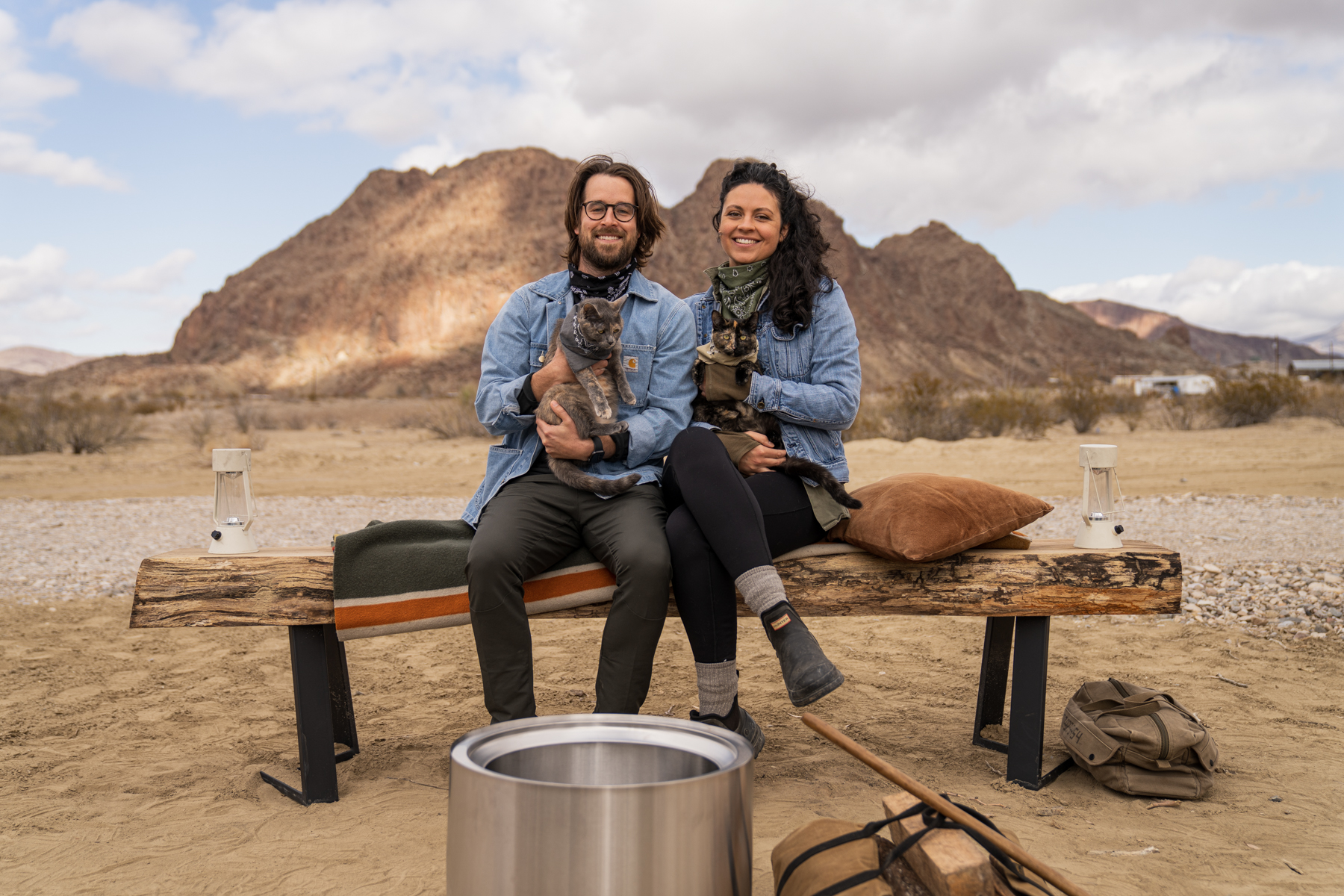 Kendra and Tyler have travelled all over the country and we had a lot of cool options for podcast episodes–but of course I asked them to do an episode about campgrounds in the Pacific Northwest—during the interview I meant to say that I felt like a kid in a candy shop talking to them about podcast ideas–but instead I said I felt like a kid in a candybox.
What the heck is a candy box? I don't know–but it doesnt sound like it holds a lot of candy! 
So just so you know–I meant a CANDY SHOP! Because Kendra and Tyler have been everywhere! And I hope to have them back on the show to cover more great campgrounds in other parts of the country.
So let's dive in and get four great recommendations for campgrounds in the Pacific Northwest from Kendra and Tyler. And huge thanks to Tyler for the amazing photos in this blog post!
To listen to today's episode of The RV Atlas about campgrounds in the Pacific Northwest click on the media player above, or subscribe to the The RV Atlas wherever you get your podcasts! Or just check out Tyler's amazing photos and and Tyler and Kendra's highlights in the notes below each campground!
Northern California 
Ramblin' Redwoods Campground & RV Park in Crescent City, CA
Redwood National and State Parks

Favorite trails:

Lady Bird Johnson old grove trail (easy access loop trail)
Tall Trees Grove Loop Trail- Permit required trail— mildly difficult, but old growth and river
Coastal trail — easy and great for sunset views

Scenic drive on the Newton B. Drury Scenic Parkway (off US-101)
Klamath Beach – sea lions
Crescent City:

SeaQuake Brewing (great fries with an amazing parmesan dipping sauce)
Battery Point Lighthouse — also great for sunset
Oregon
Craine Prairie RV Resort in the Cascade Lakes Region of Oregon 
Beautiful, remote campground in a wooded setting with full-hookups
Just around the corner from the Cascade Lakes Scenic Byway
Lake access and lake-views of Mt. Bachelor, South Sister, and Broken Top mountains
The campground offers boat, pontoon, SUP, and kayak rentals
Short drives away from Odell and Crescent Lake which was one of the clearest lake I've seen
Near some incredible waterfalls including Salt Creek Falls in the Willamette National Forest that featured an easy hike down to the base of the falls but what makes these falls so great is its accessibility with paved paths and the location being just off the highway
1.5 hours away from Crater Lake
Side note – they do not have 50 amp service at the park so make sure to bring your converter if you need it
Milo McIver State Park, Oregon
(Milo K. McIver (1897-1962), member of the Oregon Highway Commission from 1950 to 1962 and strong supporter of state parks activities. )
Seasonal Camping Mid-March to October 31
44 electrical sites with water (one accessible
Nine tent sites with water nearby
Hot showers and flush toilets
Three reservable group tent camping areas with water, flush toilets, and fire rings
Three hiker/biker campsites with water, lockers, solar charging station and fire pit
RV dump station
What to do in the area:
-Clackamas River- people go out on rafts, canoes, or kayaks.
It's got great fishing at Estacada Lake that has a boat ramp and an ADA fishing dock and again the Clackamas River- it has steelhead and Chinook salmon
SUP and Kayak Rentals
Tons of hiking and horse trails. We walked through the Clackamas Fish Hatchery that's located at McIver Park and did the self-guided tour that takes you through the life-cycle of Chinook Salmon and steelhead
Lastly, it has a "world-class" 27-hole disc golf course at the Riverbend Day=use area and discs are available at the park office to rent or buy. (Tell story of people playing disc golf and an eagle swooped by and we were super excited)
Super close to Portland (only 33 minutes away from Portland with terrific views of Mt. Hood)
Washington State
Elkamp Eastcreek Campground in Mineral, Washington
We were just there last week and we already miss it.
located at the foot of Mt. Rainier and located just a 15 minute drive away from the Nisqually Gate of the National park, the only entrance of the park that's open year-found
10 RV sites, 10 tent sites so it's never super overcrowded – always quiet, wooded and private with each site being surrounded by beautiful, moss-covered trees the pacific northwest is known for
Owners Tom and Brian make you feel so welcome and have an incredible campground store filled with your basic things but things like campfire cookbooks, coffee table books on camping for all the camping vibes when you return home, art supplies, and more.
Located near Portland and Seattle.
What makes this park unique are the miles of nature trails right on site through the meadow of wildflowers (depending on the time of year of course) and the old growth forests and the green woods of moss and ferns, the kinds of woods you'd expect from the evergreen state
Podcast: Play in new window | Download