Of course, nobody wants to go to a campground that disappoints. But, how can you really tell if an RV park is a good place for you or not? Luckily, there are campground review resources that can guide you to the best sites for your needs.
Today, we're breaking down ten great websites and apps and telling you the pros and cons of each. Check out these awesome resources before your next trip!
To hear more about these campground review resources, click *play* in the media player above, or look for The RV Atlas wherever you find your favorite podcasts.
Don't forget: Our friends at Sourcebooks have super cute limited edition mugs and bumper magnets for those that preorder See You at the Campground. To get yours, just go to one of the retailers below, place your pre-order, and then come back to this post to fill out this form! You'll have to provide your email address, mailing address, and receipt/invoice number for your book purchase. The free gifts are EXTREMELY LIMITED AND WHEN THEY ARE GONE THEY ARE GONE!
TripAdvisor
The TripAdvisor website is pretty ubiquitous for almost all of your travel needs, but it's really just coming into its own as a place to find campground reviews.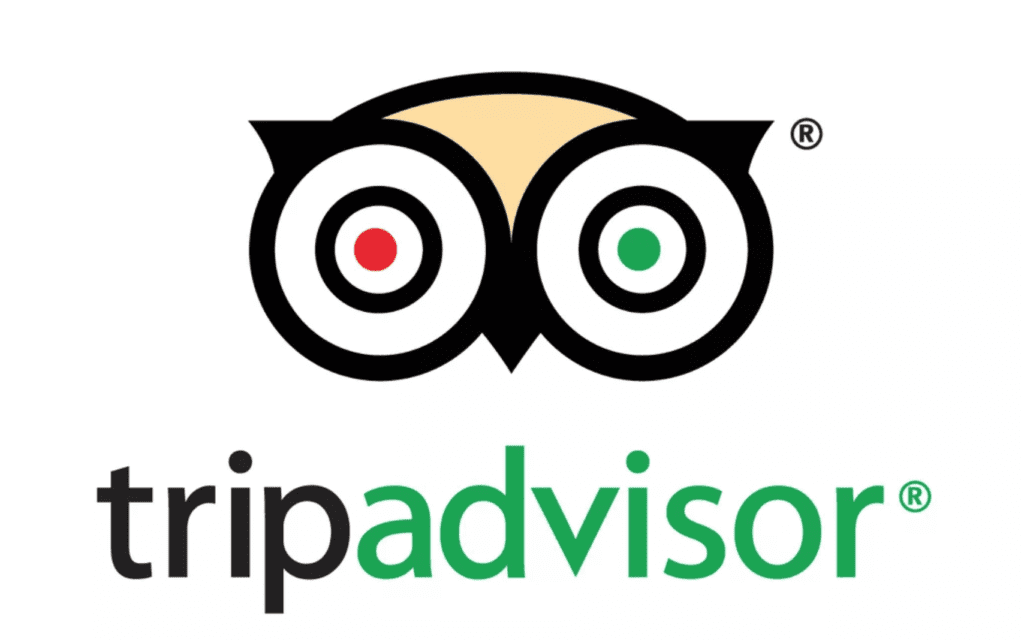 Pros: This website has tons of recent reviews and photos from travelers. Also, the campground owners/managers can respond, which lets you get the whole story about some of the negative reviews (or you can see if the owner is a jerk!).
Cons: Many of the reviews come from non-RVers, so you might find more opinions about the cabins instead of the campsites.
Campendium
Campendium offers a great website and app focused primarily on campground reviews, including traditional campgrounds, boondocking, and even dump station locations.

Pros: Both the website and app are super easy to use easy to navigate, and we really appreciate the handiness of the app when we're mobile. You will find really extensive reviews for boondocking locations, which is good if you need that kind of detailed info.
Cons: These are user-generated reviews, so the actual quality of the review varies wildly. Plus, the website is still growing, so you may not see a ton of reviews for every campground just yet.
The Dyrt
The Dryt offers a website and app. This seems to be aimed at more of the state/national park and tenting crowd (perhaps, even the more millennial crowd–I say that as a good thing).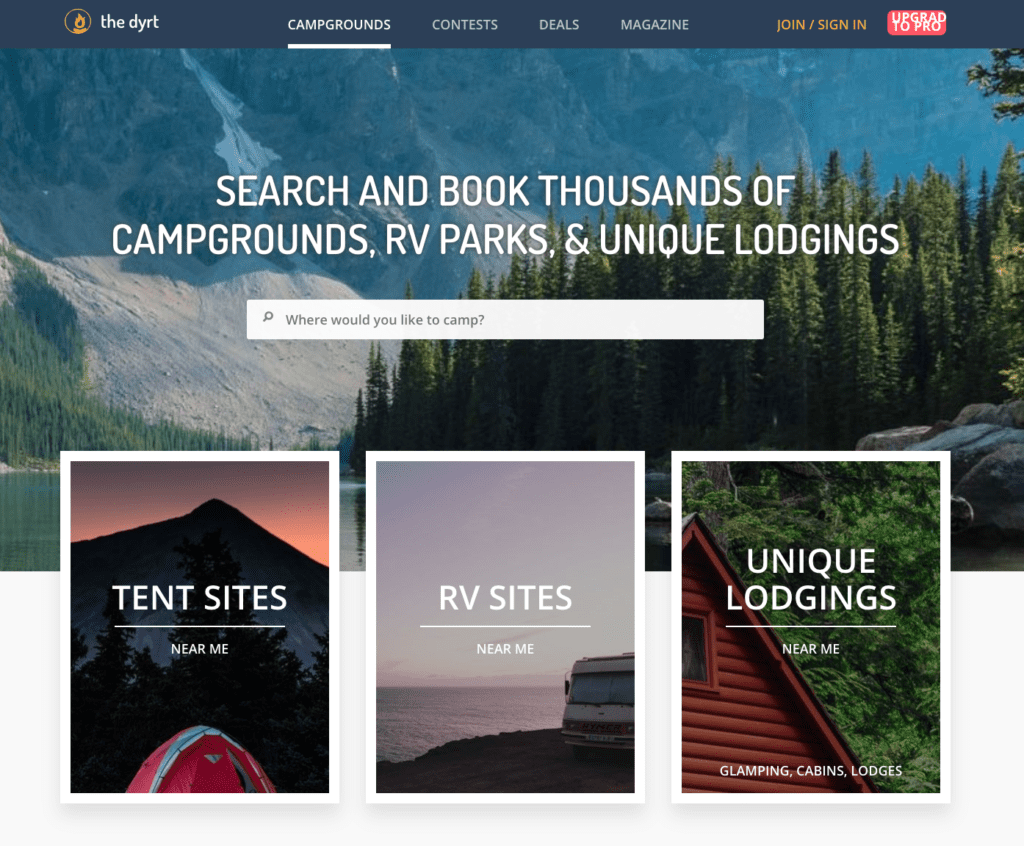 Pros: The styling is eye-catching and appealing. Plus, you'll find lots of great content on the site, including blog posts with travel and campground features. One thing we like is that they have a description written by a Dyrt writer followed by reviews. So, it gives it a little more balance than just user-generated reviews. 
Cons: Like Campendium, the reviews still need to be built up, which will happen as the site grows. We searched for some local favorites, but not all of them are on there yet.
Campground Reviews
The Campground Reviews website has been around a long time. In fact, we used to use it a lot.

Pros: The great thing is that the reviews are written by experienced RV owners. You'll find lots of reviews for almost every campground out there since this site was one of the first.
Cons: Many campground reviews are written older RV owners, so they may not be looking for the same things you are in a campground (like playgrounds and pools, perhaps). Also, since the website isn't exactly stylish and they don't offer an app, they likely aren't drawing in the younger crowd of RVers. Finally, you have to watch the date of the reviews. You'll find some that are pretty old and may not reflect the current status of the park.
KOA 
KOA offers a website and an app dedicated just to their campgrounds. With 500 campgrounds all across the US, KOA is a known brand for many RVers.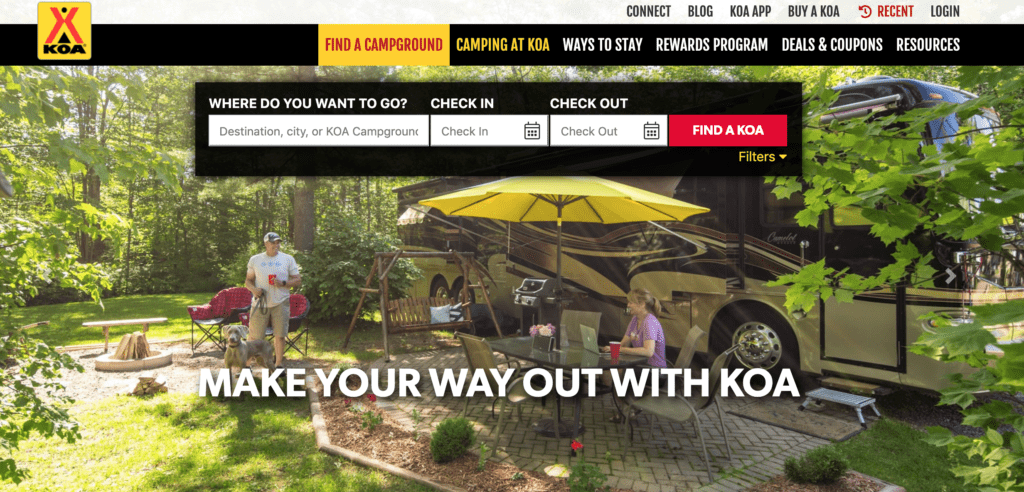 Pros: Most of the KOA campgrounds actually allow reviews to be left right on there on KOA's landing page, and I really don't think they are censored. KOA asks for these reviews after your stay. This is a whole different thing than someone crafting a Tripadvisor review (especially when they have a bone to pick). KOA asks everyone about their experiences, so you get a broad snapshot of responses, even the bad ones. It's admirable when a campground is willing to post the good, the bad, and the ugly reviews.
Cons: You'll only find KOA campgrounds.
Campground of the Week Podcast and the RV Atlas podcast
We are pretty proud to say that we know quite a few RVers who use our podcast and blog posts as one of their campground review resources. You can find The RV Atlas online and wherever you find your favorite podcasts. Plus, we used to have a whole show dedicated to campground reviews, called Campground of the Week. Even though we no longer do that podcast, those reviews and episodes can still be found online (this link takes you right to the Campground of the Week content on our website). Or, you can use the search bar at the top of our site to search for whatever state you are looking for.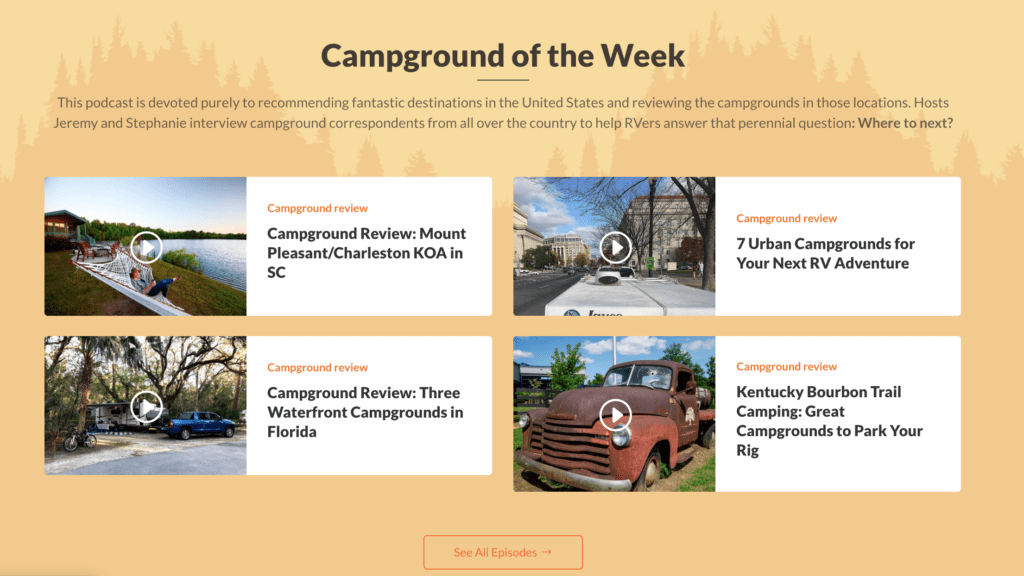 Pros: Between our own reviews and our network of correspondents from across the US, we had a dang good amount of content, covering many popular RVing locations. Plus, these posts are more in depth than the typical user review found on the websites above. And, if you like to listen while you drive, run, or work, you can do that, too!
Cons: While we are putting in a good faith effort, we haven't been everywhere yet, nor have our correspondents. Give us some time, and maybe we will get there.
To hear more about these campground review resources, click *play* in the media player above, or look for The RV Atlas wherever you find your favorite podcasts.
The RV Atlas Group on Facebook
We've said it before, and we'll say it again: Our RV Atlas Facebook group is full of the nicest RVers on the web. If you hop on and ask for reviews around a location, you'll get a bunch of responses.

Pros: You can use the search feature to find prior conversations or to start a new one. Got a question? Ask away!
Cons: Sometimes, if you post your question at a slow time of day, you might not get a ton of responses. Post in the evening for the quickest replies.
Allstays
The Allstays app is another classic option. Stephanie doesn't pay for a lot of apps, but she says this one is worth the investment.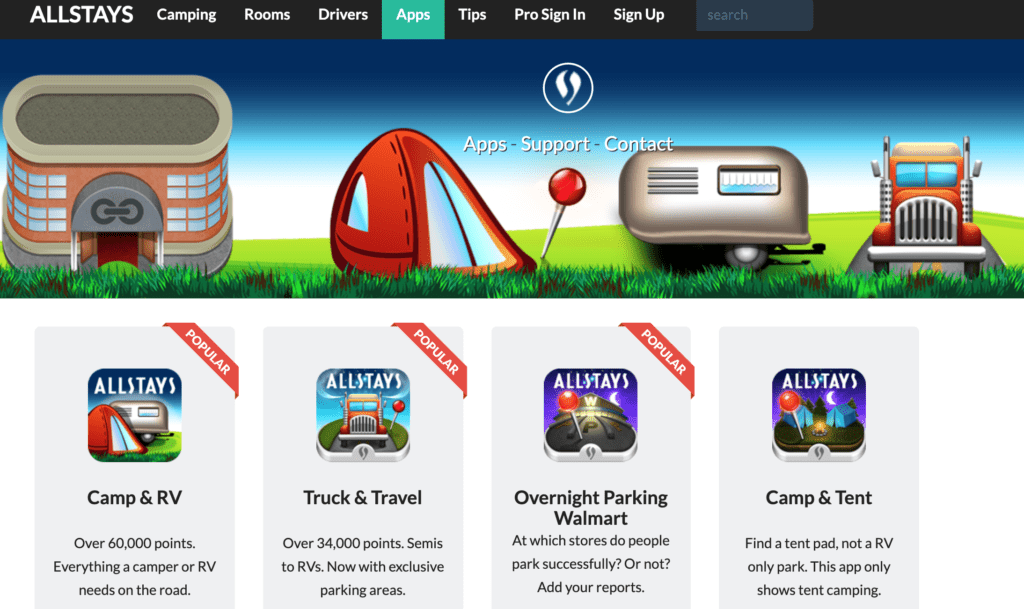 Pros: Allstays is very complete and very reliable. It's honestly probably the best overall app. Plus, you'll find more than just campground reviews. You can find dump stations, RV service centers, low overpasses, and on and on. It's a wealth of great information.
Cons: This resource isn't free. It's selling for around $9.99 currently. While that sounds like a lot for an app, the search capabilities and extensive information base make this one worth consideration.
RV Parky
We have to admit that we are not quite as familiar with the RV Parky website or app, but it's a name we frequently hear recommended in our Facebook group.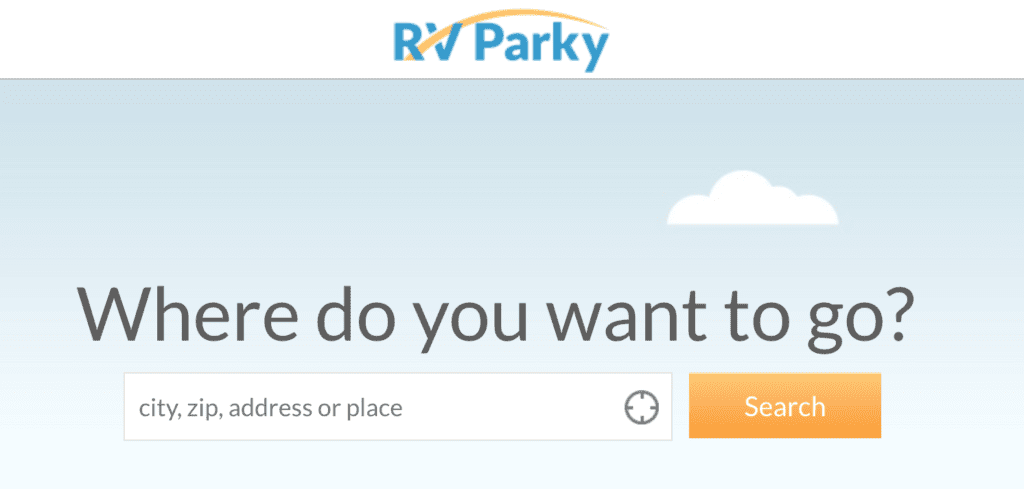 Pros: It seems easy to navigate and has a lot of options for filtering results for campgrounds, stores, gas stations, RV warnings, and more.
Cons: While definitely comparable to Allstays, RV Parky is not quite as extensive (but, it's free, so it might be worth a try!).
Guide Sam Guide Series
We definitely want to include at least one print resource, and the Good Sam Guide Series is it! Available in Camping World stores and online, the big fat Good Sam book is published annually. Instead of including detailed reviews, this guide uses a numbered scoring system for thousands of campgrounds across the US.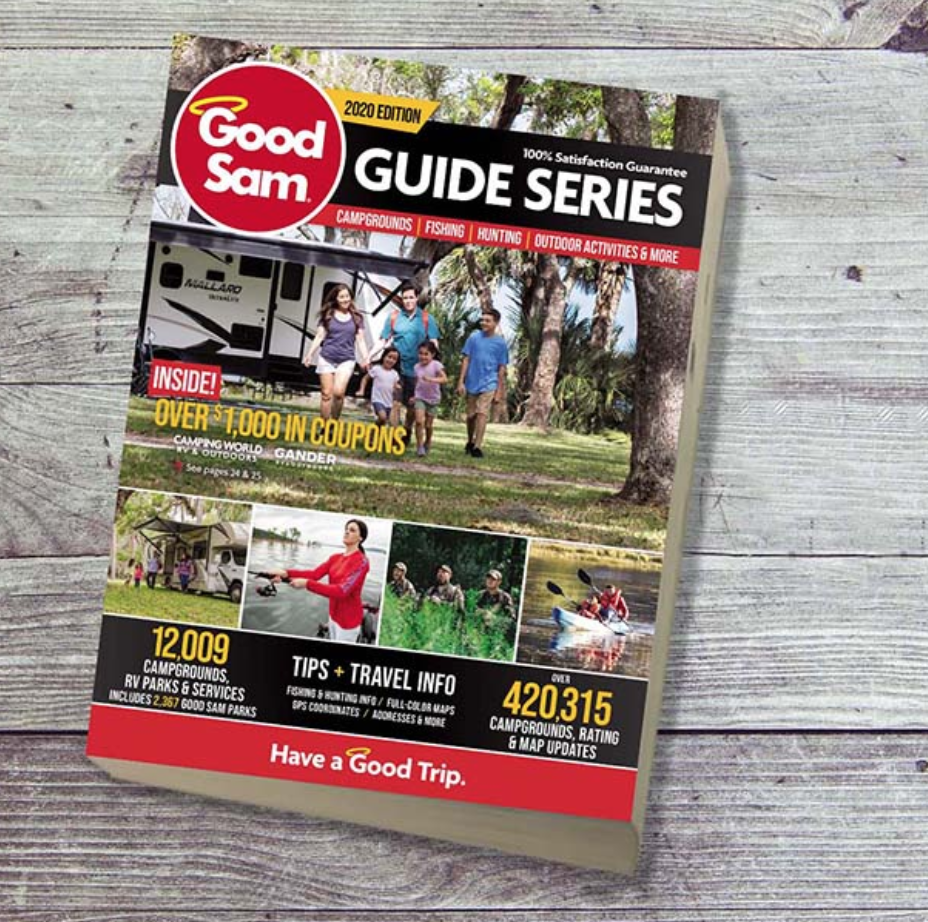 Pros: The Good Sam book includes scores for almost every private campground imaginable, sorted by state. It's really extensive. Plus, you'll find good travel content to peruse.
Cons: You might find some grade inflation, unfortunately. So, use the scores as a starting point for deeper investigation.
We all know planning a trip is half the fun. If you're getting ready to book your next trip, we hope these campground review resources help you find the parks for you!
See you at the campground,
Stephanie + Jeremy
Podcast: Play in new window | Download