Who is ready to go glamping?
Our brand new book, Where Should We Camp Next? A 50 State Guide to Amazing Campgrounds and other Unique Outdoor Accomdations has over 300 total campgrounds recommendations with 5-11 reviews in each state. Our book also offers up a unique badge system to help readers quickly identify campgrounds that have certain very specific qualities. The badge system gives the following stamps to a limited number of excellent "waterfront," "glamping," "romantic weekend," "rustic," and "family," campgrounds. We wanted to give our readers a sample of some of the campground reviews that appear in the book before it is published on March 2nd. So on today's episode of The RV Atlas podcast, and here on our blog, we are giving you a small sample of just a few of the campgrounds that earned the "glamping" badge.
Here at the RV Atlas we love rustic state park type campgrounds, but we are not afraid to glamp it up! Here are ten places that have luxurious amenities, and in many cases, deluxe glamping tents and cabins if you feel like leaving the RV at home for a romantic weekend!
Here are 8 amazing locations for glamping in the USA! We talk about even more locations on this week's podcast! Listen by clicking on the media player above, or subscribe to The RV Atlas wherever you get your favorite show!
Sandy Pines Campground: Kennebunkport, Maine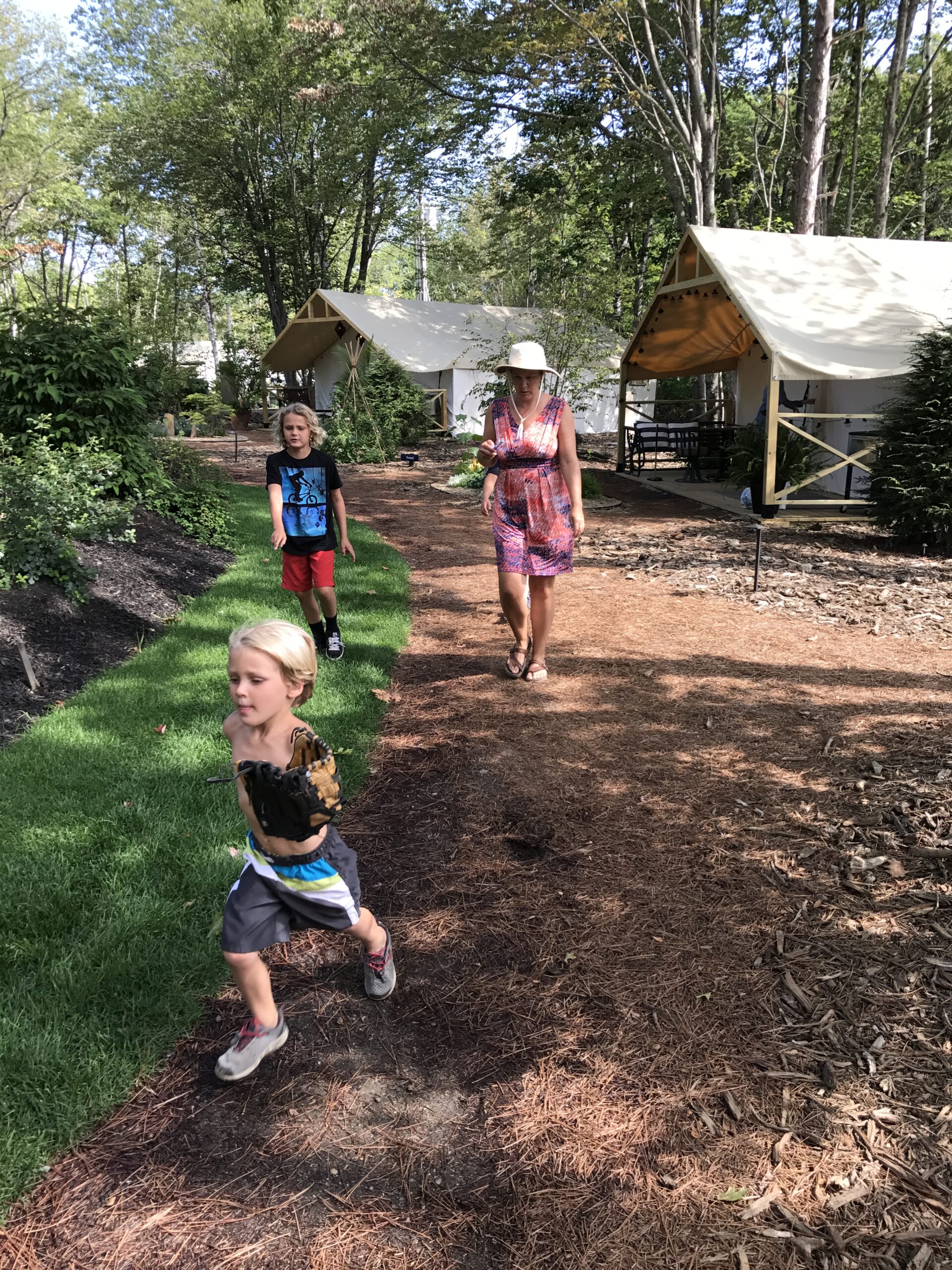 If a state park and a resort campground fell in love and had a baby, its name would be Sandy Pines Campground. This magical retreat feels miles away from the hustle and bustle of Kennebunkport, perched on the edge of a salt marsh and filled with beautiful birch trees. The rustic tent sites are tucked back along the water's edge. The RV sites are spacious, shaded, and perfectly manicured. The glamping accommodations look like they leapt off the pages of a magazine. 
While the campground offers the natural beauty of a state park, the amenities are resort quality. There's a beautiful pool, activity field with corn hole, ladder ball, and badminton, and a delightful Kid's Craft Tent. Guests can rent paddle boards, kayaks, and bikes from a local vendor.  They can also enjoy coffee and fresh pastries at the camp store each morning, and burgers grilled by the pool for lunch. 
Massey's Landing: Millsboro, Delaware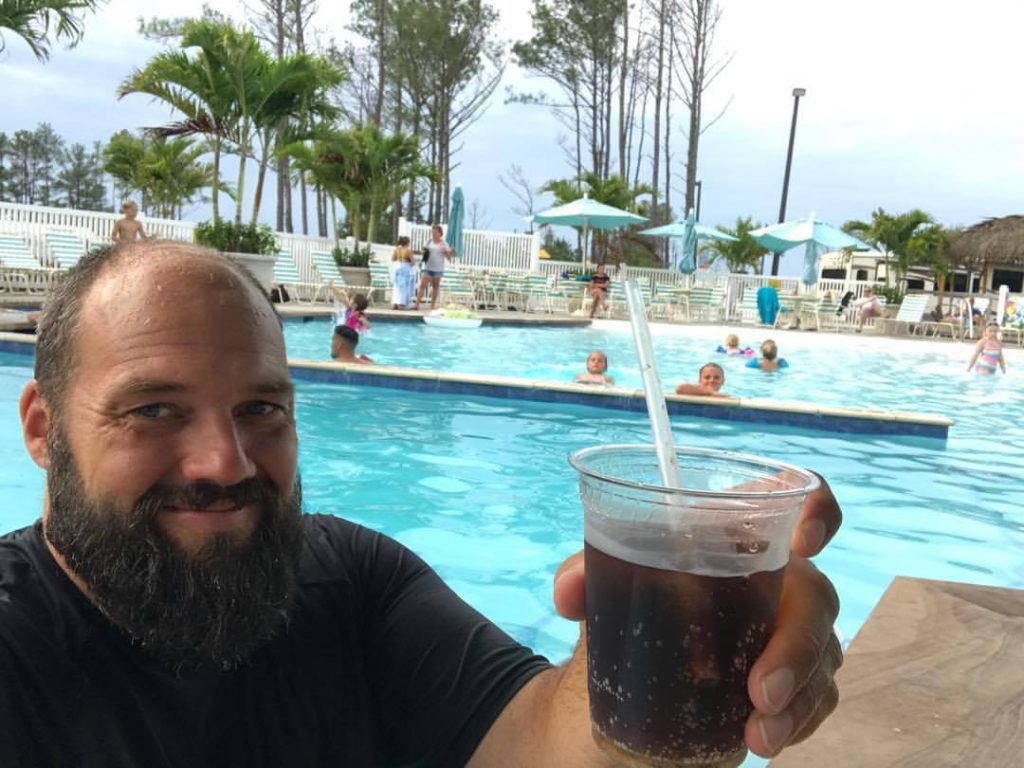 East Coast RV owners love resort-styled campgrounds with luxurious amenities–and they are willing to pay $100 a night or more for sites. Massey's has been the talk of the town among this crowd for several years.  We think the RV sites could be a bit bigger, but we love everything else here. The pool and bay beach are great for swimming, and the onsite Paradise Landing Tiki Bar and Jackspot Pool Bar, means you can have a cocktail or two and walk back (carefully! Watch out for golf carts!) to your site. Massey's somehow manages to be a good-time campground for the adults while still maintaining a family friendly vibe. Pull in at 9:30pm and Van Halen will be cranking and drinks will be flowing. Pull in at 11pm and just about everyone will be asleep.  If you love to kayak or SUP try to get a waterfront site and you can launch just steps away from your campfire.  
Reunion Lake RV Resort: Ponchatoula, Louisiana
Many RV owners want the same types of resort style amenities and activities that travelers get when they check into luxury hotels–and they are willing to pay for them. Over the last decade the campground industry, particularly in the Northeast and the South, has responded by building true "resort" style campgrounds like Reunion Lake RV Resort. This is a gated resort with concierge level service and facilities. Kids and adults love the Lazy River and Family Pool. But if it gets too noisy or crowded for there–just head on over to the adult pool with a swim-up bar and the friendly bartenders will be happy to mix your favorite drink.  If it gets unbearably hot rent yourself a poolside cabana with ceiling fan and your own personal attendant to bring drinks and food. The lake is also a great place for a refreshing dip or kayak ride. The "Float Lake Obstacle Course" is also great for older kids and adults who are still young at heart. RV sites are mostly pull thrus that are out in the open with minimal shade. Bring a screen room or plan on using your RV's awning to create a cool and comfortable place to kick back with a book or just watch the world go by. 
Collective Retreats: Collective Hill Country, Texas
Texas Hill Country, with its wineries, wildflowers, and antique shops, is the perfect place for the luxurious glamping experience that Collective Hill Country offers. The tents feature 1,500 thread count linens and wood burning stoves for heat on those chilly nights. Food is farm to table and the service is five stars. The staff will guide you to the best local adventures in Hill Country, and make sure that everything in your tent is perfect for a relaxing and unforgettable getaway. As for the price? If you have to ask……
Pines of Kabetogama Resort: Near Voyageurs National Park, Minnesota
If your journey takes you to Voyageurs National Park in the rugged Northwoods of Minnesota, but you want to camp in the lap of luxury, and not in the rustic and difficult to reach options inside the park—then you simply must consider camping at Pines of Kabetogama. The cliffside and lakeview cabins are well-appointed and furnished with regional decor. Travelling with multiple families or taking a guys or girls trip to get back to nature and spend time fishing on the lake? Then consider renting the spacious 5 bedroom, 2 bath Paul Bunyan Home. Big rig owners and RVers who like a resort camping experience will also fall in love with the Premium RV Campsites–these sites have views of the lake and come with an electric golf cart and a dock space for one boat. The rest of the RV sites are good–but these are truly great. Figure out how you are going to stay, then it's time to play.  The marina offers motor boat rentals, and the sandy beach has kayak and paddle board rentals. Though this might make the perfect place for a romantic couples getaway, it is also a perfect place to bring the kids. They will love the alligator water trampoline, the playground, and fishing from the docks at the end of another perfect summer day.
Luna Valley Farm, Decorah, Iowa
Luna Valley Farm is a working organic farm and a community hub that serves up delicious lamb, pork, and beef, and wood fired pizzas on Friday nights. And now they are also serving up a unique glamping experience with hardwood floors, luxurious linens, locally roasted coffees, and locally brewed beers. Sit and relax on your private patio or wander onto the farm and mingle with the owners and workers while they make the magic happen. But no matter what you do make sure you arrive early enough on Friday night to claim a delicious pizza to bring back to your tent.
Inn Town Campground: Nevada City, California
Inspired by the "Holiday Parks" in New Zealand where owners Dan and Erin Thiem lived and road tripped for five years before returning to settle in Nevada City, the Inn Town Campground offers rv sites, tent sites, and glamping tents surrounded by towering pine trees. They are located just two miles from downtown Nevada City. The "Commons" area is a great place to meet other campers and cook a delicious meal in their well-equipped community kitchen.
Winvian Farm: 
Litchfield Hills, Connecticut
The 18 luxurious resort cottages at Winvian Farms were designed by 15 different architects and each provides a unique environment for its guests. All of them are exceedingly posh. Some of them, like the "Connecticut Yankee" and the "Hadley Suite" have very little to do with glamping no matter how much we stretch the definition. But other cottages, like the "Treehouse" (which is suspended 35 feet above the ground) and the "Camping" (which is designed to be like an "indoor campsite) fit very nicely into the burgeoning glamping scene. Winvian takes both of these charming accommodations straight over the top: the "Treehouse" has a full bar and a jacuzzi, and the "Camping" has two wood burning fireplaces and…a jacuzzi. Prices are sky high for this kind of pampering, but the experience will be unforgettable. Book a session at Winvian's delightful spa and a table dinner at its five star "Seed to Table" restaurant. A full breakfast is included at no additional price and each cottage includes complimentary bicycles.
Podcast: Play in new window | Download