Have you seen the new Jayco Hummingbird 10RK? Tiny trailers are all the rage right now, and this is just the latest example of innovation in this RV segment.
Two years ago, on our way out to Sleeping Bear Dunes National Lakeshore, we stopped at the Jayco campus in Middlebury, Indiana to check out some of their newest RV's. We have owned three different Jayco RV's and Jayco sponsors both the RV Family Travel Atlas and Campground of the Week podcasts.
At that time the brand new Jayco Hummingbird (a stylish, lightweight teardrop) was getting a lot of buzz among tiny trailer fans. So we asked to interview the product manager behind the debut, John Fisher.  We had a great time talking to John and learning all about his plans for the Hummingbird line. You can check out that interview here.
Since then, sales of the Hummingbird line exploded and the variety of floor plans has expanded.  The latest entry into the lineup, the Hummingbird 10RK, really grabbed our attention. Not because it makes sense for our family of five (six including Maggie the Camping Dog!) but precisely because it doesn't make sense for us at all.
Tiny trailers have always been a kind of forbidden fruit for us. We are fascinated by them because they look like so much fun!  You can take them just about anywhere, and tow them with so many different vehicles. Maybe I can talk Stephanie into buying one for a rental unit or to use for occasional weekend getaways without the kids.
I know, I know, who am I kidding!
Either way, we thought it would be a good time to check back in with John Fisher, and learn all about the newest entry into the Hummingbird line.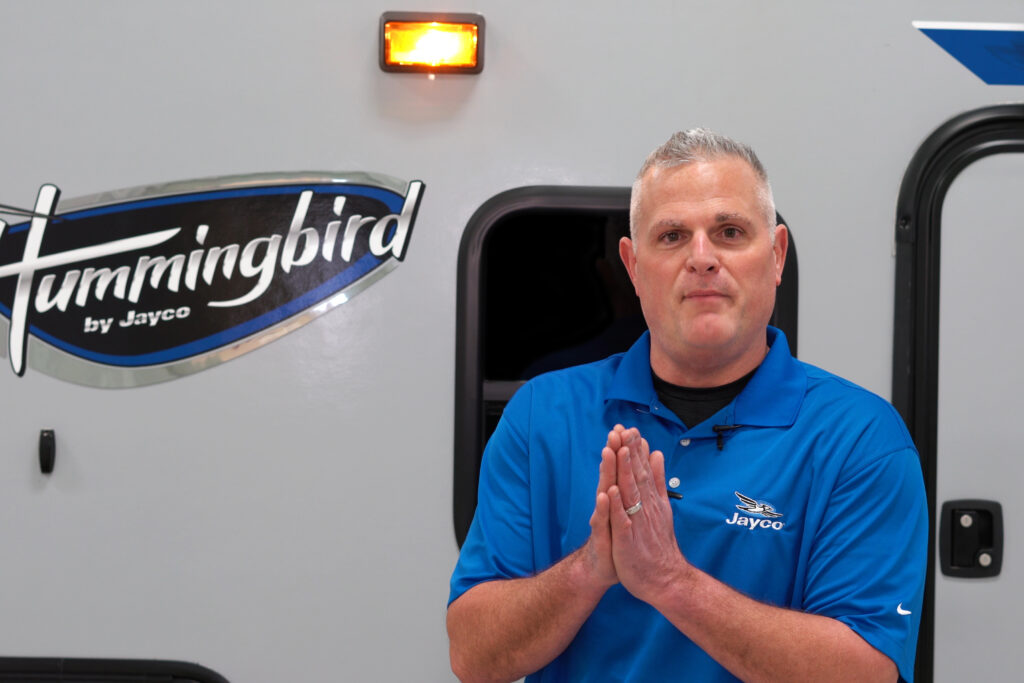 Meet John Fisher
RVFTA: Tell us about your position at Jayco and what role you played in bringing the Hummingbird line to market.
John Fisher: I'm the Senior Director of Product Development for the Jayco Light-Weight brands, which includes the White Hawk, Jay Feather, Hummingbird & Jay Sport camping trailer.  With the growing demand for smaller light-weight trailers I approached management in 2015 with a market study showing the upward trends of the expanding tear drop market along with our Product Development Team's design input & plan.  It was a no-brainer for Jayco to enter this market, so we targeted the 2017 model year as the debut for our new brand, the Hummingbird, and brought it to market May 1, 2016.
RVFTA: The new Hummingbird 10RK is getting a lot of buzz among tiny trailer fans. Give us some basic specs on this trailer–weight, height, length–and what type of consumer do you think will buy it?  
John Fisher: Our Sales Team came to me months ago asking for a smaller trailer that would appeal to the Jeep Wrangler type of customer that has a towing capacity of approximately 2000 pounds.  They wanted to have another option for those campers that weren't interested in a camping trailer.  The 10RK is 13 feet long and 90 inches high to the top of the TV antenna, which is a key feature allowing the model to be put in a garage as long as the doors are 8 feet or higher.  If you view the Hummingbird 10RK video we posted on Facebook (see below)…you'll see that Ryan Galasso, Jayco Towable Brand Manager, and myself were moving that lil' Bird around ourselves!!
The Exterior of the Hummingbird 10RK
RVFTA: What exterior features are included or available?
John Fisher: The Jayco 2-Year Warranty is always an awesome feature and one of the most important things we offer, giving our campers 2 full camping seasons of protection!!  15″ American-made, nitro-filled Goodyear Endurance radial mudder tires with self-adjusting electric brakes are standard.  We're very proud of the fact that we're putting American-made tires on all of our Jayco travel trailer and Fifth Wheel brands as they carry the highest speed and load ratings in the industry–and I know our customers feel safer towing with Goodyear tires!!  All 10RK's have a standard enclosed underbelly with an added layer of AstroFoil insulation, so better MPG's with less wind drag and any wire runs, tanks, etc. are protected from the elements & road debris.
It also features both A-frame and roof-mounted solar prep, so a customer has the opportunity to go more "off-grid."  There is a camp-side exterior baggage door that will house the optional exterior grill or it will fit a standard size porti-potty, which I know is a nice added feature.  We put the exterior grill bracket on the rear of the off-camp side, which allowed us to add a nice size window on the camp-side.  A power tongue jack is also a standard feature on the 10RK.  (All of these listed features set the Hummingbird 10RK apart from the Rockwood Geo or Flagstaff Eco).  Also, the ever-popular A-frame mounted 2-bike rack carrier is also optional, like on all of our other Hummingbird models.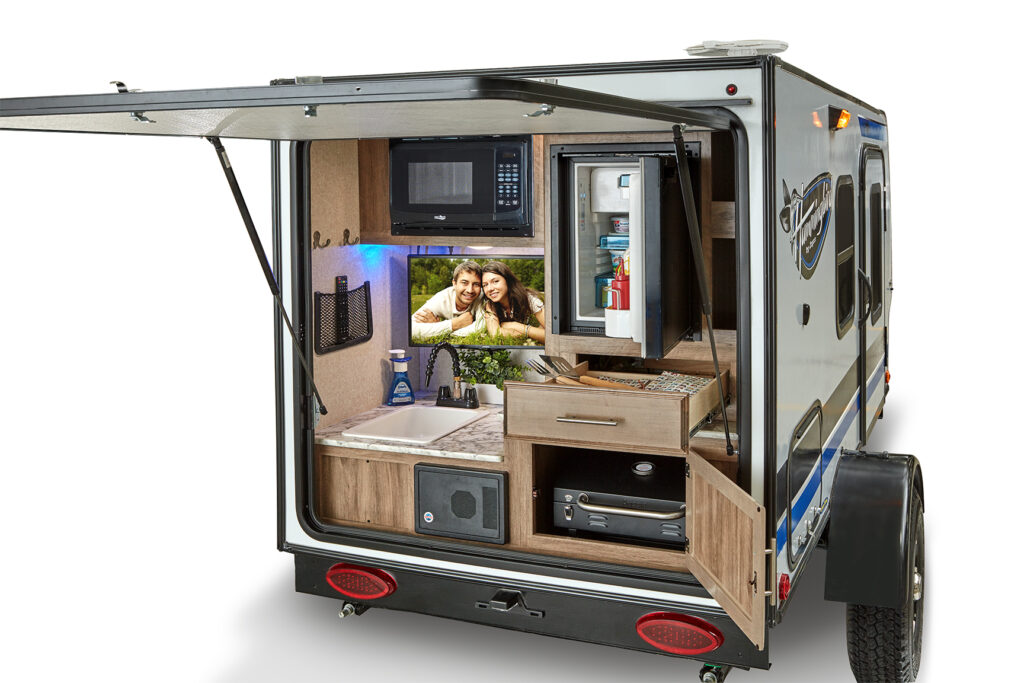 The Interior of the Hummingbird 10RK
RVFTA: What interior features are included or available?
John Fisher: The 10RK has a standard Fantastic Fan powered roof vent, which can really move a lot of air.  We also offer an 8,000 BTU side-mount A/C for those customers that want their unit to be nice and cool!!  The 10RK has a standard Furrion Lit portable Bluetooth speaker mounted inside, so you can stream music inside or outside the coach and it also has a TV bracket and hook-ups in the interior and a standard 2-way (12V/120V) 24″ LED TV in the rear exterior kitchen.  Interior overhead storage cabinets, multiple cargo nets, retractable cup holders, a nice size cubbie area at the head of the bed & USB and 110 recepts make the interior well-appointed.
The mattress is a 54×74 size mattress wrapped with our Teddy Bear soft touch covering giving it a nice look and making it very comfortable. An awesome feature that we added is a built-in hinge, which allows the mattress to act almost like a sitting sofa when our camper wants to watch TV, read or do other things when not sleeping or taking a nap.  (This is demonstrated in the video).
The exterior kitchen offers the TV previously mentioned, a 2-way refrigerator (also 12V/120V), microwave, USB ports, kitchen sink with removable faucet and comes equipped with an attachable sprayer that will serve as an outside shower, plus storage cabinets and a pull-out drawer.  One little extra thing we do on all Jayco light-weight towables is over our slide-outs (or in this case the strutted large storage door for the outside kitchen on the 10RK) we put a larger drip spout over the top to keep water run-off away from the strutted door.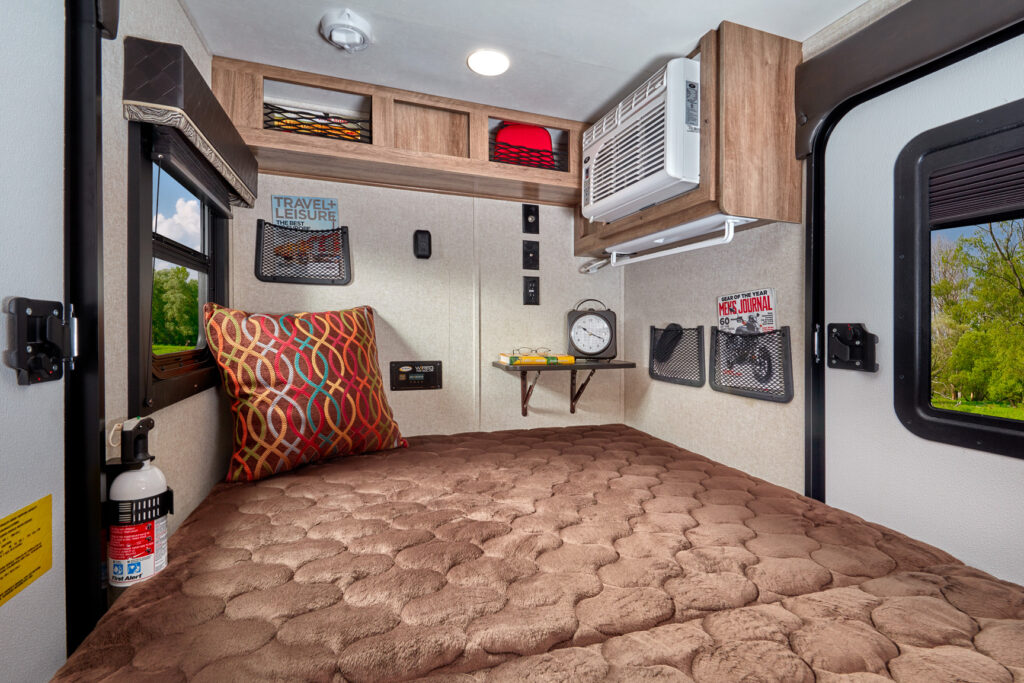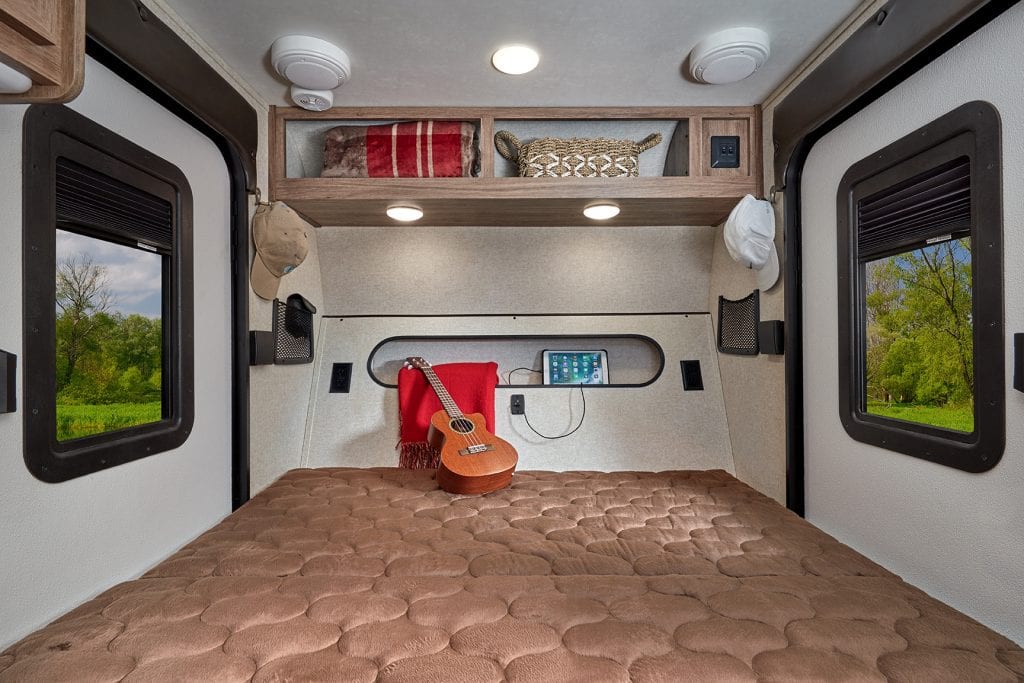 RVFTA: In an era when RV's seem to get bigger and bigger, you seem to be pushing your Jayco line in the other direction. Why do you seem to be particularly interested in pushing design and production on the smaller end?
John Fisher: We want to make sure we have nice options for the folks with limited towing capacity in that 2000-3500 tow class.  Above that we have nice alternative choices in White Hawk and Jay Feather models, but that's why our lil' Hummingbird & the tear drop segment are so important!! We are looking to continue to design creative floor plans and features that appeal to that 3500 and under tow class. One very interesting thing is the demographic of this camper where we are seeing first-timers, seasoned campers and even many retirees selling their motorhomes to go "small."
RVFTA: Should we look for more tiny trailers from Jayco in the future?
John Fisher: We recently designed industry-first Murphy-bed models in the Hummingbird line-up.  The 16MRB (non-slide) is just now hitting the market and we'll have the new 17MBS coming out in May.  Both are awesome floor plans targeting that 3500# + tow vehicle. But with the Murphy bed you get the added sofa that you just don't see in tear-drop trailers, plus both of these new models have dry baths and a ton of storage!!
RVFTA: What is your favorite part about working in the RV industry and working for Jayco in particular?
John Fisher: I've been in the RV industry for 14 years and have loved every minute of it! The world is so crazy nowadays, but watching families spend quality time together bonding and making memories camping is awesome. I've been at Jayco for almost 4 years now and they truly are an awesome organization. They care about their employees, suppliers, dealers and retail customers and whole-heartedly want to make the best RV's in the industry!
A big thanks to John Fisher for telling us more about the Hummingbird 10RK. If you have any questions, leave them in the comments below, and hopefully we can help you out!