Watkins Glen State Park, located in the Finger Lakes region of New York, is known mostly for its epic waterfall trail, but did you know you can also camp in this spectacular state park? Watkins Glen offers state park camping at its best, with large, wooded campsites and tons of natural beauty. Come for the waterfalls; stay for the relaxation!
Kerri Cox, from Travels with Birdy, added a short stay at Watkins Glen onto her family's trip to Niagara Falls after seeing a picture of this scenic park on Pinterest. Would the waterfalls at Watkins Glen be a disappointment after seeing the granddaddy of them all? Absolutely not! Watkins Glen offers an entirely different experience from the falls, one that is worth the three hour trip. Plus, the campground was fabulous.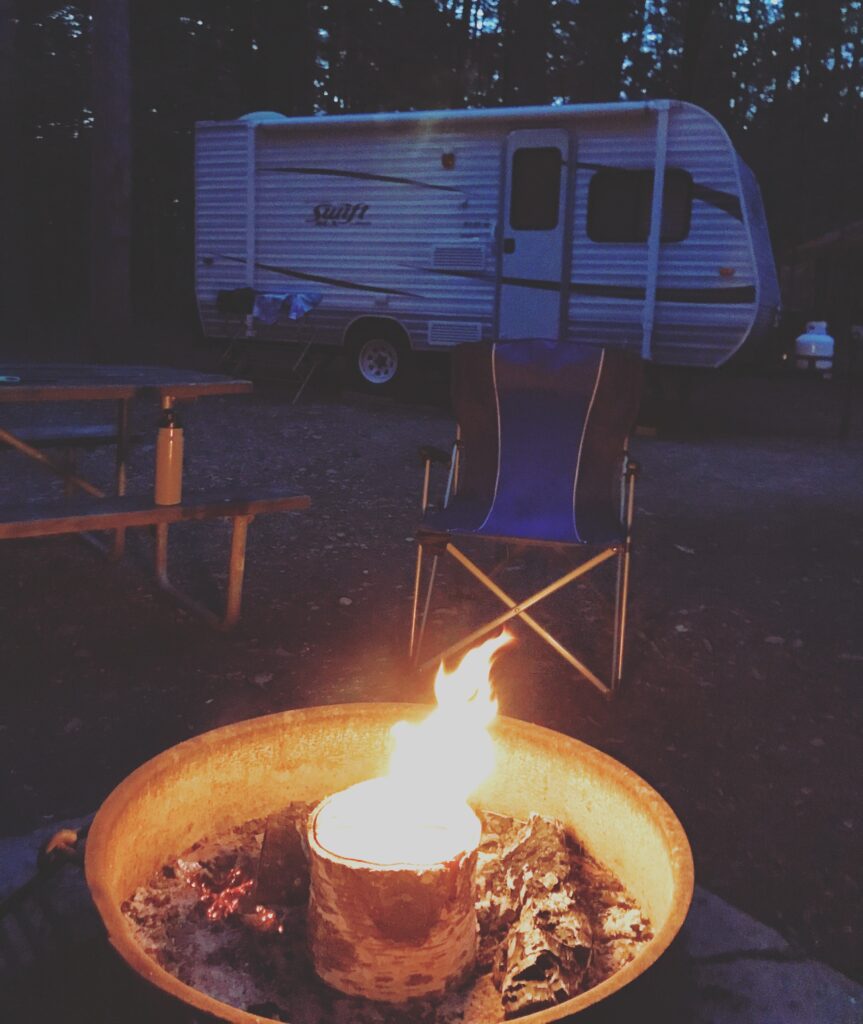 Campground Details: Watkins Glen State Park
Watkins Glen State Park is located in the small town of Watkins Glen, at the southern end of Seneca Lake. It is just under three hours east of Niagara Falls and 90 minutes south of Rochester and Syracuse. New York City is 4 hours to the east, making Watkins Glen a perfect weekend trip from the Big Apple.
You'll find 300 sites at Watkins Glen State Park, but it really doesn't feel that massive because the sites are divided into six separate loops. Expect to pay $18 per night for non-electric sites up to $30 a night for electric sites. There is only one camping loop that includes electricity. The Mohawk Village loop has approximately 50 sites with 30 amp hookups, making it a popular pick for RVers. None of the sites have water or sewer, though dump stations are available onsite.
Since there are so few electric sites and since this is a very popular park, Kerri recommends booking very early. They made reservations in February for a trip in late July and couldn't find a single electric spot with 3+ nights available. While it wouldn't take you more than a night or two to explore all that the state park offers, you might want to book a longer stay if you'll be using Watkins Glen as a basecamp for exploring the Finger Lakes region.
Campsite Details: Watkins Glen State Park
Kerri said she felt herself exhale as they drove into Watkins Glen State Park. The grounds are wooded and lush. She thought it was remarkably quiet, other than the sound of the creek trickling through the valley below her campsite. This is the perfect park for campfires and hammocks. It truly is a place for relaxation.
The campsites at Watkins Glen State Park are mostly large, spacious back-in sites built into the woods. A few sites are closer to the neighbors and closer to the road. Kerri didn't drive through the other camping loops, so she isn't sure how comparable they are. There is no gravel or concrete pads on the sites, so they could definitely be messy in the rain. You will find a picnic table and fire ring.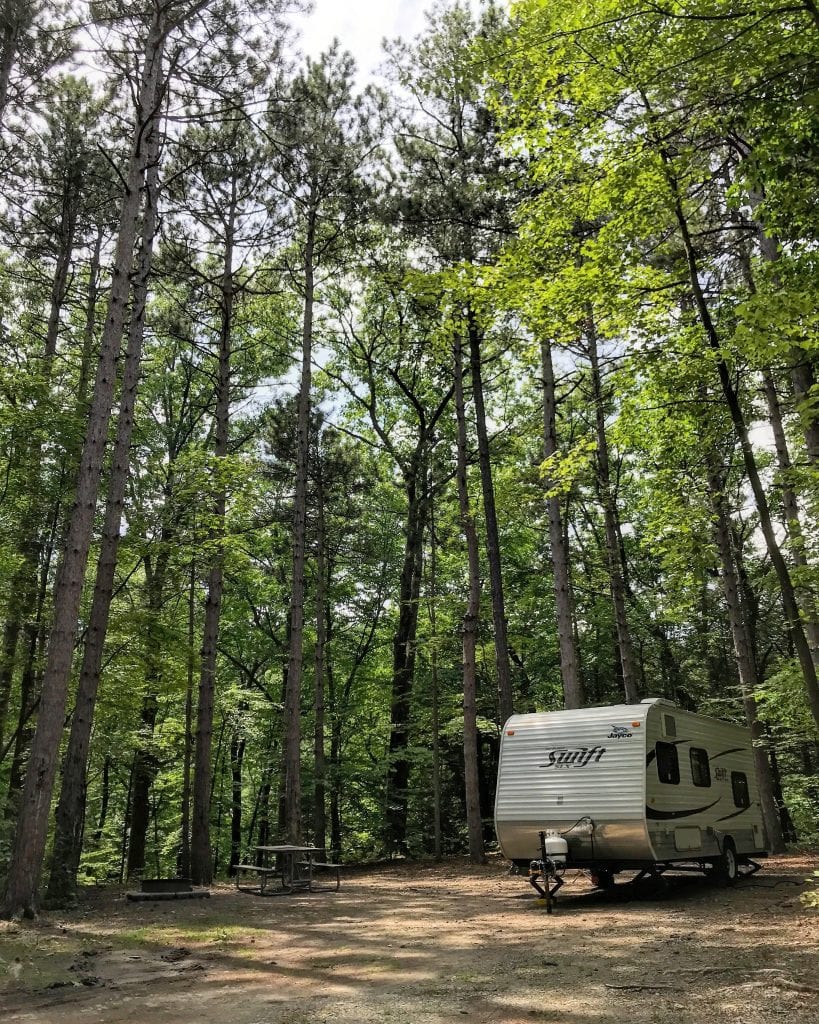 Amenities & Activities: Watkins Glen State Park
Hiking the waterfall trail is without a doubt the most popular activity at Watkins Glen State Park. A one-mile walk along the Gorge Trail will take you past 19 waterfalls along the Glen Creek. While some are tiny drops, others are huge. There are a couple of spots that even take you through a refreshing spray. Built by the CCCs in the 1930s, this trail is built out of local stones, making the walkway and bridges seem like a part of the natural environment. That's part of what makes Watkins Glen so incredibly beautiful. Kerri shared this photo her son Ben took of one of the park's most iconic spots: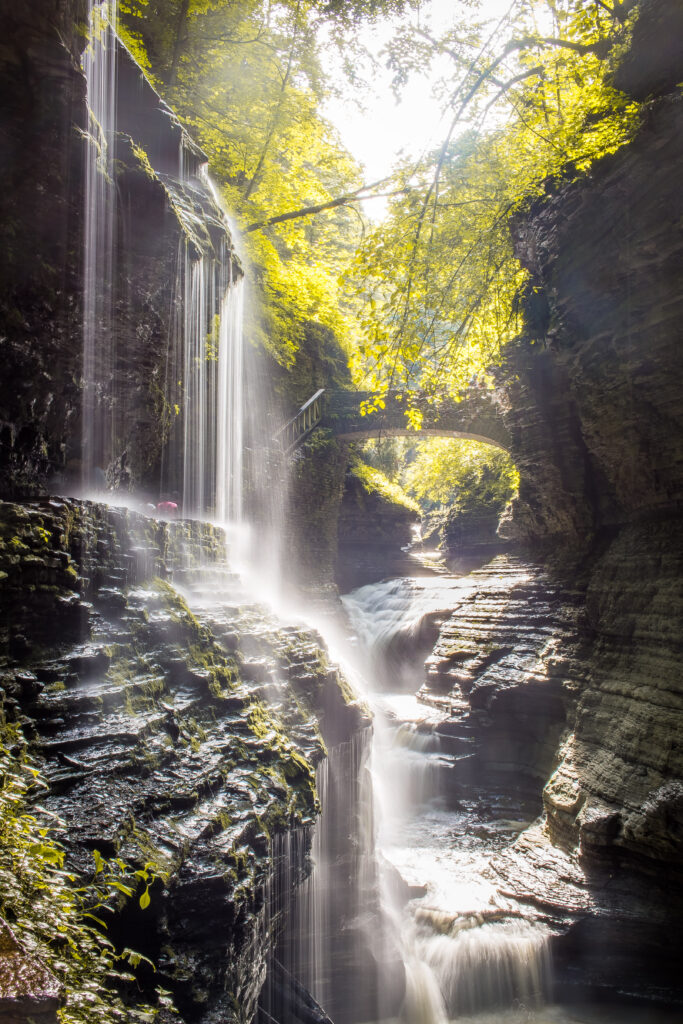 In addition to the Gorge Trail, a number of trails run along the upper rims. If all of your hiking wears you out, you can pay to catch a trolley back to your car (during certain times/seasons). While swimming is not allowed on the Glen Creek along the trail, Watkins Glen State Park has an Olympic-sized pool and a kiddie pool. Kids will also enjoy the large playground, while older kids and teens will find ample roadways to explore on wheels.
The campground at Watkins Glen State Park is very simple, but it has the things that count. In addition to the beautiful campsites and hiking trails, the showerhouse facilities are clean and usable. You will not find WiFi in this park, but Kerri's family did have an adequate signal on their cellphones.
Local Area near Watkins Glen State Park
Once you've hiked all around this enchanting park, you might want to check out the following activities:
Watkins Glen State Park is the epitome of a great public campground, with scenery in spades. You can check out Kerri's introduction to Watkins Glen State Park and her campground review over on Travels with Birdy.
See you at the campground,
Jeremy + Stephanie
Podcast: Play in new window | Download