Father's Day is just around the corner, and if you haven't purchased your favorite RV dad a gift yet, then NOW IS THE TIME! This Father's Day Gift Guide is filled with some of our all-time favorite gear that we have used and abused for years. We have also added some hot new items from our favorite companies like Bass Pro Shops, Blackstone, and Grand Trunk. There is something for every dad on this list. Whether your pops is into camp cooking, outdoor gear, or RV gadgets, we've got something great for him. Happy shopping and happy Father's Day!
Bass Pro Shops 2-Burner High Output Propane Stove, $109.99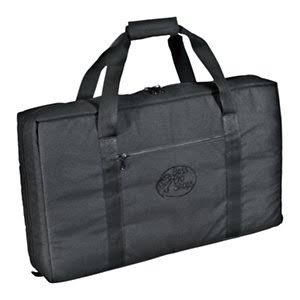 This propane camp stove has two 25,000 BTU stainless steel burners and it is built to outlast the Zombie Apocalypse. The oversized steel frame with stainless steel top and extra heavy duty cooking grates make this camp stove substantially rougher and tougher than the rest. I've owned other name brand propane camp stoves before and they were just not this sturdy and substantial. Don't forget to get dad the padded carry case with room for two small propane bottles on the back.
TireMinder Smart TPMS (Tire Pressure Monitoring System), starting at $319.15

Tire safety can make or break your RVing experience. We firmly believe that routine tire maintenance, proper inflation, and correct weight distribution will eliminate most of the emergency tire issues that happen on the road. However, no matter how diligent you are, you can't control everything including nails and other random road debris. Investing in a Tire Pressure Monitoring System can keep a tire blowout from becoming a major roadside disaster.
Chris Dougherty from Trailer Life magazine highly recommends TireMinder products, and we interviewed him on our podcast about the newest model, the TireMinder Smart TPMS. This system integrates with your personal smartphone. Users will place sensors on the tire valve stems, a repeater device on the front of the RV, and another device in the tow vehicle. An alarm will sound on your smartphone if any tire issues are detected.
The transmitters can be used on motorhomes, travel trailers, or 5th wheels. They are compatible with iOS and Android devices. This father's day gift guide pick should be mandatory for all RV owners. Safety First!!
Rigid 4.5 gallon Pro Pack Wet Dry Vac, $99.97 at Home Depot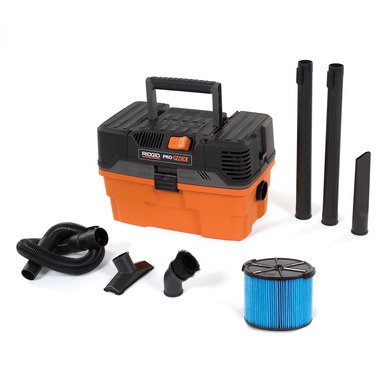 Space is at a premium in the RV, and it's hard to find room for a real vacuum, particularly a manly (and clunky) shop vac. This Pro Pack by Rigid solves that problem with ease. It is the size of a large toolbox and stores easily under the RV bed or in the bed of your truck. The storage compartments also easily fit all of the accessories without much wrestling. I find this vacuum to be far superior to my more traditional wheeled shop vac–which is currently collecting dust in the garage. I 'll use the Pro Pack to vacuum it off one of these weekends!
Estwing Special Edition Fireside Friend Splitting Tool, $51.18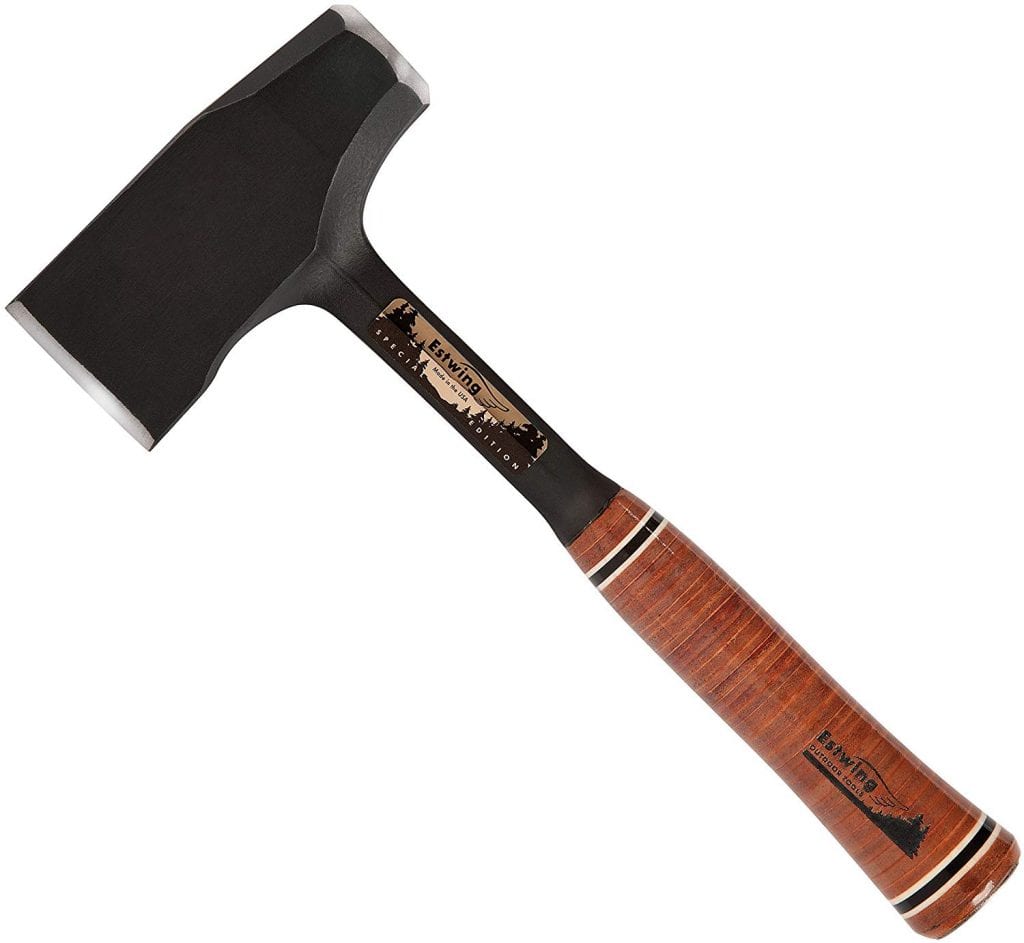 The first time I saw the Estwing "Fireside Friend Splitting Tool" in the hardware store was love at first sight.  Estwing makes beautiful tools that are forged in one piece which makes them incredibly strong and long lasting.  These are tools that you will pass on to your kids one day.  The Fireside Friend does the job that it claims to do perfectly. The head of this axe is heavier than a traditional camp axe-so it splits firewood in half like a knife slices through butter.  Smaller pieces of wood burn faster and hotter. End of story. The Special Edition has a genuine leather grip and looks pretty b@dass in black if you ask me! Your dad could always use another friend around the campfire, right?
Cabelas Intensity HD Binoculars 12×50, $229.99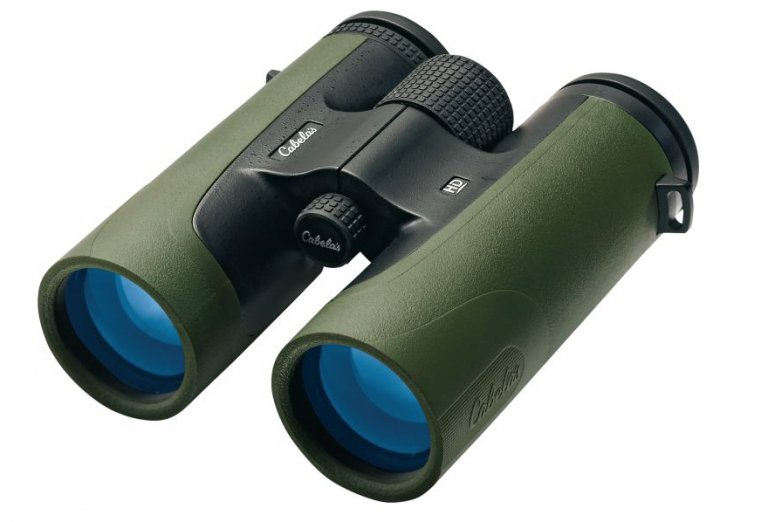 These binoculars are a great combination of quality and affordability, and we've been enjoying them for awhile now. Our appreciation for the product came into focus (haha) this summer while we were in South Dakota. They were awesome for allowing the kids to get close up looks at the wildlife. Even our 5-year old could manage them, and the durability was a plus, of course. They easily adjust to work for anyone in the family and will easily fit dad's big head.
Blackstone Deluxe Fiesta Kit, 59.99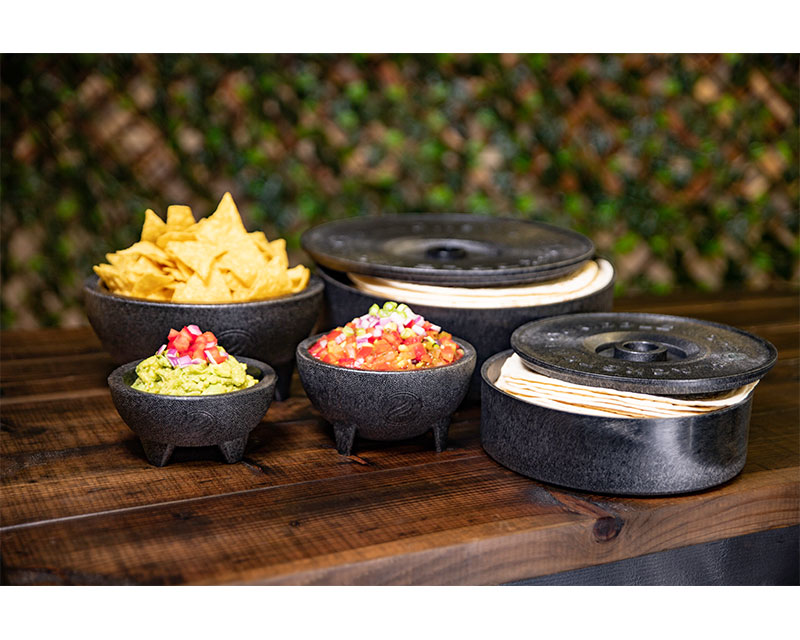 Is your dad obsessed with using his Blackstone Griddle at the campground?  Is he also a taco and fajita master who makes the "Taco Tuesday" call whenever the heck he wants too? Then the Blackstone Deluxe Fiesta Kit might just be the perfect gift for him. This five piece set will turn your picnic table into a Cinco De Mayo celebration all summer long. Make sure you use coupon code RVFTA at checkout to get 10% Percent anything on Blackstone's site.
Blackstone Griddle Toolbox, $49.99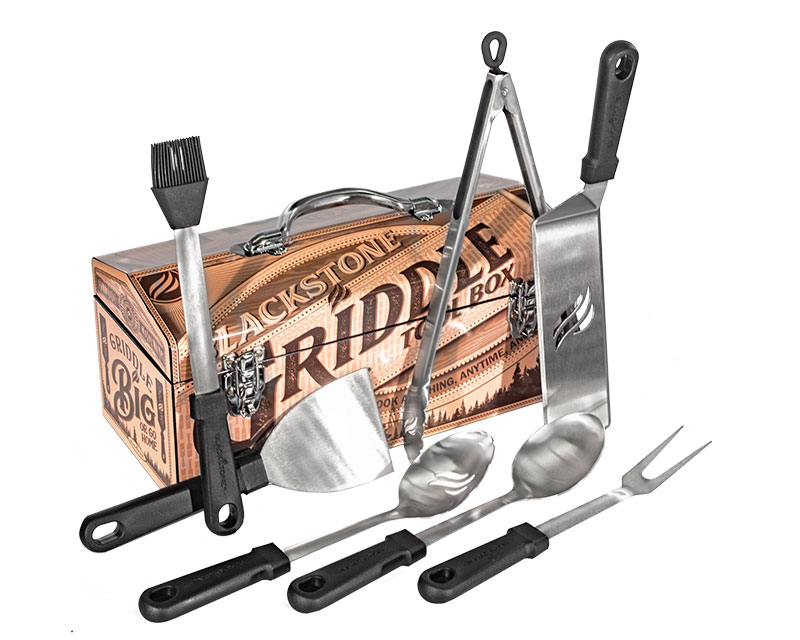 If your dad really wants to take his griddle game to the next level you might get him this collectable Blackstone Griddle Toolbox. This seven piece toolkit is completely practical for the campground and includes a removable inner tool tray for smaller items to help keep dad organized while cooking. Your pops might also want to store this on a garage shelf for a few years and sell it on eBay for $500 bucks at some point in the future. Either way this Griddle Toolbox is one of a kind–just like your dad. Don't forget to use coupon code RVFTA to get 10% percent ANYTHING on Blackstone's website.
S'mores! Gooey, Melty, Crunchy, Riffs On the Campfire Classic by Dan Whalen, $10.46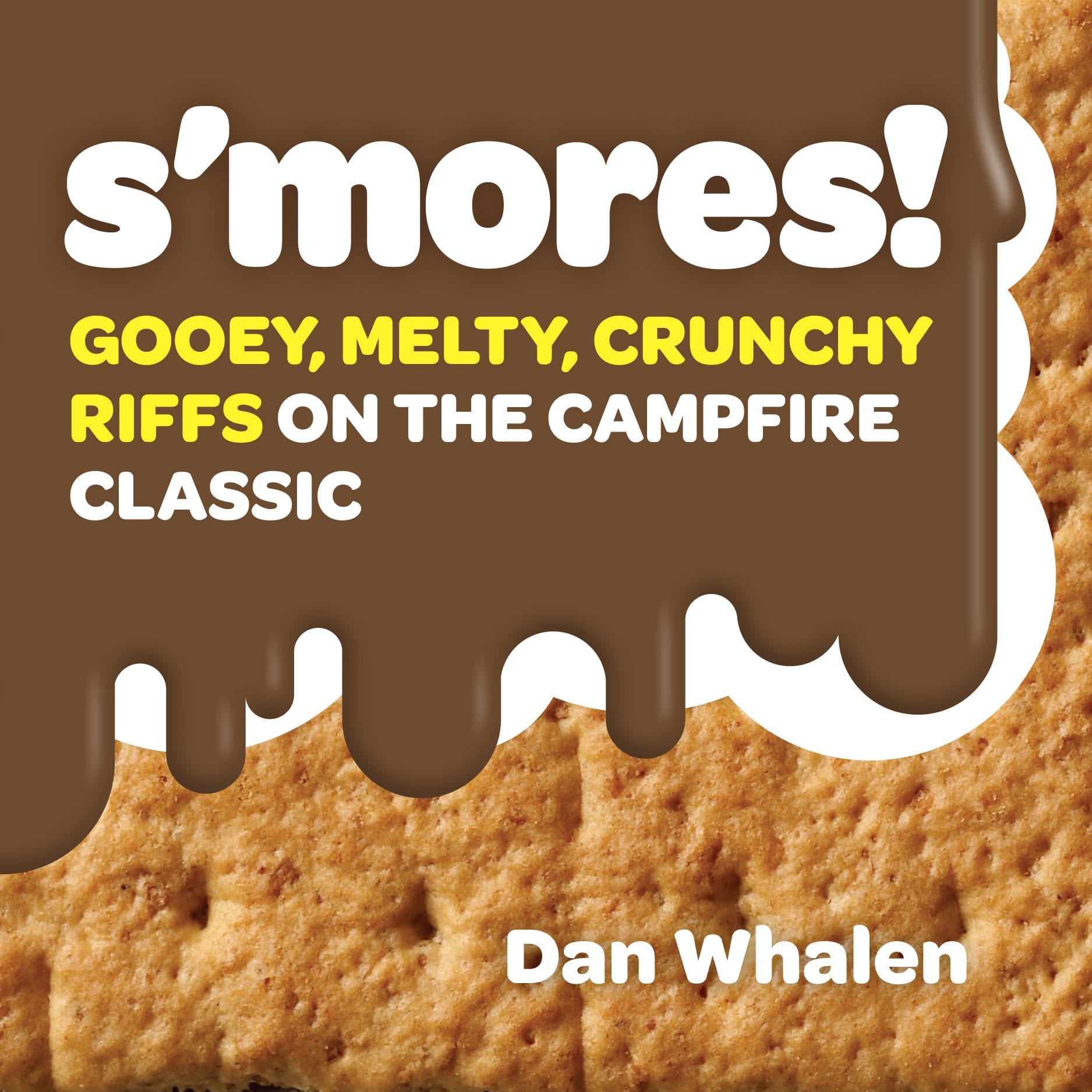 This summer's cutest new camping book is undoubtably the bite sized S'mores! Gooey, Melty, Crunchy, Riffs on the Campfire Classic by Dan Whalen. It looks and feels like a S'more for goodness sake! The cover art is soft and fluffy like a marshmallow and all of the pages inside look good enough to eat.  For such a small book it clearly has big ambitions. What are those ambitions? Quite simply to redefine an iconic american treat that is forever linked with warm summer nights and crackling campfires. Not to spoil the ending, but by the last page this mission has clearly been accomplished with panache, joie de vivre, and a motorhome full of marshmallows.  We think every camper should own a copy.
Grand Trunk USA Hammock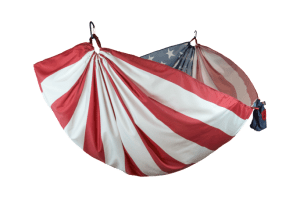 Grand Trunk makes an awesome hammock. In fact, they make a lot of different awesome hammocks with a wide variety of attractive colors and patterns.  But this USA Flag Hammock is our go to for the Fourth of July, or any time when we are feeling patriotic–which is pretty much always! Its 400-pound capacity and attached stuff sack make this a rugged and easily stored option for RV owners.
Mark Polk's RV Book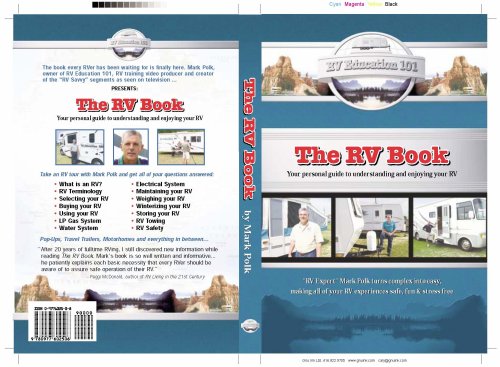 The RV Book by Mark Polk is an absolute must have for all RV dads whether they are new to RVing or experienced. This book defines RV terminology, gives great shopping tips, and introduces its readers to all of their RV systems. We keep a copy in our rig and refer to it constantly.
Zinus Deluxe Memory Foam Mattress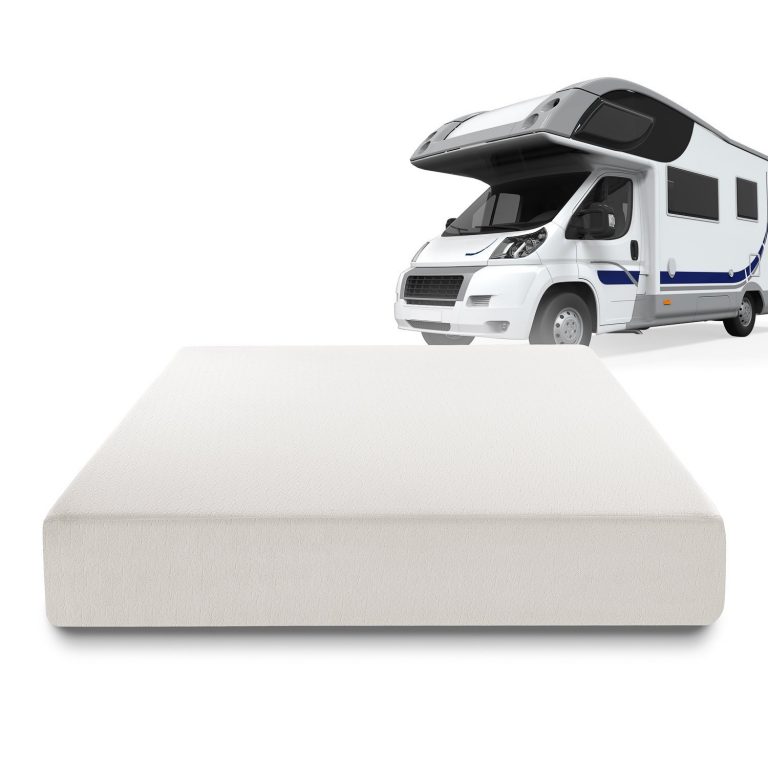 The Zinus Deluxe Memory Foam Mattress is the bomb diddly. Please, please, please skip the mattress toppers and egg crates and go right to this ridiculously affordable replacement mattress for the RV. After years of coming home from long RV trips with sore backs, this mattress completely changed our camping lives. We've been sleeping on it for a few years now and love it as much as our mattress at home…if not more. Ok, more. Your pops is getting old and comfortable night's sleep is worth its weight in gold!
Stanley FatMaxx Rechargable 2200 Lumen Lithium Ion Spotlight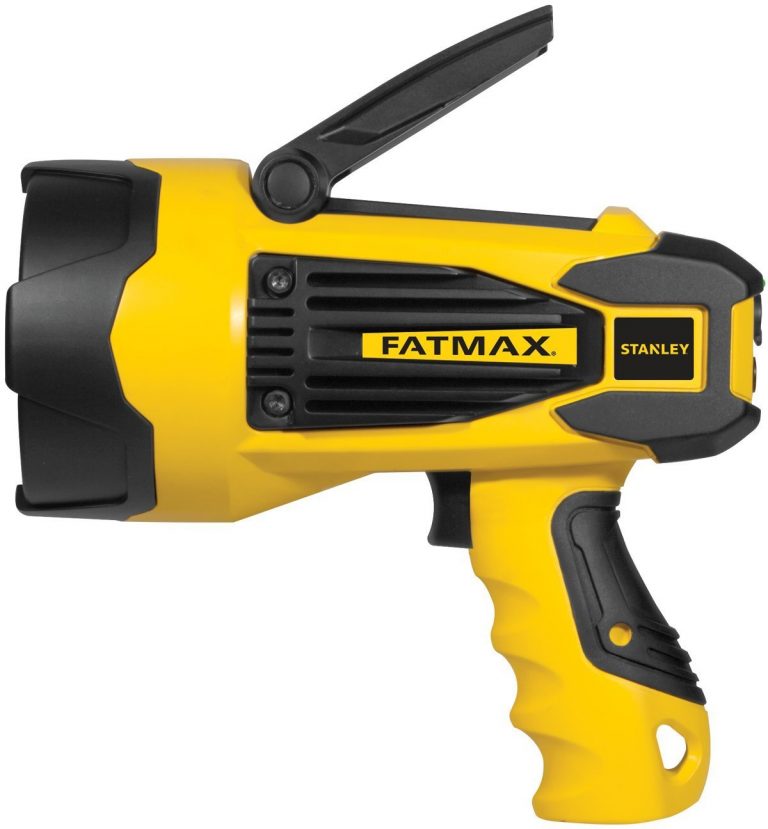 I am a man of many flashlights, but if I was forced to pick tthis would be my absolute favorite. First of all, 2200 lumens. This is truly a spotlight. Second of all, rechargeable. There's nothing worse than needing to replace flashlight batteries when you actually need to use the flashlight. Buy dad this flashlight for father's day and he will conquer the darkness all summer long!
Happy Father's Day to all of the RV Dads, and we'll see you at the campground!
Podcast: Play in new window | Download