Sioux Falls Jellystone Park was our very first campground stop on our trip through South Dakota this past summer. It's located directly off of I-90 right over the border between Minnesota and South Dakota. Since we were only staying for one night, it was perfect that Sioux Falls was just a quick 10 minute away from the campground. We usually don't plan on reviewing campgrounds that are just one-night stops. However, the Sioux Falls Jellystone Park charmed us so much that we had to talk about it on the Campground of the Week podcast.
This review is part of our ongoing rollout of content from our two week South Dakota trip in August. If you are heading that way on your own adventure, check out our review of Rafter J Bar Ranch and our 12 Tips for Visiting Mount Rushmore.
Campground Details: Sioux Falls Jellystone Park
This Jellystone campground does a great job of combining resort amenities with a convenient overnight location. You could enjoy this campground as a quick overnight stop, or as a place for a longer stay. We know we have some listeners in the Sioux Falls region, and would highly recommend this campground for weekend getaways.
Sioux Falls Jellystone Park has a nice sized property with a variety of different sections. There's a pretty large field between the highway (I-90) and the campsites, so you don't feel like you are right on top of the road. 
The grounds are beautifully maintained, with corn fields over to one side and hills to the back of the campground. The campground itself had more trees than we expected and we enjoyed the shade at our site, especially considering we visited during the heat summer.
We were able to book our site here only about a month in advance, and it does seem to be the type of place where you can nab something last minute if you are driving through. The prices are very reasonable for a campground jam packed with amenities. Peak season rates range from about $50-$65 for a RV site, so this was a very affordable overnight stop over for us. In the off season, you can find campsites for as low as $40.
One thing that is very interesting to note if you are local to this area. The Sioux Falls Jellystone has a Fall and Spring POP (pay one price), where you pay for 5 weekends and can leave your RV there all week. These short term seasonals are $500 and a great way to use your RV more during a busy time of the year. You can find more info about this on their website here. Not many campgrounds run these programs, so we like to give a shoutout when they do. 
Campsite Details: Sioux Falls Jellystone Park
Sioux Falls Jellystone Park offers pull throughs, back ins, and tent sites. There are also a few different options for cabins, ranging from rustic ones with no bathroom facilities to cottages with kitchens and bathrooms.  We particularly enjoyed where we stayed in the 500's row, and would highly recommend it. All of the sites in the 500s were 30 amp full hook up pull throughs located the farthest from the highway. These sites were also close to the pool! However, If you need 50 amp, you'll have to stay in one of the rows closer to the highway.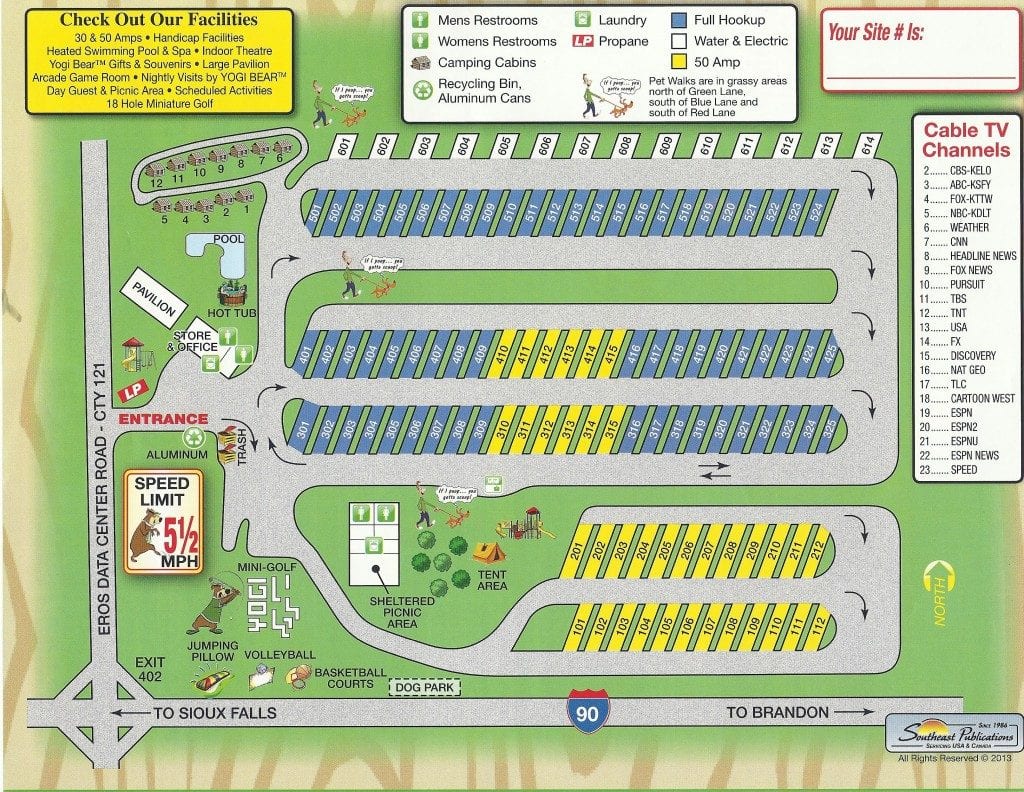 Campground Amenities: Sioux Falls Jellystone Park
This Jellystone Park checks off all the important boxes for our family when it comes to a private campground experience. There was the swimming pool and hot tub, perfect for chilling out after our long day in the car. There was also a dog park, indoor theater, and pedal and golf cart rentals. Our boys particularly enjoy recreational opportunities, so in our short stay they tried out…
playgrounds
jumping pillow
gaga ball court
basketball court
Next time we're sure they will take a run at the volleyball court and corn maze!
Campground Activities: Sioux Falls Jellystone Park
It wouldn't be a Jellystone without a hefty offering of organized activities. Sioux Falls Jellystone offers a full schedule of daily activities during the peak summer season. In the spring and fall, visitors will enjoy the themed weekend activity schedule. We heard about everything from a Messy Weekend Chocolate Slip 'n Slide to Monster Mashes. 
Local Attractions near Sioux Falls Jellystone Park
We had heard from quite a few travelers that they had really enjoyed their visits to Sioux Falls. Even so, we were a bit surprised at how hip and charming the downtown was.
Of course, the most popular site-seeing destination was Falls Park, where we found beautiful scenery and rock scrambling opportunities for the boys. There's an observation tower, gift shop, and cafe. Jeremy set up his tripod and took pretty waterfall pictures for well over an hour.
We were celebrating our 18th anniversary while in Sioux Falls, so we wanted a bit of a special dinner experience. We found that in spades at Minerva's, a classy and cozy downtown steakhouse. The food was phenomenal, and the legendary salad bar lived up to the hype. We finished off our visit with some expensive craft roasted coffee and a bit of boutique shopping.
Overall, the quick overnight stay at Sioux Falls Jellystone Park charmed our socks off, and started our South Dakota trip off on just the right foot. We are so glad we decided to add the stop at the last minute…
See you at the campground!
Stephanie + Jeremy
Podcast: Play in new window | Download