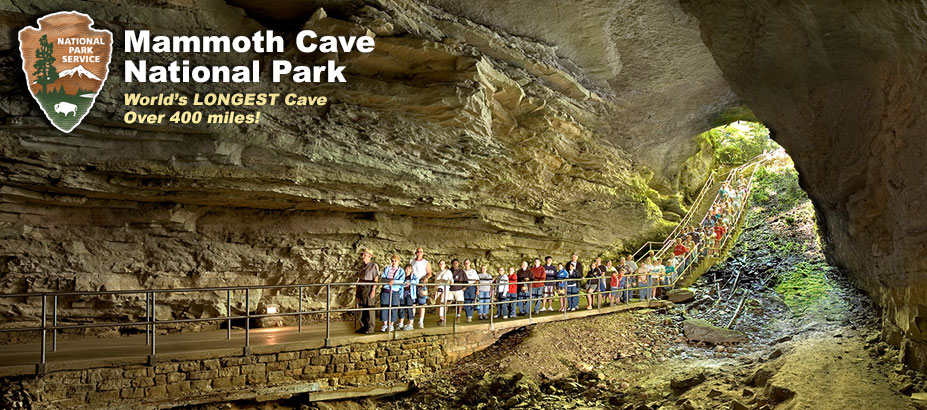 Mammoth Cave National Park is home to the longest known cave system in the world, and it's also a very popular RV destination. On this episode of the RV Family Travel Atlas podcast, we are talking to a local expert about exploring the park and surrounding area.
Our Kentucky campground correspondent Casita Dean May gives us the inside scoop on planning a trip to Mammoth Cave National Park. He tells us about the variety of cave tours and which might be a good fit for your family. Dean also ventures into the nearby region with tips for picking fun day trip excursions and finding yummy eats along the way.
Mammoth Cave National Park is centrally located 90 miles north of Nashville, Tennessee and 90 miles south of Louisville, Kentucky. About 6 miles away from the main entrance of the national park, visitors will find Cave City where they can stock up on groceries and supplies for their visit.
Also nearby is Yogi Bear Jellystone Park Mammoth Cave, our recommended campground when visiting Mammoth Cave with family. Dean gave a complete review of this Jellystone over on Campground of the Week Episode #109. Listen to hear all the details about this great base camp option.
Segment One: Exploring Mammoth Cave National Park
In our first segment of Greetings from Mammoth Cave National Park, Dean talks about preparing for your visit. There are two great resources for learning more about this geological wonder. Check out this website for a deep dive into Mammoth Cave Karst Geology. And visit the Western Kentucky University Center for Cave and Karst Studies for even more information.
Mammoth Cave National Park consists of nearly 53,000 acres of land. Everyone visits for the caves (of course), but there are plenty of activities above ground as well. The Visitor Center was renovated in 2012 and is wonderful place to spend a couple of hours learning about the park and the caves. You'll also want to look into the ranger activities that will be available during your visit. Regular ranger programs include:
Coffee with a Ranger
Porch Talk
Heritage Walk
Junior Ranger Nature Track
Echo River Springs Walk
Sloans Crossing Pond Walk
Evening Program at the Ampitheater
There are nearly 84 miles of hiking trails, and plenty of bike trails if you brought them along on your RV vacation. Horseback riding is a popular activity, or you can fish, canoe, and kayak on the many rivers and lakes in the park.
But it's really all about the caves, so we make sure to cover all the info you need on choosing and reserving the right cave tours for your traveling crew. We talk about:
Mammoth Passage Tour
Frozen Niagara Tour
Historic Tour
Domes and Dripstones Tour
Mammoth Cave Accessible Tour
Grand Avenue Tour
Wild Cave Tour
Dean gives us his perspective on all of these options after decades of visits with his own family. You can also visit this site for more resources on booking cave tours at Mammoth Cave National Park.
Segment Two: Outside of Mammoth Cave National Park
Of course there is so much more to do in the area than visit the national park, and in the second segment of the podcast episode, Casita Dean give his favorite picks for exploring the surrounding region.
If you haven't gotten your fill of cave exploration, you can also check out these other caves:
Cub Run Cave
Diamond Caverns
Hidden River Cave
Onyx Cave
Outlaw Cave
Check out this website for resources on visiting all the above places.
He also recommends these 'touristy' but fun attractions:
And make time for a visit to Bowling Green, Kentucky where you can check out…
This podcast episode will serve as a complete guide to a fantastic Mammoth Cave vacation, curated by our local expert, Casita Dean May. If you have any other questions about planning a trip to Mammoth Cave National Park, make sure you join our closed Facebook Group, where Casita Dean himself might even answer them for you!
Other links mentioned in the podcast…
Read about the Yogi Bear Jellystone Parks that received awards at the recent Jellystone Symposium.
Our GORE-TEX obsessions…
Cabela's Rainy River Parka with GORE-TEX
Cabela's Women's XPG Waterproof Low Hikers
Meindl Men's Perfekt Light Hikers
See you at the Campground!
Stephanie + Jeremy
Podcast: Play in new window | Download