For those first entering the RV lifestyle, the pop up camper is often a traditional first purchase. In fact, that's where we started. Owning one helped us discover the many pros and cons of pop up campers.
There were things we loved…and things we didn't. Hopefully, we can help you decide if a pop up is for you!
Pros of a Pop Up Camper
You don't have to get a big truck to pull a pop up camper. Many can be pulled with a reasonably sized daily driver, like a properly-equipped minivan or SUV.
The low-profile make pop up campers easy to store. Pop ups aren't an eye sore in the driveway, and they can fit in some garages. Just tuck it away, out of sight until the next camping trip!
Pop up campers can provide an "authentic" campground experience. For many, camping is associated with nature–especially for those moving from tent camping into RVing. Pop up campers make it easy to retain some of that experience. Open up the side canvas, and let nature in! You'll feel the fresh breezes, while still having some extra creature comforts.
Pop up campers offer big sleeping spaces. With multiple flip-out queen and king beds, pop up campers make it easy to provided dedicated beds for even larger families. The bed space in entry-level travel trailers can't even come close. Aside from the canvas bed ends, you might also have convertible dinettes and gaucho couches that transform into more beds.
Pop up campers have all the necessities. While pop ups retain many "charms" of tent camping, they provide amenities you won't find in any tent. Think air conditioning, refrigerators, toilets, showers, and more.
You can listen to us talk more about the pros and cons of a pop up by clicking on the play arrow at the top of this article. Or just search for The RV Atlas in your favorite podcast app like Apple Podcasts, Stitcher, Google Podcasts. You can also ask Alexa to play The RV Atlas if you happen to have your hands full at the moment ?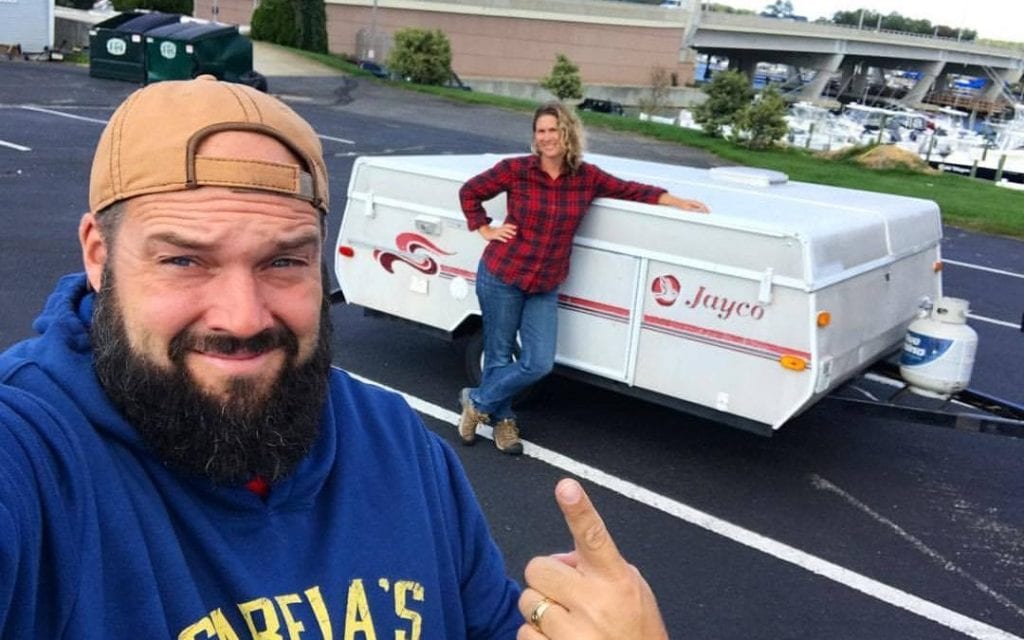 Cons of Pop Up Campers
Pop up campers require more time to set up and break down. If you are traveling and staying in one spot for a long trip, you probably won't mind setting up the pop up. Unfortunately, if you are on a road trip, moving every night or two, you will likely get tired of transforming the pop up. And, it's not just the physical act of popping out the tent ends, you'll also be unpacking everything that has to be tucked away while the pop up is folded down.
Pop up campers require extra maintenance. First, they have a lot of moving parts that can break. Even if you have a high-quality trailer, they just have things that fall apart. Next, they have soft canvas sides that need special care. If you have to pack up the pop up in the rain, you will need to dry it out before storing it away. Plus, over time, the canvas might not hold up as well as other materials.
Pop up campers let in more noise. Those wonderful screened windows can also be a big drawback, especially if you're camping with kids. The campground noise can make it hard for kids to fall asleep…and on the reverse, you might worry more about the noise your children are making.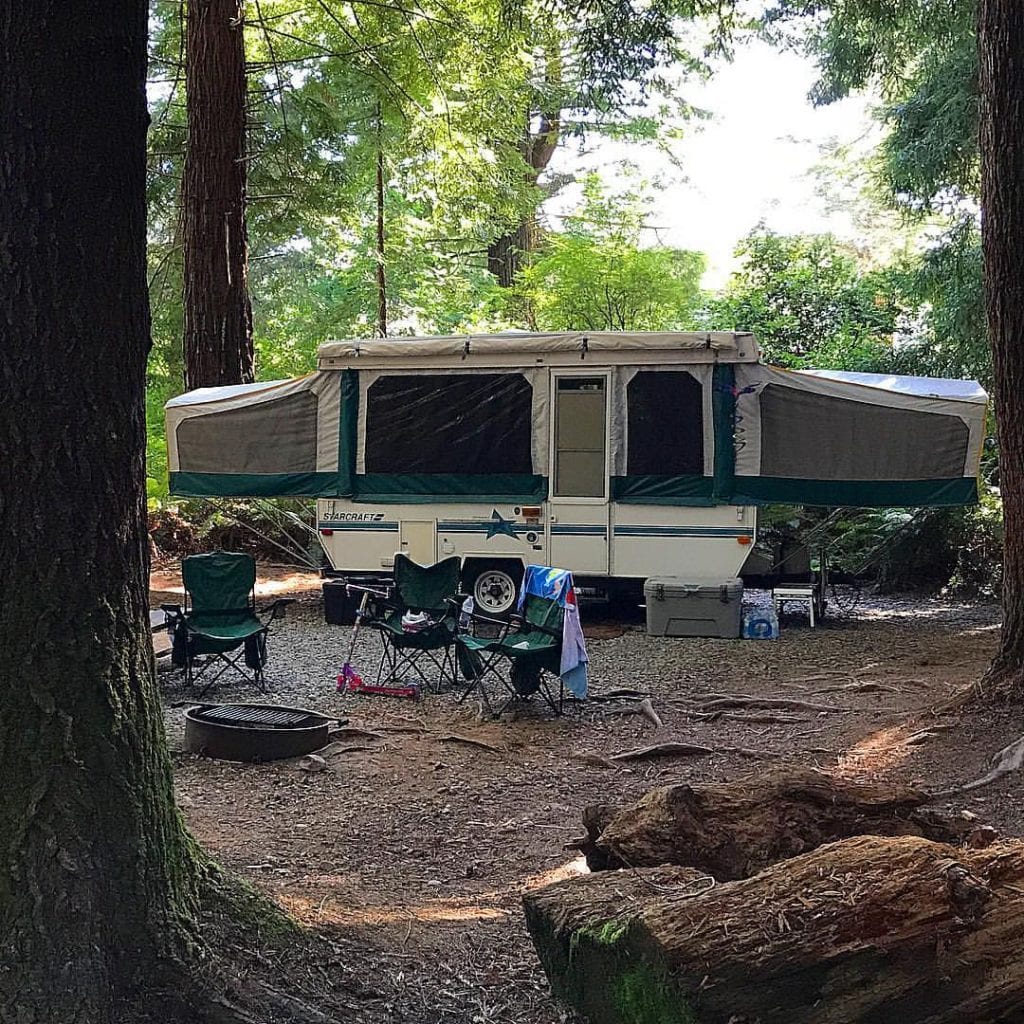 Buying a Pop Up Camper
There are many more pros and cons of a pop up camper. For us, the cons outweighed the pros for the stage in life we were in at the time.
While we didn't keep our first pop up camper very long, we did eventually buy a vintage pop up for the fun of it! Why? Because there really are some things to love about pop ups (check out our Ode to the Pop Up Camper).
This time, instead of buying an expensive, brand new pop up full of bells and whistles, we found a cheap, used pop up in good condition and put in a little elbow grease. You can learn more about Penny the Pop Up on our post about The $1,000 Used Pop Up Camper.
And, if you are considering purchasing a used pop up camper of your own, you'll want to check out our advice for selecting, inspecting, and renovating used pop up campers, which features the expertise of The Pop Up Princess.
See you at the campground,
Stephanie + Jeremy
Podcast: Play in new window | Download