For many folks buying a used pop up camper is the easiest and most affordable way to jump into the RV lifestyle. There are many reasons why a pop up camper is a great way to get your feet wet, since they are so easy to tow and super easy to store.
However, the process of shopping for a used pop up camper can be a bit overwhelming. Inexperienced shoppers often make mistakes that end up costing a ton of money and a ton of time.
Lucky for us the Pop Up Princess came onto the podcast to guide us through the exciting but daunting experience of searching for the perfect used pop up camper. Larissa Richardson has seen a ton of pop up camper remodels, and she knows what she is talking about.
The Hunt for a Used Pop Up Camper
In the first segment, Larissa talks about all the things you need to research and decide before shopping for a used pop up camper. Important points include:
Current tow capacity
desired features
budget
deal breakers
Inspecting a Used Pop Up Camper before Purchase
In the second segment, Larissa walks us through her amazing checklist of all the things you should inspect before purchasing a used pop up camper. Seriously, everyone should be armed with this PDF checklist before going to check a rig out. We discuss:
roof
flooring
lift systems
canvas
electric
appliances
AND MORE!!!
Words of Experience
Folks who have been following the RVFTA story for a while know that we started out with a pop up camper and made a lot of very common mistakes in our RV journey. In the last segment of the show, we discuss some of our best advice for making sure you don't wind up with a camper (or tow vehicle!) that doesn't suit your family or your budget.
We still believe that a used pop up camper is an amazing way to begin your family's RV adventure. If fact, our number one piece of advice to people sitting on the fence is to find an inexpensive used pop up camper and just give it a try. Even if you HATE it (which you won't) you will probably be able to sell the camper at the end of the season for at least what you paid.
To see more of our advice on pop up campers, check out:
You can also visit our RVFTA Facebook Group, where lots of friendly folks will answer any questions you have about looking for that perfect pop up camper.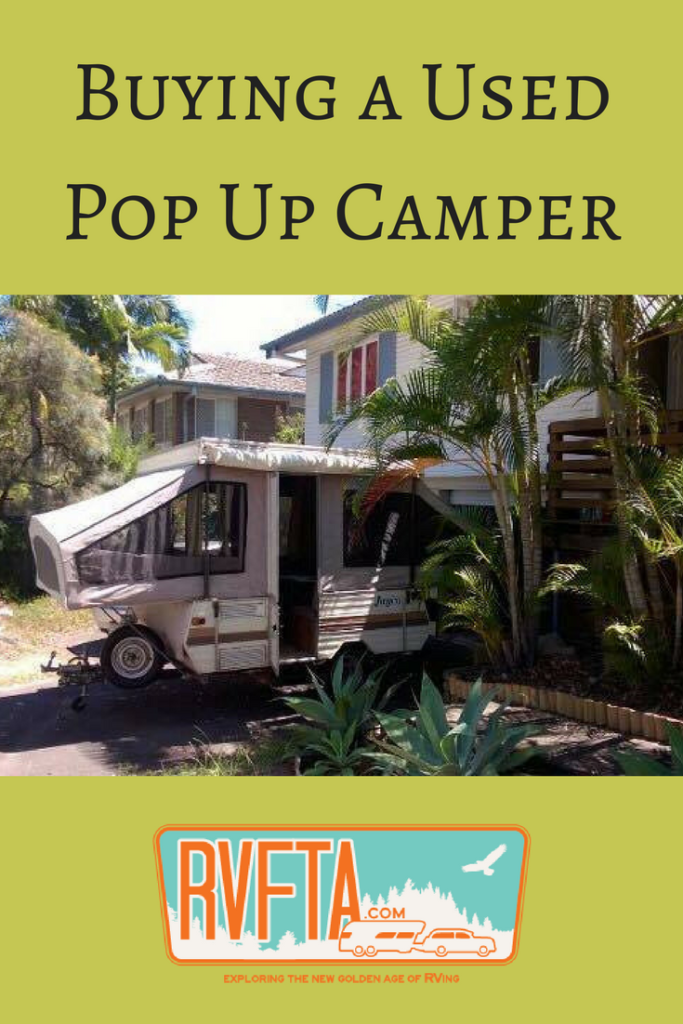 Podcast: Play in new window | Download