Tis the season to be merry and bright…and to find some great RV and camping holiday gifts for our loved ones! And Tis the Season for The RV Atlas's Holiday Gift Guide 2018. We've got some fun new finds that we've enjoyed using over the course of the last year or so. And, like always, we are excited to be featuring many products from our favorite small businesses.
Some of the links in this post are affiliates, and we appreciate the support for The RV Atlas when you shop through those links. But affiliate or not, we only recommend products that we truly love and enjoy. From our family to yours, we hope you have a joy-filled holiday season with your favorite people in the world.
Gift Ideas from our Favorite Small and Independent Businesses
Think Outside Boxes, Monthly Subscription Box $31.95-$34.95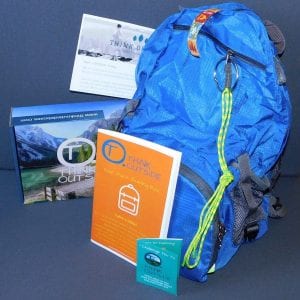 Subscription boxes are all the rage right now, and for the most part we aren't big fans of the trend. But this is one we can get behind. Think Outside Boxes are a monthly box for kids who are interested in learning and exploring the great outdoors. Each monthly box centers on a theme and includes 3-5 pieces of gear, an activity booklet, outdoor challenge, and resource cards. We are truly impressed with the quality of both the gear items and educational resources. You can watch the Facebook Live video we did for more information.
US Travel Tracker Map by Rachel Alverez, $74.95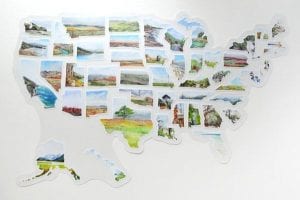 We are in love with this US Travel map made by watercolorist Rachel Alverez who hales from the Eastern Shores of Maryland. It departs from the bold, primary colors of most tracker maps. Instead, you'll find gorgeous, original watercolor paintings for each state. Rachel Alverez has a ton of other products that feature these watercolors. You can buy prints or stickers of individual states as well.
Trekking The National Parks, $50.00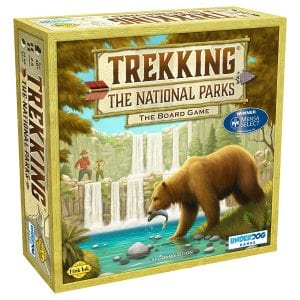 We love to get a fun, new board game every year for the family, and this is a MAJOR hit right now in our house. Trekking The National Parks is a board game inspired by a couple's travels to the National Parks back in 2009. John and Terry Binkele had a great idea and partnered with their son who had game developing experience. The result is a challenging but accessible game best for the 8 years and up crowd. Wesley, age 5, actually learned to play with some support…but it was definitely a bit over his head.
Waxed SK Cruiser Hat by Stormy Kromer, $79.99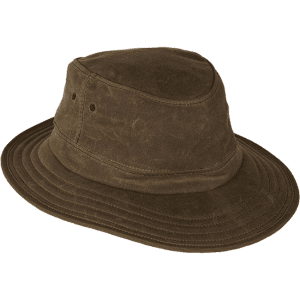 Stormy Kromer has been making high quality hats right here in the United States on the Upper Peninsula of Michigan for over 100 years. Jeremy discovered there hats about two years ago and his head has never been more  warm and comfortable in the fall and winter months. His current favorite hat of all time is the Waxed SK Cruiser, which is great for hiking in cold, rainy weather. Its also dressy enough to wear out to dinner or to work. Stormy Kromer does a great job of making their packaging special–which makes their hats eminently giftable. Dad would love to open one of these up on Christmas morning.
Looftlighter Charcoal Lighter by Looft Industries, $79.99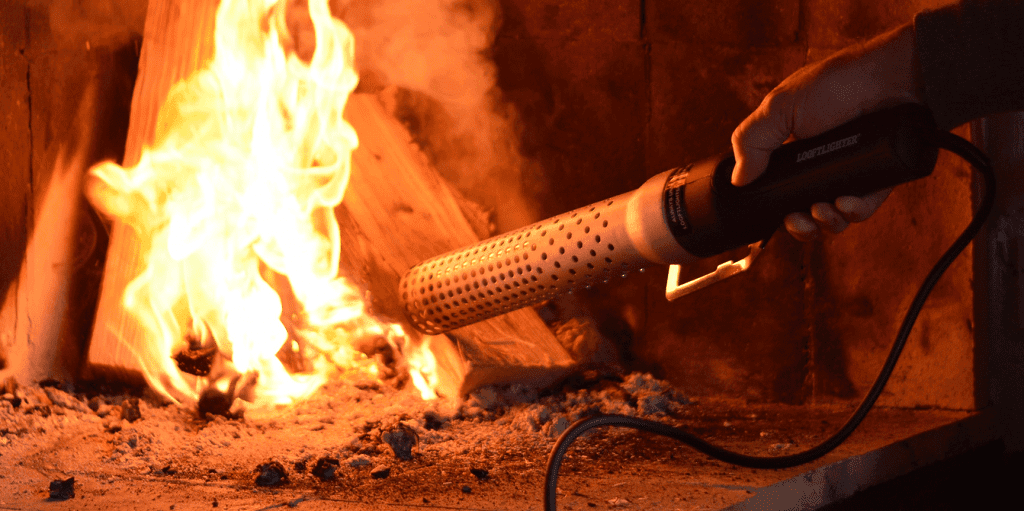 Casita Dean May introduced us to the Looftlighter Charcoal Lighter back on episode #148 of RVFTA (Smokin' and Grillin" 101). Since I've been cooking over charcoal this fall on my new Akorn Kamado (also recommended by Dean) I thought it was time to finally give the Looftlighter a try. It works like a charm and sparking up the charcoal couldn't be easier. If you don't mind dragging an extension cord out to the campfire the Looftlighter will make your old red Coleman lighter look like a tool from the Middle Ages and get your campfire rocking and rolling in seconds.
Harvest Host Yearly Subscription, $49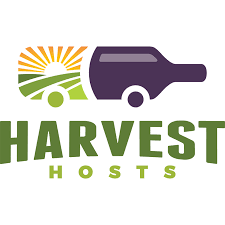 We are Harvest Host members ourselves and think this is the perfect gift for someone who would prefer experiences over things. Harvest Hosts is a yearly membership subscription that allows you to camp overnight in non traditional locations like wineries, farms, breweries, and museums. We met a couple this summer who stayed overnight at the Porter Sculpture Park in South Dakota. There is no fee to camp at any of the locations. The agreement is that you purchase products from the businesses in exchange for their hospitality.
Right now the cost of a yearly membership is $49, but they have offered our listeners 10% off using coupon code RVFTA. The price is going up to $79 per year in 2019, so get one of these memberships now if you are interested! If you use our code, you will be locked into that special rate for future years!!
The Campground Gourmet by Kate Dunbar, $9.99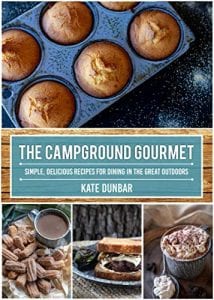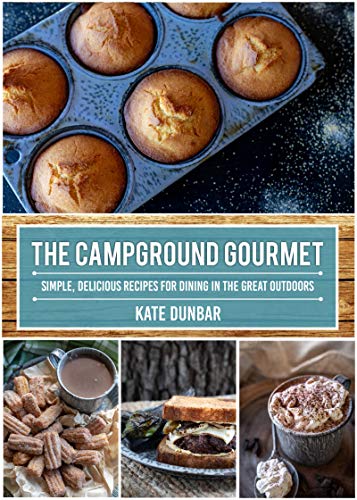 We may be a bit partial, but Kate Dunbar's first cookbook, The Campground Gourmet, is just lovely to look at. It's also full of truly simple and delicious recipes for the campground or at home. With over 100 recipes, the most difficult thing will be deciding what to make first. We've published some of the recipes on our blog, so check out the Bacon Pancake Dippers and the Apple Cider Mug Cake to whet your appetite…
More Great Gift Ideas for the Holiday Season
Cook-It-All and Accessories by Lodge Cast Iron, $130.00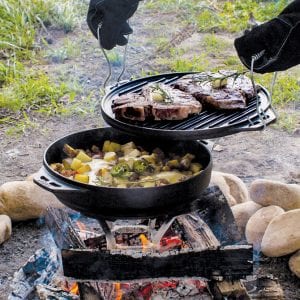 The brand new multipurpose cast iron Cook-It-All by Lodge is bound to become a camping classic. This is the cooking equivalent of a Swiss Army Knife. It can easily be used as a wok/skillet, grill, griddle, dutch oven, or pizza oven, and it packs up in a relatively small package that could be easily stored in the any RV or the back of your truck. We made sausage and peppers over an open fire with the Cook-It-All on our last camping trip and we had a relaxing, Zen like experience using it. Out of all of the gear we tested this year, the Cook-It-All has me the most excited for spring at the campground. We are going to make pizza on the Cook-It-All on our next camping trip. Who wants a slice?
Cook-It-All Accessories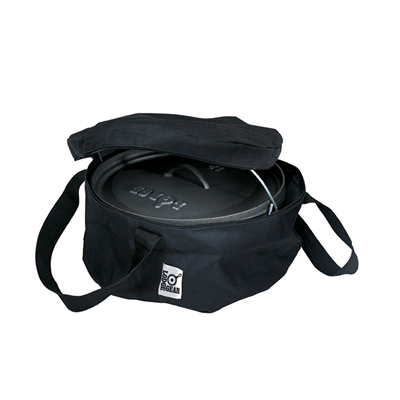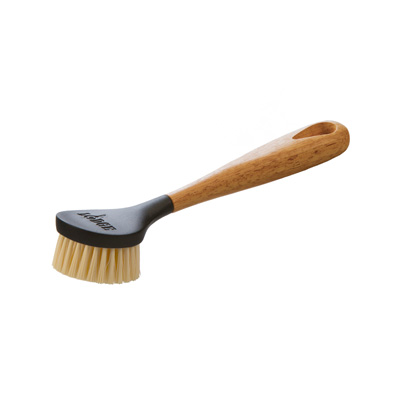 If you decide to give the Cook-It-All as a gift to your favorite campground cook this Christmas make sure to throw in the 14″ Camp Oven Tote Bag and the Lodge Scrub Brush. Combining the Cook-It-All with these accessories truly makes a compete cooking set that is certain to become a family heirloom.
Akorn Kamado Grill and Smoker by Char-Griller $299.99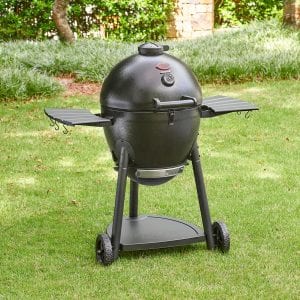 The Akorn Kamado Smoker and Grill by Char-Griller would make an incredible gift for your favorite camp chef who also loves to cook on his or her back deck. For less than half the price of its big green competitor the Akorn delivers incredible results for chicken wings, ribs, steaks, burgers, or anything that your carnivorous heart can dream up. Casita Dean May has owned his Akorn for __ years and claims it is every bit as good as more expensive ceramic Kamados. Jeremy received an Akorn for his birthday and has been cooking up delicious steaks and wings like a madmen. Just remember–USE LUMP CHARCOAL as per Casita Dean's instructions and get ready to go LOW AND SLOW FOR THE WIN!
Krupps Belgian Waffle Maker, $38.99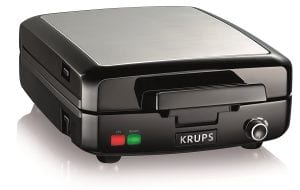 If you have already downloaded The Campground Gourmet, then you'll want to try the Warm Spiced Waffles ASAP. And this Krupps Waffle Maker will turn out delicious results every time. It has five adjustable browning levels, plus indicator lights and an audible beep when waffles are ready. The removable die cast plates make for a quick and easy clean up.
National Parks: A Kid's Guide to America's Parks, Monuments, and Landmarks, $13.99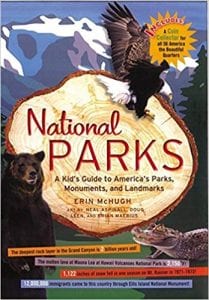 National Parks is an engaging, beautiful, and educational gift for kids. They will love to read a few pages every night before bed, or keep it in the RV for those special camping trips.
2018 Hess Truck: Motorhome Toy Hauler with ATV and Motorbike, $33.99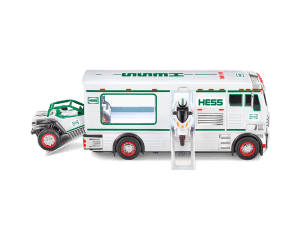 Our boys get a collectible Hess Truck every year from a lifelong family friend. Imagine how excited we were to find out that this year the Hess Truck is a Toy Hauler Motorhome! It comes along with an ATV and motorbike that pop wheelies. All together there are 73 lights, more than any Hess Truck in the past. The perfect gift for a young (or young at heart) RV enthusiast.
Animal Tracks Pop Chart Poster, $40.00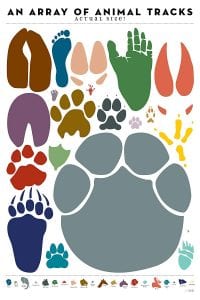 Pop Chart posters are always awesome for decorating theme rooms. This Animal Tracks is perfect for outdoorsy, but hip, decor. The brightly-colored array of tracks will pop in any room. There's a fun key along the bottom identifying the various animals.
That's a wrap on the holiday Gift Guide 2018. We hope your holiday season is full of love and camping. Or at least, dreaming about future camping trips with your loved ones. If you're looking for even more gift ideas, check out previous gift guides here, or visit our RVFTA Gear Hall of Fame!
Peace, Love, & Camping…
Stephanie + Jeremy
Podcast: Play in new window | Download