The Jay Flight Series
Are you shopping for your first travel trailer? Or maybe looking to upgrade to a bunkhouse to fit your growing family? Maybe you're considering becoming a seasonal camper and looking for a trailer that could truly serve as your second home? No matter what you are looking for in a towable, Jayco's Jay Flight line of travel trailers has a perfect floorpan for you. It has been North America's bestselling travel trailer for 14 years for good reason.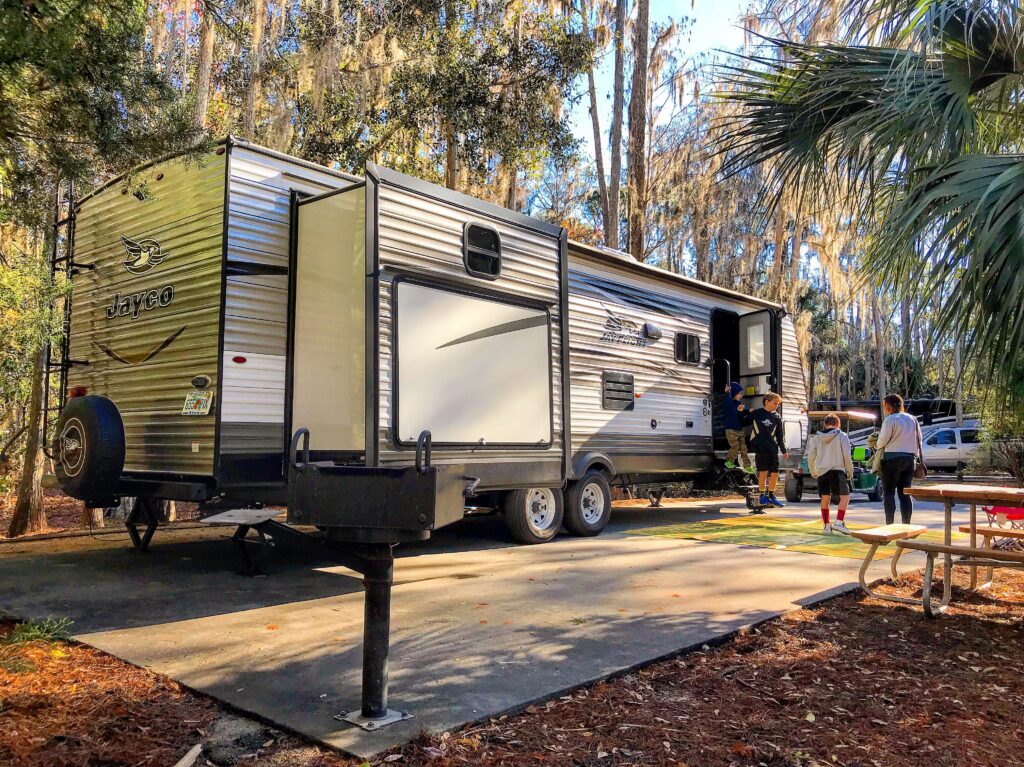 The Jay Flight series offers a robust variety of floorplans with dry weights ranging from 4,455 lbs to to 8,835 lbs. Lengths range from from about 25′ to just over 40′. If you need something lighter you can check out the SLX. It features models that are towable by properly equipped minivans and family SUV's. if you are looking for a semi-permanent trailer for a seasonal site than look no further than the Bungalow series. You could spend your entire life as an RV owner hopping around in the Jay Flight series of trailers. In fact, many people do. We have met countless RV owners who have owned 3,4, or even 5 different Jay Flight models. The variety of floorplans and the quality of construction keep many owners brand loyal for life.
Jayco's Matt Fisher
On this week's podcast we invited Jayco's Matt Fisher onto the show to talk about the wide variety of options in the Jay Flight lineup. In recent years you may have heard Matt on our podcast in his role as Senior Product Director of Luxury Fifth Wheels. But in recent months he has moved positions and has taken over the Jay Flight lineup. We think he is the perfect guy for the job. Why, you might ask? Because Matt is also an avid camper and a Jay Flight owner! We think this gives him incredible insight into the series and into the wants and needs of his customers. To listen to us interview Matt click on the media player at the top of the post. To watch Matt and Stephanie do a walk-thru of an SLX 174BH with Baja package click play on the video above.
Jay Flight Bunkhouses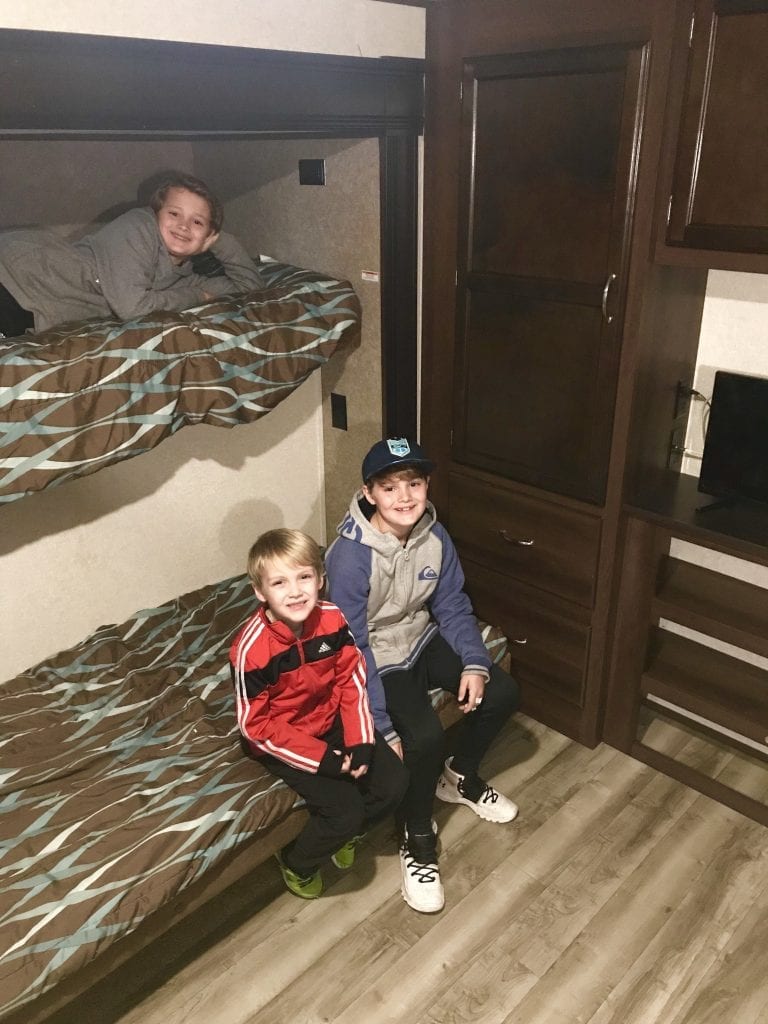 The thing we love the most about the Jay Flight lineup is its wide variety of floorplans. It offers options for couples and families.  We were first drawn to Jayco almost a decade ago because of its variety of bunkhouses. This is an area where Jayco excels. If you have kids and want a travel trailer with bunk beds its hard to beat floorplans like the 28BHBE or 32BHDS. When we went to Fort Wilderness this past winter we rented a 32TSBH and loved it. All of those bunkhouse floorplans, and several others in the lineup, offer comfort, space, convenience, and LIVABILITY for families at reasonable price points.
To watch Matt Fisher give a walk thru of the brand new 2019 Jay Flight 34MBDS click below.
The Jay Flight SLX Series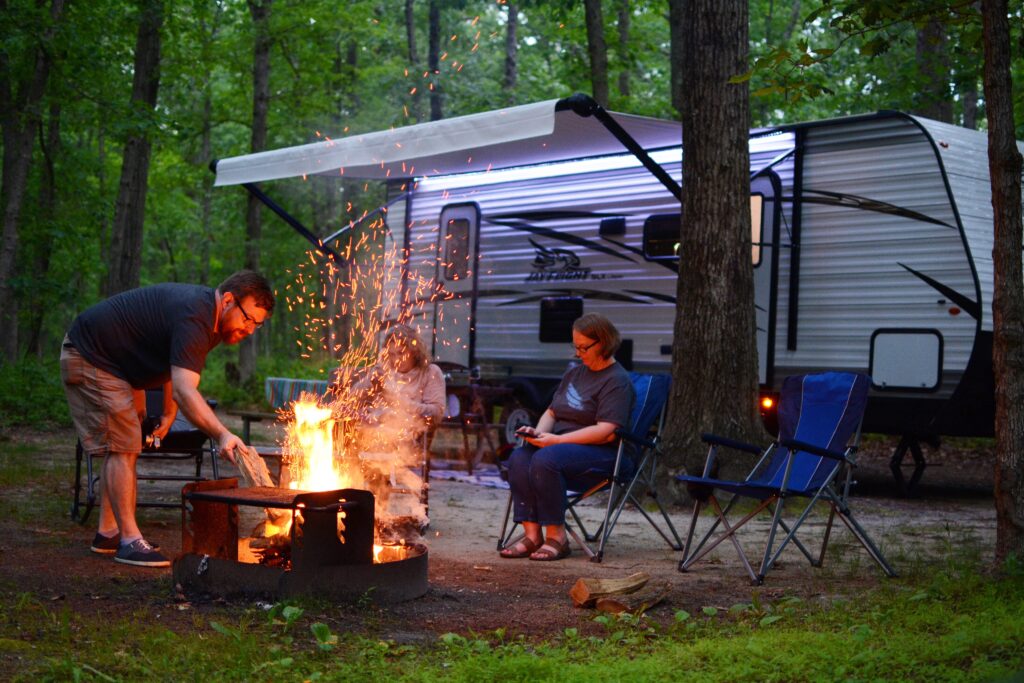 If the you are looking for a trailer that is more lightweight and budget friendly than a standard Jay Flight then we suggest you check out the SLX series. We have several friends that own SLX's and we are constantly impressed by the quality for the dollar spent. Our friends Phil and Leslie purchased an SLX 174BH a few years ago and they absolutely love it. Check out their new rig in the featured image up top. They moved up from a pop up camper and couldn't be happier in their new trailer.
The rig pictured directly above is an SLX 244BHS which our friends Kerri and Russell recently purchased. It features a slightly unusual floorpan which is absolutely perfect for the two of them and their teenage boys.  The bunks are large and spacious and there is plenty of floor space for the family to hang out together on a rainy day or after a long day of hiking in a National Park.
We also love the new SLX 298BH which is feature in a blog post here.
The Jay Flight series made its debut in June of 2001. It has been America's best selling travel trailer for the last 14 years. This doesn't happen accidentally. Jayco takes great pride in making travel trailers that pack in a lot of quality and a lot of features at a family friendly price point. We have owned a Jayco pop up camper, a Jayco White Hawk, and a Jayco Octane, but never a Jay Flight. But I am constantly tempted. The 32BHDS looks perfect for our family of five. I think our dog and cat would also love all of that livable floor space.
No matter where you are in your RV journey, the Jay Flight series has got you covered–and at a price you can afford.
Jayco is a valued sponsor of The RV Atlas podcast. Our opinions are completely our own.
Podcast: Play in new window | Download