Georgia State Park Campgrounds are beloved by RVers and campers in the know. So which ones should be at the top of your campground wishlist? We've got reviews of five favorites from Gretchen Holcombe, a lifelong Georgia resident who blogs at Boxycolonialontheroad.com.
Georgia State Park Campgrounds: General Details
The Appalachian Trail begins in the mountains of north Georgia, and the southeast corner's 110 miles of Atlantic coast are home to barrier islands with salt marshes and white sand beaches. In between, there are big cities and small towns, rolling foothills and flat plains. Georgia's 48 state parks takes full advantage of this geographic diversity and provides countless opportunities to hike, bike, boat, and of course camp in some of the state's most beautiful places. This is just a small sampling of the best the park system has to offer.
A few things to know about Georgia State Parks: Sites can be booked 13 months in advance. Site selection used to be first come, first served at all campgrounds, but they're transitioning over to site specific reservations. All campgrounds mentioned here either already offer site specific reservations or will be offering them by the end of February, 2019. There's a $5 parking fee at each park in addition to camping fees (paid once per stay); if you're going to be traveling extensively in Georgia, it's worth looking into a yearly membership to cover these fees.
Georgia State Park Campgrounds #1: Vogel State Park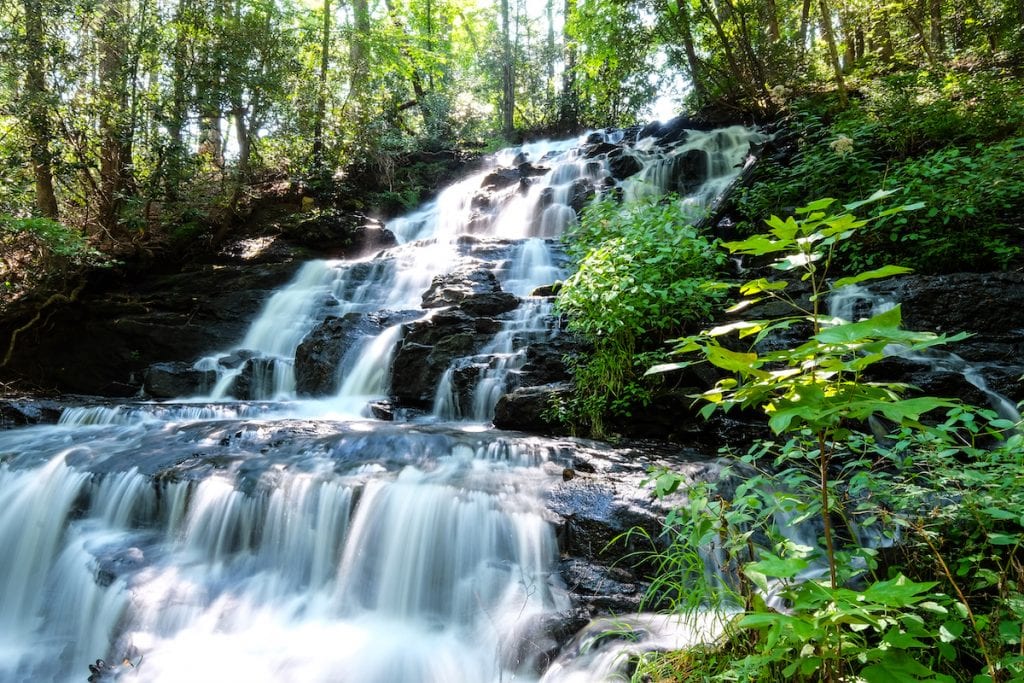 Vogel, located in in the north Georgia mountains about an hour and forty five minutes north of Atlanta, is the second oldest state park in Georgia—a Civilian Conservation Corps project from the 30s. You can visit the small CCC museum in the park to learn all about that history, and you can also do a lot of great hiking, swim or boat in the lake, or take a walk around the lake to admire the mountain views and the lovely Trahlyta falls.
If you exhaust the offerings inside the park, Brasstown Bald—the highest point in Georgia—is just down the road, as is the charming town of Blairsville with plenty of shopping and dining options. The campground offers 84 wooded water/electric sites, and there are also cottages available (including some original CCC built cabins).
Georgia State Park Campgrounds #2: Cloudland Canyon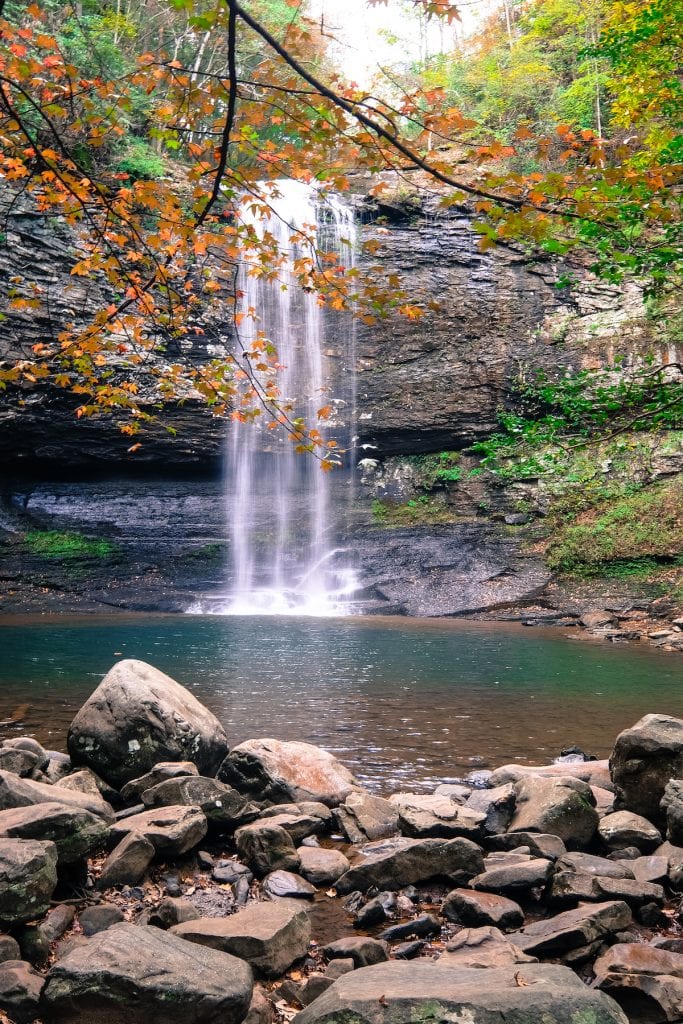 The appealingly named Cloudland Canyon is located in the northwest corner of Georgia, about two hours from Atlanta. It's a hiker's dream, with 50 miles of trails. You can take the Overlook trail to peer into the 1000 foot deep canyon from above, or hike down to explore the canyon floor and discover some beautiful waterfalls.
The park also boasts 30 miles of mountain bike trails and, for the most adventurous, wild cave tours are offered throughout the year. Chattanooga, Tennessee, with its many attractions and restaurants, is only half an hour away. There are two RV camping loops with 72 total sites (water/electric); yurts and cottages are also available.
Georgia State Park Campgrounds #3: FD Roosevelt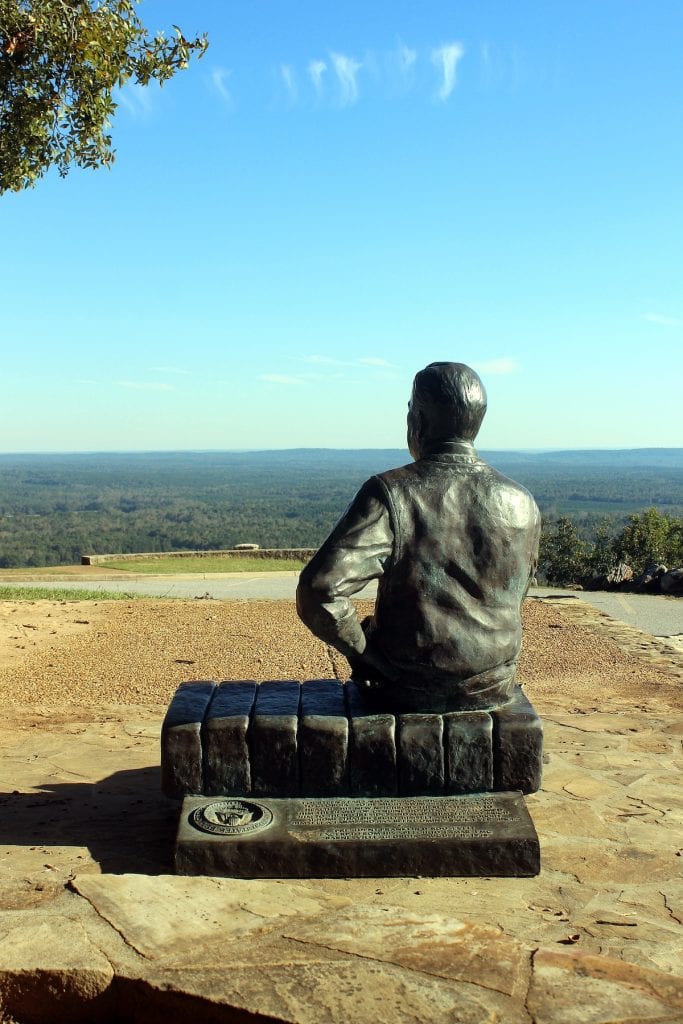 You wouldn't expect to find rolling mountains in the middle of Georgia, but that's exactly what you get at Georgia's largest state park, located about an hour and a half south of Atlanta. As the name suggests, this area was important to President Franklin Roosevelt, who started coming here in 1924 to take advantage of the therapeutic value of the natural warm spring water. Visitors can enjoy the view from Dowdell's Knob, one of FDR's favorite picnic spots, where a statue of the president still looks out over the hills.
There are 42 miles of hiking trails, horseback riding, and, during the summer months, visitors can cool off in the Civilian Conservation Corps built Liberty Bell swimming pool, fed by local cool spring water. The nearby town of Warm Springs is home to FDR's "Little White House," where he stayed during his time in Georgia. The wooded campground offers 115 water/electric sites as well as 21 cottages.
Georgia State Park Campgrounds #4: Florence Marina/Providence Canyon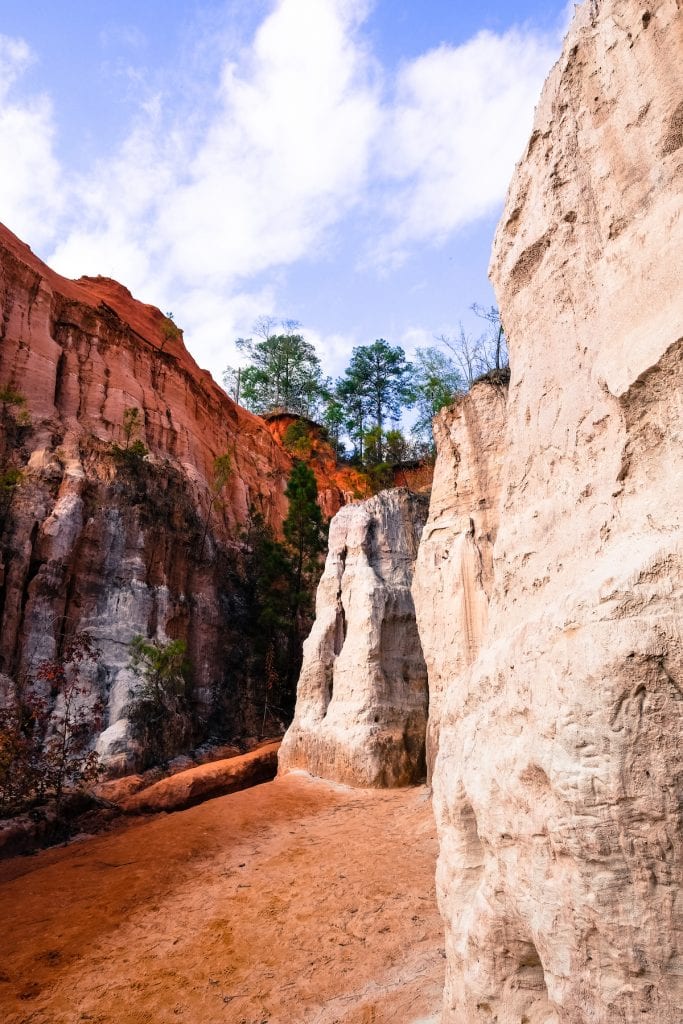 Cheating a little and sneaking a twofer in here. These two parks are ten minutes away from each other and around 150 miles southwest of Atlanta. They go together not just because they're so close to each other, but because Providence Canyon has only backcountry camping, so if you want to bring your RV along you'll be staying down the road at Florence Marina. Florence Marina sits on the shores of the 45,000 acre Lake Walter F. George, and offers a deep water marina with boat slips for rent and boat rentals. The campground has 43 water/electric sites; cottage rentals are also available.
Providence Canyon is known as Georgia's "Little Grand Canyon." But unlike the real Grand Canyon, this 150 foot deep gorge was formed by the erosion that resulted from poor agricultural practices in the 19th century. Who knew bad farming could be so beautiful?! It's a short but steep hike down into the canyon, and there are miles of trails to explore once you reach the bottom. After you've had your fill of canyon hiking and water sports, you can head to nearby Omaha Brewing Company for some local craft beer.
Georgia State Park Campgrounds #5: Skidaway Island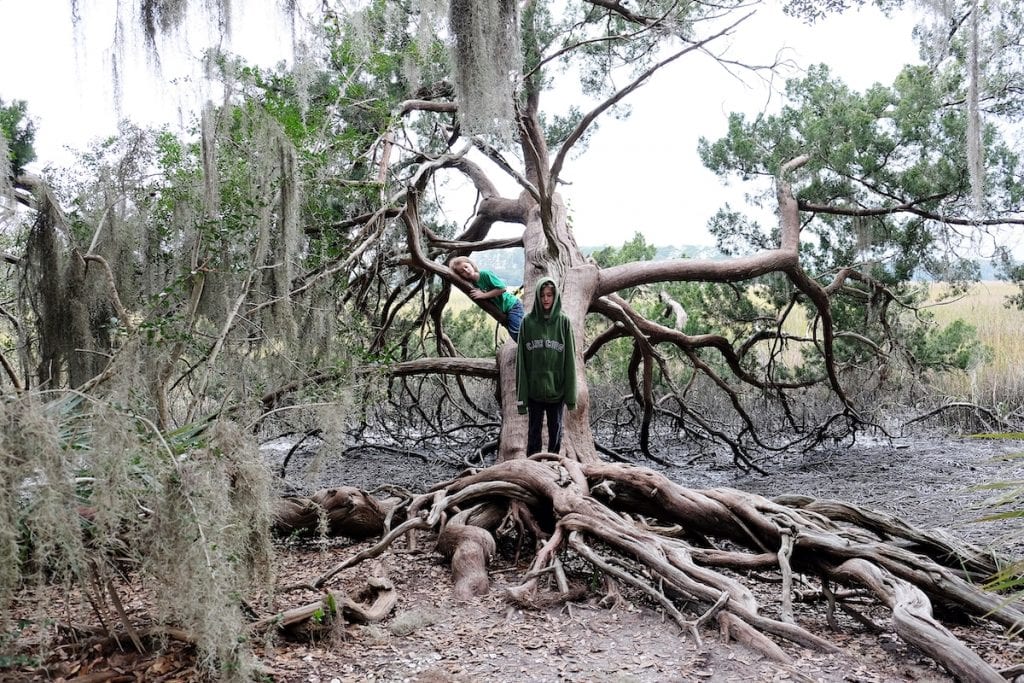 Skidaway Island, located about 300 miles southeast of Atlanta and 120 miles from Charleston, South Carolina, is the perfect basecamp for exploring Savannah and the Georgia coast. The park's six miles of hiking trails take you through salt marsh and maritime forest and past Civil War earthworks and Prohibition-era moonshine stills. The campground itself is gorgeous, full of live oaks dripping with Spanish Moss. This is one of the few Georgia State Parks with full hook up sites; there are 17 of these sites, most of them enormous pull-throughs with tons of room to spread out. The full hook up sites go fast, but there are 70 more water/electric sites to choose from if you miss out.
Downtown Savannah is only 20 minutes away and Tybee Island, the closest open ocean beach, is 40 minutes away. There's more than enough in the area to keep you busy for a full week's vacation.
So which one just shot to the top of your state park wishlist? And what Georgia State Park Campground do you think should have made the top 5??? Let us know in the comments below…
We'll see you at the campground,
Stephanie + Jeremy
Podcast: Play in new window | Download