There are 75 Jellystone Park locations across the country, and each one of them is very different. Some of them are quaint and rustic, with lots of activities for kids that harken back to summer camps of old, and others have off-the-hook water zones, gigantic water slides, laser tag courses–and much more. All of them are worth taking a look at for your next family vacation. But don't assume that they all offer the same level of amenities and activities. Know before you go and do your research so you can pick a Jellystone that is right for your family. Here is a hot list of five amazing Jellystone Parks across the country that represent the best the brand has to offer. There are so many other great Jellystone Parks across the country. So after you check out the five parks below, head over to their website to find one near you.
Yogi Bear's Jellystone Park Camp-Resort: Golden Valley, North Carolina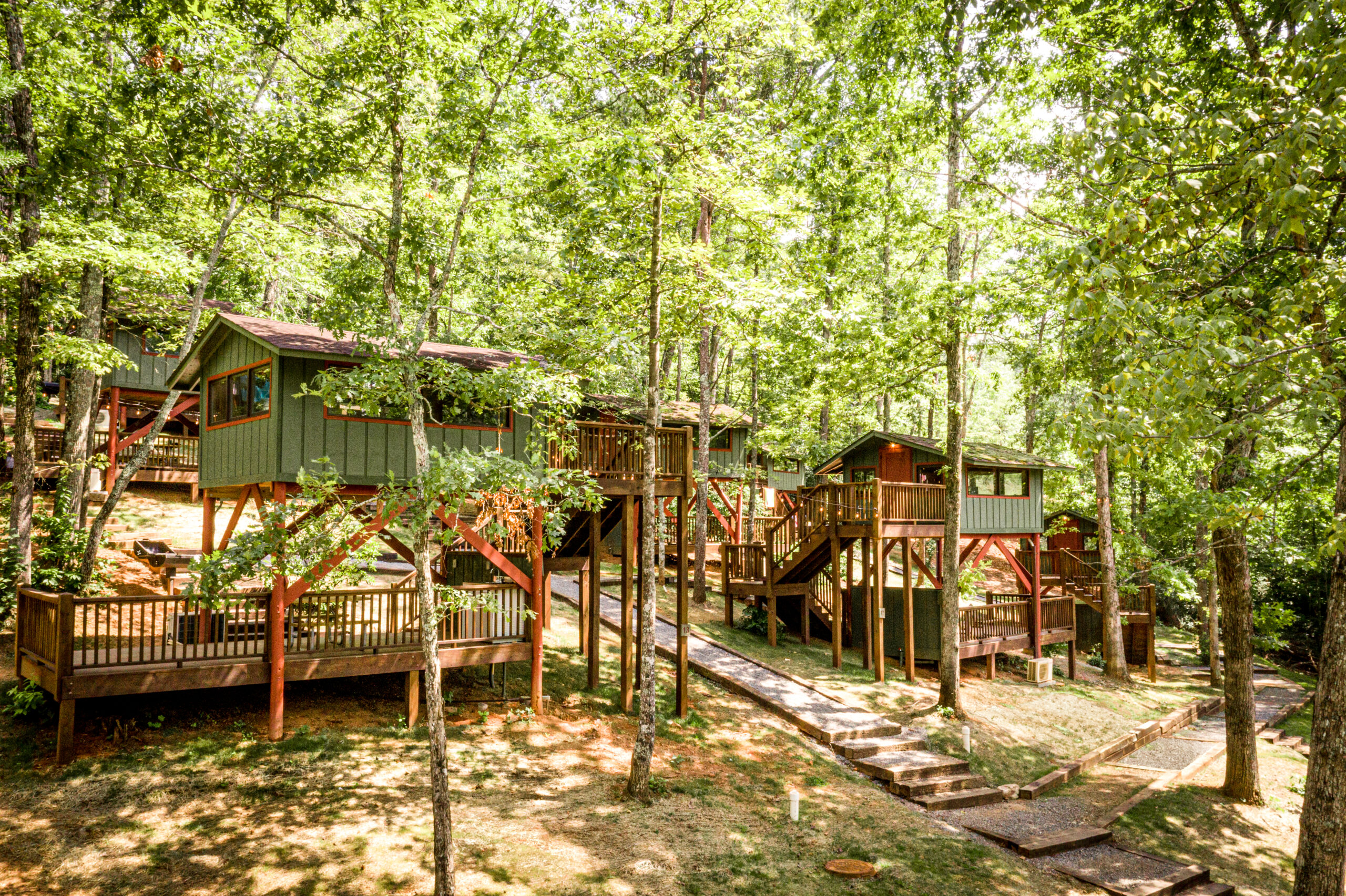 This gorgeous campground is located along the base of the Blue Ridge Mountains between Asheville and Charlotte. The property is situated around a beautiful lake that is great for stand-up paddleboards, canoes, kayaks, fishing, and more. The RV sites here are very good, but those without an RV should not despair. This Jellystone's cabins and glamping accommodations are award winning and have appeared in travel magazines and blogs across the country. The Mountain View Treetop Cabins look particularly cozy and charming. At the time of this writing the campground is building a Lookout Tower at the top of Cove Mountain that should make for a great family hike right on the property. Activities like zip-lining across the lake, and laser tag (to name just a few) will keep your kids occupied all week long.
Yogi Bear's Jellystone Park Camp-Resort: Estes Park, Colorado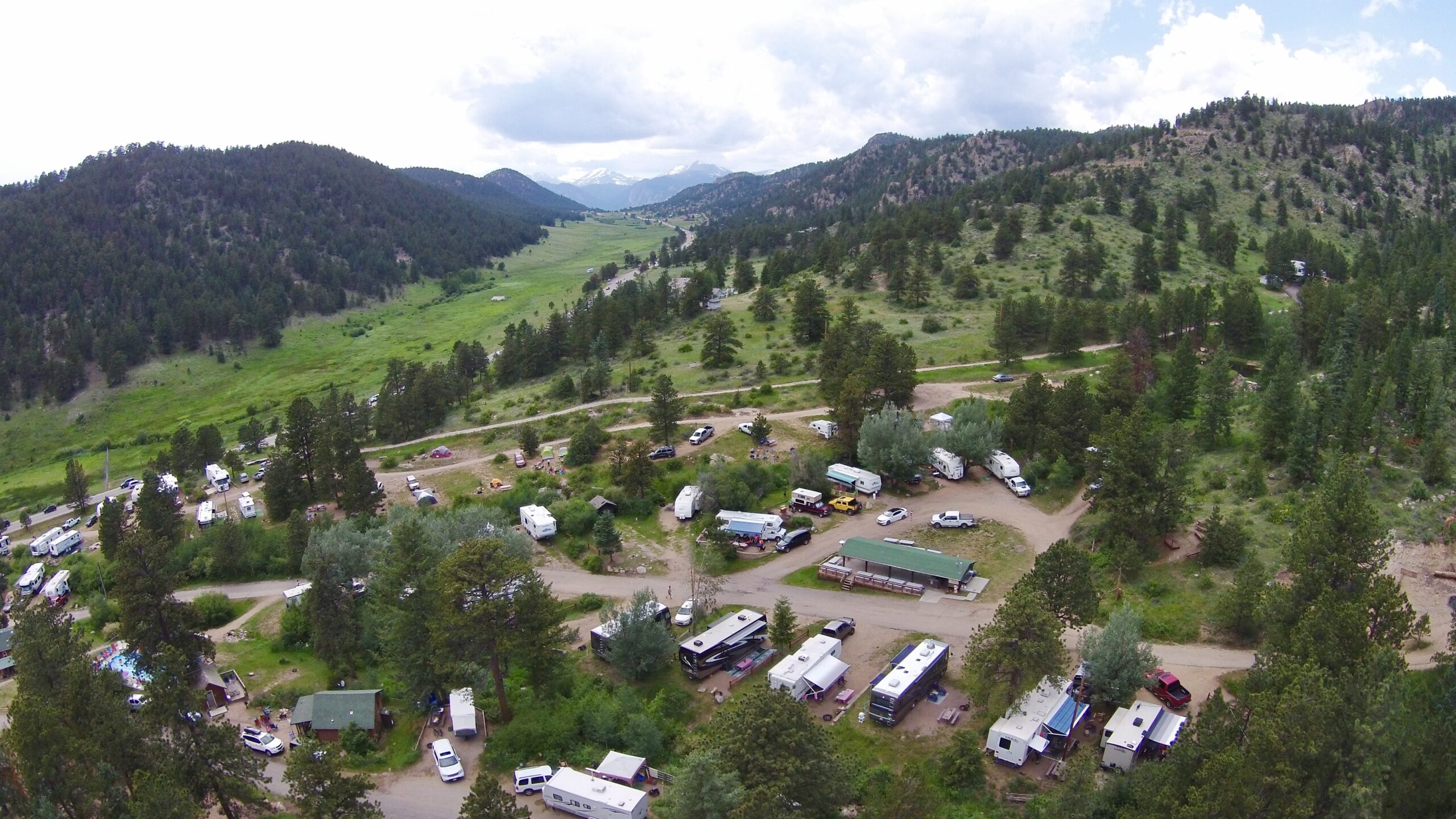 This Jellystone Park's location near Rocky Mountain National Park is absolutely stunning. The RV sites here climb up the side of the mountain, and many have sweeping views–so choose wisely based on the size of your rig. There are good hiking trails that are accessible right from the campground, so bring a comfy pair of hiking boots. The heated swimming pool is great for kicking back and relaxing after spending a day in the National Park. Don't feel like cooking? The onsite Pic-a-Nic Basket offers up quick meals at reasonable prices. Combining a great Jellystone Park vacation with a national park adventure is always an epic option for making family memories.
Yogi Bear's Jellystone Park Camp-Resort: Lakes Region, Milton New Hampshire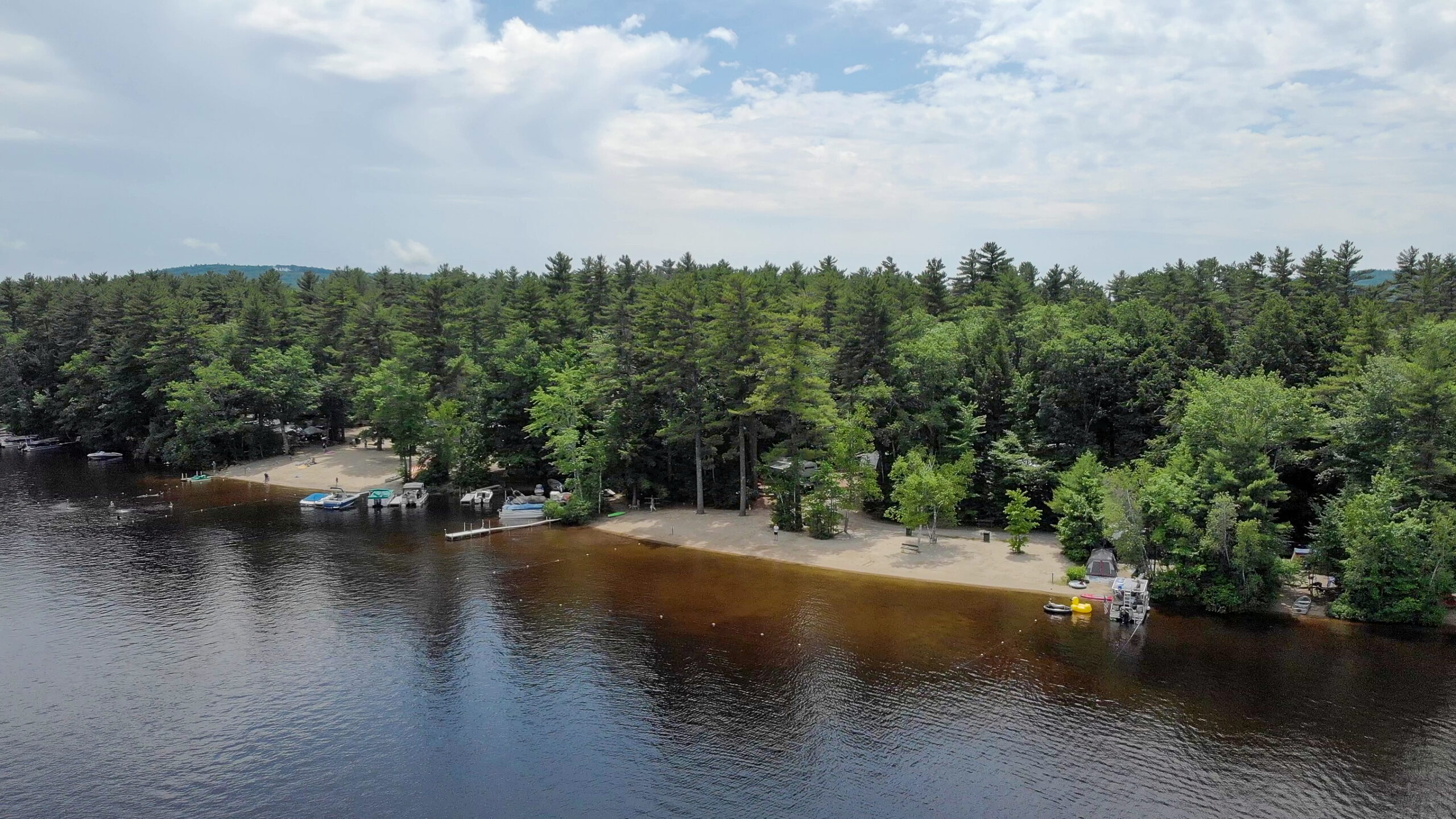 The location of this Jellystone in New Hampshire's Lake Region looks absolutely epic. They have two sandy beaches right on Northeast Pond and the swimming is heavenly during the summer months. If the lake water is chilly then try the brand new activity pool with warming tubs. Contrary to popular belief, many Jellystone Parks are actually excellent for teenagers, and this is one of them. The basketball and GaGa ball courts, baseball field, laser tag course, and outdoor ping pong table will keep them occupied for hours. Want a hot tub delivered right to your waterfront RV site or cabin during your stay? Jellystone Park Lakes Region can make that happen. Just make sure you call ahead. The hot tubs (and the waterfront sites) are incredibly popular and sell out on most summer weekends.
Yogi Bear's Jellystone Park Camp-Resort: Mammoth Cave, Kentucky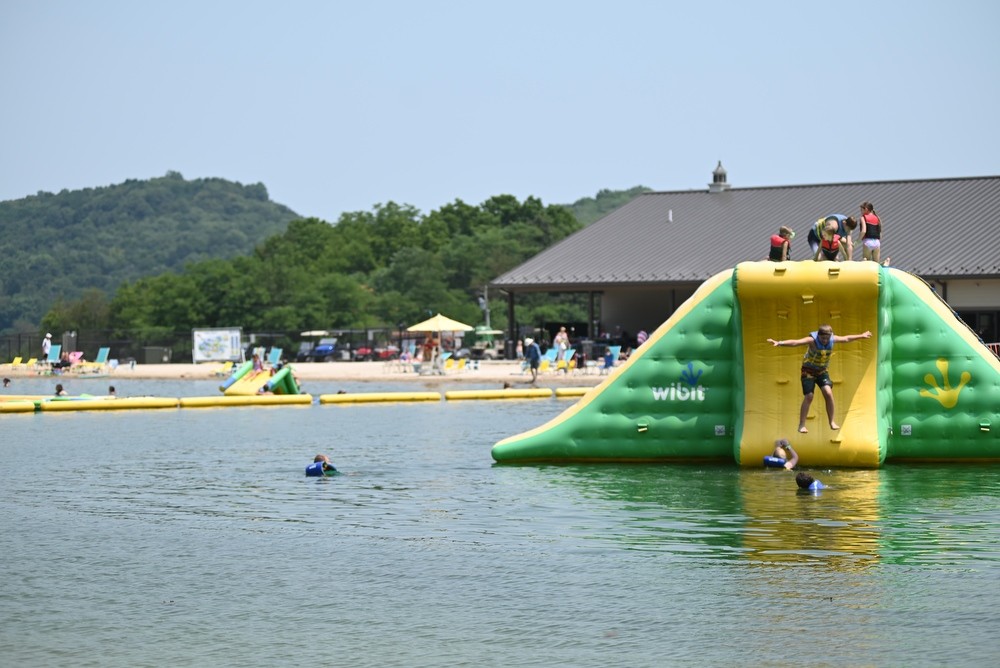 This is the best camping option near Mammoth Cave National Park–especially for families. Jellystone Park Mammoth Cave has an awesome Wibit on Karst Beach, their own private lake. What is a Wibit? It's an inflatable obstacle course and a wet and wild playground all wrapped into one. No matter how you describe it–it is a whole lot fun. Kentucky can get hot in the summertime, thankfully there are plenty of ways to stay cool at this popular Jellystone Park–playing on the Wibit is just one of them. Campers that love to fish will enjoy the stocked fishing pond with Bass, Bluegill, and Catfish galore. So bring your fishing poles and get ready to wet a line after a morning of exploring Mammoth Cave National Park.
Yogi Bear's Jellystone Park Camp Resort: Guadalupe River, Texas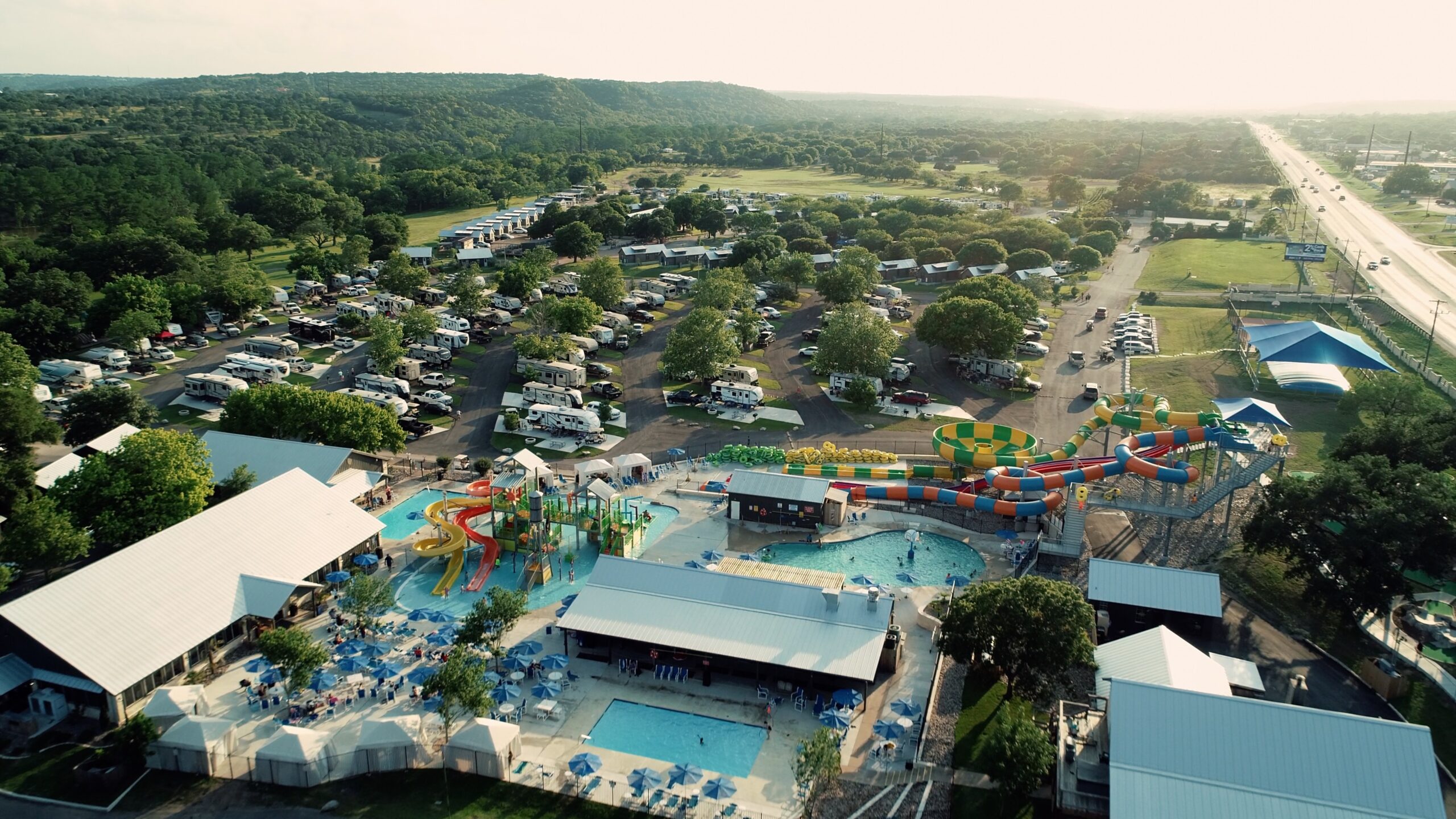 The water zone at this Jellystone looks off-the-hook with two waterslides and water cannons so you can have an epic family water war. In addition to the water zone, there are three outdoor swimming pools that make it easy to beat the Texas heat–even in the middle of the summer. This Jellystone Park is very pretty and the Guadalupe River is picture perfect for tubing and fishing, Visiting on a Halloween themed weekend? The Haunted Trail looks mighty spooky. Volleyball, Basketball, and GaGa Ball courts make this another Jellystone Park that is great for teens. Need a break from the hustle and bustle of this campground's non-stop action? Their nature trails are lovely and feel like they belong in a state park.
To learn even more about Jellystone Parks and to find a location close to you check out their website right here.
Podcast: Play in new window | Download