The Eastern Shore of Virginia and Maryland has no shortage of great campgrounds. The Chincoteague Island KOA Resort is the new kid on the block that will be a hit with folks who appreciate resort-style amenities.
Located just minutes from the Chincoteague National Wildlife Refuge, this area is home to the wild ponies made famous in that young adult classic, Misty of Chincoteague by Marguarite Henry. In addition to horses, you'll also find beautiful beaches and delicious food in this area.
To hear to us talk more about the Chincoteague Island KOA Resort, listen to this episode of The RV Atlas by clicking on the play arrow above. You can also find the episode in your favorite podcast app. For a more rustic, state park camping experience in this region, read about the lovely Assateague State Park campground here. 
Chincoteague Island KOA Resort: Campground Details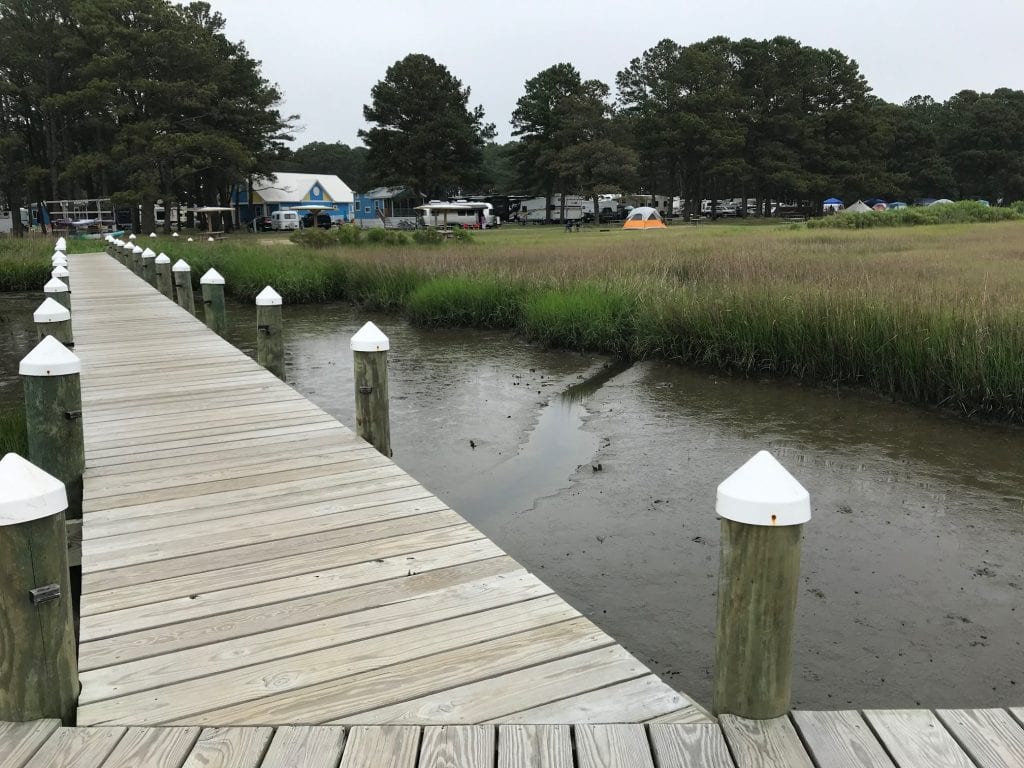 The Chincoteague KOA was recently purchased by the same company that developed Massey's Landing and the Chesapeake KOA, which we've previously visited and reviewed. It has a lot of the defining features of those campgrounds, most notably offering a ton of alternative accommodations. There are a variety of cabins, rv rentals and glamping tents. Many of these accommodations are pet friendly as well.
We decided to try out one of the RV rentals on site, since this is a growing trend at campgrounds around the country. We camped in a Prowler Travel Trailer, completely outfitted with coffee maker, pots/pans, dishes, linens, and towels. There was also a lovely wooden deck with comfortable patio furniture to enjoy the outside space. The RV rentals are close to the camp store, playground, jump pillow, and waterpark area.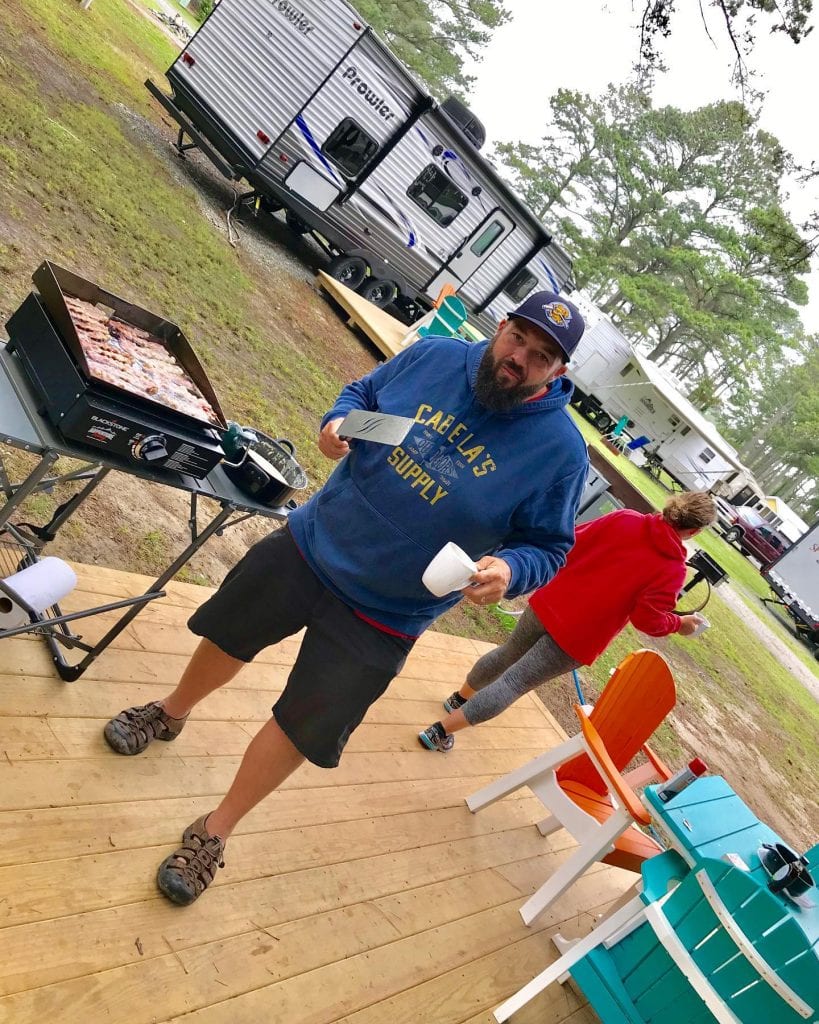 Now let's talk about the RV sites.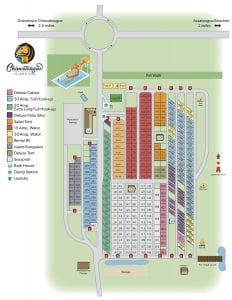 We felt that the pull thrus in rows F and G felt a bit too crowded for our taste. However, the pull thrus in row H back right up the tent area, offering a beautiful view of the marshlands and lighthouse. There's also a large, well-maintained seasonal area, which is marked on the campground map above.
If you are tent camping, note that this is a MARSH area. We were at the campground during a rainy week, and noted quite a bit of flooding near the lighthouse/waterfront row. Ask for a particularly dry campsite when booking to avoid floating away.
Chincoteague Island KOA Resort: Campground Amenities
There are a ton of great amenities at this resort, but let's give full credit to the sparkling clean, air conditioned bathhouses. Every single time we entered the bathrooms over the course of our stay, they were in tip top shape.
We also loved the hammock area, playground, and jump pillow. There's a kayak and paddle board launch along with kayak rentals. Guided tours are offered, and sign ups are available at the camp store. You can also rent bikes and golf carts. We did have a golf cart rental, but felt the campground was not so big that you needed one to easily get around.
An adorable campground trolley will shuttle you to the nearby beach or downtown Chincoteague. There's also a free local shuttle, making this a great place for motorhome folks that travel without a toad.
The Chincoteague KOA has a pool that is separate from on-site waterpark and can be used with no additional fee.
Chincoteague Island KOA Resort: Maui Jack's Waterpark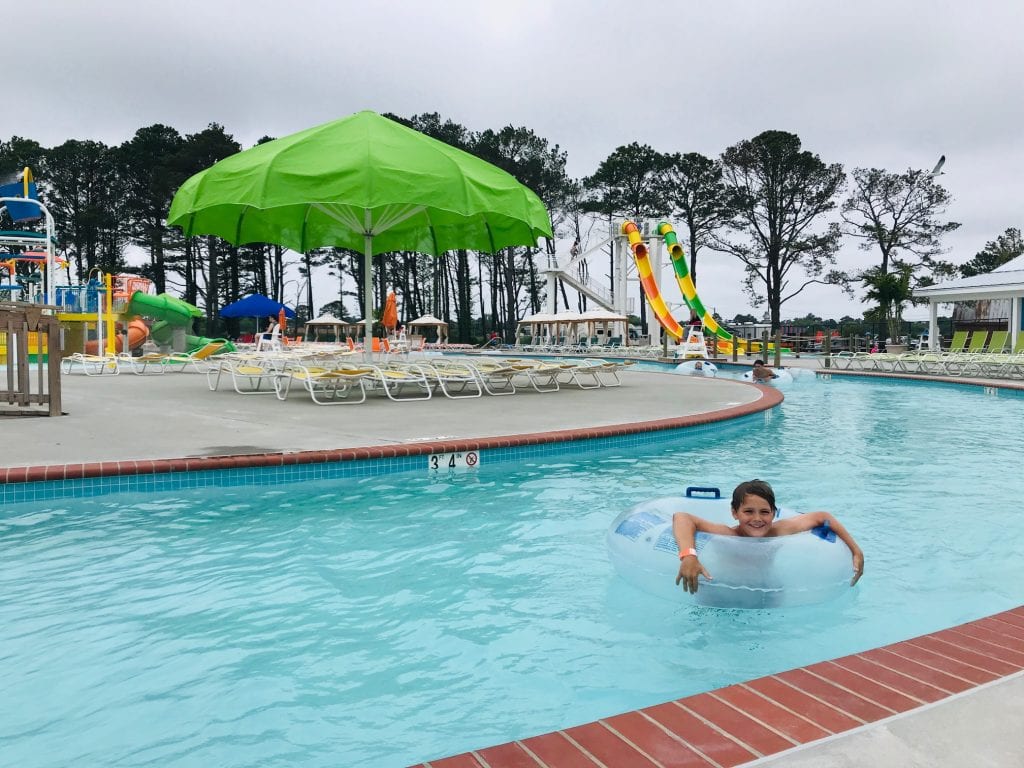 One of the main attractions for camping at this KOA is the onsite waterpark. This is not just your typical resort campground pool and splash park. This is the real deal, with super big waterslides, a lazy river, and splash park.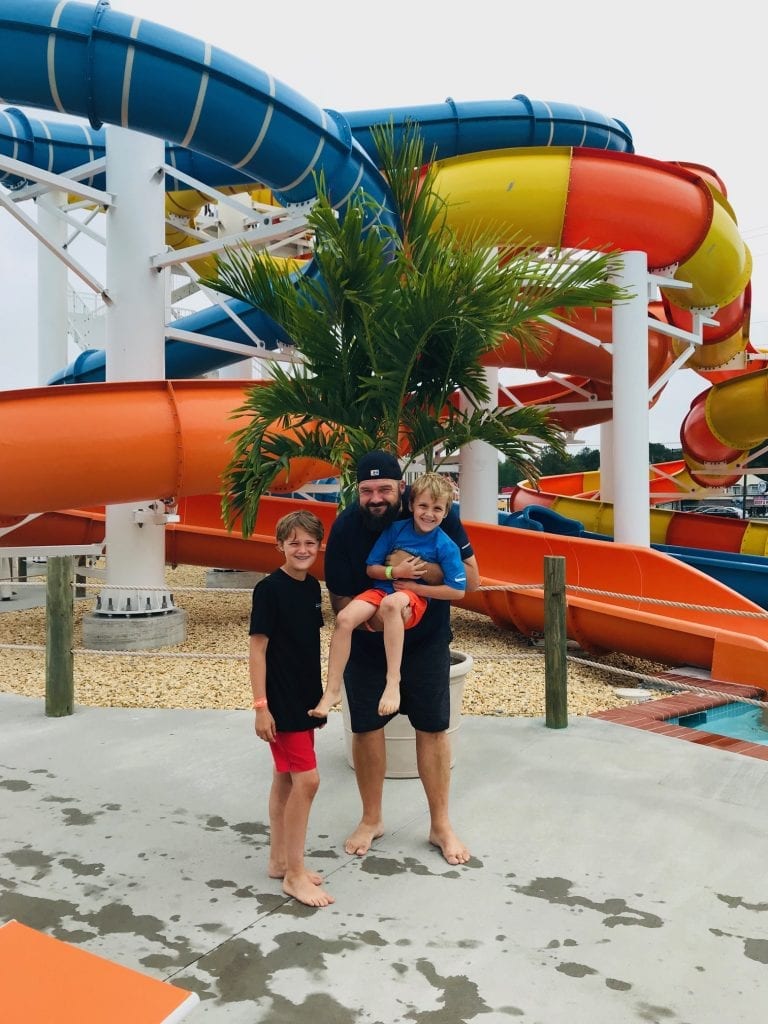 Maui Jack's is open 7 days a week in the summer. Day passes are currently $22.99, or $17.99 for visitors under 48 inches. Kids three and under are free. They also offer discounted 3-day passes. You can find more rate information here. 
The cabanas at Maui Jack's are the best we have seen at a campground. For an additional fee, you can reserve one with comfy couches and chairs, a cooler with complimentary waters, a safe for your valuables, and charging station for your devices. There's also a call button for food and beverage service. Fun and fancy. We think this is a great splurge, especially when traveling with friends or extended family.
The water park has a snack bar and also Keko's Bar and Grill, with full service bar and food menu. There's a fun area with jumbo Connect Four, Jenga, corn hole, and ring toss.
Chincoteague Island KOA Resort: 5 Regional Eats and Attractions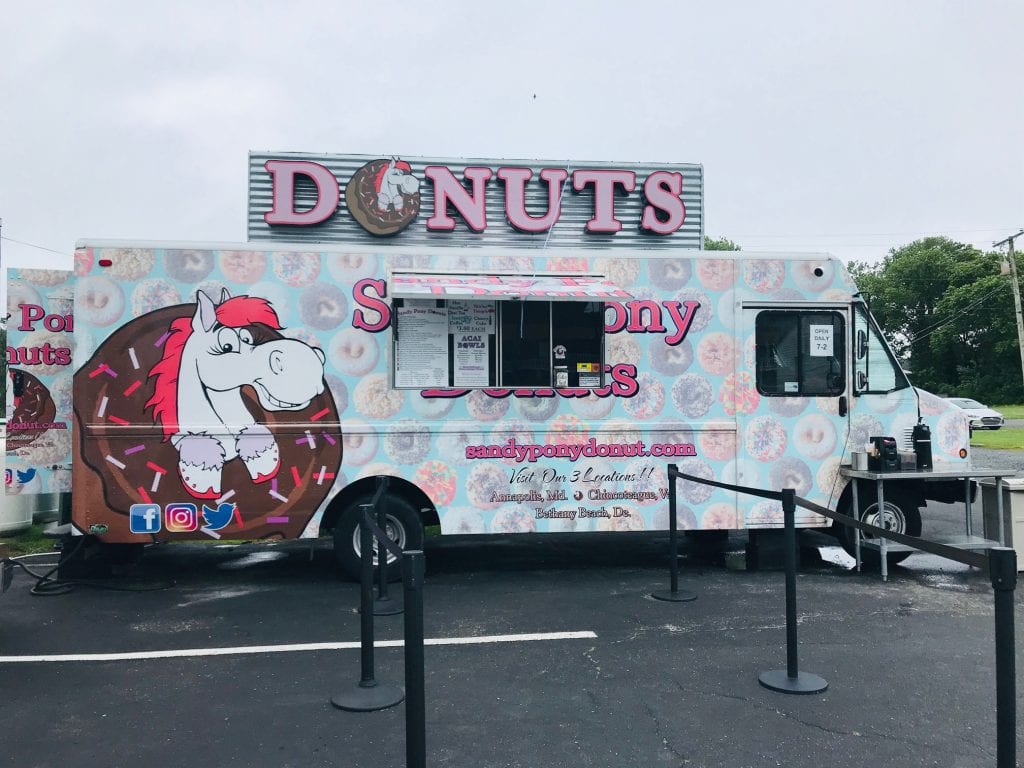 Visit the National Wildlife Refuge. Enjoy the great beaches, wild ponies, and tours of the Assateague Lighthouse.
Get ice cream from Island Creamery and Mister Whippy so you can join the fierce debate over which is better.
Enjoy donuts from the Sandy Pony Donuts food truck. We've had a lot of fancy pants donuts and these are simply the best. We are sorta glad we don't live nearby because we don't have that much willpower.
Eat tacos at Pico Taqueria. Go ahead and order one of everything to save yourself a return trip to the counter.
Have dinner at the Ropewalk. We thought the view here would be great and the food just so-so. But both ended up being fabulous. Get a seat right on the water and listen to live music while your kids play corn hole. Cheers.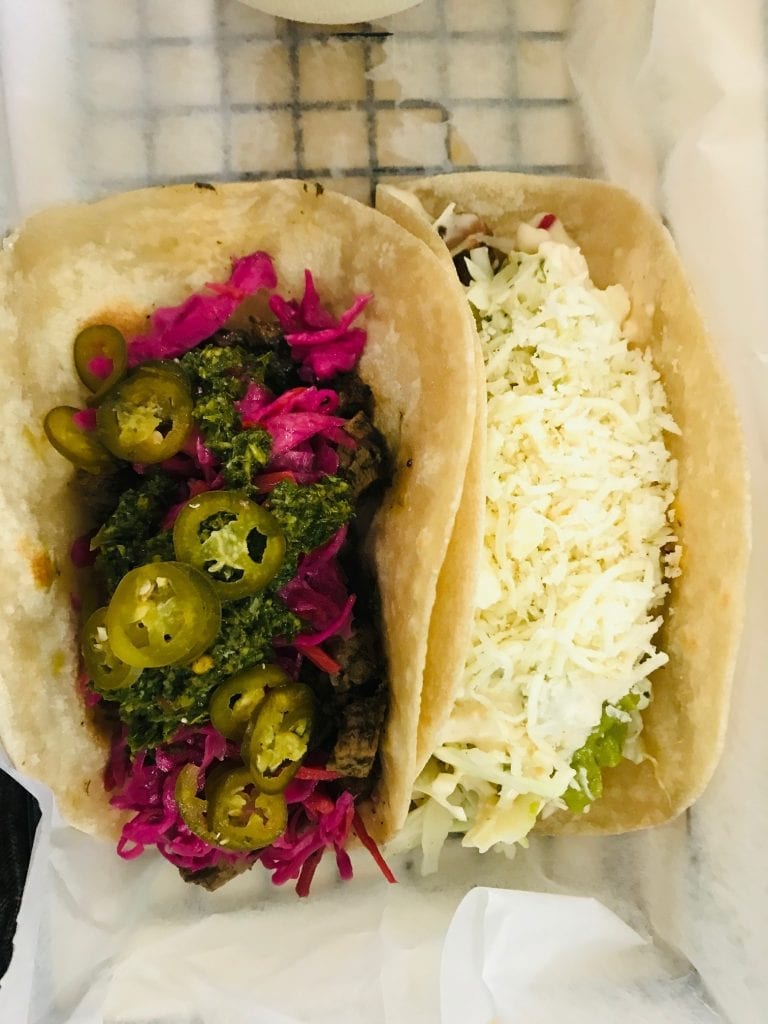 Bonus Note: If you are visiting the Chincoteague Island or Assateague Island areas, bring your full arsenal of anti-bug weaponry. This area is legendary for mosquitos. Spray, lotion, candles…bring it all and you will enjoy your stay. Come empty handed and we can't help you.
See you at the campground!
Stephanie + Jeremy
Podcast: Play in new window | Download