Gretchen Holcombe from Boxy Colonial On The Road is back on The RV Atlas podcast this week and she is our guest blogger here as well! Check out her recent post and interview on the podcast to hear about her stop in Burlington, Vermont. And to hear about her awesome stop at Four Mile Creek State Park and Niagara Falls click on the media player above, or read here guest post below!
Guest Post by Gretchen Holcombe
**All photos by Gretchen Holcombe
Niagara Falls is one of the world's most spectacular sights…and it's also one of its most crowded. Niagara Falls State Park welcomes more than 8 million visitors a year, and on a busy summer day it can feel like they're all there at the same time. My husband and I had seen the falls before, but we were excited to make our first trip there with our kids this summer and more than willing to brave the crowds and to shell out money for quintessential tourist experiences like the Maid of the Mist boat ride.
Four Mile Creek State Park
But we were also eager to get a break from the nonstop action in the evenings, and we found the under appreciated Four Mile Creek State Park, just 20 minutes down the road from Niagara Falls, to be an excellent retreat.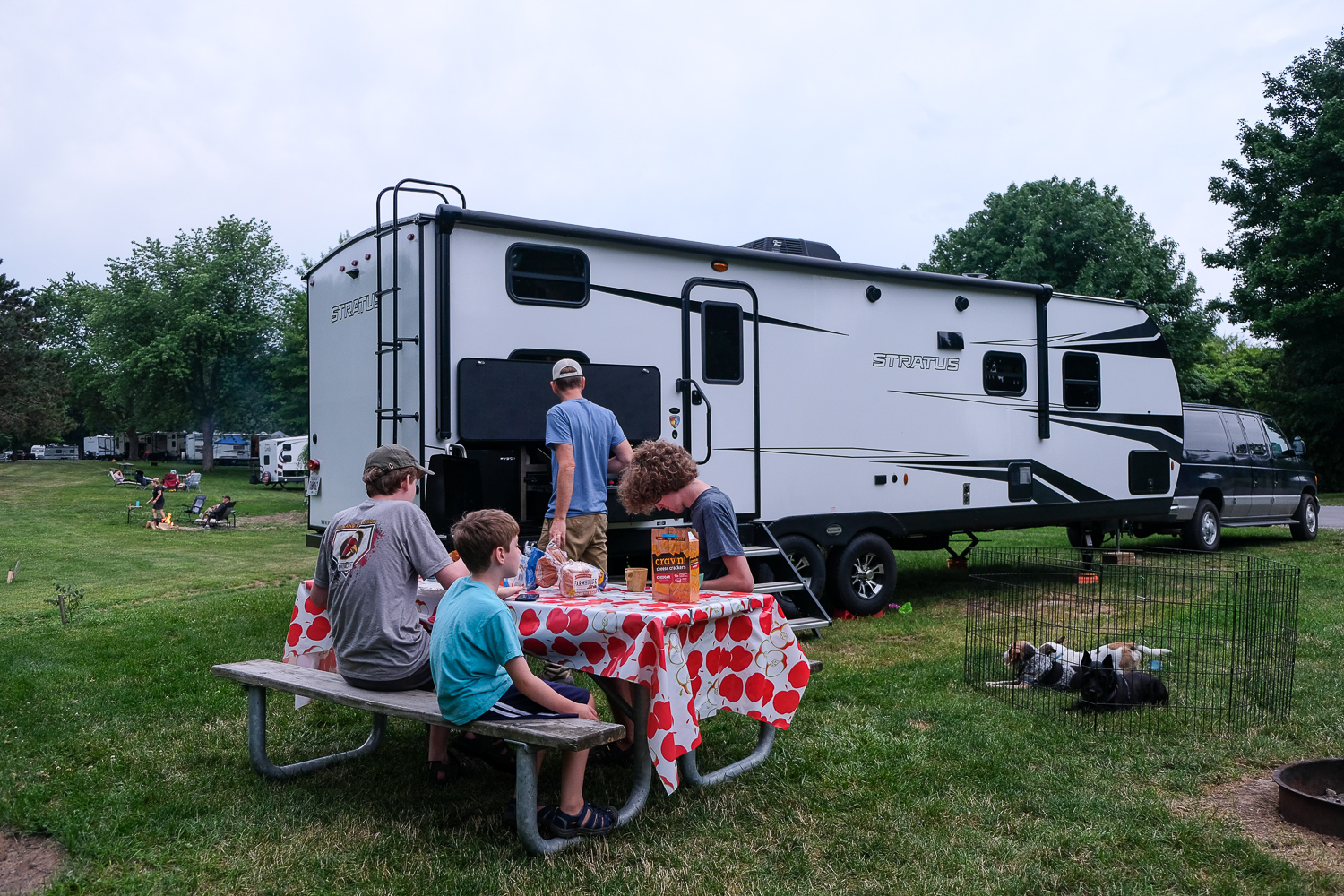 Four Mile Creek offers up 250 spacious tent and RV sites on the shores of Lake Ontario, about half primitive sites and half with electric hookups (potable water and dump stations are available). In addition to the big sites and quiet setting, we appreciated the bargain pricing: sites are just $24/night for electric, and $18 for dry camping. There are a lot of excellent sites to choose from here, but the ones in the 200 loop that overlook Lake Ontario are the pick of the campground, with enormous "backyards" and great views; look for the even numbered sites between 222 and 240. If you don't have an RV with you, the park is popular with tent campers and also has six yurts available for rent. 
Niagara Falls State Park
It's an easy drive from Four Mile Creek to Niagara Falls State Park, and we spent lots of time there checking out the falls from all different vantage points. We parked on Goat Island (we were able to save the $10 fee by showing our pass from Four Mile Creek) and walked all around the area; there are several great places to admire the view, including Terrapin Point and Luna Island. You can walk or take the trolley from Goat Island over to the visitor center and to all the shopping and restaurants in town. The Maid of the Mist leaves from this area and takes you on a very wet trip out to the bottom of the falls; it's a splurge at around $25 per person for a 20 minute boat ride, but it's worth it for a view and experience you can't get any other way.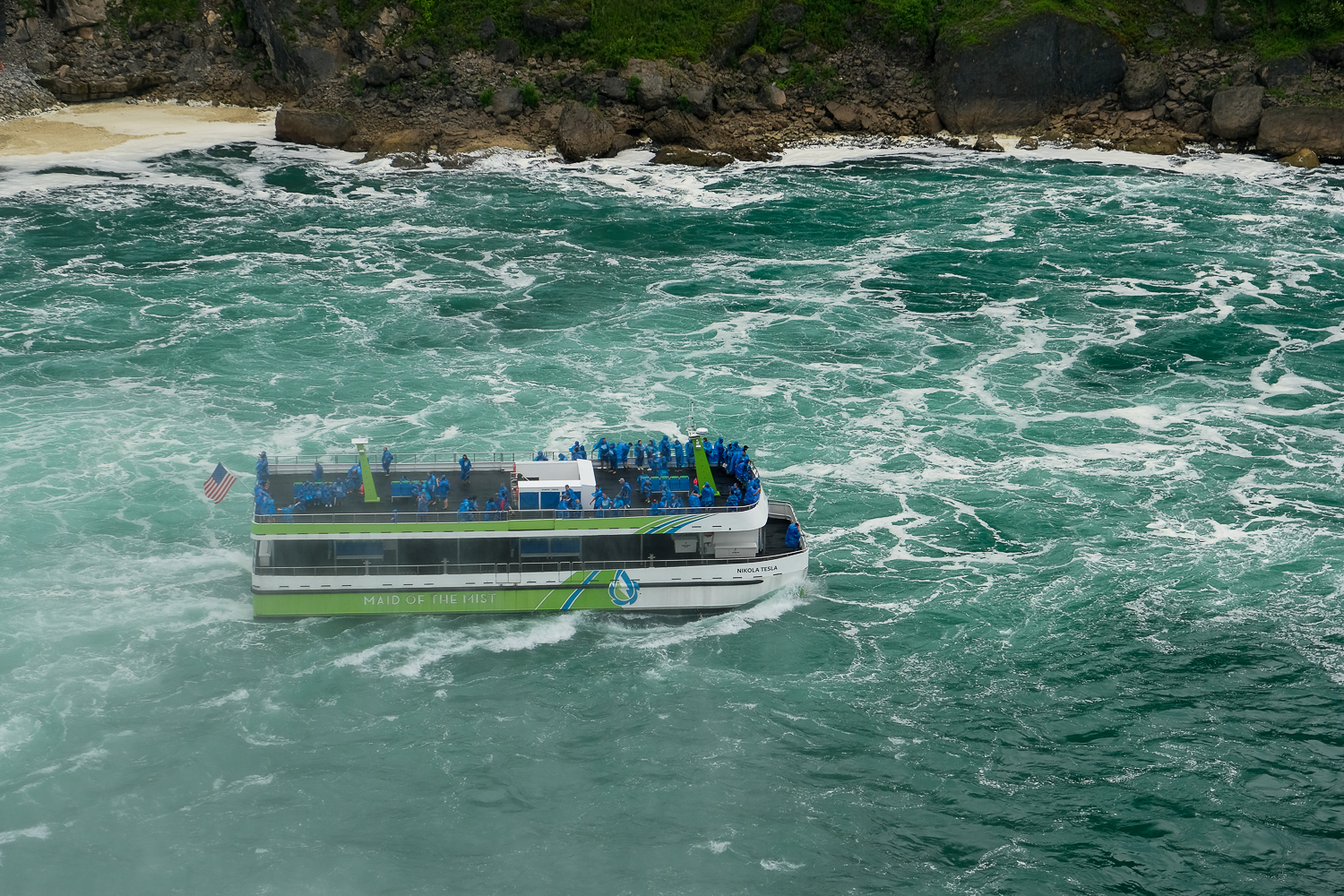 Some of our Niagara Falls plans were derailed both by the fact that the Canadian border was still closed to Americans thanks to COVID and by the very wet weather we had while we were in the area. But the silver lining was that this led us to find some great off-the-beaten-path destinations that we likely wouldn't have seen otherwise.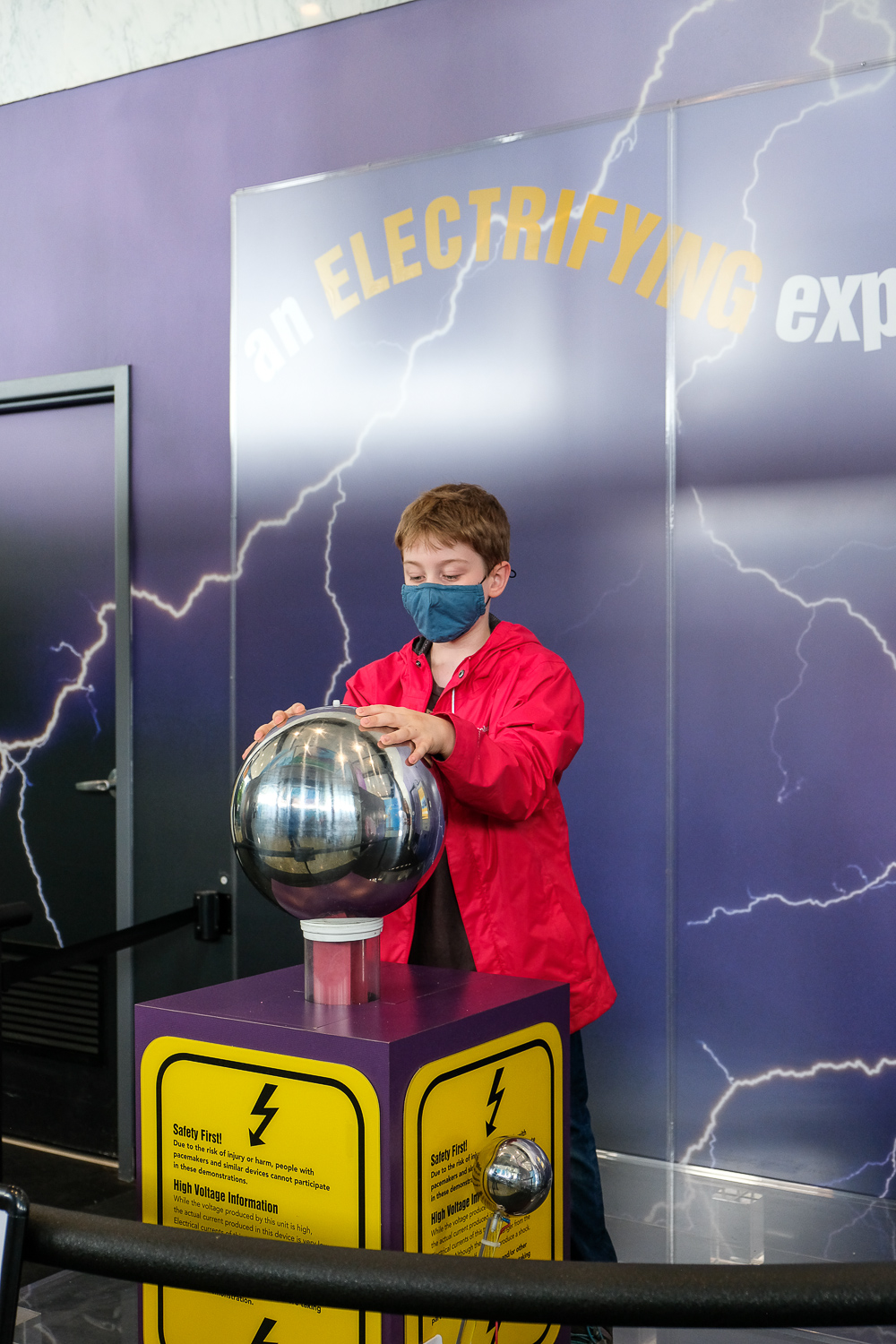 We spent one rainy morning at Niagara Power Vista's visitor center, an excellent museum all about the history of and science behind using the falls to produce power. There are lots of hands on activities, a movie, and one particularly charming exhibit where Nikola Tesla and Thomas Edison debate the merits of AC vs. DC power.
The Niagara Falls Underground Railroad Heritage Center is another excellent rainy day (or any day) stop. Niagara Falls' proximity to Canada made it a natural Underground Railroad hub, and this small museum tells the stories of some of the enslaved people who passed through here on their way to freedom in engaging and creative ways.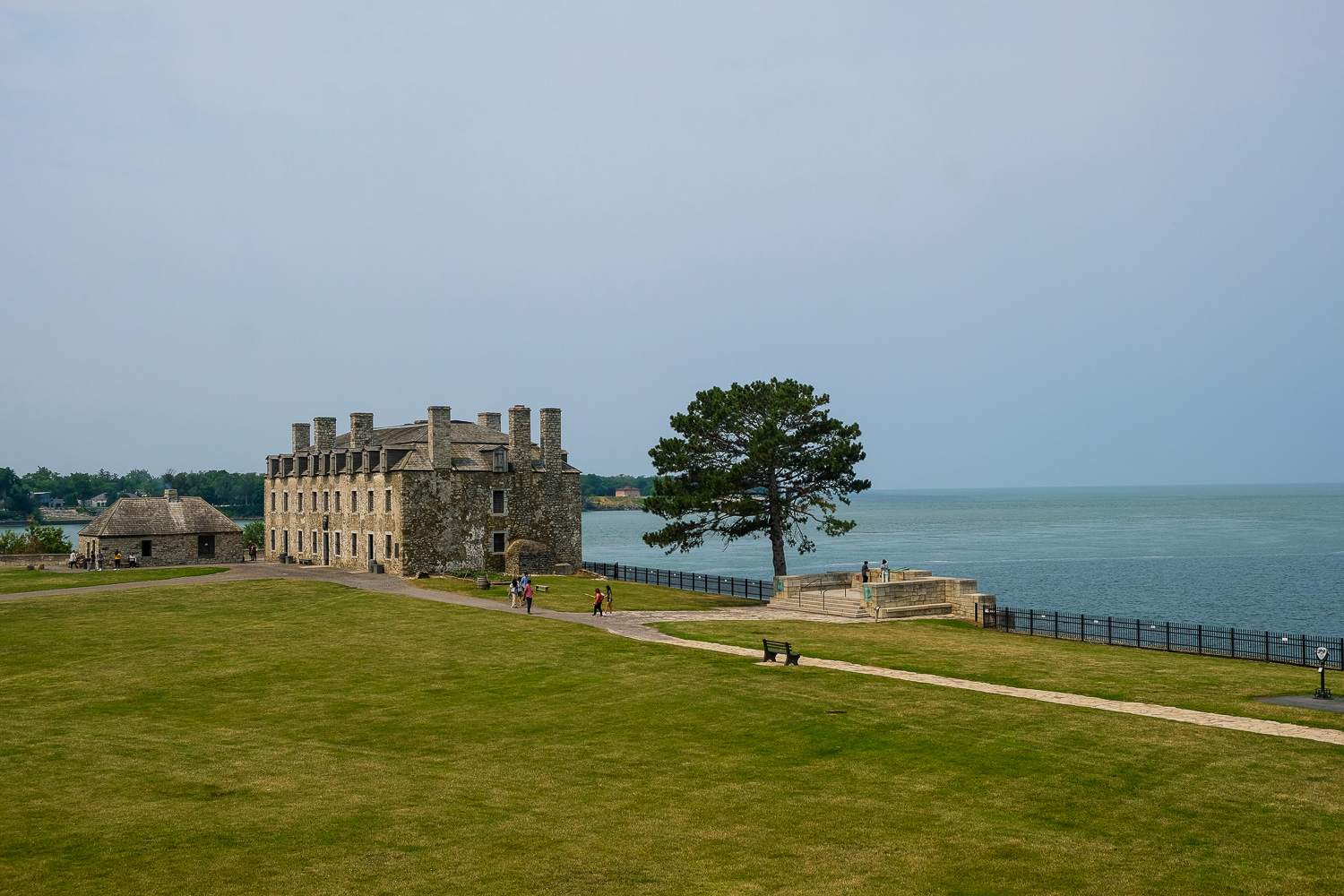 Our family never passes up a good fort, so we made a trip to Old Fort Niagara to dive deeper into the history of the Niagara Falls area. Old Fort Niagara is less than a ten minute drive from Four Mile Creek State Park, so it's a must-see if you're staying there. Its history goes back over 300 years and includes roles in assorted colonial wars, the Revolutionary War, and the War of 1812. Watch the film in the visitor center, and then take the brief guided tour out to the fort for an overview of the history before setting off to explore the original buildings on your own. 
We opted to skip the usual tourist fare available in downtown Niagara Falls in favor of couple of restaurants in the nearby town of Lewiston. We ate one night at The Silo, a fun spot right on the water. The menu includes sandwiches and burgers and local specialties like beef on weck. After dinner you can order ice cream at the historic caboose right next to the restaurant. Another night we stopped in the cute downtown area and enjoyed the highly creative burger menu ("Hot Tempered Elvis" with caramelized bananas and jalapeños, anyone?) and great selection of local beers at Cask + Cow.
Huge thanks to Gretchen for sharing both of these reviews from her epic 27 day RV trip!
See You at the Campground!
–Jeremy
Podcast: Play in new window | Download