On this Campground of the Week episode, our Colorado correspondent Scott Elias takes us to the peaceful and scenic Mueller State Park in Divide, Colorado.
Mueller State Park Campground Details
Mueller State Park about 45 minutes west of Colorado Springs and about two hours from Denver. This makes it a great weekend getaway for many folks in the Denver area. However, it also makes reservations a bit competitive on summer and holiday weekends. Make sure you set a reminder on your calendar to book a site six months in advance of your trip.
Mueller State Park has 134 RV and tent sites, and 3 cabins available for rent. There are no water or sewer hook ups, but all the sites have 20 and 30 amp electric hook ups. The sites are a mix of back in and pull thru, costing $26/night. Your best bet is to head over to the Reserve America website and look at the pictures of individual sites before booking one yourself.
Even though the sites here are remarkable affordable, remember that you will have to purchase a daily state park pass for $7 during your stay. Annual Colorado State Park passes are $70 per year, so crunch the numbers to see which is a better deal for your family.
Mueller State Park Amenities and Activities
Coin showers, laundry facilities, and clean restrooms are available for campers at the Mueller State Park campground. There are also water stations throughout the park. If your campsite is close enough to a water station, you can run a hose to fill your tanks. Or you can take a page from Scott's book and just fill up large water containers. Campers can empty their tanks at the dump station on their way out of the campground.
Even though Mueller State Park is open year round, there are limited amenities available in the winter. Adventurous winter visitors will not have access to the water stations or to the dump station, so plan in advance.
Scott's favorite thing about this campground might have been the regularly scheduled activities, which he told us were at 'national park' level. His family enjoyed archery lessons, a wonderful raptor talk at the amphitheater, and guided nature hikes. In the winter, visitors are able to enjoy cross-country skiing, snowshoeing, and sledding.
Here's a big camper beware: while pets are welcome to stay at the campground, they are not allowed on any of the trails due to the presence of wildlife. Again, plan ahead if you travel with your fur babies.
Mueller State Park Area Attractions
Scott and his family had some pretty wonderful experiences when camping at Mueller State Park. Their favorite, however, was probably the Colorado Wolf and Wildlife Center. This place sounds amazing, so make sure you listen to the episode for more details. You will need advance reservations, but it sounds worth it to us!
Other nearby destinations that we chatted about include:
Scott has also reviewed other State Parks near Colorado Springs. Make sure you check out his Campground of the Week review of Cheyenne State Park if you are planning a camping trip to this area.
We also have another Campground Correspondent who LOVED Mueller State Park. Kerri Cox visited last summer on a romantic getaway with Mr. Travels With Birdy. You can read her campground review here. Also check out her guide to hanging out in Colorado Springs.
See you at the Campground!
Stephanie + Jeremy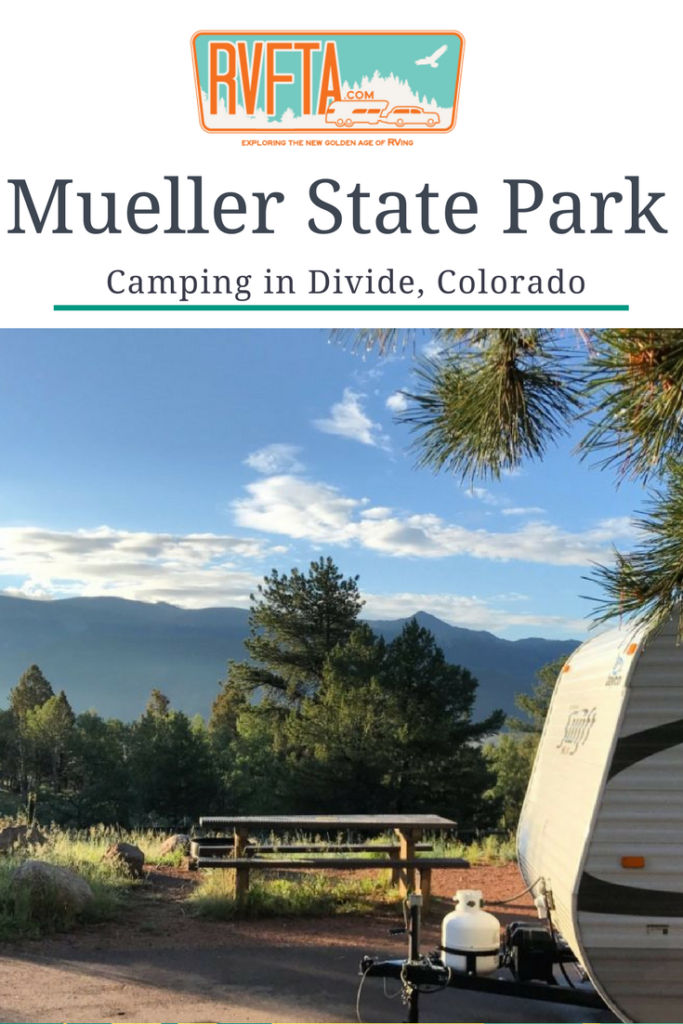 Podcast: Play in new window | Download