Not all RV shows are created equal.  Small shows organized by a handful of dealers or even larger regional shows owned and organized by companies like GS Media and Events are absolutely worth attending. But there is a reason why RV shoppers from across the country make the pilgrimage to the large national shows like the Hershey RV Show and the Florida RV SuperShow in Tampa. Because you can see almost everything in one place. The Hershey RV Show and Tampa shows are consumer shopping events for sure, but they are also festivals that celebrate #rvlife in all of its various shapes and sizes.
Conquering the Hershey RV Show (or any RV Show)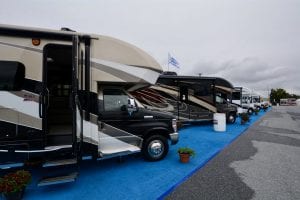 No matter what type of RV show you are heading to, it is best to have a strategy. Thankfully, if you don't have one, we recommend that you just borrow ours. Check out our "6 Quick Tips for Visiting the Hershey RV Show" and our "RV Show Shopping 101" posts if you want to be an RV show shopping Ninja. So many people leave RV shows feeling flustered and overwhelmed. They end up having less of an idea about what they want and what they should pay for it.  Those people don't read our blog and listen to our podcast. Don't let them be you. Our tips and tricks for conquering the Hershey RV Show, or any RV show, are time tested and listener approved.
Our Top Picks from the 2018 Hershey RV Show
We attended this years "industry day" at the Hershey RV Show so that we could take a look at the hottest new models and floorplans. We were not disappointed.  After years of sticking to similar floorplans and interior designs we find that many manufacturers are really innovating. Particular at the smaller end. Two of our picks are under 20 feet, Two are just over. All four of them boast linear design on the exterior and modern design touches on the interiors.
The Airstream Nest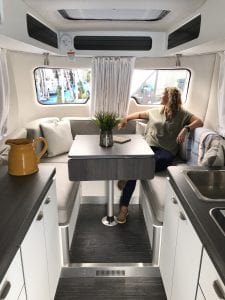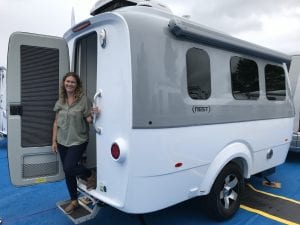 Airstream purchased a small company based out of Bend Oregon called Nest Caravan about two years ago. They wanted to enter the fiberglass market and the Nest's high end design concept seemed to fit well with Airstream's iconic aesthetic. Now, two years later the Nest has finally made its public debut. It is a stunning entree into the fiberglass market for Airstream and should quickly make them a leading player in this niche. The Nest is 16'7″ long and its UVW is only 3400 pounds, making it towable by a wide variety of SUV's.
It has gorgeous panoramic windows that fill the interior with light, and it offers a surprising amount of interior space to stretch your legs and relax. The Nest comes in two different floorplans that are variations on the same theme. One offers a convertible U-Shaped Dinette, with more counter space, and the other offers a permanent bed with a small couch for seating. Both are gorgeous and cozy.  At $45,900 the MSRP may shock some shoppers, but not those familiar with the cost of fiberglass campers, or the cache of the Airstream name.
The Jayco Hummingbird 10RK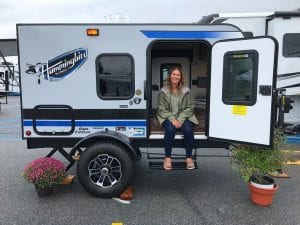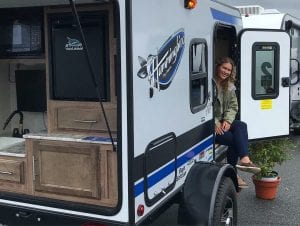 Our podcast sponsor, Jayco, debuted the Hummingbird 10RK last spring. We wrote about it in this blog post. It looked pretty awesome to us then, but stepping into one made us fall head over heels in love. Like I want to buy one for romantic weekend getaways without the kids. The 10RK manages to be cute, like most teardrop campers, but also rugged, unlike most teardrop campers.
That mix of cute and rugged makes the 10RK the perfect match to tow behind a Jeep or a wide variety of small SUVs.  The 10RK at the Hershey RV Show had a side mounted AC unit to help keep the overall height at 90 inches. So this little cutie can be garage kept if you really want to show it some love. The rear kitchen is also well equipped and functional for those who are willing to cook and make coffee outside. Hopefully a 10RK finds its way into our driveway one day!
The Avia by NuCamp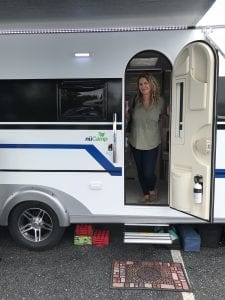 This stylish and modern floorpan by NuCamp is still just a prototype, so there are no specs or MSRP available to share. However, if you are heading to the Hershey RV Show this weekend you can take a look at it just like we did. It seems like NuCamp is trying to provide an option for those who love the design aesthetic of an Airstream, but don't want to cough up six figures to own one.
We have noticed a gap in the marketplace for years and we think NuCamp might be able to start filling it with this floorpan. The Avia boasts panoramic windows that bathe the interior with light, and lots of interior storage and counter space. The NuCamp rep sitting inside the Avian said that the owners often make visits to Europe in search of design cues from the industry there. The Avia's clean lines and dashing interior sure do feel European. Camper Van trip anyone?
The Little Guy Max by Liberty Outdoors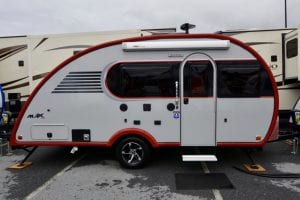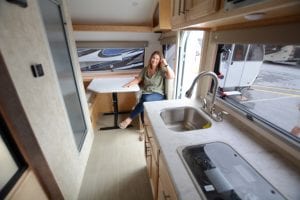 We have a serious crush on the Little Guy Max. Its bold and linear graphics are striking and its interior design touches are elegant and practical. We love the front dinette and wrap around windows. What a gorgeous spot to take in a beautiful campground view with a cup of coffee and magazine in hand. The kitchen area is surprisingly spacious and the light wood interior makes the entire package bright and cheery.
At 21′ long and with a UVW of just over 3,000 pounds, the Max can be towed by a wide variety of SUV's. It looks great behind a half ton pick up truck. But you might not need to upgrade from your current SUV. Exterior storage space will please the outdoor cook. RV show prices around 30K will please any shopper with discriminating taste and a moderate budget.
Have you attended an RV show lately? If so, what were your top picks? Drop us a comment in the space below!
See you at the campground!
Podcast: Play in new window | Download