Where Should We Camp Next? Deep Background!
Two books in two years…. It's kind of hard to believe we pulled it off. And why did we even try in the first place? Where Should We Camp Next? A 50-State Guide to Amazing Campgrounds and Other Unique Outdoor Accommodations ,our third book, will be released on March 2nd, 2021–exactly one year after See You at the Campground ,our second book, was released.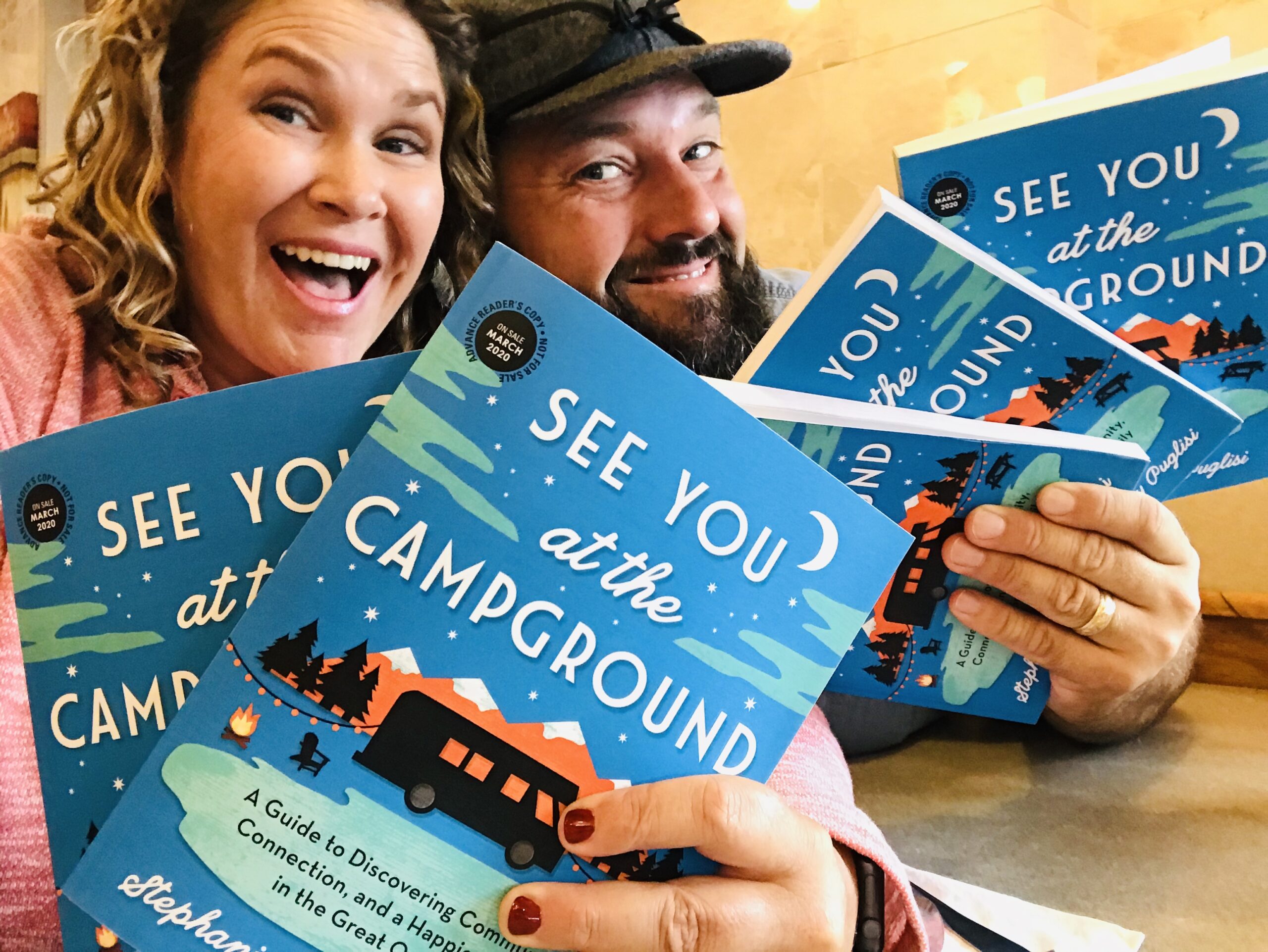 So why two books in two years? Because after we published our first book, six years ago, we waited too long to start writing our next book. We wanted to move quickly and get Where Should We Camp Next? out without multiple years in between. So that's what we did.
We pitched Where Should We Camp Next? right after we turned in See You at the Campground–but before it actually went on sale. So much credit should be given to our agent, editor, and publisher for getting behind a second camping book before there was any proof that the first one would sell. We sold the book in summer 2019, we had fall of 2019 and winter/spring of 2020 to write it. But of course no one told us a global pandemic was coming!
To put it mildly, finishing the the book became incredibly difficult. Like soul-crushingly difficult. Our kids were home from school and needing constant monitoring and support, and finding time to write was almost impossible. Almost. Thank God our editor was gracious and offered us an extension…or two…or maybe three:)
But we finished it and we LOVE this book beyond words. Our hope is that it stays in print for years to come.
Sources of Inspiration for Where Should We Camp Next?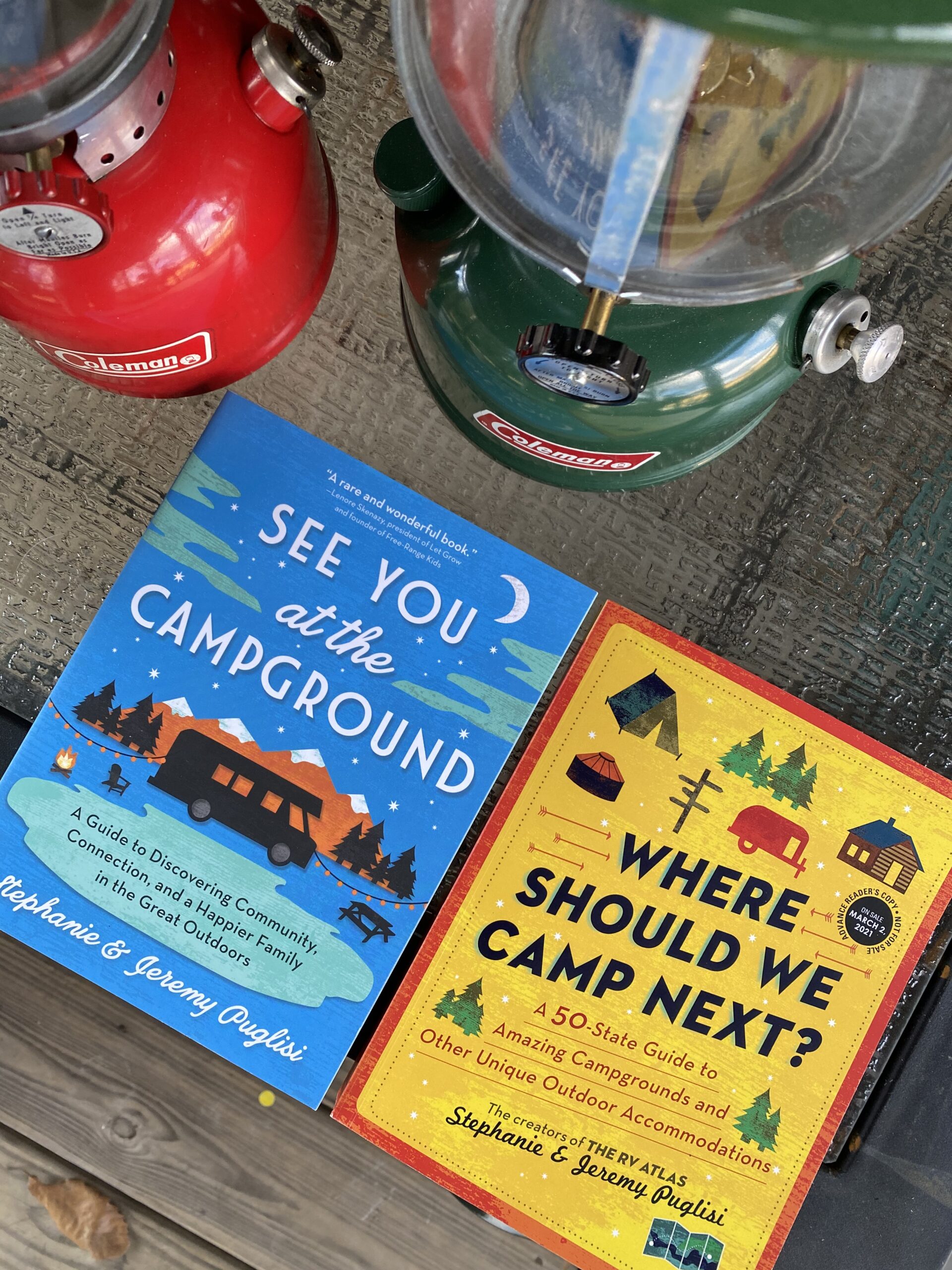 So what inspired the writing of this particular book? We both wanted to bring something new into the world that did not exist.  There are a few camping directories here and there, but most of them are focused on certain types of campgrounds–and most of them are just glorified phone books with basic information about amenities and facilities. We wanted to write a book that covered the great diversity of the American campground experience right now. We wanted a book that reviewed rustic campgrounds, and flashy RV resorts. And we wanted the writing to be sharp, insightful, and funny.
Jane and Michael Stern's Roadfood also served as a major inspiration. Stephanie and I have been using this book for years and we keep a copy in our RV. This classic book offers up recommendations for amazing Roadfood in all 50 States and it has led us to some incredible gems. Similarly, we hope Where Should We Camp Next? leads you to some incredible gems that you would not have discovered otherwise.
Our own "Campground of the Week" podcast also served as inspiration. Over the course of 3-4 years and about 150 episodes we reviewed campgrounds across the country, and invited our correspondents on to do the same. These Campground of the Week podcasts are still available right here on our website, or wherever you listen to your favorite shows.
Format of Where Should We Camp Next?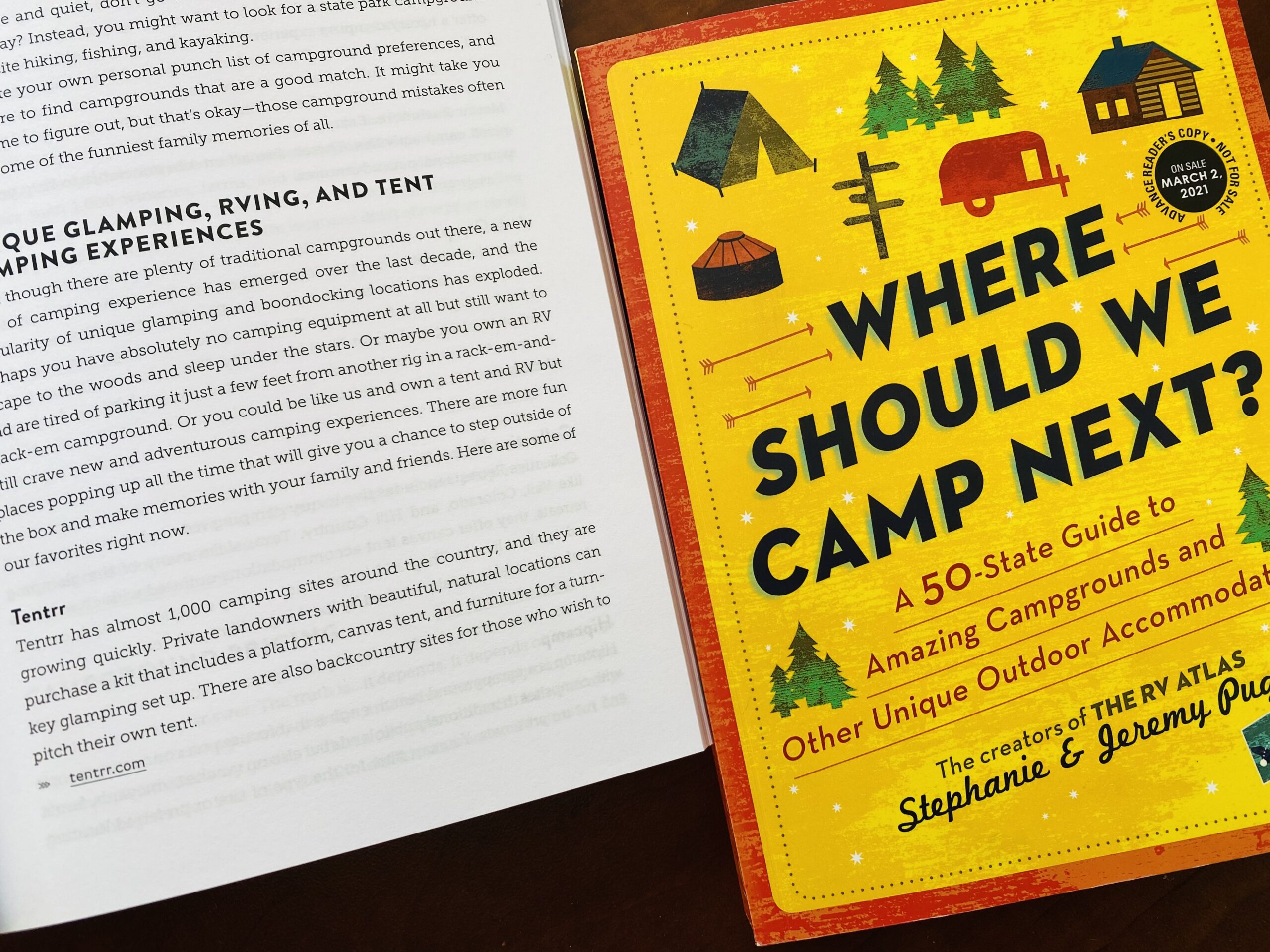 Where Should We Camp Next? starts with an 18 page intro that serves as an overview of the American camping experience right now! It has introductory information on public and private campgrounds, RV resorts, Hipcamp, Harvest Hosts, Tentrr, and glamping experiences like Under Canvas and Collective Retreats and MUCH MORE. This is the single best overview of the American camping scene that is out there right now!
Our intro also includes a description of our badge system so that you can quickly find certain types of camping experiences like: Glamping, Romantic Weekend, Rustic, Waterfront, and Family.These badges do not highlight THE BEST campground in the book –but campgrounds that are specifically appealing in that category.
Then Where Should We Camp Next? breaks into regions and in each region a chapter on each state. Each State has 5 to 11 campground reviews. Most states have about 6 campground reviews. Bigger states have more listings. The reviews are broken into two categories: "Best in State" and "Also Great." Sometimes the slimmest of margins separated the two, and sometimes a campground made "Best in State" because it has a wider appeal than a comparable one in the "Also Great" category.
The Book also has well over a hundred interesting sidebars to accompany the campground reviews. These sidebars are filled with travel tips, regional highlights, culinary highlights, more campgrounds, historical tidbits, and so much more. Here's a sneak peek of some of the sidebars! 
Tips for Hiking in Acadia National Park
Our favorite small towns in Vermont
Best Beaches in Delaware
What Makes Maryland Crab Cakes so Special?
The Dos and Don'ts of dragging your kids to Gettysburg Military National Park
10 Tips for Camping at Fort Wilderness
Highlights from the Kentucky Bourbon Trail
Route 66 Highlights in Oklahoma
10 Things to Do in Charleston
Packing for a trip to Glacier National Park
And about 80 more of them!
This book was very challenging for us to finish during this pandemic year–but we are so thrilled to share it with you. And as always, we hope to see you at the campground!
Best–Jeremy and Stephanie
Podcast: Play in new window | Download