Virginia's Shenandoah National Park, which was dedicated by Franklin Delano Roosevelt in 1936, is an underrated gem. The national parks of the east are often overshadowed by the national parks of the west. And within the world of the east, Shenandoah is often overshadowed by its sister to the southwest, Great Smoky Mountains National Park. But Shenandoah has so much to offer those that love the great outdoors.
Skyline Drive is over 100 miles long. It is certainly one of the most beautiful drives in American. The park also boasts over 500 miles of hiking trails. The casual day hiker can reach stunning views with minimal effort. Wildlife in the park is also abundant. We have seen bear, deer by the dozen, raccoons, eagles, turtles, There are so many things to do in Shenandoah National Park. It should not just be a drive by on your way east or on your way to the Smokies. The park's gateway towns also offer great food, cold beer, epic caverns, and even more outdoor adventure.
Lodging and camping options are also abundant. Click here to find out about the gorgeous lodges in the park. For awesome public and private campground options click here.
Here are 12 Things To Do in Shenandoah National Park that should not be missed.
Family Friendly Hikes
Hiking is among the best things to do in Shenandoah National Park. It doesn't get much better for the casual day hiker. Or for families with young kids. You can reach spectacular summits in Shenandoah on relatively short round trip hikes like Stony Man (1.4 miles roundtrip) and Hawksbill (2.8 miles roundtrip). You can also descend into the cool and shaded world of Dark Hallow Falls for a waterfall hike that is not to be missed (1.4 miles out and back). Just remember that the way down is easier than the way back up.
Our family's favorite hike so far was Bearfence Mountain (1.2 mile lariat). Climbing and scrambling through this trail's jumbled rocks had just the slightest whiff of danger. But it was oodles of fun. We felt accomplished and winded when we reached the top. Thankfully, there is an easy section of the Appalachian Traill that leads right back down to the parking lot.
2. Cruise on Skyline Drive
Skyline drive is over a hundred miles long with stretches that are breathtakingly beautiful. If you are looking for things to do in Shenandoah National Park, don't forget to just roll the windows down, put on some good music, and cruise. This classic American drive starts at Front Royal in the north. Then deposits you onto the Blue Ridge Parkway at its southern terminus. We recommend pulling over at whatever overlooks catch your fancy. Take your time and breath in the cool mountain air. Particularly at sunset.
3. Grab Lunch or Dinner on the Back Deck of Big Meadows Lodge
The Spottswood Dining Room at Big Meadows Lodge is open to the public and it is surprisingly easy (especially at lunch) to get a table on its gorgeous back deck. Your blackberry lemonade will taste better with mountain views. We enjoyed Corned Beef Reubens and Veggie Chili for lunch and "Meadows Meatloaf" and the "New Deal Signature Turkey" for dinner. Save room for desert!
4. Get a Scoop (or two) of Blackberry Ice Cream
Both of the lodges (Big Meadows and Skyland) serve delicious Blackberry ice cream that is not to be missed. If you just spent the morning or the afternoon hiking then you've earned that second scoop!
  5. Learn About the Park's History
The history of Shenandoah National Park is not without controversy. In the west conservation often came well before development. But in the east development often came before conservation. The end result? To create Shenandoah National Park over 500 families were displaced. Many against their will. The permanent display in the Byrd Visitor tells this story without simplifying the human complexity of these events. We found this quite refreshing after visiting the overly-simplified version of events that is presented at Mount Rushmore in South Dakota. The role that the CCC played in building much of the park's infrastructure is also fascinating.
6. Attend A Ranger Talk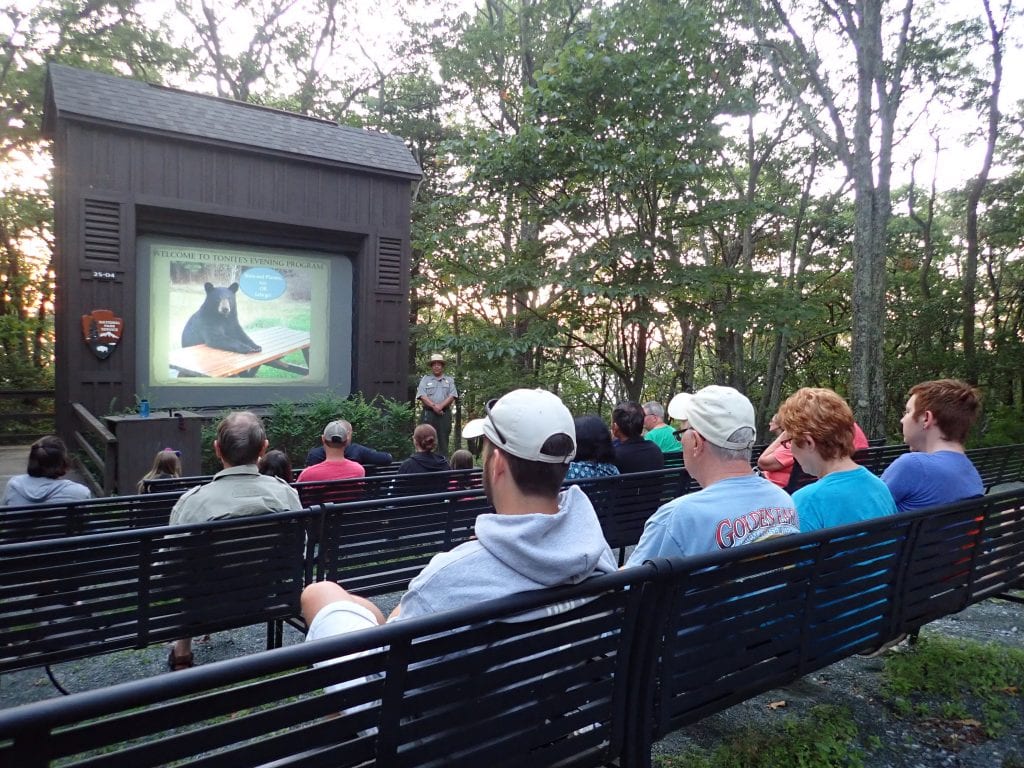 We love attending Ranger talks in our national parks. Particularly when they take place at a rustic campground amphitheater just as the sun is setting in the background. This was the scene as we attended Ranger Roland's "Dark Sky" talk at Big Meadows campground. His talk was funny and informative. Roland is a night owl and after giving us some bear safety lessons he told us some funny stories about staying up all night to track the stars.
7. Listen to Live Music in Big Meadows or Skyland Lodge
There is nothing like the sound of bluegrass in the mountains. Especially if you have a plate of chicken wings and jalapeño poppers on your plate and a cold drink in your hands. Both Big Meadows Lodge and Skyland Lodge have free music on most summer evenings. Sometimes twice a night. We enjoyed several nights of music at the New Market Taproom where the environment was surprisingly family friendly. Our personal highlight may have been hearing our waitress belt out "You're No Good" after serving our drinks.
8. Spend the Night Camping Under the Stars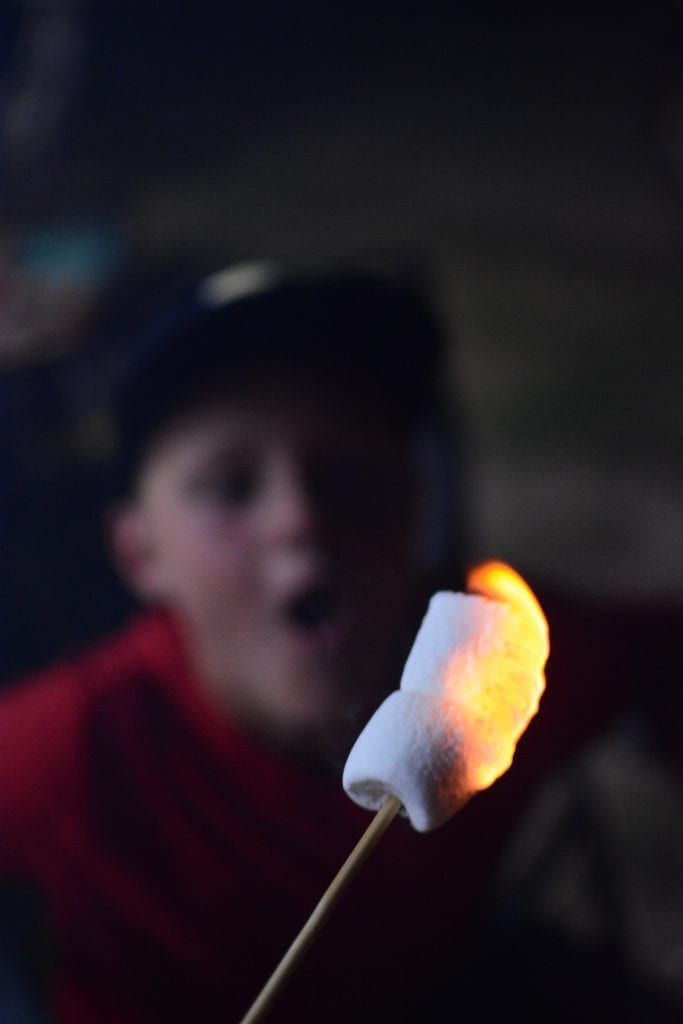 Shenandoah National Park has 5 beautiful options for camping right inside the park. We personally love Big Meadows and its proximity to everything that the neighboring lodge has to offer. Plus, wildlife is abundant right in the campground and sites are plentiful and affordable at $20 per night. Loft Mountain is the largest campground in the park and has excellent views to the east and west.
9. Check Out (or Check in to) a National Park Lodge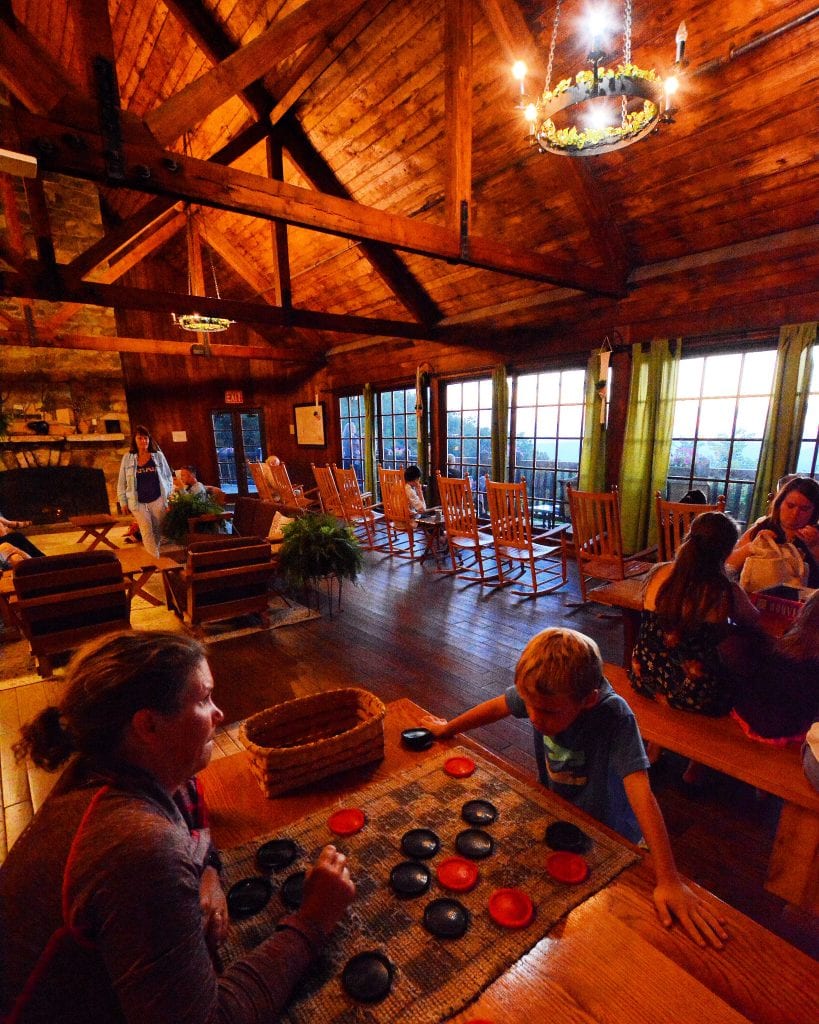 We have wanted to stay in a National Park Lodge since we were dating. But we have spent much of our last ten years traveling in our various RV's. For our most recent trip to Shenandoah we finally booked a room at Big Meadows Lodge and it was gorgeous! We had views of the mountains from our room and we spent hours reading, playing checkers, and just hanging out in the great room. It was a magical long weekend. If you aren't ready to check in to a National Park Lodge at Shenandoah National Park, than at least stop by and check them out. We loved Big Meadows so much, and we look forward to staying at Skylands in the near future.
10. Become a Junior Ranger
Max and Theo have collected Junior Ranger badges from all over the country. But Wes is just getting started.  This beloved program is available at NPS sites across the country, and it has a different flavor in each location. Ask at the front desk for a Junior Ranger booklet and let your kids get to work. They will never forget the experience.
11. Tubing and Kayaking on the Shenandoah River
If you are willing to head outside of the park more outdoor adventure awaits. Tubing, canoeing, and kayaking on the Shenandoah River has been a classic summer tradition for generations.  We recommend Shenandoah River Outfitters in Luray for good prices on rentals and local expertise.
12. Take a Tour of Luray Caverns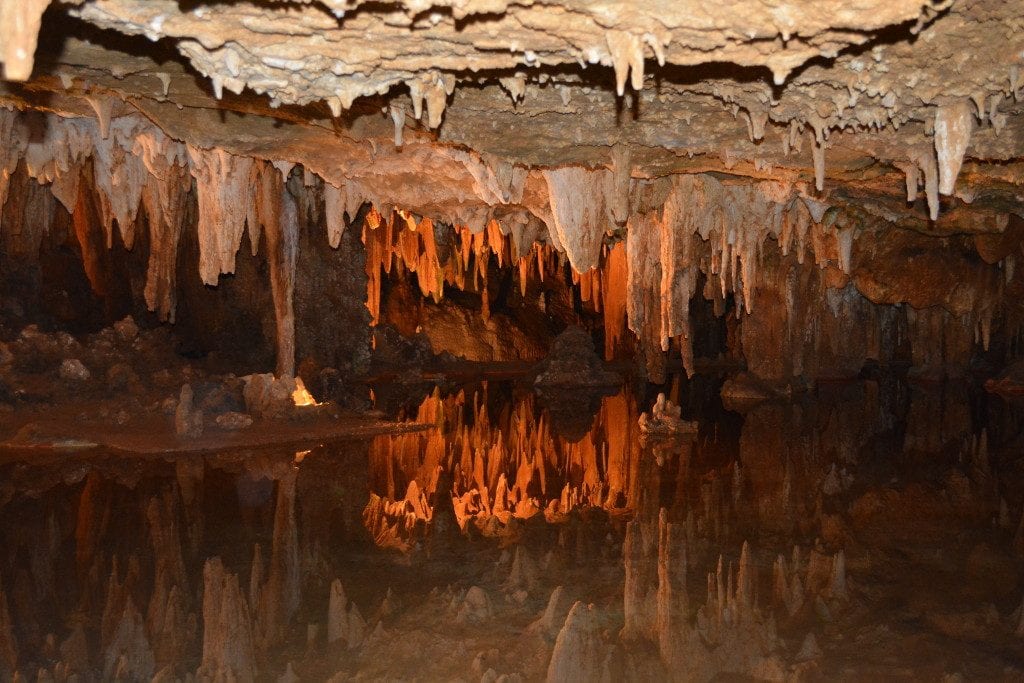 Entering the cool, underground world of Luray Caverns is like taking a trip to another planet. Pictures cannot do these caverns justice, and no trip to Shenandoah National Park is complete without taking a tour. Prices are reasonable too. $28 dollars for adults, $15 for ages 6-12. Kids under 6 are free. Please remember to bring a sweater. The temperature in the cave is a constant 54 degrees.
13. Grab Coffee and a Burger in Front Royal On Your Way Home
Okay, lets make it a baker's dozen. There are so many things to do in and around Shenandoah National Park we couldn't resist giving you one more. If you are passing through Front Royal on your way home, make sure to stop at Spelunker's for a ridiculously good burger and a refreshing custard treat. Don't forget to grab a coffee at Happy Creek Coffee and Tea for the long drive home!
To learn more about camping in and around Luray, Virginia, click here!!
Podcast: Play in new window | Download