Smartphones make RV travel a lot easier by offering us the ability to stay connected even as we venture far from home. But there are tons of RV travel apps out there and it can be tricky to find the ones that actually help make the journey more enjoyable.
So we are boiling it down for you.
Here is a list of RV travel apps that folks in the RVFTA community use and recommend. Many of these apps are personal favorites that we rely on whenever we travel. But we have also included RV travel apps recommended by the super smart folks over in our private Facebook group. Bottom line? This is a fairly comprehensive list crowd sourced from a whole bunch of RV travel experts.
RV Travel Apps for Research and Trip Planning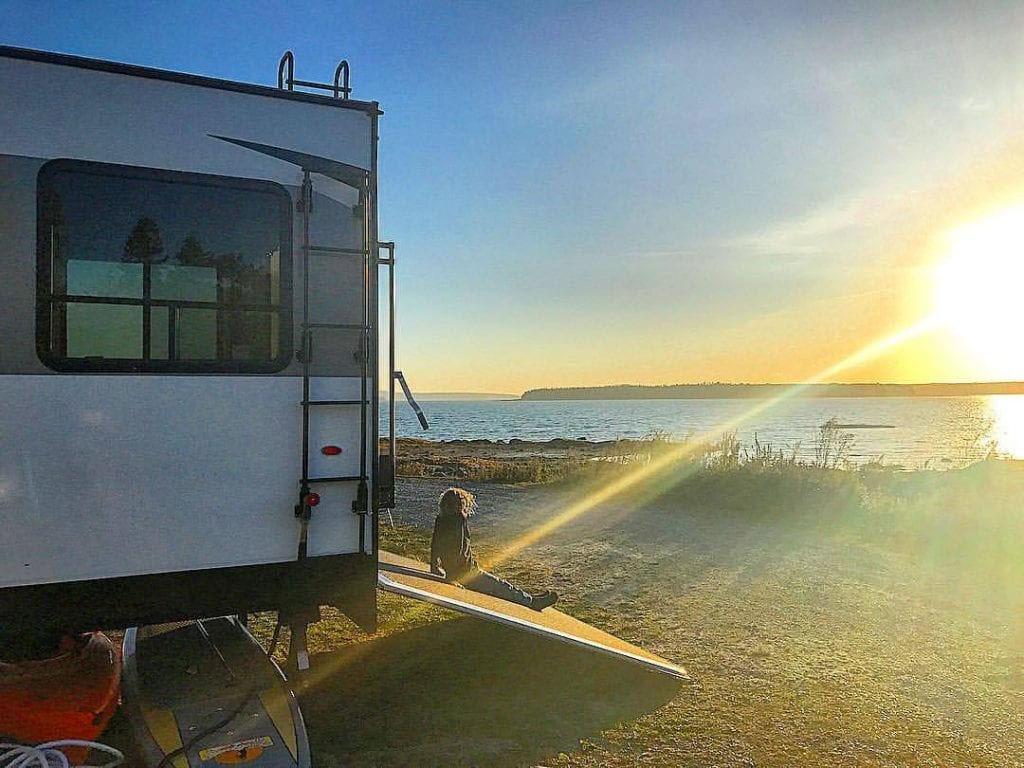 Allstays Camp & RV
This app costs money, but sometimes you have to pay for a really good thing. Allstays Camp & RV is simply the best app for finding campgrounds and RV parks in the United States and Canada. The filters are comprehensive. You can search for national parks, private campgrounds, overnight parking, or BLM sites. The app contains tons of additional information like hook ups, amenities, and Wi-Fi access.
Update: Allstays is now only available on the iOS platform, and NOT on Android. We know this is a huge bummer for a lot of folks, so we'll keep looking for a great Android version!
KOA App
KOA has done a great job of developing this app over the last few years, and it does offers as much campground information as the online website. The KOA App let's you view campground maps, read reviews, and make reservations directly through the app. They also throw in goodies like a coupon program for VKR members.
Campendium App
Campendium has been a longtime favorite website for campground reviews, and now they have an app for all their fans! There are certainly more reviews in the west than the eastern regions of the US, but the reviews are detailed and trustworthy.
Other Campground Apps Include:
Roadtrippers App
The Roadtrippers app is an awesome planning companions for RV travelers. You can map out your route in advance and the app will help you discover interesting places nearby. These include historic sites, scenic overlooks, and even breweries. If you love to enjoy the journey as much as the destination, this is a great RV travel app to use!
Other RV travel planning apps include:
For more tips on researching and planning your RV trips, check out our best tips here.
RV Travel Apps for the Road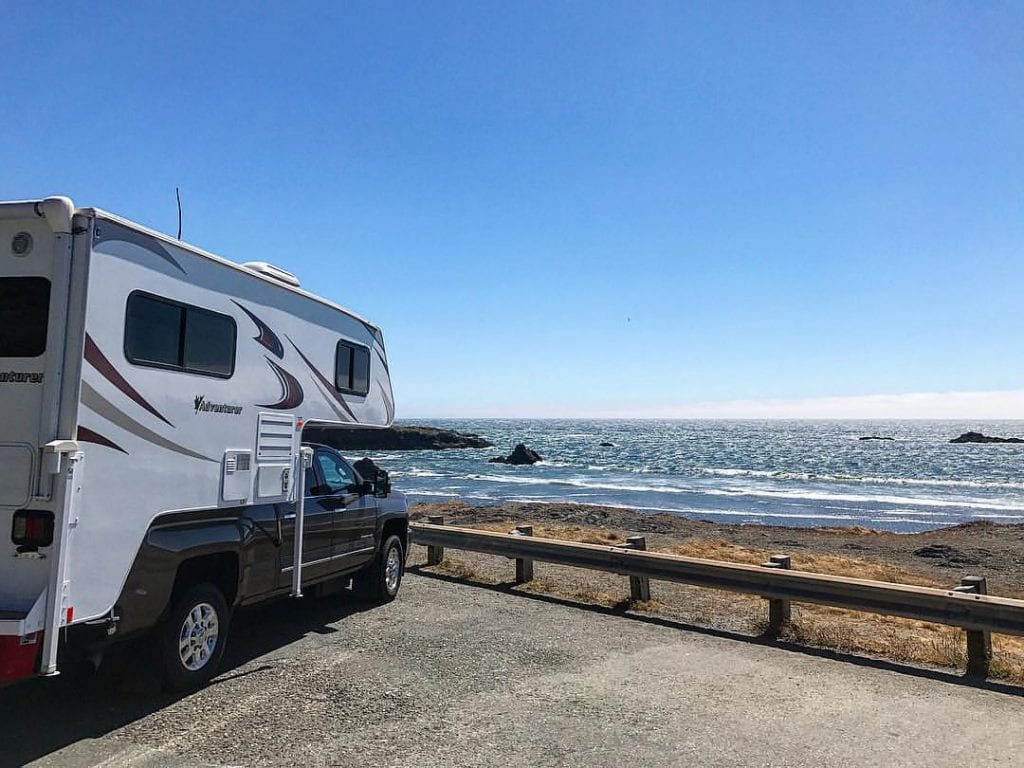 iExit
iExit integrates two popular resources: Gas Buddy and Yelp. Getting gas can be a stressful endeavor when traveling with an RV, and this resource will help tremendously. You can access all nearby gas options, find the lowest price, and specifically hunt for diesel. There are also crowd sourced photos that can help you determine whether you can easily navigate the pumps.
MyPilot
Pilot/Flying J's tend to be RV friendly, so we use MyPilot to locate nearby locations during our travels. If you are a member of the Good Sam Club (like us) you can also take advantage of a gas discount using your membership card. Some locations have specific RV services like dump stations, propane fueling, and overnight parking. You can use the app to search out these stops.
USA Rest Stops
USA Rest Stops is a personal favorite and we have used it for years. It's great for locating stops along your drive that are RV friendly. You can search by state and by route. We particularly appreciate this app when we are looking for a nice rest stop where we can have lunch in the RV (or at a picnic table) and let the kids stretch their legs.
CAT Scale Finder
So have you weighed your RV lately? Or ever? Every responsible RV owner needs to see what their RV really weighs when fully loaded for travel. It doesn't take long or cost that much, but it will guarantee that you are traveling within the weight limits of your rig and tow vehicle. This app will help you find the nearest Cat Scales.
Sanidumps
If you enjoy dry camping in state and national parks, or boondocking on BLM lands, eventually you'll have to empty those tanks. Sanidumps will help you plan ahead and find the nearest spot to get the job done.
***Update: Unfortunately, this app hasn't been updated by the developer to work with some of the newer versions of iOS. We'll keep looking for a solid replacement.
Hi-Def Radar
This weather app was recommended to us by someone who works outdoor festivals for a living. So we splurged on the $1.99 cost and downloaded it. We've used it hundreds of times since then while camping.
Truck Washes by Blue Beacon
Our friend Kate Dunbar recommended this app for those that need to give their RV a bath before or after a vacation. We can't guarantee that there will be a Truck Wash right near you, but at least you won't go wandering around in search of one!
Other RV Travel Apps for the Road include:
RV Travel Apps for Entertainment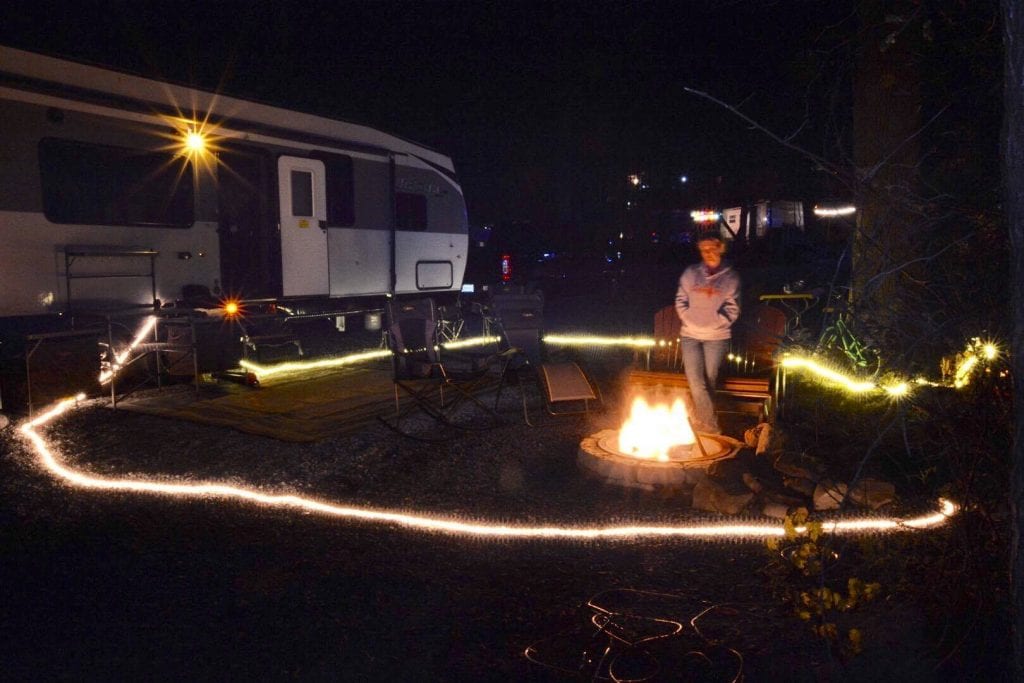 Overdrive
The Overdrive app has been such a life saver on our long drives with the boys. The Overdrive app connects with your local library and offers you digital access to books and audiobooks. We can keep our kids quiet for hours listening to I Survived and Diary of a Wimpy Kid books. We can also borrow books to read on our Kindle apps. The app is a little clunky, so we would recommend fiddling with it before you are in a car with 3 screaming kids. Just sayin'. For more tips on surviving road trips with kids, check out our Road Trip Tips.
Update: The Overdrive app has been replaced by Libby, which performed the same function as Overdrive but is a bit more intuitive and user friendly. It's very easy to borrow books and audiobooks then send them to the Kindle App for reading or listening!
Amazon Prime Suite
If you have an Amazon Prime membership, make sure you are taking advantage of the Amazon Video, Music, and Photo apps. There are so many free movies, television shows, and songs available within the Amazon content ecosystem. Now that many of us have unlimited data on our smartphones, it's a great way to access free entertainment.
Chatbooks
We all take amazing pictures while on our RV vacations, and then those photos end up sitting on our smartphones forever, right? It's time consuming and frustrating to make Shutterfly and Snapfish books. We also think it's usually pretty expensive unless you are one of those amazing coupon hunters. The Chatbooks app is sooooo easy to use and in just 10 minutes you can have a great photo book created from your camera roll, Facebook, and Instagram accounts. You can check out our full review of the app here.
Starwalk
And sometimes the best entertainment is provided by nature. We love sitting around the campfire and looking up at the stars. But let's be honest, we don't actually know that much about the night sky. Starwalk, an oldie but goodie, is a great way to really pull our kids in and get them interested in the world around them.
AllTrails
Hiking and camping go together like peanut butter and jelly, so having a great hiking app is a must on any RV trip. AllTrails: Hike, Run, & Cycle includes great reviews and indicates whether trails are kid friendly.
We think this list of RV Travel Apps will just about cover you from trip planning, to road tripping, to hanging out at the campground. But if we missed any must haves, make sure you recommend them in the comments below.
See you at the campground!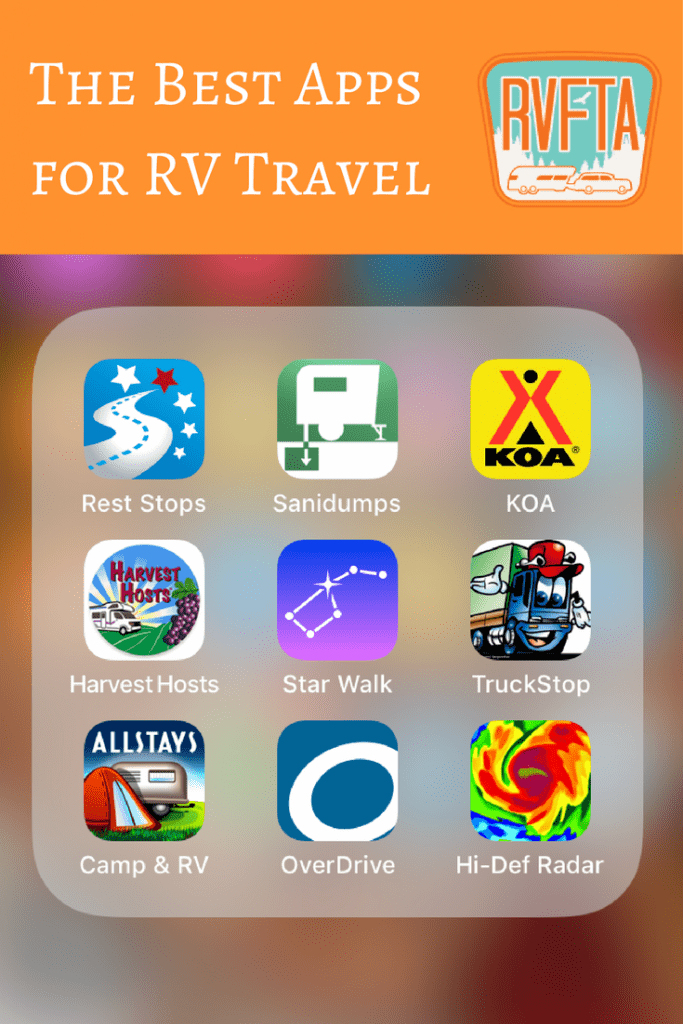 Podcast: Play in new window | Download