We first visited the Lazy River Jellystone in Gardiner, New York about five years ago. It was the middle of July and the campground was in full swing for summer. Our boys, who were very little at the time, absolutely loved the place. So did we. The country setting and mountain views were pretty and the pools and waterslides were off-the-hook fun. The campground (which is a Jellystone Franchise) had recently been purchased by Northgate Resorts. It was clear to us that they were trying to take the fun to the next level and truly make Lazy River a special place.  We had an amazing week there and swore to ourselves that we would return soon.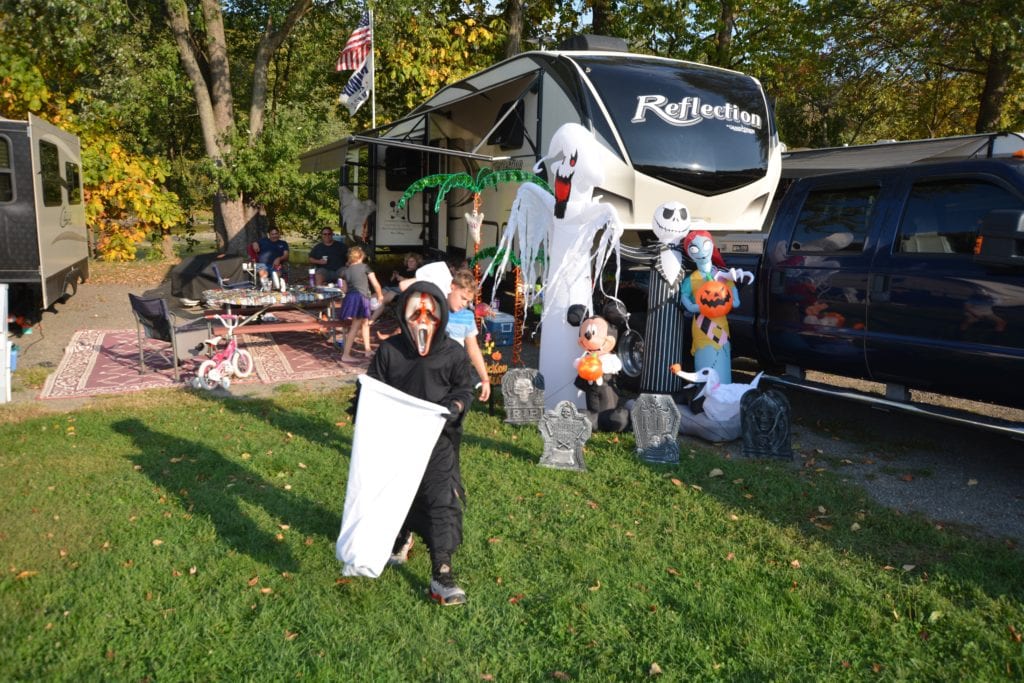 Well, five years later and we finally made it back. This time for one of Jellystone's wild and wacky Halloween weekends. Rather unexpectedly, we were in-between RVs and decided to book a pet-friendly cabin so we didn't miss the trick-or-treating and the other festivities. The campground had grown dramatically and we were curious to see all of the improvements and the new sites and amenities. We were also curious to see if the campground could hold the larger crowd well or if all of the fun stuff would seem crowded. Let's take it piece by piece, shall we?
New RV Sites and Cabins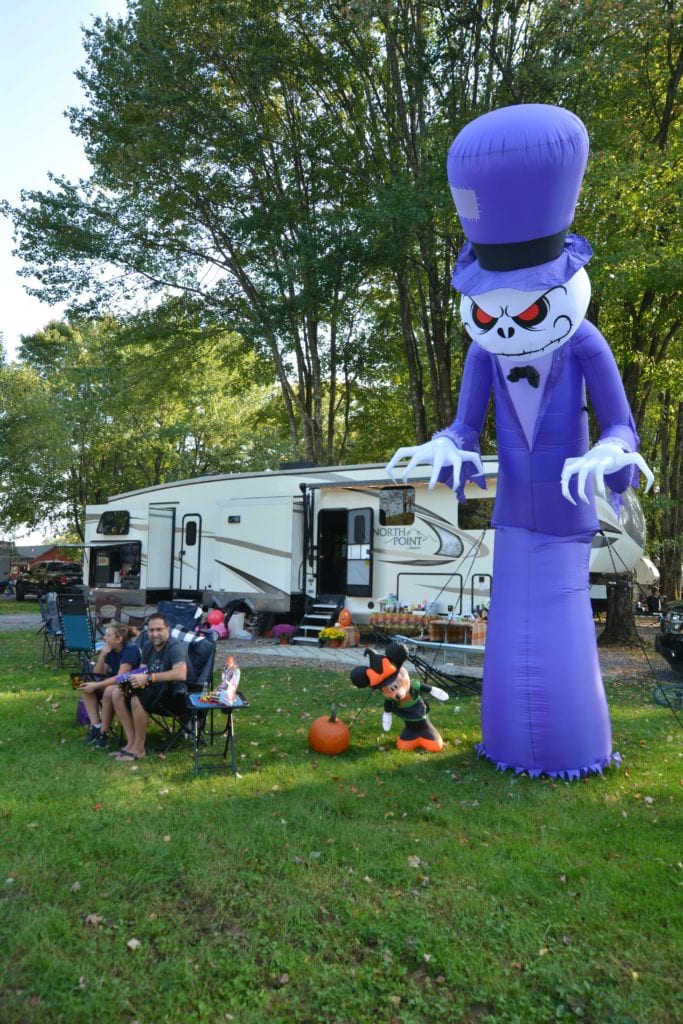 The new RV sites were pretty stinkin' awesome. An entire new section had been added to the campground behind the fishing pond. This area slopes up the side of a hill and the sites near the top have nice mountain views. There are also a couple dozen cabins in this area–which would make it a nice spot for a multi-family trip that includes RV owners and non RV owners. This area has its own playground and a gorgous pavilion with outdoor fireplaces and mountain views.  I would book a site here for a future trip in a quick second. The sites and cabin rentals were fairly spacious and many of the sites were nicely manicured. We would recommend renting a golf cart if you are staying towards the middle or top. You will be doing a lot of walking otherwise.
Halloween Activities and Amenities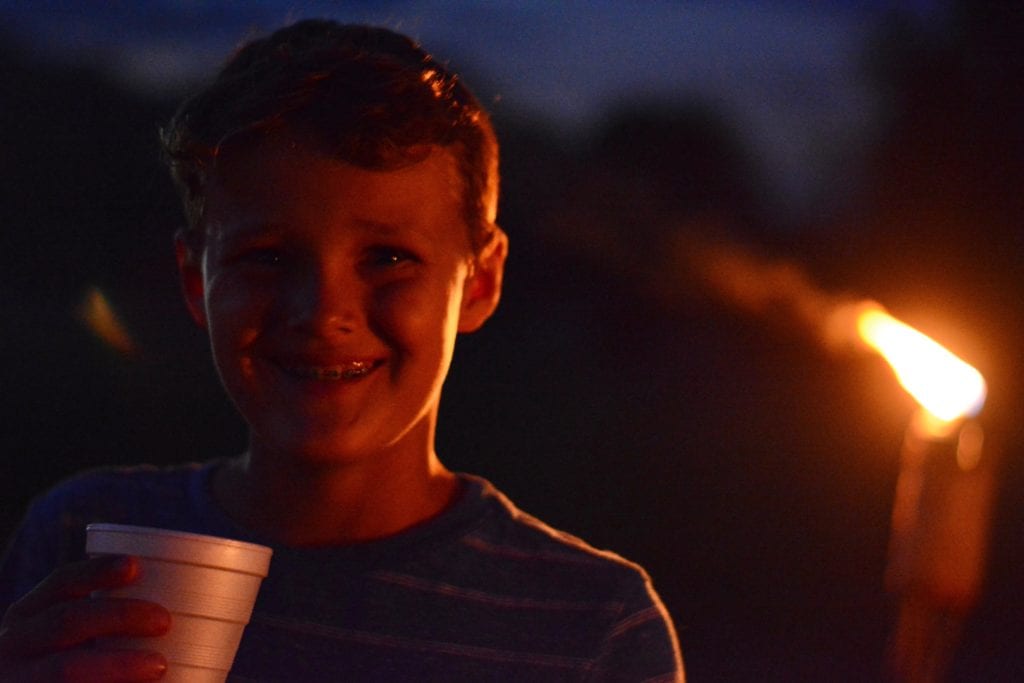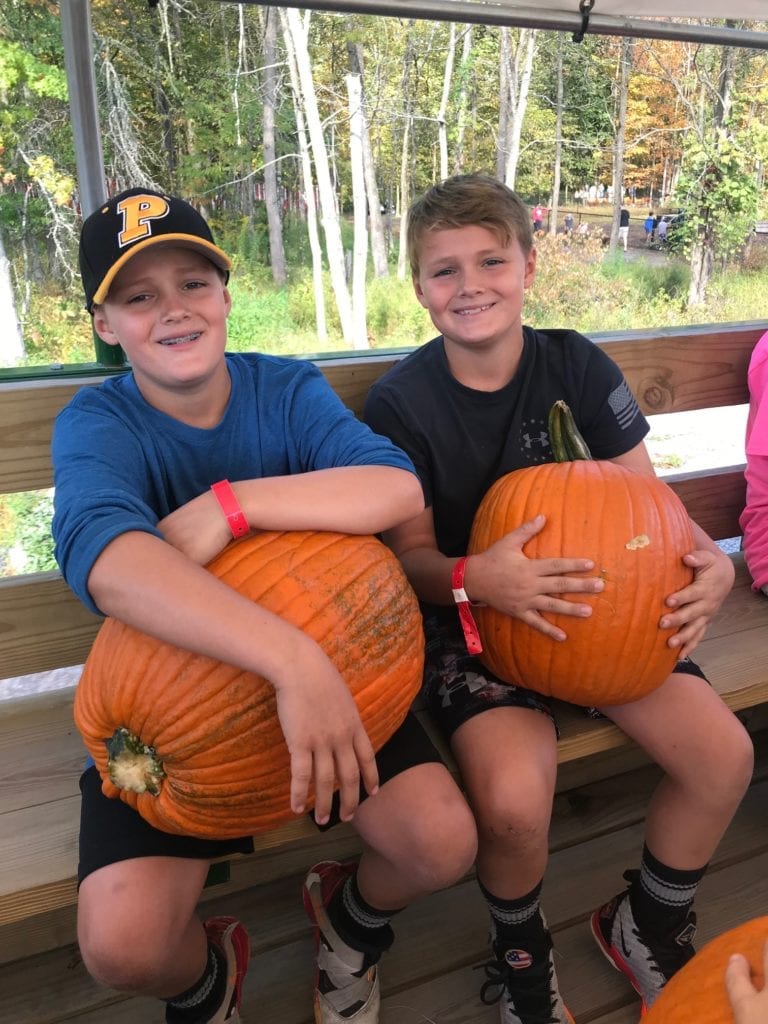 The Halloween activities were absolutely awesome and none of them felt overly crowded or involved long waits. We did pumpkin painting, trick or treating, and the not-so-scary-trail, and the TRAIL OF TERROR–which was an absolute knock-your-socks-off blast. Jellystone Lazy River wisely recommends that only children over 12 take the spooky walk (or run!!) through the forest on the trail. So Stephanie and Wesley stayed back at the cabin while I took  Max and Theo on the trail. One of them ended up hiding under my shirt for the duration and both of them held one of my hands while we raced through the trail screaming while we were chased by creepy clowns, zombies, witches and monsters of every kind!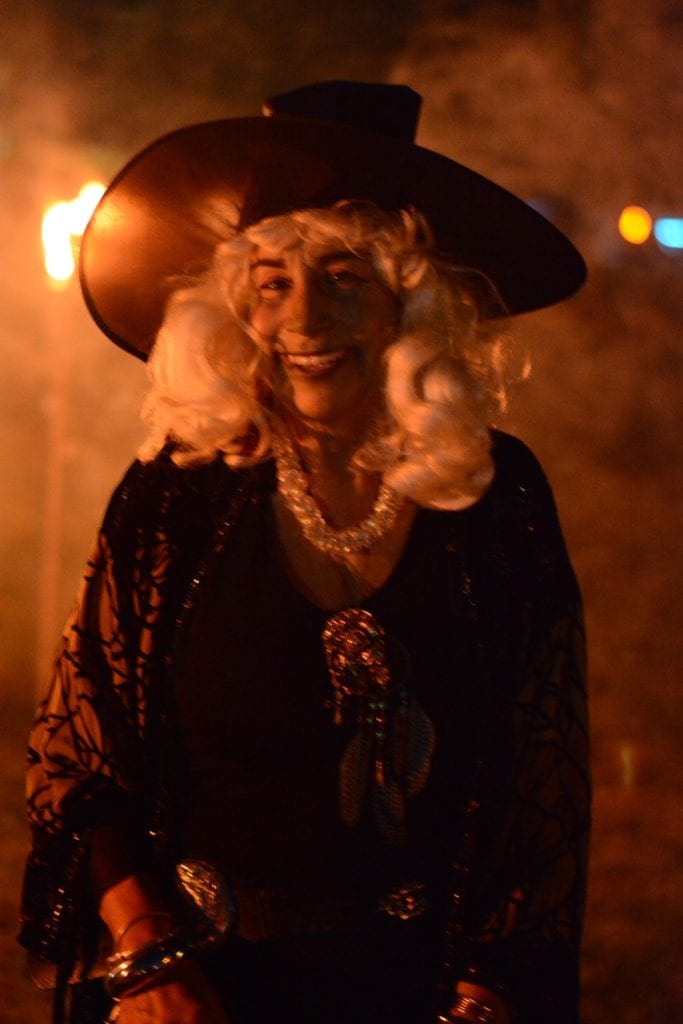 It felt like there were dozens of creatures jumping out at us as we navigated our way through the haunted forest! The boys were legitimately scared while we were on the trail. But they couldn't stop talking about it after we were done. Apparently, they recovered pretty quickly. It was one of the coolest things we have ever done at a campground. Sign me and Max and Theo up for next year!! Or maybe I'll let Stephanie take a turn–either way Wes is staying back at the RV. He's just not ready yet!
Yogi and Friends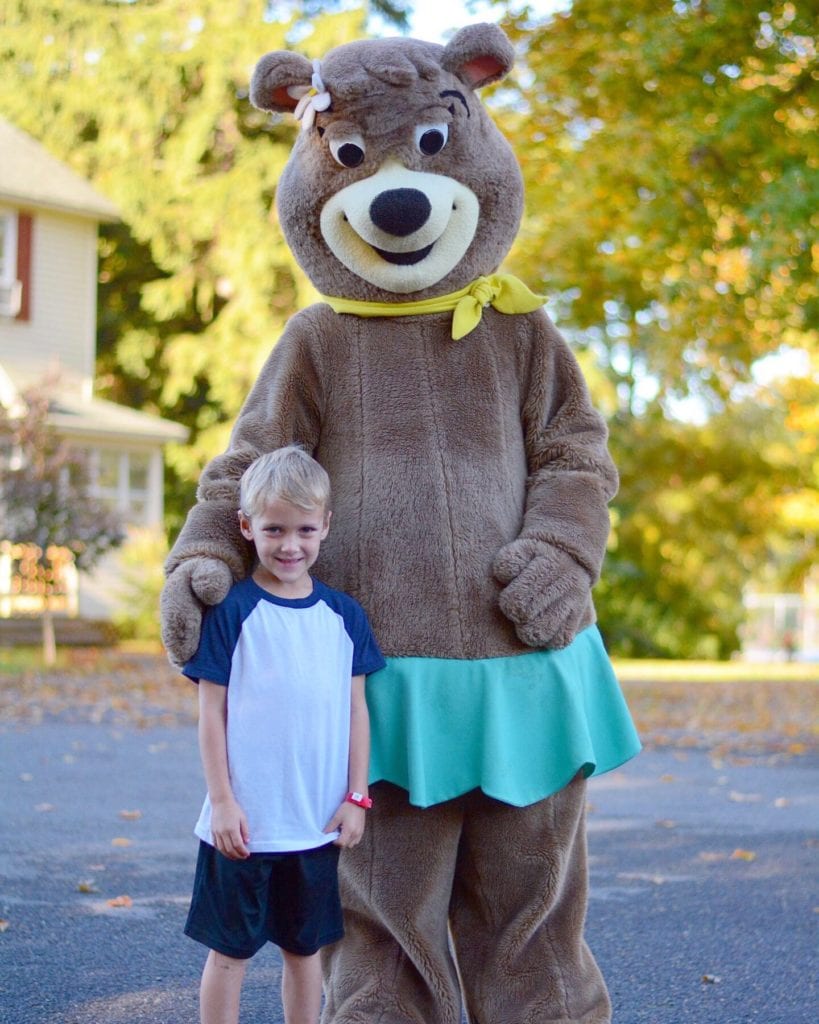 Thankfully Wesley has all kinds of other options for fun at the Lazy River Jellystone. Max and Theo are definitely a bit too old for Yogi hugs at this point. But Wesley LOVES to visit the characters. The opportunities to do so at this campground are abundant. We usually head over to the flagpole in the morning and then do the pledge of allegiance with the characters and then hang out for some pictures afterwords. It's a great way to start the day at Camp Jellystone and it has become something of a morning tradition for us. We recommend that you check the campground's schedule when you check in to figure out the best times to say hello to Yogi and Cindi and Boo Boo!
Activities and Amenities for Kids of All Ages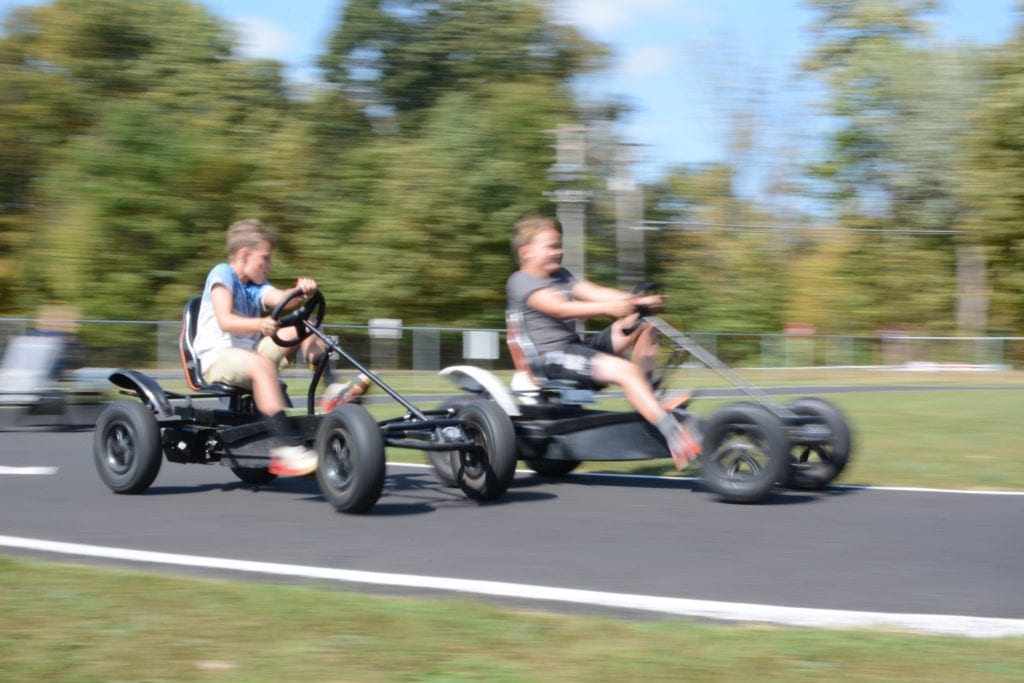 All of the other activities and amenities were also awesome this time around. We were relieved that none of them felt overcrowded. All of the boys played basketball and GaGa ball for hours. Wesley also clocked in some relaxing playground time while Stephanie and I enjoyed our morning coffee nearby. The boys were also thrilled to discover a new race track with pedal powered go karts. We spent hours there too!  The water features were closed for the season, but if you are planning on visiting the Lazy River Jellystone in the summer you'd better be prepared to get wet. There are two large pools, a splash pad, and waterslides. Wesley wanted to go swimming even though the fall temperatures were chilly. He had a hard time understanding why the pool was closed!  Thankfully, once he put his Spider-Man costume on and went trick-or-treating he forgot about the pools mighty quick…
Open Spaces and Relaxing Places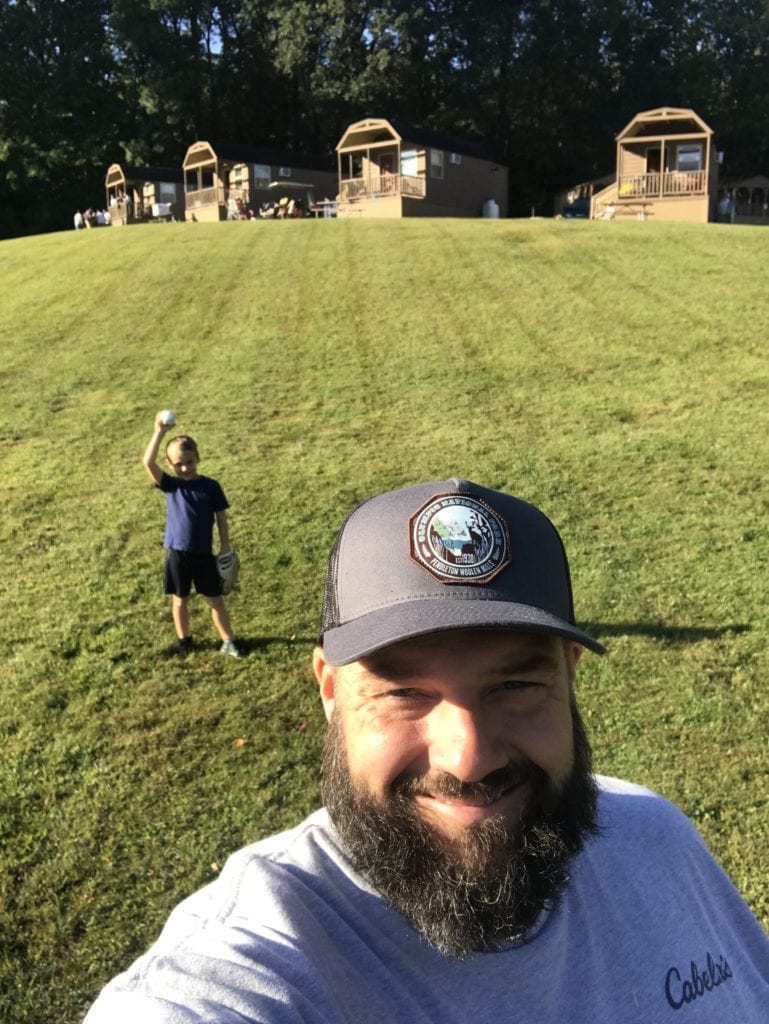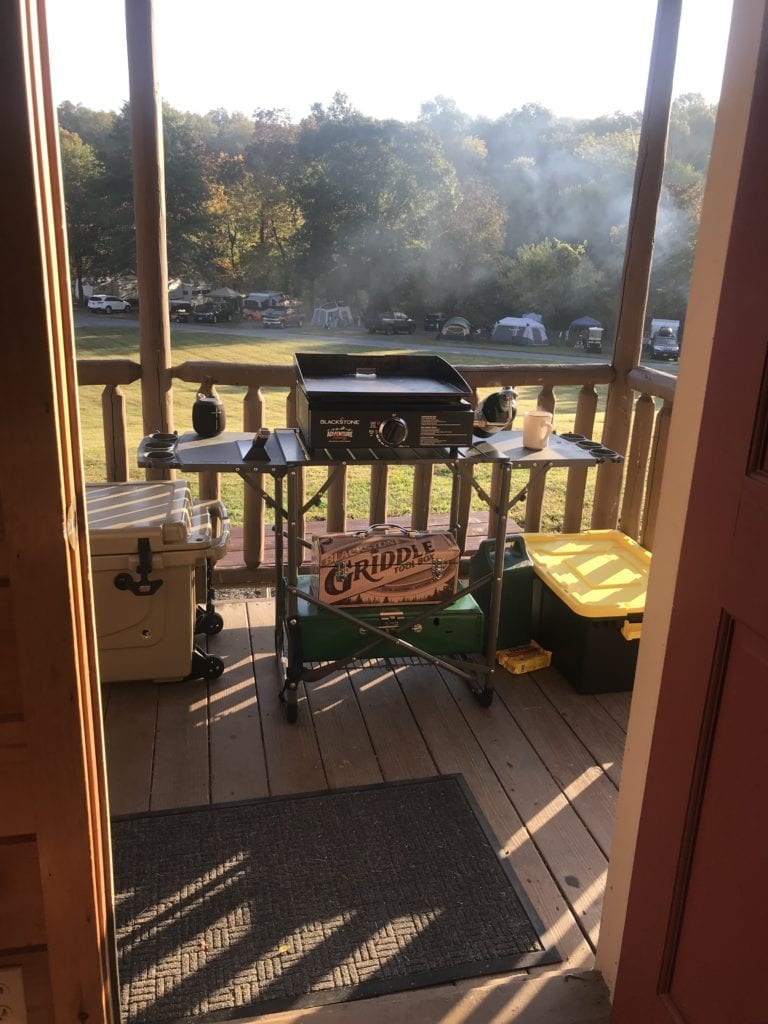 We truly love all of the zany activities and over-the-top amenities at the Lazy River Jellystone. But we also love that the campground maintains a relaxing sense of country calm. They have wide open fields in a variety of places and most of the cabins and RV sites don't feel packed in or overcrowded. Our cozy cabin was relaxing and comfortable and we were able to step outside our front door and do some grilling or have a long, relaxing game of catch. You can choose your own adventure at this Jellystone. Once you are there you might just find that you don't want to leave. There are so many things to do in the area, including hiking and swimming at Lake Minnewaska, presidential history at Hyde Park, and even rock climbing in the "gunks."  But they are optional as far as we are concerned. This campground is the highlight of the region in our humble opinion.
If you are staying for more than a weekend we would recommend that you explore this gorgeous and often underrated part of New York state. However, If you are staying for just a weekend then we recommend diving in and exploring all that this great campground offers. You may want to stay off of the TRAIL OF TERROR–but we will leave that one up to you!
Either way–we hope to see you at THIS campground!
Podcast: Play in new window | Download