A century ago Jekyll Island was a private winter playground where many of the world's wealthiest families came to escape the northeastern winters. Today, it's owned by the state of Georgia and open for regular old non-millionaires to enjoy. Jekyll is a barrier island off the coast of Georgia, about five hours southeast of Atlanta.
Sixty five percent of the island is protected from development under state law, so there's no shortage of white sand beaches, marshes, and maritime forest to explore. However, careful, thoughtful development and a well-preserved historic district means plenty of restaurants, attractions, and sites to visit as well. Put all of this together with a great campground and you have an ideal spot for an RV vacation.
A big thanks to Gretchen from Boxy Colonial on the Road for coming onto The RV Atlas and sharing her favorite tips for visiting Jekyll Island. You can listen to the complete episode by clicking the play arrow above, or listen in your favorite podcast app. All of the beautiful images in this article are courtesy of BoxyColonialontheroad.com!
Jekyll Island Campground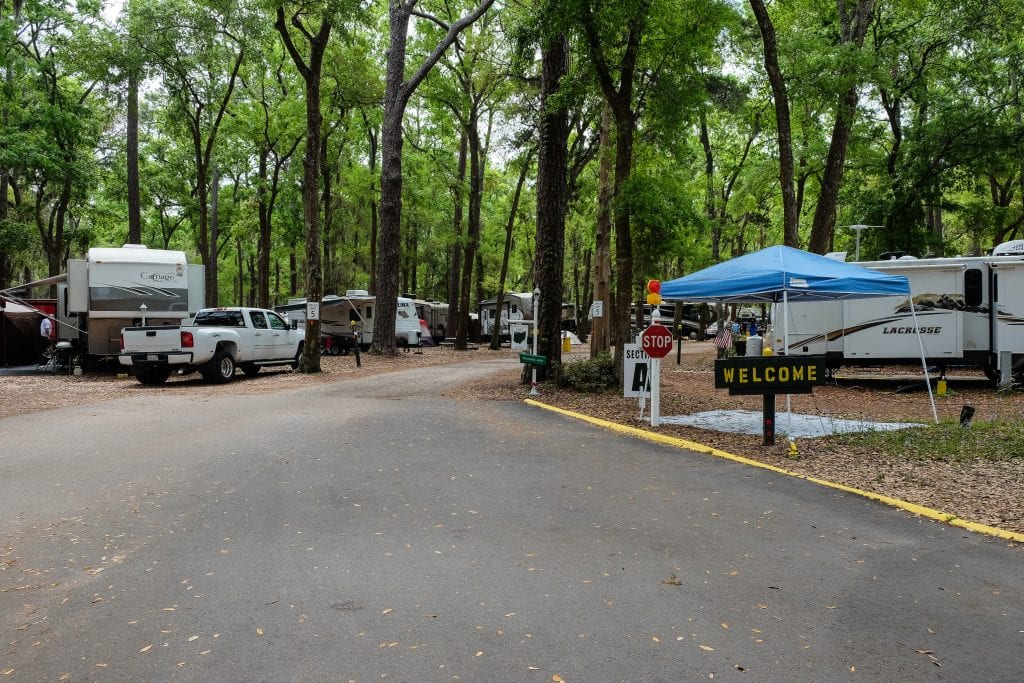 If you want to bring your RV onto the island, the Jekyll Island Campground is your only choice. So it's lucky that it's a good one. The campground is run by the Jekyll Island Authority, which means it's a public campground, but not part of the Georgia State Park system. It doesn't have state park style giant campsites, but it does have 145 wooded, full hook-up sites for a very reasonable $43/night (plus a handful of tent-only sites). There isn't a pool or many organized activities here, but there are two bathhouses. There's also laundry, an a community pavilion, pickleball, and bicycle rentals. Plus, a camp store complete with a nice selection of souvenirs and an impressive variety of bug repellants.
The toughest part of staying at the Jekyll Island Campground is getting a site there in the first place, particularly in the cooler months. A lot of snowbirds spend their winters here, and the campground can book up well over a year in advance for holiday weeks. Note that Jekyll is accessed via a causeway, and you'll pay a $6 per car "parking fee" when you get to the island, in addition to your campground fees. You'll only pay this once unless you leave the island and return during your stay.
Things to Do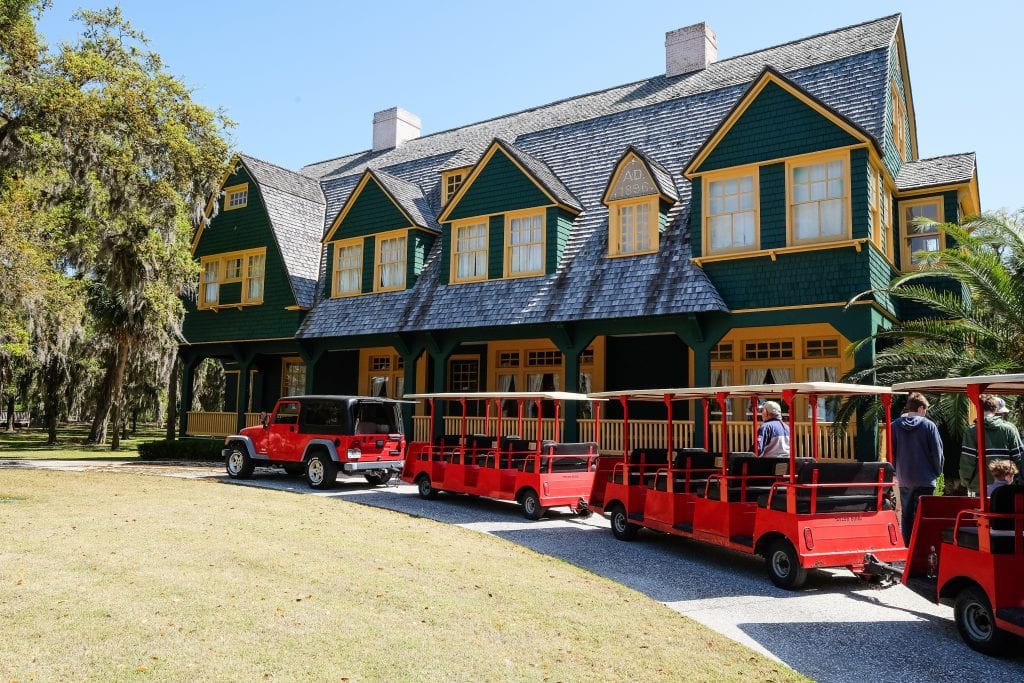 Biking
Jekyll is only about 7 miles long and 1.5 miles wide, so it's easy to park your car while you're there and get pretty much everywhere on foot or bike. There are 25 miles of flat, paved bike trails that will take you all over the island, and several places to rent bikes if you didn't bring your own.
Driftwood Beach
Jekyll has plenty of beaches to choose from, but Driftwood Beach might be the most interesting of the bunch. The "driftwood" that gives the beach its name isn't driftwood at all. Instead, it's skeletons of old trees that used to be part of the maritime forest but have been reclaimed by the ocean over time as erosion has moved the beach here further inland. What's left behind is eerie and beautiful. It's a wonderful spot for photography and a unique playground for kids, who love scrambling over the trees in between dips in the ocean.
Georgia Sea Turtle Center
Georgia's only center for turtle rehabilitation gives visitors a chance to learn all about sea turtles in the interactive exhibit gallery. Visitors  get to meet the residents in the rehabilitation wing where you can see them eat their morning or evening meal. For an additional charge, they offer behind the scenes tours (for ages 10 and up). In summer, check out the evening sea turtle walks on the beach.
Gatorology 101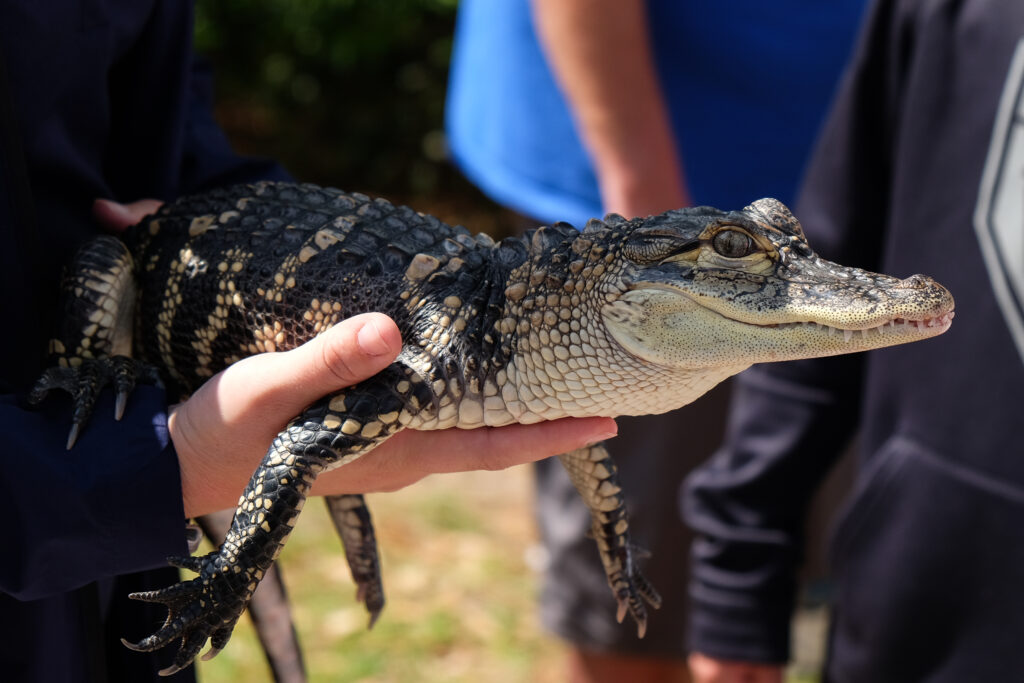 Meet up with a naturalist at Horton Pond to learn all about alligators and how people and alligators can peacefully co-exist (and maybe even catch a glimpse of one in the wild). Space is limited, so make sure to book in advance!
Historic District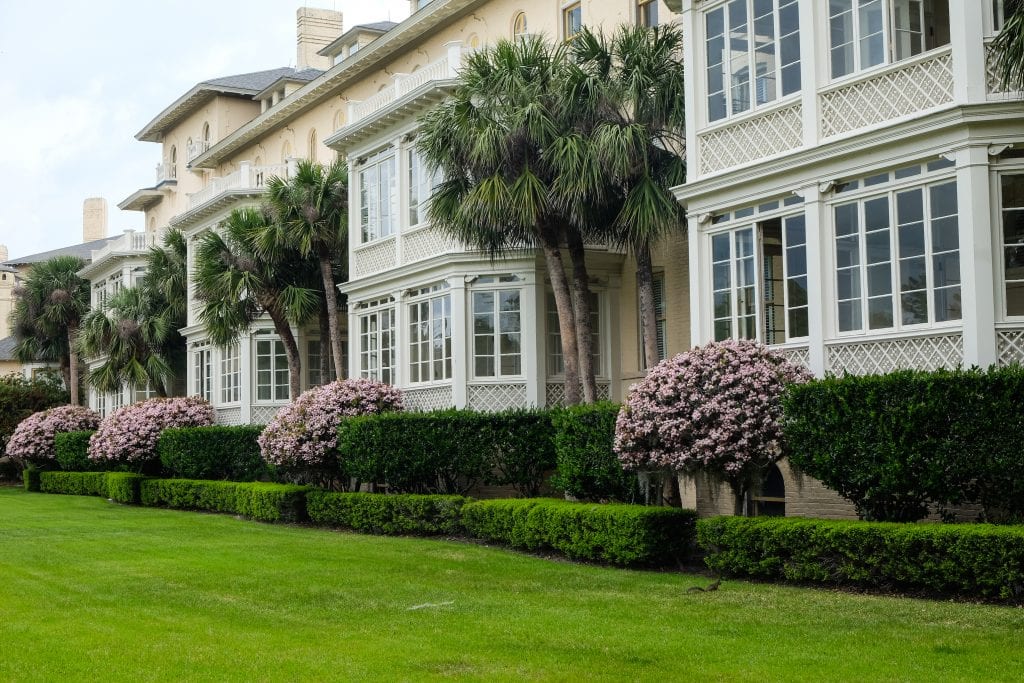 The Gilded Age Robber Barons are gone, but they leave behind a still operating resort hotel and many of their grand, 20-30 room "cottages." Today you can stroll the streets of the historic district, do some shopping or dining, check out the newly renovated history museum, or take one of several different tours to learn all about life at the Jekyll Island Club. Even young kids will enjoy the big red tram that takes you around the district on the Landmark Tour. A knowledgable guide shares stories from the private resort days and takes you inside two of the historic homes. Don't leave the Historic District without taking a look at the Plantation Oak, the largest tree in the district, thought to be 375 years old.
Summer Waves Water Park
If you're visiting in summer, you'll welcome the chance to cool off at Jekyll's water park, which features a lazy river, wave pool, several slides, and a new kids' zone.
Restaurants
For such a small island, there's a surprisingly big variety of restaurants to choose from. Stick with Southern-style seafood (and a great view) at The Wharf in the historic district; enjoy some oceanfront Mexican at Tortuga Jack's; or grab some barbecue from The Love Shack BBQ in the Jekyll Market.

A big thanks to Boxy Colonial on the Road for sharing her favorite Jekyll Island activities and eats.
You can read her detailed review of the Jekyll Island Campground here. 
See you at the campground,
Stephanie + Jeremy
Podcast: Play in new window | Download