We drink a lot of coffee at home and when we go camping–and we have always experimented with different ways to make it at home and away. When we first started camping we tried the Aeropress, the French Press, and percolators, and different pour over options. Eventually, we just got lazy and started bringing a regular old coffee machine with us in the RV. It's not inspiring or fun to use–but it makes lot of coffee fast and its pretty easy to clean up. But a year or two ago we discovered Kuju Coffee at REI and fell in love with their single-serve individual pour overs for a quick afternoon pick-me-up when just one of us wants a cup of coffee.
Now we buy a box every single time we go to REI.
Why We Love Kuju Coffee For Camping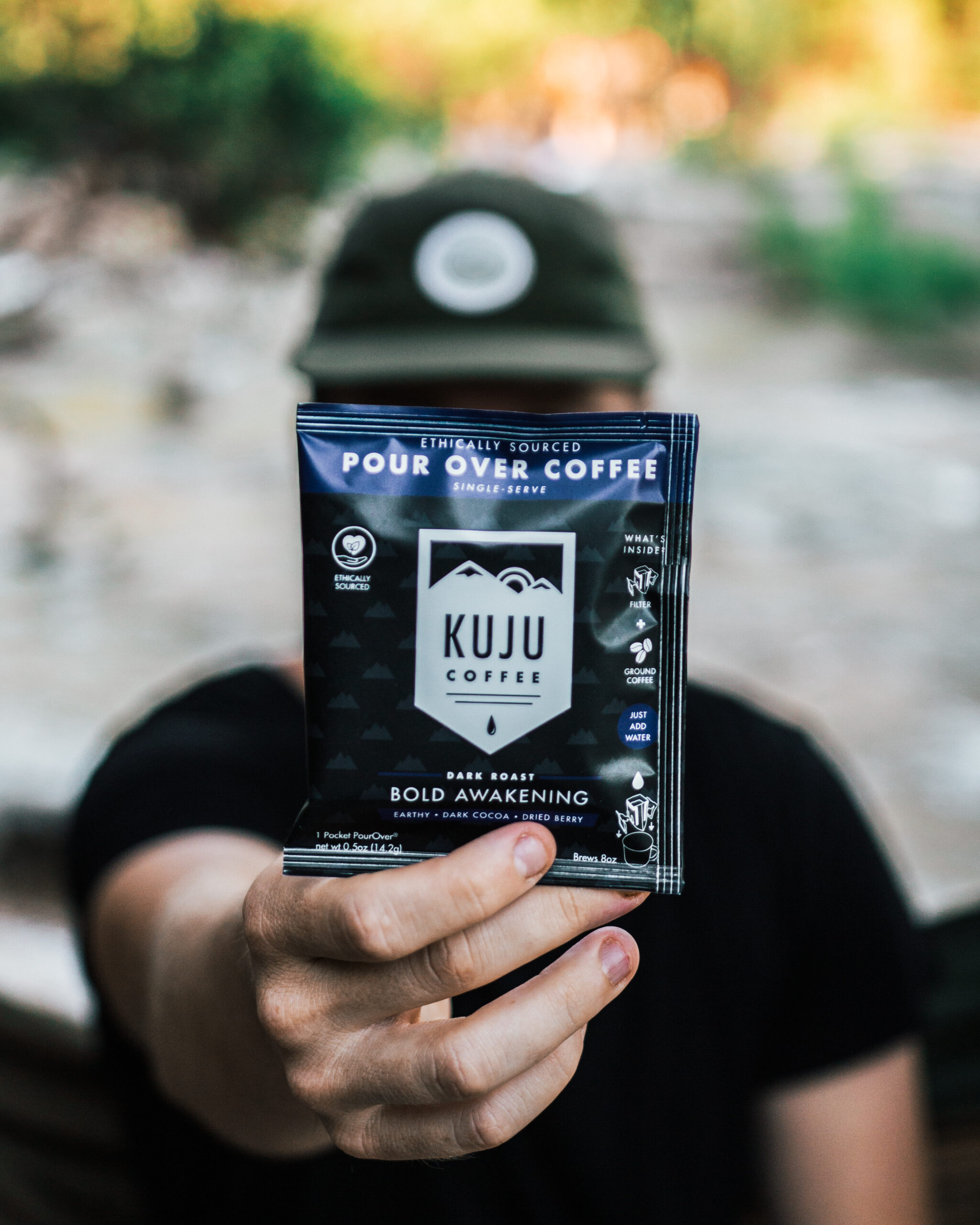 We like these individual pour overs from Kuju Coffee because they are delicious and flavorful. But also because they are fast, fun, and easy to make. They are also compact and easy to store for those of us that are camping with limited storage space. One pouch is about the size of two small tea bags. In other words they are perfect for tent campers, cabin renters, or anyone traveling in a smaller RV.
To listen to our interview with Jeff Wiguna, Kuju Coffee's CEO, please click on the media player above or subscribe to The RV Atlas however you get your shows. In this interview Jeff talks about the pros and cons of each type of camp coffee. He also discusses how important the coffee experience is to all of those that love a hot and delicious cup of Java when we are camping.
How Does Kuju Coffee Work?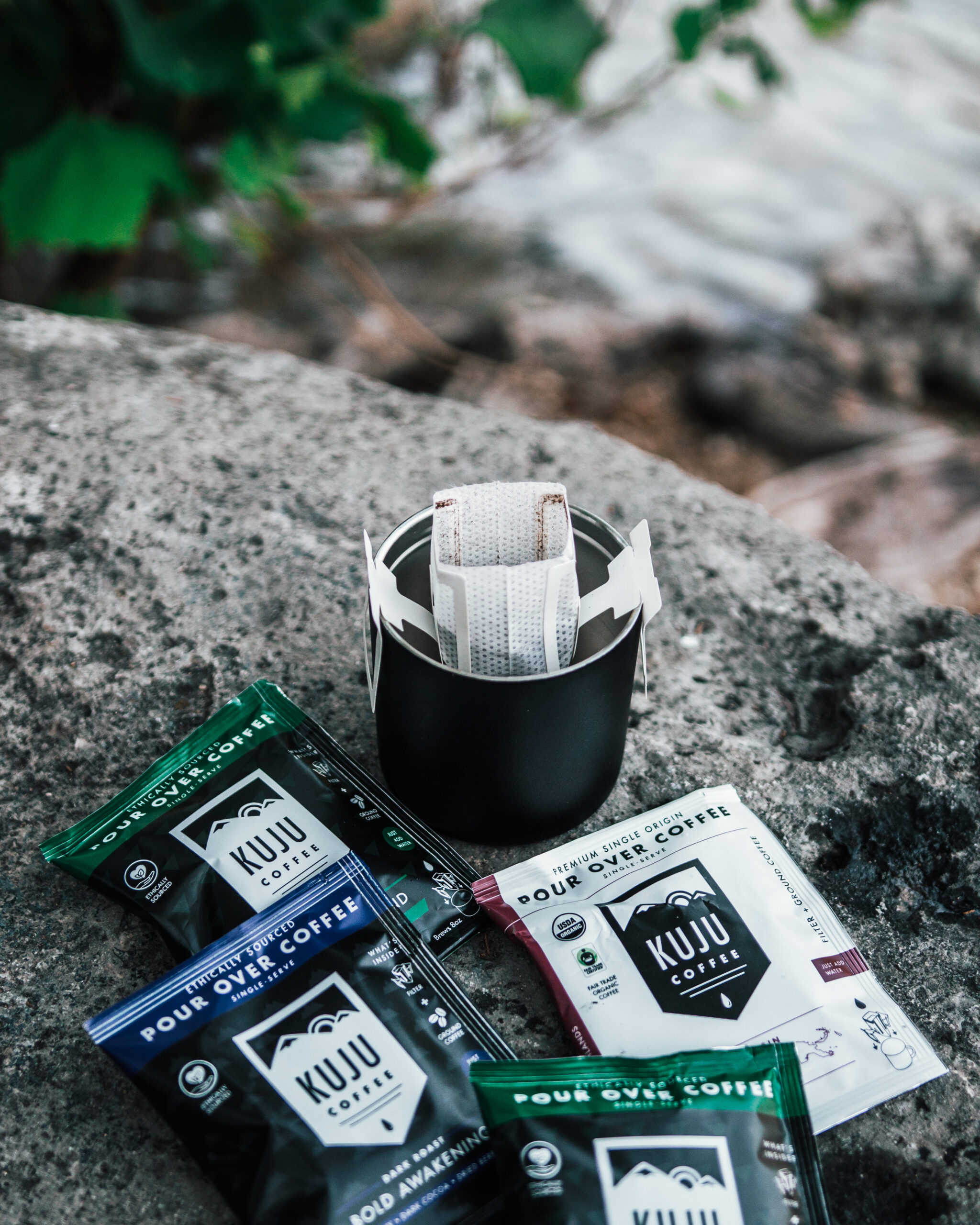 Each Kuju Coffee filter has expandable anchors that really do work like a charm. We have used them on standard sized coffee mugs, but also on larger, beefier mugs like our Yeti Rambler mugs. The anchors don't break when they are expanded for a larger mug. Their construction is very sturdy enough so they don't collapse and fall into your mug when you are pouring hot water into them. Kuju Coffee's anchor and filter system are perfectly executed and have not failed us yet after using them dozens of times.
How to Make the Best Cup of Kuju Coffee
But none of this would matter if the coffee wasn't good. After testing four of the six flavors we are pleased to report that it is very, very good. Kuju uses 100% specialty-grade coffee and it shows in every single sip. We do recommend that you use a tip that is given on the box—for a stronger cup (which is required in our RV!) Kuju recommends dipping the filter into the coffee while it cools. This tip really jacked up the flavor for us and truly made our coffee taste like a pour over at a high end coffee shop.
Kuju Coffee Blends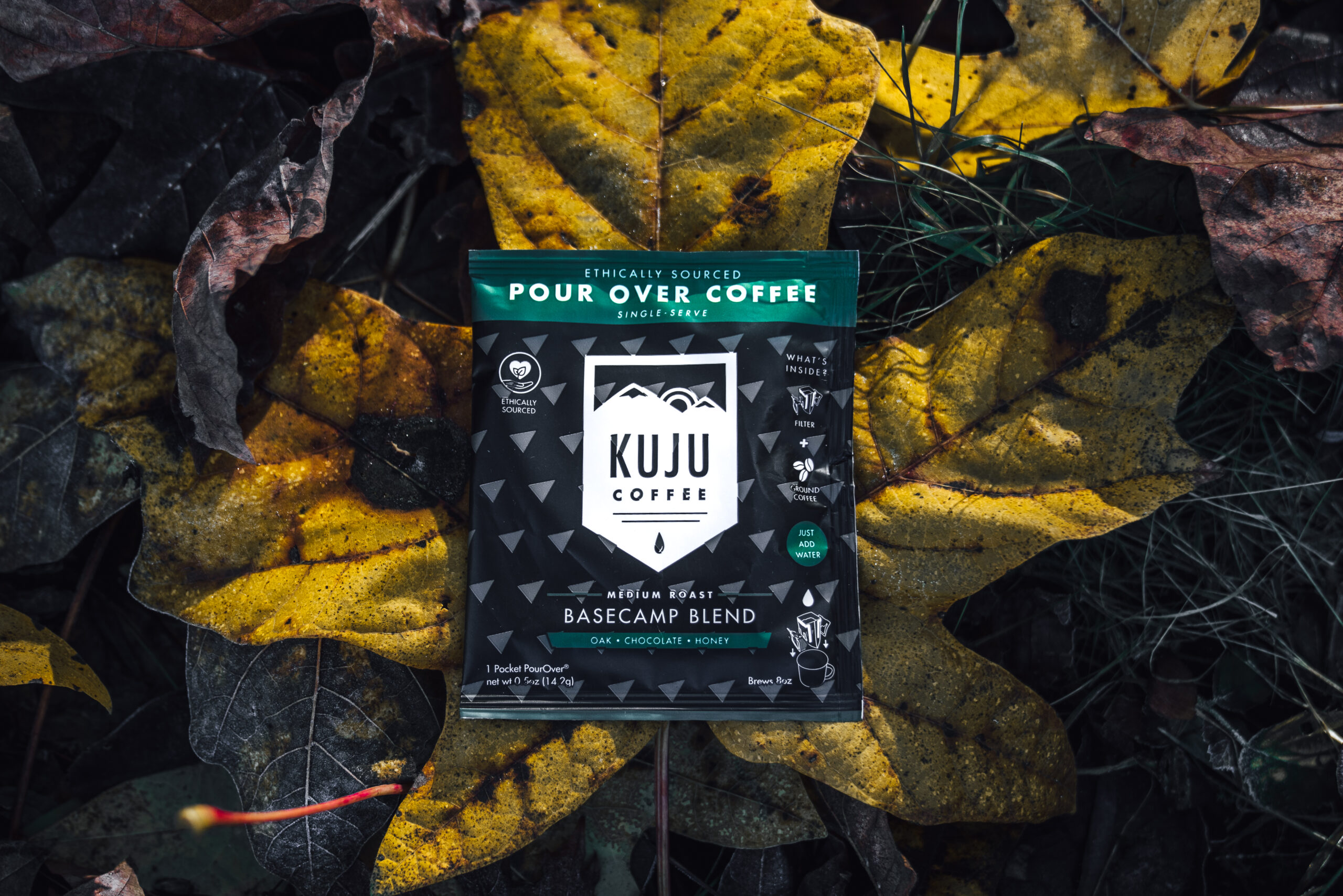 Kuju Coffee makes six different flavors at the time of this writing–three of them are blends and three of them are single origins. Their light roast is called Angels Landing, their medium roast is called Basecamp Blend, and their dark roast is called Bold Awakening. We have tried the medium and the dark roast and love both of them. You will notice a grand outdoors theme with all of their packaging and marketing. This isn't surprising considering the fact that the company was founded by two Eagle Scout brothers.
The company also donates one percent of their profits to our National Parks–pretty cool, right?
Kuju Coffee Single Origins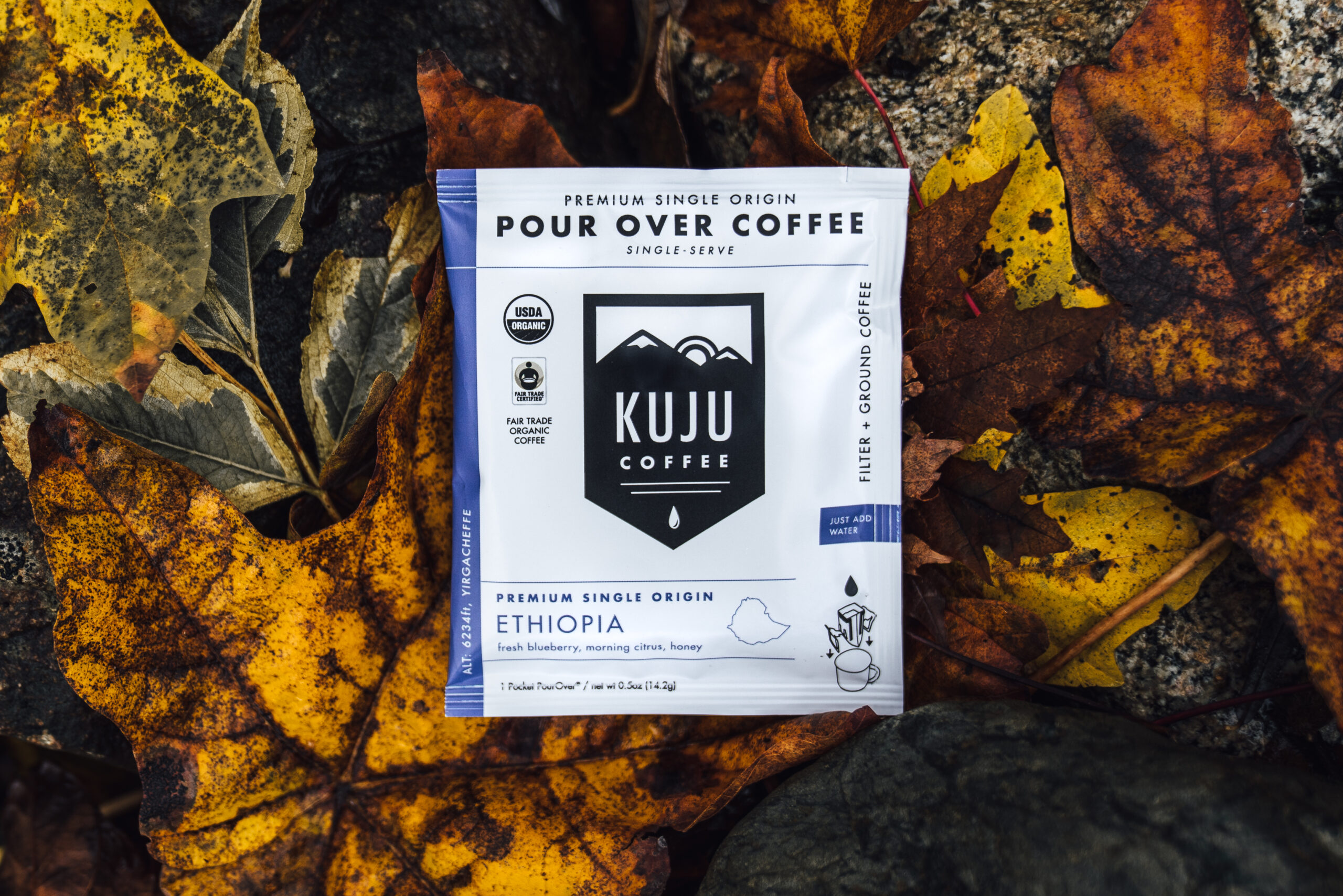 Kuju Coffee also offers three single origin coffees–Ethiopia, Papa New Guinea, and West Sumatra. We have sampled the Ethiopia and the Papa New Guinea and would love to get our hands on the West Sumatra to give that a try.
There are so many great ways to make coffee at the campground–and our morning (and afternoon) cups of coffee are an essential part of our camping experience.
If you feel the same way you should definitely give Kuju Coffee a try. Their individual pocket pour overs really hit the mark for us. It tastes great. Comes in an attractive box. And has great functionality. All from a great young company that loves the great outdoors.
Order yourself some here.
Podcast: Play in new window | Download