Fort De Soto Campground is a perennial favorite for native Floridians and for the snow birds that flock down to the Sunshine State every winter. And it's easy to see why. Simply put, this is one of the most beautiful campgrounds we have ever seen.
We can definitely imagine returning again and again to Fort De Soto Campground if it were in our own backyard. Unfortunately, it's not. Instead, you'll find it about 20 miles south of St. Petersburg, Florida, located where the Gulf of Mexico meets Tampa Bay.
We visited Fort De Soto while attending the Florida RV SuperShow in Tampa, and it only took us about 40 minutes to get there. Once we arrived, we did not want to leave. The beaches were beautiful, and the water was warm even in January! Most of the sites back right up to the water since the campground is practically located on an island. What more could you want?
Campsite Details: Fort De Soto Campground
The campground is located in Fort De Soto Park, part of the Pinellas County Park System. There are 238 camp sites, spread out over three loops. This is one of those campgrounds where it pays to study the map–each loop has distinctive characteristics and rig and pet limitations:
Area 1 allows tents, vans, pop ups, and trailers under 16 feet. These sites are really pretty, but as you can see there are strict limits on the types of RVs allowed. Also, you cannot have any pets in this area.
Area 2 allows all rigs and is pet friendly.
Area 3 allows all rigs and NO PETS.
Make sure you pick an appropriate site for your family! This campground document is very helpful…
The great news is that all three areas are full loops, each offering back-in waterfront sites and spacious interior pull thrus. Even though the pull-thru sites don't back up to the water, they are nothing to scoff at. They are lush and large, with an appeal of their own, especially if the waterfront sites are all booked. Plus, some even have good views, even if they aren't right on the water.
Every site at Fort De Soto Campground has water and electric (30 amp & 50 amp) hook ups, with dump stations easily accessible from each area. They don't have sewer, but that would be a rare find in a county park along the water, so you really can't complain.
Booking at Fort De Soto Campground
Sites become available six months in advance, and you actually need to book that far ahead if you want your pick of spots. This campground routinely sells out, so don't expect to show up and park on a waterfront site on a whim. However, if you are booking midweek or have a smaller rig, you might get a site with shorter notice. On the plus side, the online reservation system is very user friendly, with photos of each site and lots of details.
Weirdly enough, the website says only six people are allowed at each campsite. If you have more than four kids, we don't know what to tell ya!
Amenities and Activities: Fort De Soto Campground
Fort De Soto Campground has everything you'll need to enjoy your stay. The bathhouses and laundry facilities are very clean and functional. A dump station is available. Plus, there's a camp store. They don't have a ton of items, but they have the basics. You'll find playgrounds in between Area 1 and Area 3 and another one located near Area 2.
Fort De Soto Campground is part of the larger Fort De Soto Park, which offers over 1,000 acres to explore. The park is beautifully arranged for visitors who want to enjoy the natural beauty and historical significance of this location. While you are here, check out:
North Beach, East Beach, and the designated dog beach (there are three miles of GORGEOUS beaches!)
Food concessionaires
Boat ramps and fishing piers for easy water access
Family picnic areas
7 miles of paved, multi-purpose trails, perfect for walking, jogging, and biking
2-mile, self-guided canoe and kayak trail (you just might see manatees!)
Historic Fort (built in 1898): Check out the self-guided tour and info available here.
Surrounding Area: Fort De Soto Campground
The Fort De Soto Campground is conveniently located close to the St. Petersburg/Tampa area. Head on over to the Greetings from the 2017 Florida RV Supershow post/podcast to hear our interview with native Floridian, Courtney Parish, who shares all the best attractions in this area.
One quick food recommendation: The Island Grille & Raw Bar. We had an excellent fresh seafood there.
After our brief visit, we can see why so many people say this is one of their favorite campgrounds in Florida. It reminds us of James Island County Park, one of our favorites. It's really neat to see counties putting in such nice facilities for locals and for visitors like us! You really could spend a relaxing week at Fort De Soto, just hanging out in the park. Get on beach time.
Make those reservations way in advance, and enjoy your stay at this gem in the Sunshine State!
See you at the campground!
Jeremy + Stephanie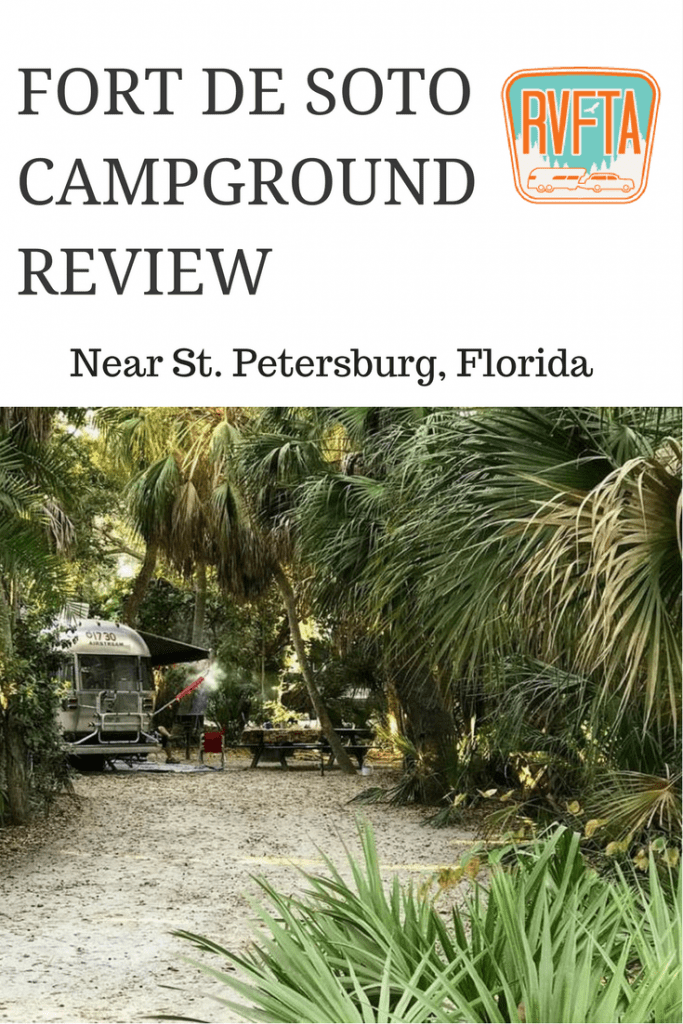 Podcast: Play in new window | Download