We love seeing new campgrounds like the Inn Town Campground open for business, and we love it even more when these campgrounds are built by young, locally rooted entrepreneurs who have their fingers on the pulse of a new camping generation.
Inn Town Campground just opened for business this past year in Nevada City, California. Recently, Janine Pettit stayed there for a Girl Camping event. We are lucky enough to have a review of the campground on our podcast this week.
To hear more about the campground, check out our interviews with Erin and Dan Thiem on episodes #21,  #85, and #124 of the RV Family Travel Atlas podcast.
Campground Details: Inn Town Campground
The Inn Town Campground is open year round, and offers tent sites, full-hook up RV sites, and glamping tents on the beautiful 15-acre property. Camping rates range from $45-$65, and the glamping tents cost $85-$150 per night. The campground is full of towering pine trees, creating privacy for the individual campsites.
But the campground also invites plenty of communal interaction. Erin and Dan were inspired by the Holiday Parks that they enjoyed years ago while traveling through New Zealand. Inn Town Campground has many indoor and outdoor shared spaces for friends and families to enjoy together. Plus, these areas are great for campers to meet new folks during visits.
Activities and Amenities: Inn Town Campground
Janine Pettit particularly enjoyed the well-stocked camp store full of local food and beverage options. She also raved about the communal kitchen, where she spent a cozy morning curled up on the couch with a cup of hot coffee. The kitchen is completely stocked with everything you need to cook a meal (sans food!). We think this feature makes spontaneous tenting and RV getaways so much easier.
Erin also talked about the activities they have offered and how they hope to grow their recreation schedule over on the Girl Camper podcast, where she was interviewed last month. Right now they host outdoor movies, arts and crafts, and fireside chats with experts on local topics of interest.
Other amenities include:
foosball and ping pong tables
pool
laundry
Wifi
Regional Attractions: Inn Town Campground
Campers can visit the neighboring railway museum and stroll through the historic Chinese miner's cemetery right on site. But of particular distinction is that the Inn Town Campground is located just under two miles from downtown Nevada City. Janine loved that she could take a beautiful walk through the woods and emerge in a town full of shops and restaurants.
Visitors can also enjoy the nearby Yuba River area.  There's outdoor activities like fishing, kayaking, swimming, skiing, and biking.
See you at the campground!
Stephanie + Jeremy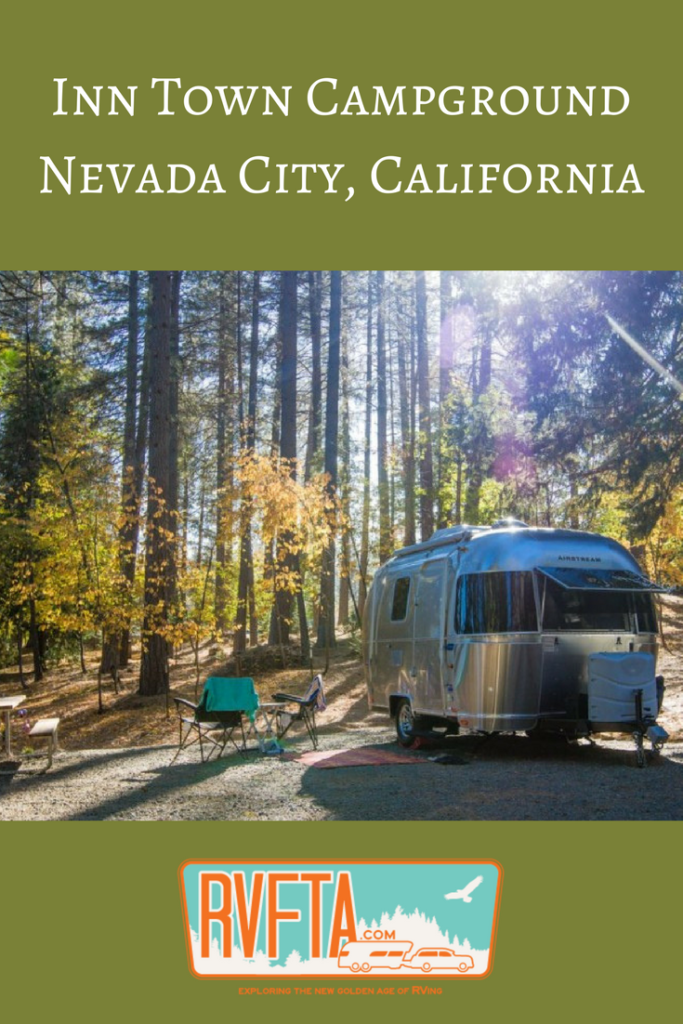 Podcast: Play in new window | Download