There are so many campgrounds in Myrtle Beach and it can be tricky to choose just one out of the bunch. There are multiple state park campgrounds, as well as campgrounds right on the Grand Strand. But for some folks Pirateland Family Camping Resort is the only one they will ever reserve when traveling to this popular destination.
On this week's episode of the Campground of the Week podcast, our correspondent Tatiana Coffinger reviews a Pirateland Family Camping Resort in Myrtle Beach, South Carolina.
Tatiana's family can usually be found at a New York State Park campground with minimal hookups and zero cell signal. However, they all simply adore Pirateland in Myrtle Beach and return as often as they can squeeze it into their very busy schedules.
Campground Location
Pirateland is located at the southern end of the Grand Strand area of Myrtle Beach and within walking distance of Myrtle Beach State Park. You are nicely situated to easily access Murrells Inlet and Huntington Beach State Park as well. Of course, the most important feature to most campers is the direct beach access offered by the resort.
Campground Details
Pirateland is a private family-owned campground that has been open for over 50 years. It is an extremely large campground with approximately 2,100 campsites, plus additional accommodations such as cabins and park model rentals. In her review, Tatiana emphasizes that the layout of the campground really keeps the place from feeling overwhelmingly big. There are different sections and plenty of landscaping, rather than the rows and rows of campsites found at many resort campgrounds on the beach. Tatiana gives a ton of really specific advice for booking the site that will suit you best, so make sure you listen to hear those tips.
One of the reasons that Tatiana's family loves Pirateland so very much (besides the private beach!) is because of all the resort amenities. Some of the highlights include
Outdoor pool
Indoor pool
Splash Ground
Jacuzzi
Lazy River
kayak and paddle boat rentals
miniature golf
playgrounds
…and too many other amenities to list!
There are also plenty of organized activities your older kids as well as the little ones.
Area Attractions
Tatiana and her family are big fans of golf, so they know how to steer our listeners to some great golfing options in the Myrtle Beach area. There are over 100 golf courses in Myrtle Beach, and Pirateland will help you make your tee time reservations during your stay! Other area recommendations include…
Other Myrtle Beach Content from RVFTA
We totally agree with Tatiana that Myrtle Beach is one of the greatest RV destinations out there. In fact, we've visited a few times and offered some of our own favorite destinations on other podcasts. If you are planning a stay, check these out…
You can also search through the Myrtle Beach tag on our website for even more Myrtle Beach travel tips and recommendations!
Thanks to Tatiana Coffinger for reviewing this great resort camping option in Myrtle Beach, South Carolina.
And thanks to our awesome sponsors for supporting weekly content for all our RV and camping fools!
See you at the campground!
Stephanie + Jeremy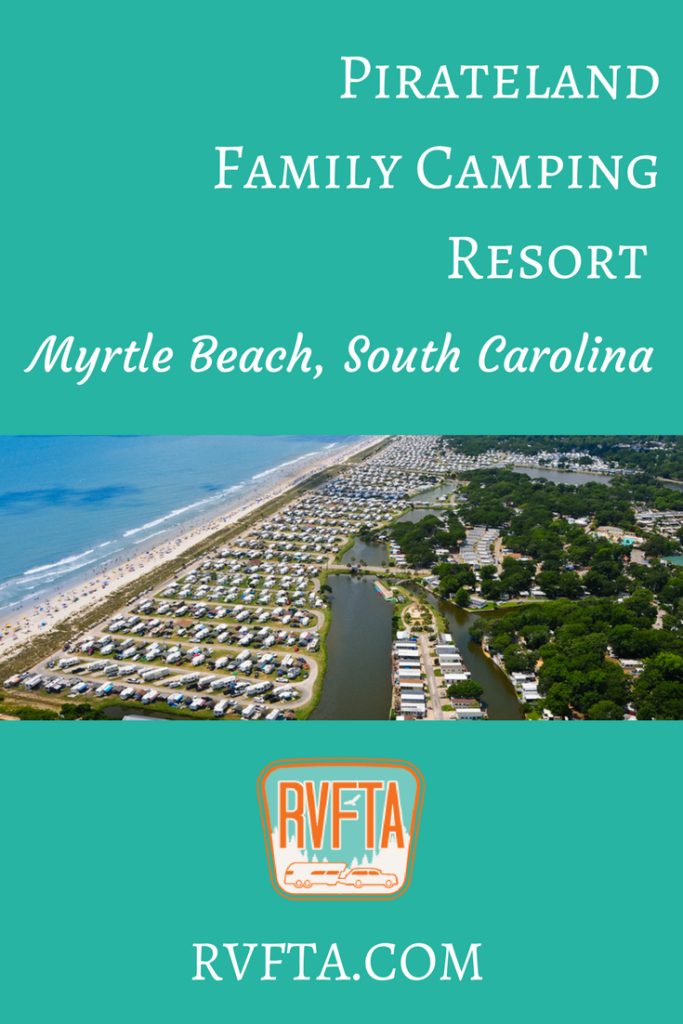 Podcast: Play in new window | Download