The Jellystone Park at Kozy Rest is located in western Pennsylvania just a short 35 miles from the Ohio border. It's about an hour north of Pittsburgh, and offers easy access for a day trip from the campground.
There is a ton of variety within the Jellystone franchise, and this campground is a great example of a quieter weekend getaway destination with a focus on family fun and activities. It's particularly well suited for folks who may typically camp in more rustic environments but are looking to experience Jellystone activities, amenities, and character interactions.
Campground Details: Jellystone Park at Kozy Rest
This is a nicely wooded country campground with a mix of transient and seasonal sites. Jellystone Park at Kozy Rest is neat and tidy, but expect a good deal of rules and procedures that keep it that way. Prices range from $40 for tent sites with no hookups to $85 for premium full hook up sites holiday or Halloween weekends. There are a ton of special deals offered throughout the year, so check out the website to see if you can find one that fits your camping schedule.
Activities and Amenities: Jellystone Park at Kozy Rest
Jellystone Park at Kozy Rest offers an activity wristband that can be purchased for $15 per child for the duration of your stay (up to 7 days). The wristband includes unlimited access to the jump pad, jump pillow, mini golf course, and bike rentals. Other amenities include…
playground
pool
horse shoes
shuffle board
gem mining
camp store
dog park
game room
Jellystone Park at Kozy Rest also offers a full schedule of organized activities with weekly themes like Christmas in July, Dinosaur Discovery, Night at the Races, and From Oldies to 80s. During our visit we enjoyed crafts, potato sack races, bean bag tosses, and lots of visits with Yogi.
Area Attractions near Jellystone Park at Kozy Rest
The Jellystone Park at Kozy Rest has a fantastic website page that details all the great hiking, biking, and kayaking in the area. They highly recommend visiting…
McConnells Mill State Park
Lake Arthure
Clear Creek State Forest
Pittsburgh
We also highly recommend a stop at Beans on Broad, a great coffee shop in nearby Grove City. We stocked up on some beans for the rest of our trip while we were here!
We'll see you at the campground,
Stephanie + Jeremy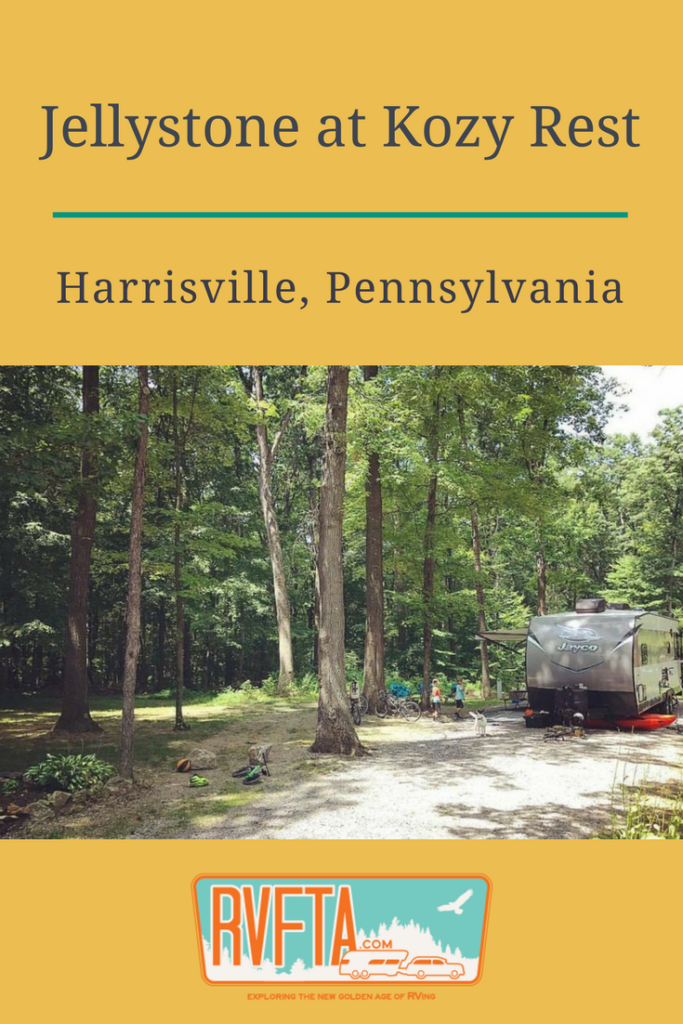 Podcast: Play in new window | Download