I married an adventurous woman. I also married a patient woman. When we were dating (about twenty years ago) I remember Stephanie talking about wanting to visit Yellowstone, Yosemite, and Glacier, and stay in National Park lodges. We got a little sidetracked when we had our twin boys ten years ago. We fell in love with RV life and spent almost all of our vacation days traveling in our home(s) on wheels. We've owned four RV's at this point, and the RV will always be our primary way to "See America." But still, those National Park lodges look pretty amazing right?
Shenandoah National Park
We love Shenandoah National Park and have visited the area twice by RV. But we also noticed the beautiful lodges in the park and we were intrigued. The old dream of vacationing in a National Park remerged. So this summer we finally decided to make it happen. We booked three nights at Big Meadows Lodge and packed up our hiking boots and water bottles for a weekend of hiking and relaxing in the park.  It wasn't the romantic weekend that Stephanie had probably imagined when we were in our early twenties, but it was still a blast. When we pulled onto Skyline Drive the sunset was absolutely amazing. We pulled into an overlook and the boys ran out of the car with their shoes off to soak up the sun's last year and breathe in the fresh mountain air. It was magical.
for a great list of things to do while staying in Shenandoah National Park, click here.
Big Meadows Lodge
When we checked into Big Meadow Lodge about half an hour later the glowing red and orange sunset was performing its final act by pouring into "The Great Room" just beyond the check out counter. About a dozen guests were sitting in rocking chairs by the wall of open windows and soaking it all in. Families were also playing board games at large picnic style tables. Solo travelers had books in their laps and tea cups in their hands while they glanced out across the valley to the mountains below. We felt like we had waltzed right into a scene ripped right out of Stephanie's long held National Park's Lodge Dream. It was a perfect welcome to Big Meadows Lodge. One that I will never forget. And the weekend only got better.
We loved Big Meadows Lodge for so many reasons. Here are a few of them:
The Great Room
The great room was a wonderful communal space filled with board games, puzzles, cold water, comfortable couches, rocking chairs, and spectacular views of the mountains. We spent hours here each day and it was the perfect place to unwind after a long hike.
The Spottswood Dining Room
The Spottswood Dining Room served surprisingly good food. And the terrace seating outside was a perfect place to eat lunch or grab some cold drinks and Blackberry Lemonade or Ice Cream. We thought the prices were reasonable and the environment both inside and outside the dining room on the terrace was cozy and comfortable. The service was also good. If you want to save a little money then opt for lunch and bring your own food for dinner. We brought bread and PBJ fixings and enjoyed a simple dinner in our room on Saturday night.
The New Market Taproom
The "Taproom" on the bottom floor of Big Meadows Lodge served cold drinks and good food. But more importantly, there was really great live music every night. If your lucky your waitress might take a quick break from serving you and belt out some classic tunes. Skip the Jalapeño Poppers and get the pretzels and pizzas for a perfect night at the pub. It may sound counterintuitive but the taproom is also quite family friendly if you are traveling with the kids like we were.
The Hub of Shenandoah National Park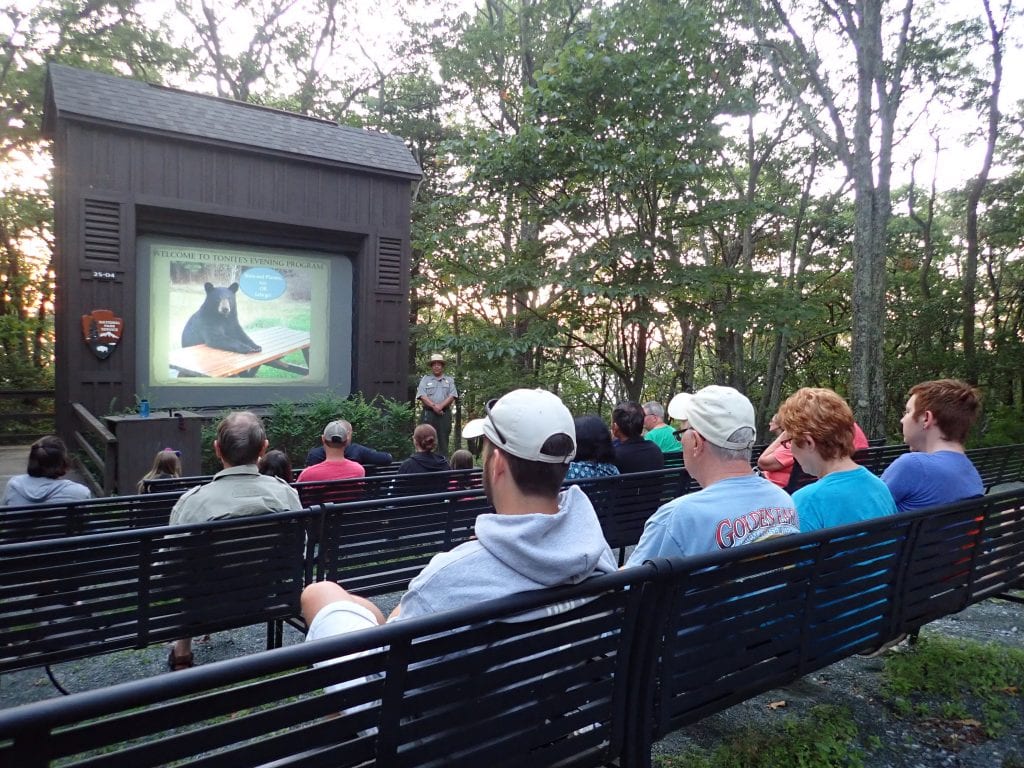 Proximity to Big Meadows Campground, Amphitheater and the Byrd Visitor Center is excellent. The Big Meadows Lodge is located in the primary hub in the park. The locations simply can't be beat for exploring the park. You can walk over to the campground's amphitheater or the Byrd visitor center for a ranger talk or a relaxing stroll. The lodge is also very close to classic Shenandoah hikes like Dark Hallow Falls and Hawksbill.
The Price is Right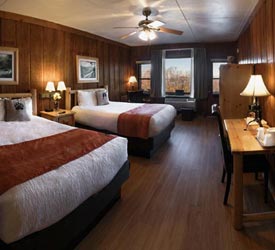 Our preferred room was less than $200 dollars per night and it was spacious and comfortable for the five of us. Our room was clean and cozy and it had two queen beds and a private deck with mountain views. Comfortable cots were available for a small additional fee. Our room was larger than a typical hotel room and we loved having coffee out on the deck each morning.
Coffee and Pastries
We also enjoyed grabbing coffee and pastries in the main lodge each morning before heading out to hike. The coffee was good. The pastries were even better. We tried the cinnamon rolls, blackberry muffins, and scones. The clear winner? The blackberry muffins of course!!!
Other room types at other price points are also available. I would also like to note that our room was not in the main lodge, but it was very close. We also decided to take a drive and explore Skyland Lodge. While the common room was not as gorgeous and inviting, the rest of the lodge looked gorgeous. The style was more streamlined and modern, and the shared outdoor spaces looked a bit more comfortable and inviting than the ones at Big Meadows. I wouldn't hesitate to book at Skyland in the future. It also stays open later in the season. Big Meadows Lodge closes on November 3rd. Skyland Lodge closes on December 1st.
We love our RV, but did we miss it during our weekend of hiking and lodge life? Not for a second. But absence does make the heart grow fonder, right?
Looking for a place to camp in or around the park instead of a lodge visit? Click here!
Podcast: Play in new window | Download