We both grew up just miles away from The Atlantic Ocean, so we are beach people through and through. When we bought our first RV, we immediately booked beach camping adventures in places like Cape May and Cape Hatteras. It was a natural fit. Our little pop up camper was like owning a little beach house that we could move around at will. Here are the best beach camping tips we've got after years of experience!
In our time talking to other RVers, we've discovered that not everyone is as stoked about beach camping as we are. Many people have only camped in forest, mountain, or lake regions. But they see those beautiful waterfront campgrounds on the ole' Instagram, and decide to give it a try.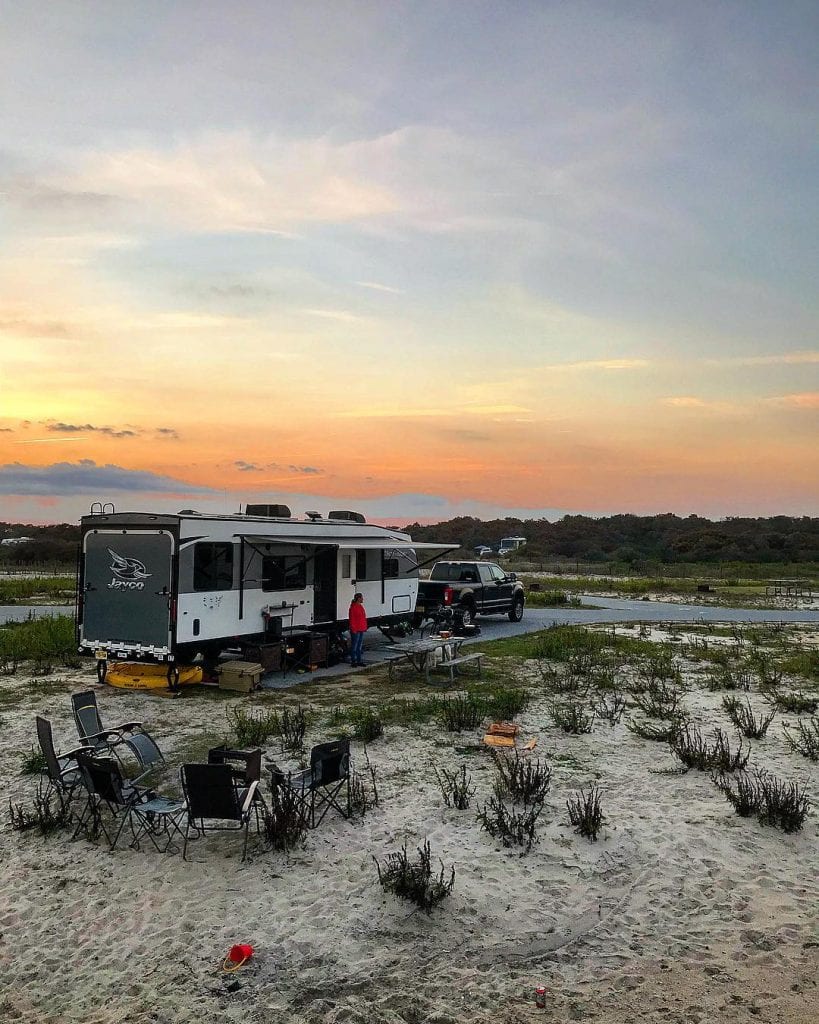 It can be a bit of a shock for some. All that sun and wind? And will they ever get the sand out of the camper?
The key to enjoying a great beach camping getaway is being prepared for the elements. Sand, water, sun, and wind can ruin your camping experience if you do not have the right gear. These beach camping tips will ensure that you can enjoy paradise when you park your RV at the shore.
Beach Camping Tips for the Sand
Keeping the Sand Where it Belongs…On the Beach!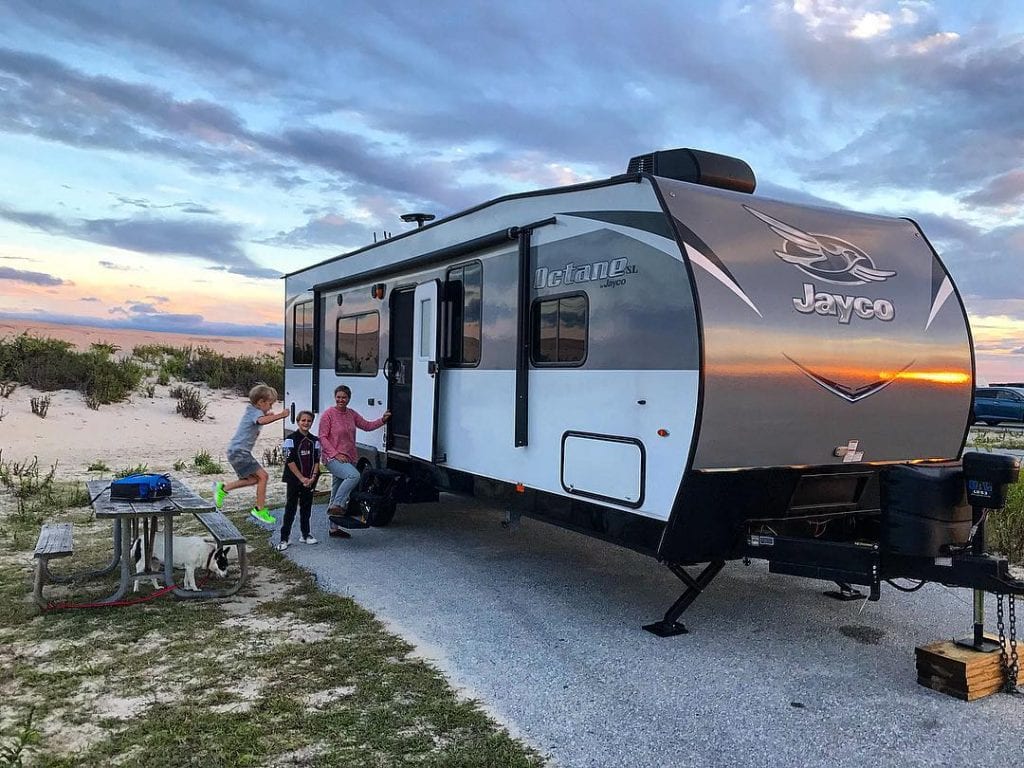 Sand has ruined many beach camping trips by getting into every nook and cranny of the RV.  Here are some ways to keep the sand on the beach where it belongs:
Always pack separate beach and bath towels to avoid bringing sand into the RV. Hang up beach towels outside and bath towels inside. Our very favorite Quick Dry Towels can be found here. 
Do not allow any shoes in the RV. Keep a small tub of water by the door to rinse feet before coming inside.

Invest in a nice outdoor rug and broom. Sweep off the rug daily. You'll need a real broom at the beach…not just those fancy Swiffer things.

Use the outdoor shower if your RV has one. If not, bring a splitter and attach an extra hose to the water spigot at your campsite for a quick rinse off. 

Bring separate beach and camping chairs. Once you are showered and changed, you will want to sit around the fire without getting sandy again. These Tommy Bahama backpack beach chairs are a staple where we come from. If you have little ones, get them their own mini backpack chairs. 
Beach Camping Tips for the Water
Water, Water…Everywhere!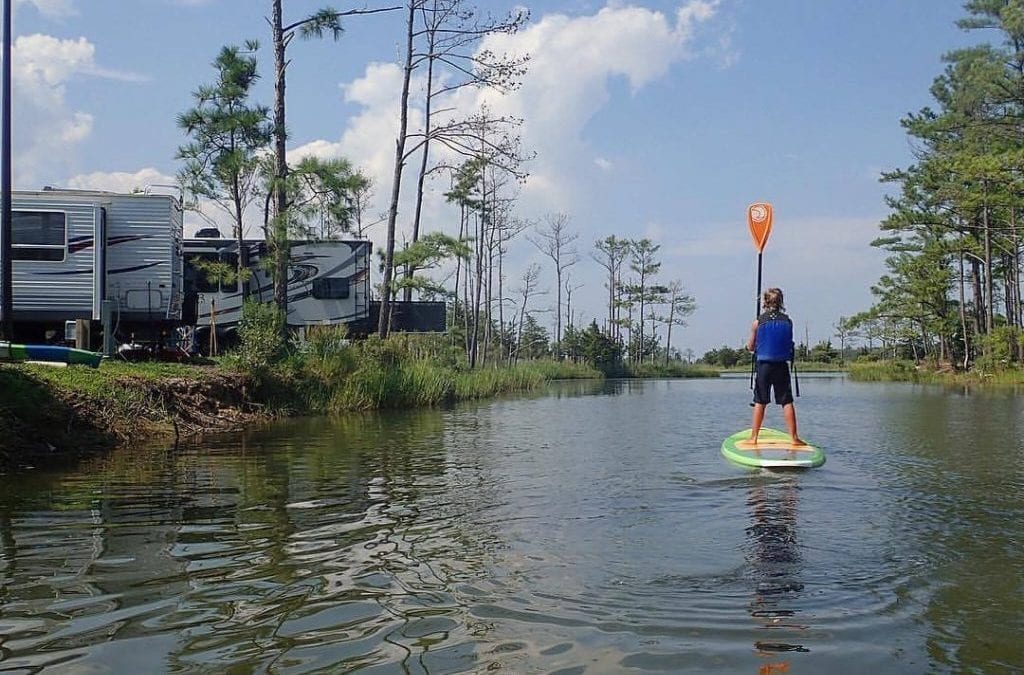 If you don't bring the right gear for splashing in the waves, you may find yourself shopping in one of those expensive sundry stores. Here is what you need to bring:
Always pack at least two swimsuits. No one likes putting on a wet suit for an afternoon swim.

Invest in quality rash guards that will protect you from the sun. They will also ease the sting while you practice your professional body surfing moves.

Make sure you pack a clothesline to hang up those wet bathing suits and towels. We adore this one that attaches to the RV ladder. If you don't have an RV ladder, check out the bumper mount ones.

If you have younger children, pack an inflatable baby pool. Often the surf may be too rough or the water too cold for the little ones. Splashing in a baby pool on the beach will keep them happy for hours.
Beach Camping Tips for the Sun
The Sun Feels Amazing…Until It Doesn't!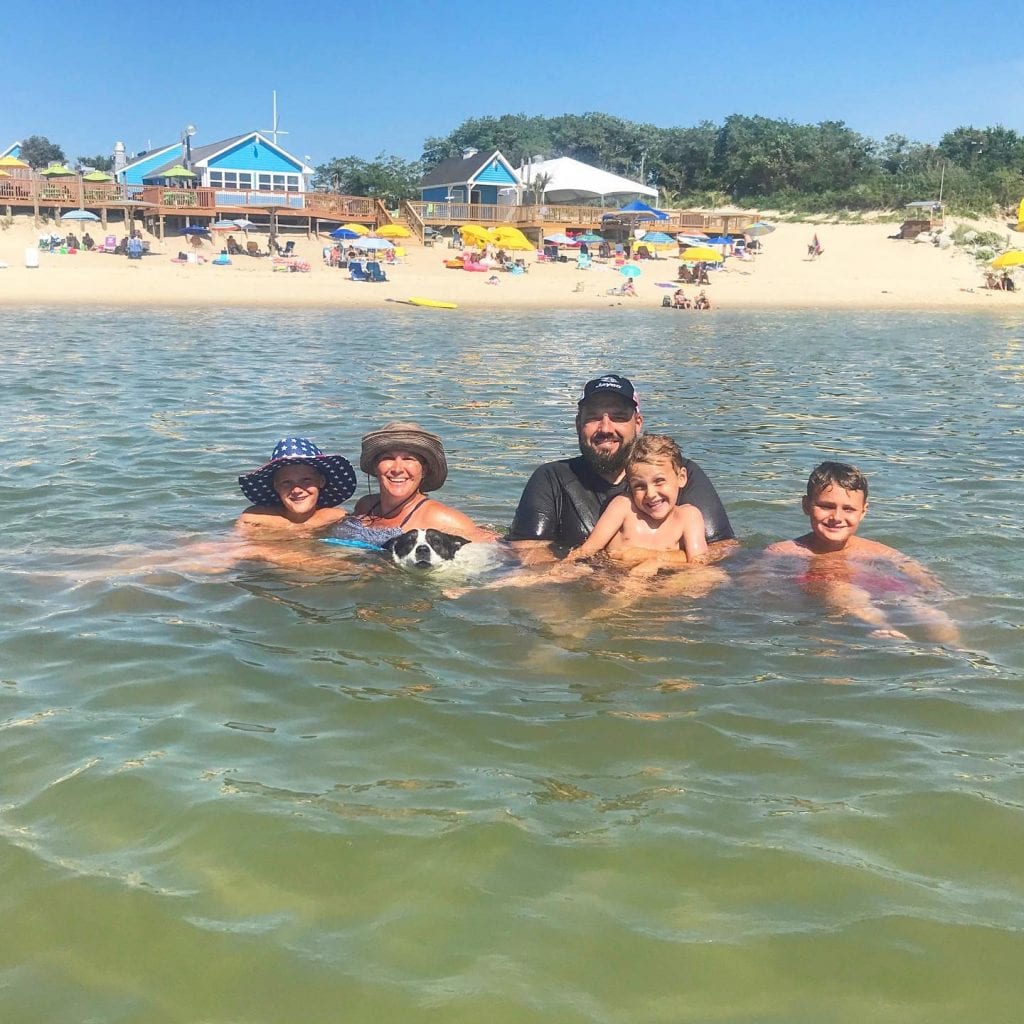 The sun may feel like heaven when you first arrive, but if you don't pack the proper protection you might be calling it quits after a few days at the beach. Stay safe and stock up on these items:
Sunscreen will be much more affordable when you buy it at home rather than in an expensive tourist shop. Make sure you get a water-resistant, high SPF. 

Make sure everyone in the family has comfortable, breathable hats that can be worn all day.

Invest in a pop up shade room that will offer shelter from the sun while still allowing you to enjoy the view and the breezes. The Clam Pop Up Shelter is a pricey, but well-loved, option. 
Bring an umbrella or two for shaded breaks while hanging out on the beach. Never set up your beach umbrella without one of these handy-dandy anchors!!!
Beach Camping Tips for the Wind
The Wind Will Probably Blow It All Away…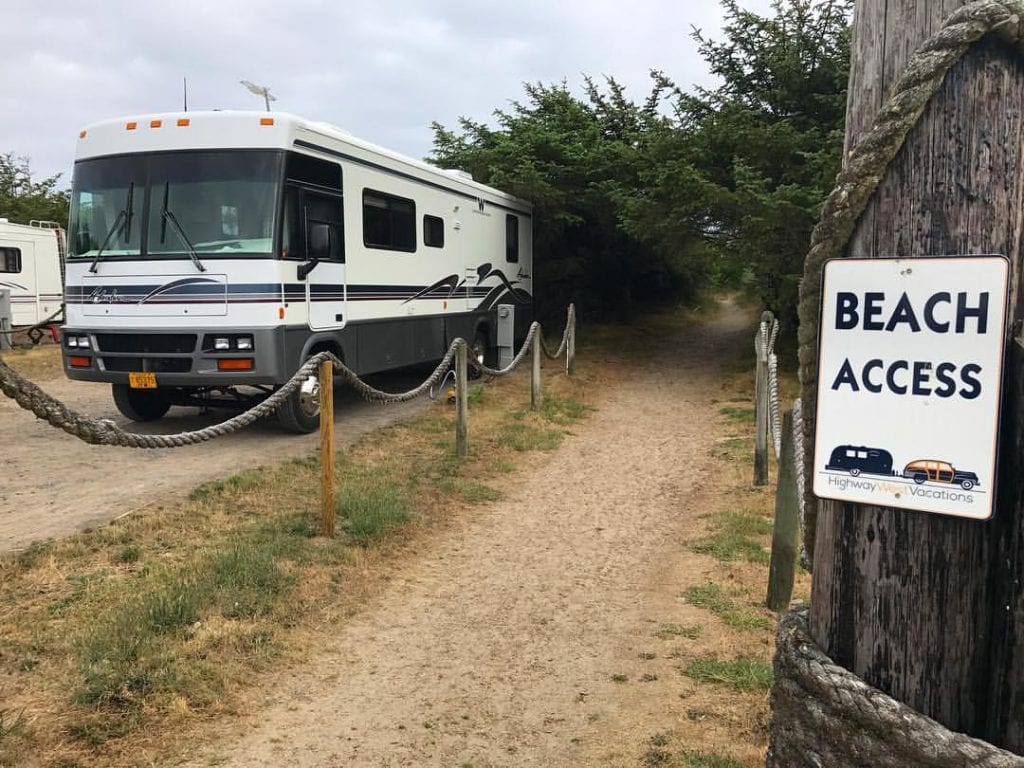 Ocean breezes are perfect for keeping you cool, but the winds can whip up without warning along the coast. Here are some tips for making sure your belongings don't take flight.
Never leave your RV awning extended while camping at the beach. We have seen many RVs lose their awnings in a single, sudden gust of wind.

Pin everything down. Stake those outdoor carpets, clip on the tablecloth, and put the napkins in a caddy. 

Beach umbrella anchors are an inexpensive way to ensure you don't end up chasing your umbrella down the shoreline. 
Hauling it all…
This summer we added a new piece of gear to the beach camping set up, and we are in LOVE. The BassPro Shops Basic Flat Wagon was amazing for hauling all the beach stuff across the sand to that perfect spot along the water. The straps along the side held our umbrellas.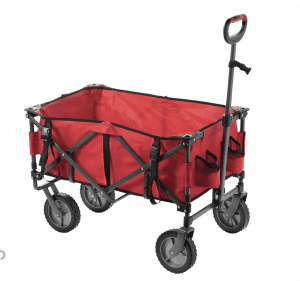 All the towels, sand toys, and beverage coolers fit easily inside. Plus, it folds flat to easily store in the bed of the truck. This will be coming on a lot of beach camping adventures in the future!
We definitely pack a lot more gear when we are heading out on a beach camping adventure. But we find that being prepared means we enjoy our time in the sun instead of feeling beaten down by the elements. Once you have your base camp set up, there is only one other item you will need: an ice cold drink with an umbrella in it.
Want to hear about some of our favorite beach camping destinations? You can find lots of our beach campground reviews here.
See you at the beach!
Stephanie + Jeremy
Podcast: Play in new window | Download