The second stop on our Nova Scotia trip brought us to Amherst Shore Provincial Park. This provincial campground is nestled in the woods just across the street from the quiet beaches of the Northumberland Strait. Our previous stop was at Graves Island Provincial Park, which was absolutely magical. So Amherst Shores had a lot to live up to. Click on the player above to hear Jeremy and Stephanie discussing Amherst Shores Provincial Park in detail.
The first thing we noticed as we pulled into Amherst Shore Provincial Park and its thick evergreen forest was that the sites were very spacious. Our site (#2) was a drop dead gorgeous pull through with a gigantic amount of space. Our 34 foot toy hauler, and our F250 fit comfortable with room to spare. Max, Theo, and Wes actually had enough room for catch and wiffle ball right at our site.
The second thing we noticed as we started to unhitch, was that the Mosquitos were really bad. So If you ever plan on booking a site here you might want to skip late June and try for later summer or early fall. Amherst Shores Provincial Park is open from June 8th to October 8th.
But the skeeters didn't keep us from having a great stay.
Amherst Shore Provincial Park: Site Details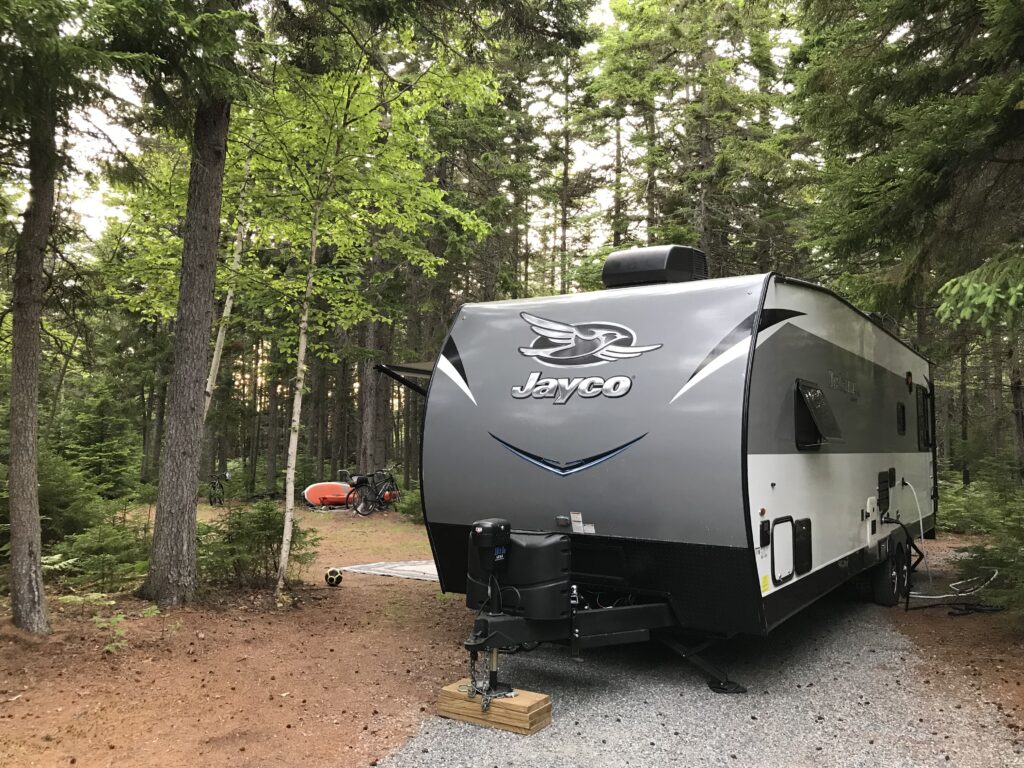 Amherst Shores is a small campground with less than 40 sites. However, sites 1-27 do have water and electric hook ups. While sites 2,4,6, and 8 are pull through sites. Additionally, there is also an open, grassy area for tent campers, pop up campers, and van campers. Sites 1-27 are pretty much all very nice.  They are shady, wooded, and private. While the open grass area has no privacy, it would make a great spot for groups or rallies.
Amherst Shore Provincial Park: Amenities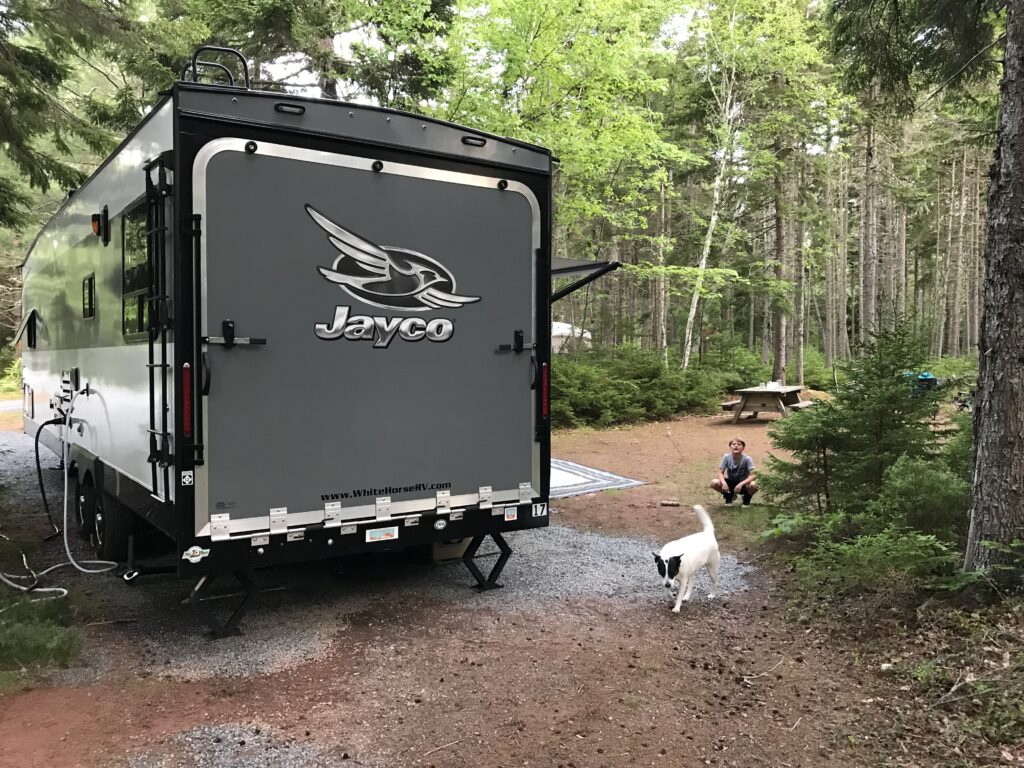 Amenities seem to be very limited at Nova Scotia's Provincial Park campgrounds. Amherst Shores had a decent playground, clean, but older bathhouses, and a welcome center that sells firewood and ice. But the service at check in was excellent, and the staff was willing to help with any questions we had.
There are hiking and biking trails all around Amherst Shore Provincial Park and you can take a stroll or ride your bike right up onto a sandy beach with warmish (by Nova Scotian standards!) water.
Wifi was non existent and cell service was close to non existent. I had to drive out of the campground to make a phone call!
Amherst Shore Provincial Park: Area Highlights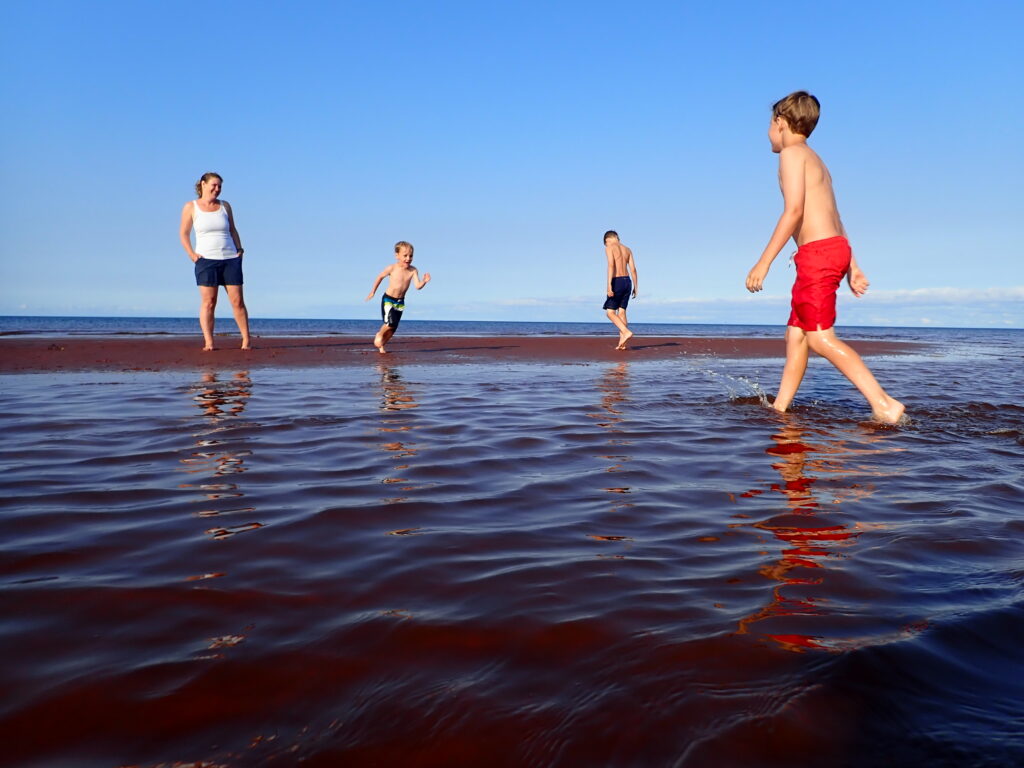 The area immediately around Amherst Shore Provincial Park is filled with quiet, sleepy beach towns. There are dozens of gorgeous places for swimming, kayaking, and biking, but few places for groceries or supplies. The nearest Wal-Mart was about half an hour away. If you want to get away from it all–then this might just be your place. If you want to experience the wonderful food and culture of Nova Scotia, you might look further south towards Halifax.
However, Amherst Shore Provincial Park serves as a pretty great basecamp for exploring Prince Edward Island if you don't actually have the time or inclination to camp there. It only took us 50 minutes to cross the Confederation Bridge into PEI. We spent an entire day exploring this incredible gem of an Island and we were back at Amherst Shores Provincial Park before bedtime.
Podcast: Play in new window | Download