The 1000 Islands/Ivy Lea KOA is located in Ontario on the Canadian side of the St. Lawrence River and puts you right in the heart of the most popular regional attractions. On this Campground of the Week episode, Melissa and Matthew Kellas rave about their stay at this well-appointed and well-situated private campground.
The 1000 Islands is a well-loved getaway for folks from Ottawa, Syracuse, and beyond. The surrounding area offers boating, beaches, national parks, and historic forts. If you want to experience the classic northeastern lake vacation, this would be a fantastic place to check out!
Campground Details: 1000 Islands/Ivy Lea KOA
This KOA offers every imaginable variety of campsite, so you would be well-served to study your options before booking. There are pull thrus, back ins, and patio sites. You'll also find plenty of tent and cabin options available.
The campground is nicely landscaped and has lots of mature trees offering privacy for guests. There are campsites right on the river, if waterfront camping is your sweet spot. Prices can range anywhere from $45-$120 depending on site and time of year. If you are visiting during peak summer season, make sure you book as far in advance as possible. The 1000 Islands/Ivy Lea KOA will be completely full during the height of the season.
Campground Activities and Amenities: 1000 Islands/Ivy Lea KOA

The Kellas family includes four children, so Melissa and Matthew sincerely appreciate it when all amenities are included in the price of a campsite. This was the case at the 1000 Islands KOA. There are two heated pools, one with a slide for the kids (or the young at heart!). There is also a splash pad and an adult-only hot tub, particularly appreciated by all of us parents just trying to get a little personal space on a family vacation. The Kellas family managed to squeeze in time for the jump pillow, ping pong tables, and TV lounge as well.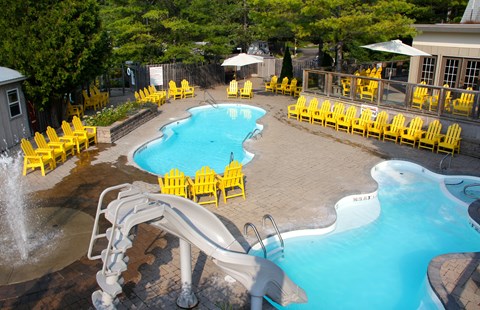 This campground also keeps you hoppin' with organized activities. When the Kellas family arrived, they got to dive right into a fierce 'water wars' event. Add in pool games, morning cartoons, movie nights, and reptile shows and you get some pretty happy campers.
Other Important Campground Information: 1000 Islands/Ivy Lea KOA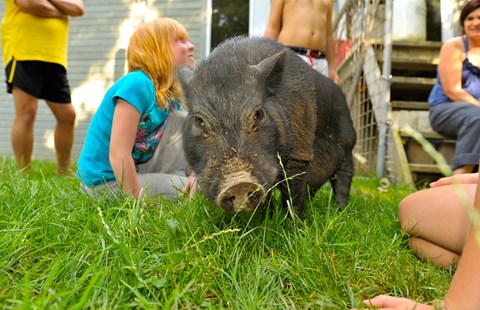 The customer service at this campground was really extraordinary, so make sure you take advantage of their area expertise when planning your regional excursions.
Melissa and Matthew also reminded us to plan ahead for international cell phone and data usage.
Perhaps equally important? The campground pot-belly pig schedule details. But you'll have to listen to the podcast to hear that story.
Regional Highlights near the 1000 Islands/Ivy Lea KOA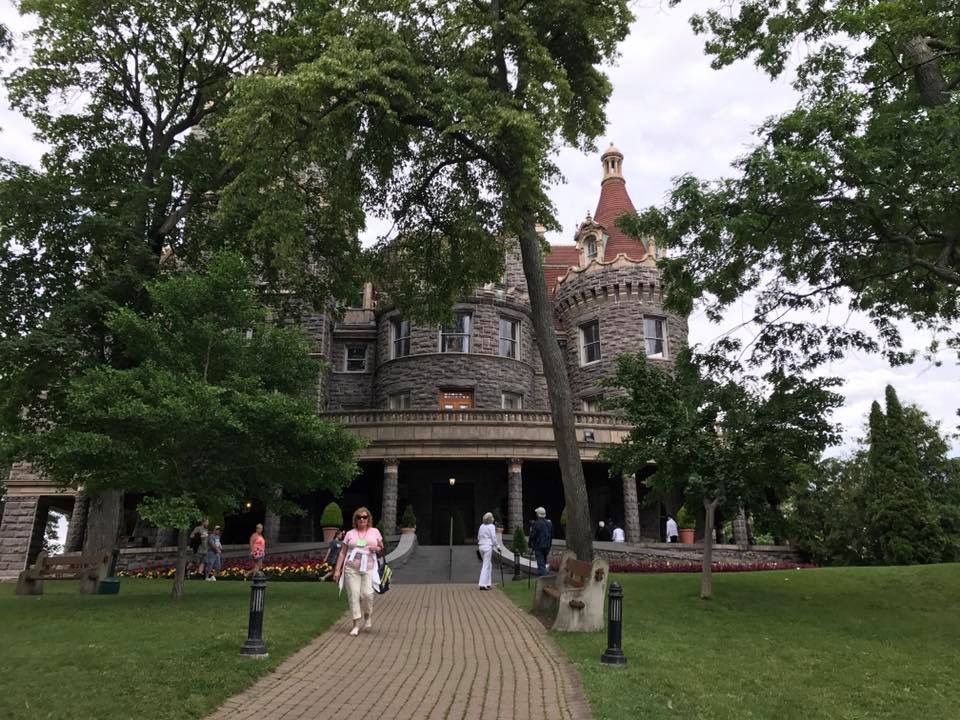 As mentioned before, the campground staff is a wonderful resource for planning your visit to this region. Melissa and Matthew took many of their suggestions and were happy with every one.
Some of the highlights of their vacation include:
And don't pass up the chance to try a "Caesar". Apparently, it's the Canadian version of a Bloody Mary and pretty darn tasty!
A big thank to Melissa and Matthew Kellas for reviewing the 1000 Island/ Ivy Lea KOA in Ontario, Canada! We can also count on them for a fun campground review and some inspiring travel destinations.
We'll see you at the campground,
Stephanie + Jeremy
Podcast: Play in new window | Download