We are so excited to be sharing some sample recipes from The Campground Gourmet, a brand new cookbook by Kate Dunbar that is available right now! If you purchase this book and leave a review on Amazon before December 31st, you will be entered to win a $100 Cabela's gift card!!!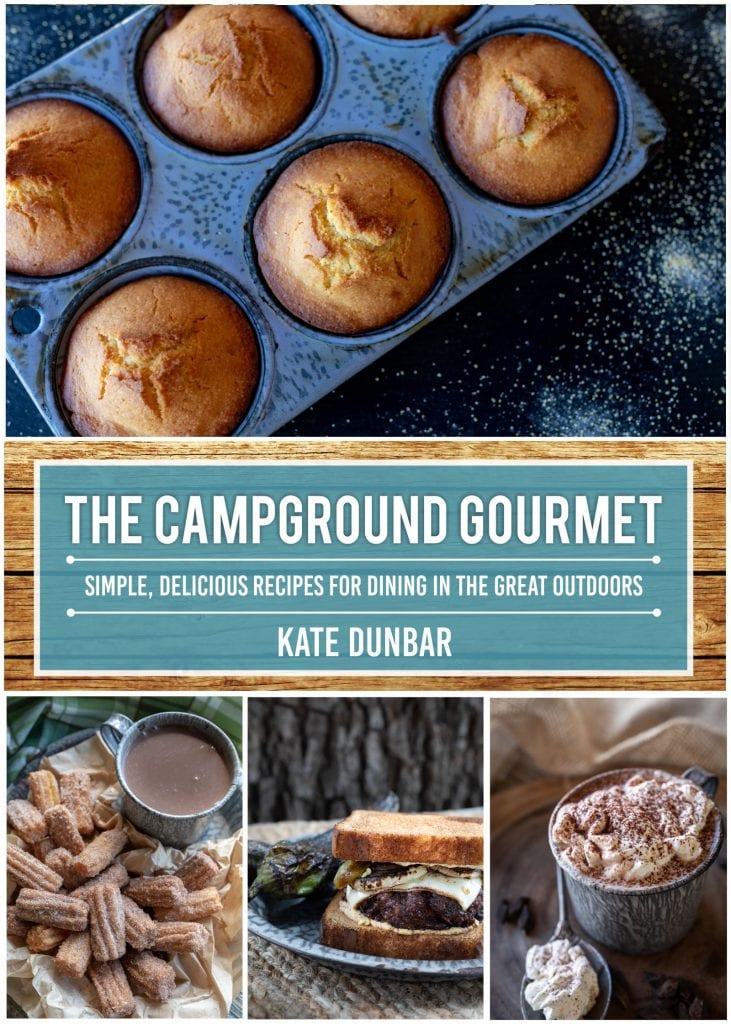 Last week we posted the recipe for Bacon Pancake Dippers. This week we are sharing a warm and inviting side dish, Skillet Sweet Potatoes with Pecans and Cranberries.
This recipe shows exactly what Kate is so great at…combing wholesome ingredients in a simple recipe and winding up with a delicious result! Bust out the cast iron skillet, and get cooking.
Ingredients for Skillet Sweet Potatoes with Pecans and Cranberries
6 cups sweet potatoes peeled and cut into ½ – inch cubes
1 cup sweet yellow onion, diced
4 tablespoons olive oil divided
2 clove garlic, crushed
1 teaspoon sea salt
½ teaspoon pepper
½ cup dried cranberries
¼ c green onions finely chopped
¼ cup chopped pecans
Instructions for Skillet Sweet Potatoes with Pecans and Cranberries
Place your 12" cast iron pan in the cold oven and preheat to 375 degrees. If you are cooking over the campfire, preheat your skillet over the coals.
Once oven is at temperature, remove the hot cast iron pan and place on a medium high heat burner. Add 2 tablespoons of olive oil and 2 tablespoons of butter. Once melted, add the sweet potatoes and sauté for 5-7 minutes, until golden, stirring occasionally.
Add remaining olive oil, onions, garlic, cranberries, green onions, pecans, salt and pepper. Mix well and place in the hot oven for 20-30 minutes, stirring every 10 minutes to keep the sweet potatoes and cranberries from sticking to the bottom of the pan.
Remove from oven and serve while warm.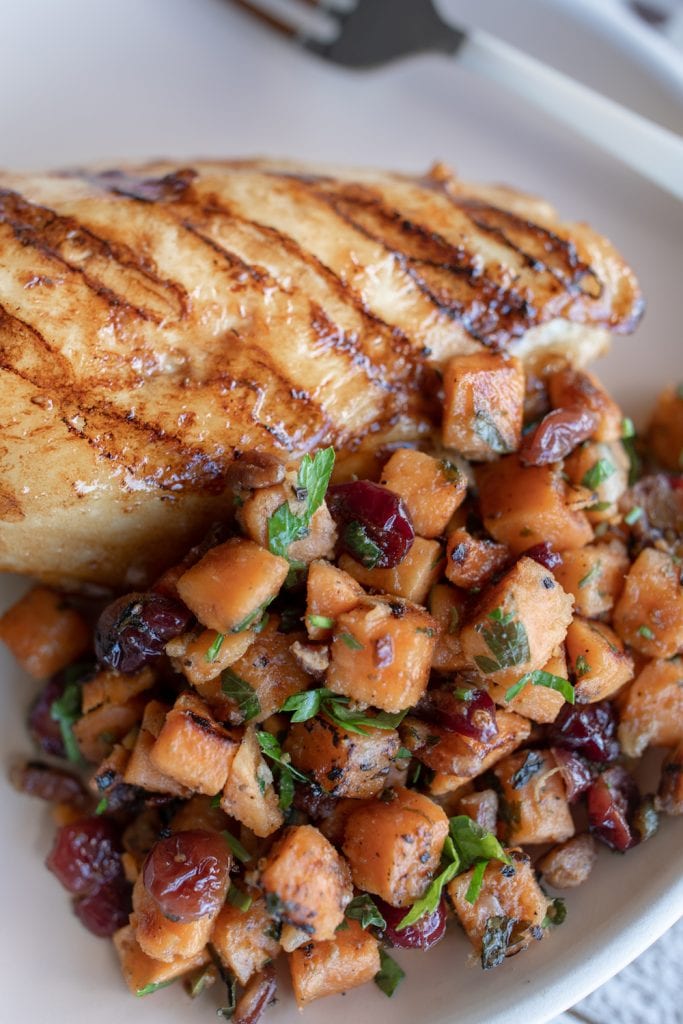 If you are interested in more great cast iron resources and recipes, we have them for you!
Last season, Kate joined us for an entire podcast episode devoted to the basics of cast iron cooking. You can read more (or listen!) here.
Kate also shared one of her very favorite cast iron dinner recipes right here. This herbed pork tenderloin would be perfect to serve along with our featured Skillet Sweet Potatoes with Pecans and Cranberries.
And we are thinking this Skillet Sweet Potatoes dish would make an amazing side if you are celebrating Thanksgiving at the campground this year. If you are looking for some other Campground Thanksgiving menu ideas, check out what we feasted on last year!