This recipe for Campfire Chicken and Sausage Gumbo is from The Campground Gourmet by Kate Dunbar. We are publishing select recipes on the RVFTA blog to give you a taste of the wonderful collection of over 100 recipes. You can pick up your own copy here. If you purchase and review of a copy of The Campground Gourmet before January 1, 2019, we will enter you into a drawing for a $100 Cabela's Gift Card!!!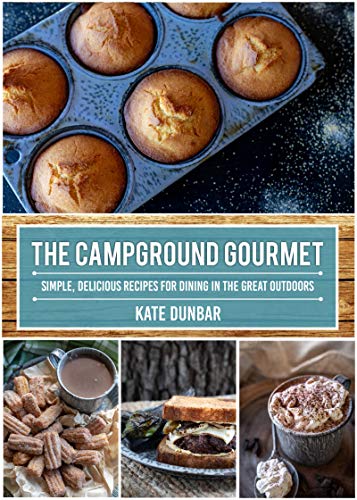 Serves 6-8
Campfire Chicken and Sausage Gumbo
Build your campfire. Place a cooking grate over the coals when the flame has died down and the coals are covered in white ash. You can also cook directly on the coals, just watch the Dutch oven constantly to prevent burning.
Ingredients
1 pound Andouille sausage, cut into 1/4 inch round slices
1 cooked whole roasted chicken, shredded both dark and light meat
1 cup vegetable oil
1 cup unbleached all purpose flour
1 medium yellow onion, diced fine
1 green bell pepper, diced fine
2 stalk of celery, diced fine
1 box low sodium chicken stock
1 14.5-ounce can petite diced tomatoes
2 cups water
6 garlic cloves, minced
2 tablespoons Worcestershire sauce
3 teaspoons Cajun seasoning
2 bay leaves
1 teaspoon Louisiana hot sauce
½ teaspoon dried thyme
Cooked Rice
Directions
In your hot Dutch oven add the oil and flour whisk constantly to prevent burning. You are looking to cook it until a toasted pecan color develops. Stir in the onion, celery, and green bell pepper. Cook for 5 minutes.
Add in garlic, tomatoes, Worcestershire, chicken stock, water, seasoning, bay leaves, thyme, sausage, and cooked chicken. Bring mixture to a boil, carefully move the Dutch oven to an area where the gumbo can simmer with out boiling over. Cook for 1 hour, stirring every 10-15 minutes. Taste and adjust seasoning.
Serve in a bowl with cooked rice. Garnish with chopped green onions, parsley, hot sauce, or Cajun seasoning.
Make sure you check out some of other recipes from The Campground Gourmet like Kate's Pale Ale Shrimp Kabobs and Colombian Coffee Grilled New York Steaks. The Bacon Pancake Dippers have also been a big hit in the RVFTA community! We obviously have our priorities straight!!!
See you at the campground!
Stephanie + Jeremy