This recipe for Cajun Shrimp Skewers is by Kate Dunbar, author of The Campground Gourmet. You can check out other popular recipes from the book here, like Bacon Pancake Dippers and Campfire Chicken and Sausage Gumbo. 
Kate first debuted this recipe on an RVFTA Facebook Live where she tested the CasusGrill, an eco-friendly, biodegradable disposable grill. The CasusGrill claims to cook food for up to 60 minutes at temperatures reaching 600 degrees Fahrenheit. In this Facebook Live, Kate unboxed the grill, then assembled it and prepared this delicious Cajun Shrimp dish.
Of course, you don't need a disposable grill to prepare these Cajun Shrimp Skewers. Your Weber BBQ or a Blackstone Griddle will do just fine.
Cajun Shrimp Skewers
Ingredients
16 ounce 41/50 large shrimp, peeled and deveined

8 tablespoons unsalted butter

2 tablespoons olive oil

1 lemon, juiced

1 teaspoon lemon zest

2 Tablespoons Cajun seasoning, recipe below

1, 14 oz package of Andouille sausage

1 medium yellow onion

1 green bell pepper
Cajun Seasoning
Mix all the ingredients together in a bowl and set aside:
2 teaspoon kosher salt

½ teaspoon granulated garlic

1 teaspoon smoked paprika

½ teaspoon dried oregano

½ teaspoon granulated onion

½ teaspoon dried thyme

1 teaspoon cayenne

1 teaspoon ground black pepper
Remoulade sauce
Mix all ingredients together in a bowl with a lid and refrigerate up to 4 days, flavors will deepen if left to sit for a day or two:
1 cup mayonnaise

½ cup minced celery

1 tablespoon lemon juice

1 tablespoon chopped flat-leaf parsley

1 tablespoon hot sauce

2 teaspoons creole mustard or whole-grain mustard

2 cloves garlic, minced

1 teaspoon Worcestershire sauce

1 teaspoon paprika

1 green onion, finely chopped

¼ teaspoon kosher salt
Directions: Cajon Shrimp Skewers
Soak wooden skewers in water for 30-45 minutes.
Combine butter, olive oil, cajun seasoning, lemon juice, and zest in a small pot. Bring mixture to a low simmer until the butter is melted. Remove half of the marinade and place in a small bowl and set aside. This will be your basting marinade.
In a large bowl, combine the shrimp and cooled marinade. Mix well and place in the refrigerator for 30-45 minutes.
Slice andouille sausage in ½ inch round slices and set aside.
Cut the bell pepper into thick strips and the onion into ½ inch rounds.
Thread marinated shrimp and sausage onto the wooden skewers. Set aside on a platter or sheet pan.  
Heat Casus grill for 10 minutes. Add the vegetable to the grill and cook for 5 minutes a side, basting with reserved marinade. After 10 minutes add the Cajun shrimp and sausage skewers to the hot grill in a single layer. Cook until shrimp are no longer opaque and sausage is cooked, about 3-4 minutes a side. Baste with reserved marinade when you turn the skewers over once during the cooking process.
Serve with remoulade sauce, garnished with parsley and lemon wedges.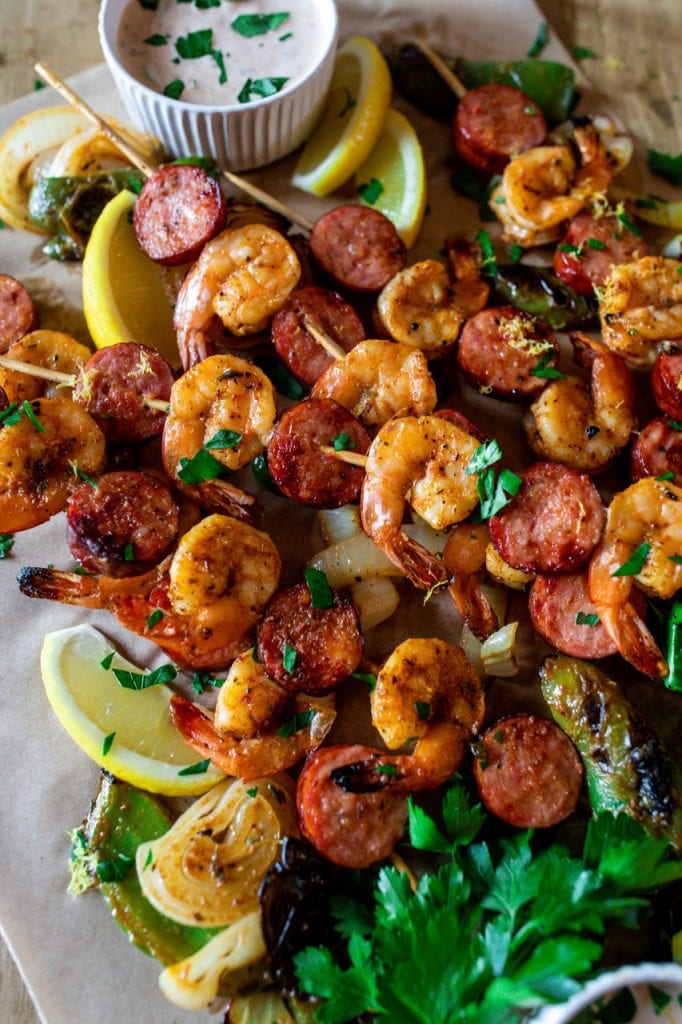 For more delicious and simple recipes to cook at home or at the campground, check out The Campground Gourmet!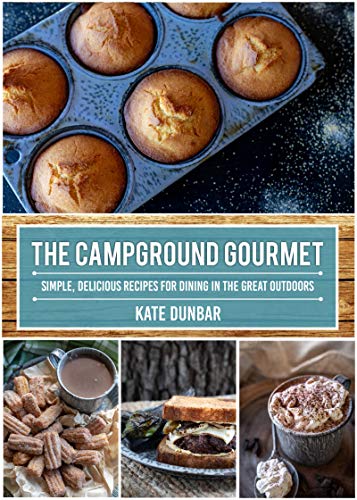 See you at the campground!
Stephanie + Jeremy