We are so excited to be sharing some sample recipes from The Campground Gourmet, a brand new cookbook by Kate Dunbar that is available right now! If you purchase this book and leave a review on Amazon before December 31st, you will be entered to win a $100 Cabela's gift card!!!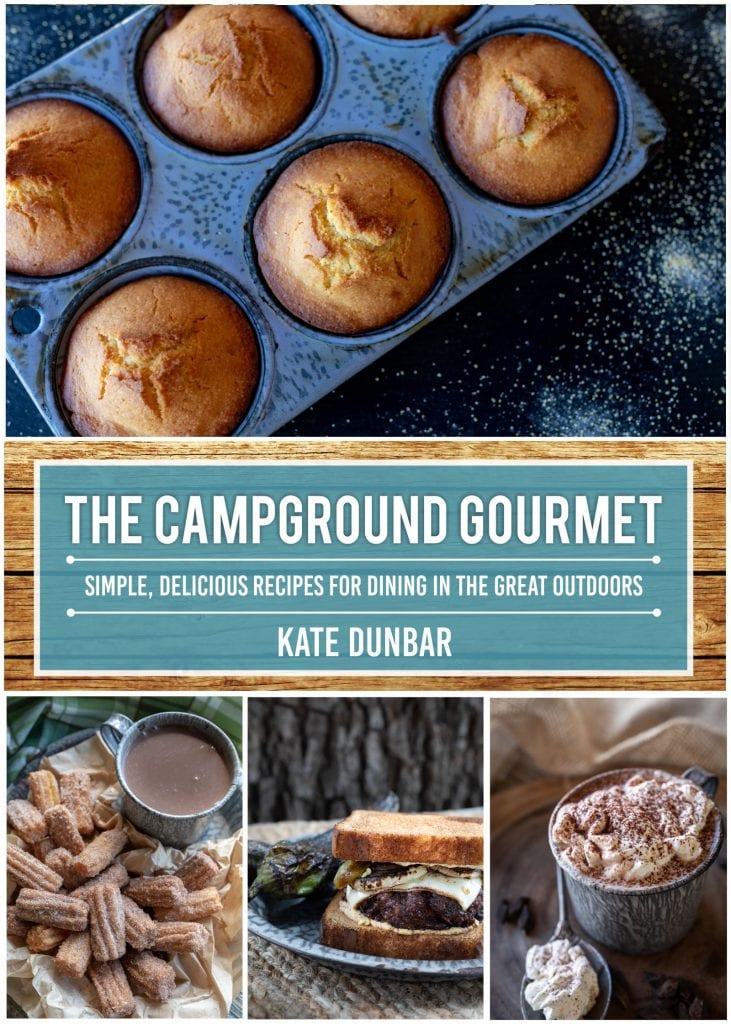 The Campground Gourmet has a mouth-watering dessert selection, with recipes for churros, hot chocolate, and apple hand pies. There's also a fun variety of mug cakes, that can be easily made at the campground using your RV microwave!
Or you can make them at home, after school with the kids, just because it's cold and rainy outside. Can you guess what we have planned for the afternoon?
Apple Cider Mug Cake
Makes 2 mug cakes
¾ cup unbleached all-purpose flour
½ cup granulated sugar
½ teaspoon aluminum free baking powder
¼ teaspoon kosher salt
¾ cup whole milk
¼ cup unsalted butter melted and cooled
¼ cup apple pie filling chopped fine
½ teaspoon apple pie spice
1 ½ teaspoon vanilla extract
In a small pan, melt the butter and set aside to cool. In a medium bowl, whisk together dry ingredients. Set aside.
In a small bowl or large measuring cup, whisk together milk, vanilla extract, apple pie filling, and melted butter.
Pour the milk mixture into the center of the flour mixture, carefully but quickly whisk the batter until no lumps remain, the batter should be smooth.
Divide batter evenly between two, 14 or 16 ounce microwave-safe mugs. Microwave on high for 1 ½ – 2 minutes depending on your microwave.
Handle and mug will be hot when finished so carefully remove and enjoy!
Apple Spice Icing
¼ cup softened cream cheese
2 tablespoons softened unsalted butter
½ cup sifted powder sugar
½ teaspoon vanilla extract
¼ teaspoon apple pie spice
In a medium bowl, stir the softened cream cheese and butter together with a wooden spoon until smooth. Add in the vanilla extract and apple pie spice; continue to mix until ingredients are incorporated.
Slowly add in the powdered sugar one scoop at a time, mixing well between additions. When finished, place icing in a zip top bag and place in the refrigerator for up to a week, or the freezer for up to a month.
If you try this Apple Cider Mug Cake, let us know and post your pics over in our private Facebook group!
Want even more simple and delicious mug cake recipes? Check out The Campground Gourmet and pre order your copy!
Or check out some of the other recipes we've previewed including Bacon Pancake Dippers and Skillet Sweet Potatoes!
See you at the campground,
Stephanie + Jeremy